As of January 2020, our officers include: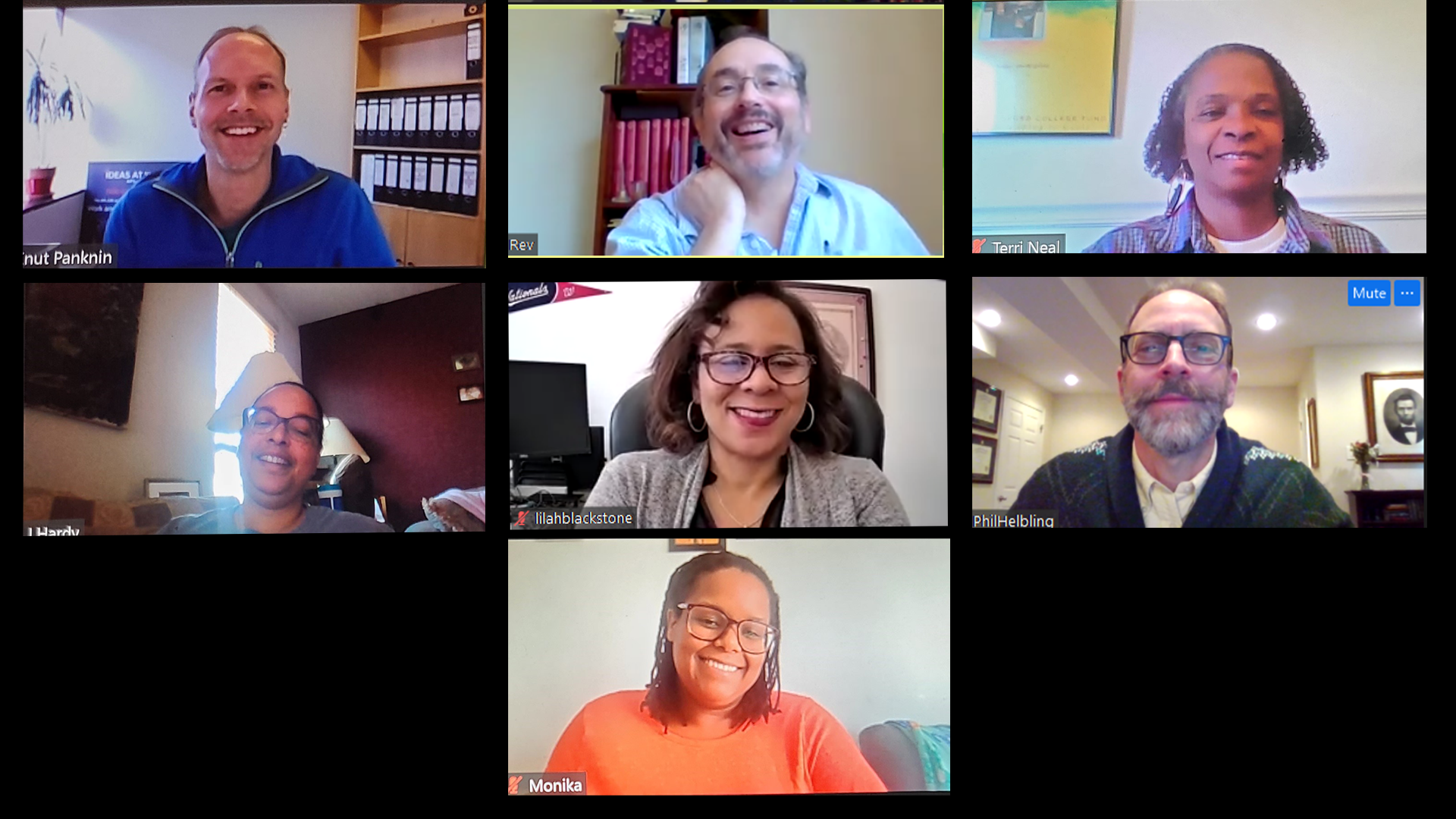 Lilah Blackstone, Clerk (2022)
Johanna Hardy, At Large (2021)
Phil Helbling, Vice Clerk (2023)
Rev. Elder J. Dwayne Johnson, Moderator
Terri Neal, Treasurer (2021)
Monika Lawrence, Asst. Treasurer (2023)
Knut Panknin, Vice Moderator (2022)
Click here to email the board or call the church office at (202) 638-7373.

MCCDC's charter: Like most MCC churches, establishes a Board of Directors that is the congregational elected governing body of the church. The Board consists of seven members, including the Senior Pastor. The Board's chief responsibilities include effective management of the church's funds and other assets, ensuring the legal and ethical integrity and maintaining accountability in all matters, and leading the congregation's development and constant reevaluation of our collective mission, vision, and goals.
The Bylaws comprise the governing document for the congregation. The Board serves under the authority granted to it in that document:
MCCDC By Laws: As of November 20,2016
The Senior Pastor serves as the Moderator of the Board, or the head. From the Board's other members is elected a Vice-Moderator. The Vice-Moderator acts as Moderator when the Senior Pastor is absent or unable to perform her/his duties. The other positions include Clerk, Assistant Clerk, Treasurer and Assistant Treasurer, and Member-At Large.
Board meetings occur on the third Tuesday of every month and are held in the lower level conference room. They are open to all people. If you wish to present an agenda item for any Board meeting, we encourage you to reach out directly to the Vice-Moderator or Clerk.
Click Here to Read Detail MCCDC_Bylaw_Final_01-06-15– MCCDC_Bylaw_Final_01-06-15

Board Meeting Minutes Archive
Board Meeting Minutes 2022
Board Meeting Minutes 2022Minutes- MCCDC BOD January 2022

Board Meeting Minutes 2021
Board Meeting Minutes 2021Minutes – MCCDC BOD December 2021
Board Meeting Minutes 2021-Minutes – MCCDC BOD November 2021
Board Meeting Minutes 2021–Minutes -MCCDC BOD September 21 2021
Board Meeting Minutes 2021-MCCDC Board Minutes – JULY 2021
SPECIAL CONGREGATIONAL MEETING MINUTES-June 27, 2021, 12:30PM via ZOOM- MINUTES Special Cong Mtng 6.27.21_final
Board Meeting Minutes 2021-MCCDC BOD MINUTES APRIL 2021_Updated 4.25.21
Board Meeting Minutes 2021-MCCDC BOD MINUTES – MARCH 2021_FINAL
Board Meeting Minutes 2021-MCCDC BOD MINUTES FEB. 2021_FINAL
Board Meeting Minutes 2021- MCCDC BOD Meeting Minutes JAN 19 2021

Board Meeting Minutes 2020
Board Meeting Minutes 2020- MCCDC BOD Meeting Minutes – DEC 2020
Board Meeting Minutes 2020-MCCDC BOD Meeting Minutes – NOV 2020
Board Meeting Minutes 2020-MCCDC BOD Meeting Minutes – OCT 2020
Board Meeting Minutes 2020-MCCDC BOD Meeting Minutes SEP 2020
Board Meeting Minutes 2020-MCCDC BOD Meeting Minutes AUG 2020
Board Meeting Minutes 2020-MCCDC BOD Meeting Minutes JULY 2020- final
Board Meeting Minutes 2020-MCCDC BOD Special Meeting Minutes June 29, 2020 Final
Board Meeting Minutes 2020-MCCDC BOD Meeting Minutes JUN 2020
Board Meeting Minutes 2020-MCCDC BOD Minutes MAY 2020
Board Meeting Minutes 2020-MCCDC BOD Minutes APRIL 2020 Final
Board Meeting Minutes 2020-MCCDC BOD Special Meeting Minutes March 12, 2020
Board Meeting Minutes 2020-MCCDC BOD minutes FEB 2020
Board Meeting Minutes 2020-MCCDC BOD Meeting Minutes – JAN 2020
Board Meeting Minutes 2020-MCCDC BOD Special Meeting Minutes Janaury 14, 2020
Board Meeting Minutes 2020-MCCDC BOD Special Meeting Minutes Janaury 12, 2020

Board Meeting Minutes 2019
Board Meeting Minutes 2019-MCCDC BOD Minute December 17 2019
Board Meeting Minutes 2019- MCCDC BOD Minute November 19 2019
Board Meeting Minutes 2019-MCCDC BOD Meeting Minutes OCT 2019
Board Meeting Minutes 2019-MCCDC BOD Meeting Minutes SEPT 2019_part I and II_final
Board Meeting Minutes 2019-MCCDC BOD Meeting Minutes August 2019 (FINAL)
Board Meeting Minutes 2019-MCCDC BOD Meeting Minutes July 2019 final
Board Meeting Minutes 2019-MCCDC BOD meeting Minutes JUN 2019
Board Meeting Minutes 2019-MCCDC BOD Meeting Minutes MAY 2019 amended
Board Meeting Minutes 2019-MCCDC BOD Special Meeting minutes APR 2 2019
Board Meeting Minutes 2019-MCCDC Board Meeting Minutes APR 2019
Board Meeting Minutes 2019-MCCDC BOD Meeting minutes MAR 2019
Board Meeting Minutes 2019-MCCDC BOD Notes FEB 2019
Board Meeting Minutes 2019- MCCDC BOD Meeting minutes JAN 2019 FINAL

Board Meeting Minutes 2018
Board Meeting Minutes- MCCDC BOD Meeting minutes Dec 2018
CONGREGATIONAL MEETING REPORTS 11/2018- CONGREGATIONAL MEETING for 2019 compiled packet 11-15-18
Board Meeting Minutes 2018-MCCDC BOD Meeting Minutes NOV 2018
Board Meeting-Minutes-MCCDC BOD Meeting Minutes – OCT 2018
Board Meeting-Minutes-MCCDC BOD Meeting Minutes- SEP 2018
Board Meeting-Minutes-BOD Meeting Minutes Aug 2018 FINAL
Board Meeting-Minutes-BOD Meeting Minutes July 2018 FINAL
Board Meeting-Minutes- BOD Meeting Minutes June 2018
Board Meeting-Minutes- BOD-Meeting-Minutes-May-2018
Board Meeting-Minutes-BOD-Meeting-Minutes-April-2018
Board Meeting-Minutes-BOD Meeting Minutes February 20. 2018
Board Meeting-Minutes-BOD Meeting Minutes January 2018 FINAL

Board Meeting Minutes 2017
Board Meeting Minutes-BOD-Meeting-Minutes-December-2017
Board Meeting Minutes- Minutes-of-the-MCCDC-Congregational-Meeting-Dec-17-2017
Board Meeting Minutes- BOD Minutes November_FINAL 2017
Board Meeting Minutes- BOD Meeting Minutes Special meeting 10-29-17 FINAL
Board Meeting Minutes-BOD Meeting Minutes October 2017FINAL
Board Meeting Minutes- BOD Meeting Minutes September 2017
Board Meeting Minutes- BOD Meeting Minutes August 2017
Board Meeting Minutes-BOD Meeting Minutes July 2017[final]
Board Meeting Minutes- MCCDC BOD June Meeting Notes June 2017 6.20.17_FINAL(1)
Board Meeting Minutes- BOD Meeting Notes May 2017[1153]
Board Meeting Minutes- BOD-Minutes-April-20171051
Board Meeting Minutes –BOD-Minutes-March-2017-
Board Meeting Minutes –BOD-Minutes-February-2017
Board Meeting Minutes –BOD-Minutes-January-2017

Board Meeting Minutes 2016
Board Meeting Minutes –December 2016 Regular Meeting
Board Meeting Minutes – October 2016 Regular Meeting
Congregational-Meeting-mccdc-congregational-meeting-2016-minutes
Board Meeting Minutes –November 2016 Regular Meeting
Board Meeting Minutes – September 2016 Regular Meeting
Board Meeting Minutes – August 2016 Regular Meeting
Board Meeting Minutes – July 2016 Regular Meeting
Board Meeting Minutes – June 2016 Regular Meeting
Board Meeting Minutes – May 2016 Regular Meeting
Board Meeting Minutes – April 2016 Special Meeting II
Board Meeting Minutes – April 2016 Special Meeting
Board Meeting Minutes – April 2016 Regular Meeting
Board Meeting Minutes – March 15, 2016 Regular Meeting Notes
Board Meeting Minutes – February 16, 2016 Regular Meeting Notes
Board Meeting Minutes – January 28, 2016 Regular Meeting Notes

Board Meeting Minutes 2015
MCCDC Congregational Meeting 2015 Minutes – MCCDC Congregational Meeting 2015 Minutes
Board Meeting Minutes – October 28, 2015 Special Meeting notes
Board Meeting Minutes – October 26, 2015 Special Meeting notes
Board Meeting Minutes – October 20, 2015 Regular Meeting notes
Board Meeting Minutes – September 15, 2015 Meeting
Board Meeting Minutes – August 18, 2015 Meeting
Board Meeting Minutes – August 11, 2015 Special Meeting
Board Meeting Minutes – July 21 2015 Meeting
Board Meeting Minutes – July 14 2015 Special Meeting
Board Meeting Minutes – June 16 Meeting
Board Meeting Minutes – July 8 2015 Special Meeting
Board Meeting Minutes – June 2 2015 Meeting
Board Meeting Minutes – May 26 2015 Meeting
Board Meeting Minutes – May 19 2015 Meeting
Board Meeting Minutes – May 6 2015 Meeting
Board Meeting Minutes – April 2015 Meeting
Board Meeting Minutes – March 2015 Meeting
Board Meeting Minutes – February 2015 Meeting
Board Meeting Minutes – January 2015 Meeting

Board Meeting Minutes 2014
Board Meeting Minutes – December 2014 Regular Meeting
Board Meeting Minutes – November 2014 Regular Meeting
Board Meeting Minutes – November 2014 Special Meeting
Board Meeting Minutes – September 16, 2014
Board Meeting Minutes – Special Meeting – July 20, 2014
Board Meeting Minutes – July 15, 2014
Board Meeting Minutes – June 25, 2014
Board Meeting Minutes – Special Meeting – June 10, 2014
Board Meeting Minutes – May 20, 2014
Board Meeting Minutes – April 15, 2014
Board Meeting Minutes – March 18, 2014
Board Meeting Minutes – February 25, 2014
Board Meeting Minutes – January 22, 2014
Board Meeting Minutes – December 17, 2013
Board Meeting Minutes – November 19, 2014
Congregational Meeting Minutes – November 17, 2013