Join us Sundays at 9:00 and 11:00 a.m. for Worship
Or browse past services here:

MCCDC CCLI License #156654, WORSHIPCAST & PERFORM MUSIC CCS License #8730

Capital PRIDE Interfaith Service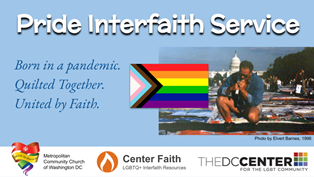 On Wednesday, June 15th, the greater DC faith community will celebrate our 40th annual Capital Pride Interfaith service.
Click Here To Tune into the live stream on The DC Center's YouTube channel and Facebook page
beginning at 7:00 p.m. ET.

Find lyrics, readings and scripture in our worship folder:
We welcome your feedback. What did you enjoy? What might we improve? Click here to let us know.