Welcome to a Faith Community . . .
That Can Change Your Life!
Join us for worship every Sunday at 9:00 or 11:00 a.m. ET
We offer four ways to participate, both during and after service.
You don't need a computer; you can join us from your smartphone.
On our website: http://live.mccdc.com
On Vimeo: http://worship.mccdc.com
On Facebook: http://facebook.mccdc.com
On YouTube: http://youtube.mccdc.com
Find our weekly worship folder at http://bulletin.mccdc.com
Click Here to Download our Welcome Package:Visitor Welcome Brochure 10-15-2020


Rev. Elder Dwayne Johnson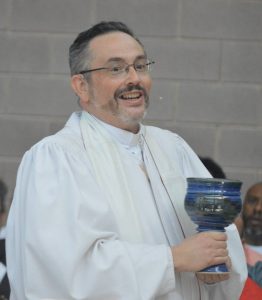 Click here to email Rev. Dwayne Johnson
Welcome to a determined church that is seeking to overcome all obstacles to discover a renewed vision. Though we have a storied and colorful past, today we are about renewed growth, renewed programs, and renewed opportunities. Today, we are called to engage individuals and groups in opportunities that hold meaning. Meaningful opportunities run the gamut from vibrant worship, to community service, to Bible studies, to fun and fitness…and much more.
Come and explore all of what Metropolitan Community Church of Washington DC (MCCDC) has to offer you.
What is MCCDC? It is the place to BE. We are a place that is like your home away from home. you can come and be yourself and not have anyone judge you. It is a place where you can connect spiritual with God and gain the inner peace that you have been looking for. A wonderful place where you can worship and Praise God. MCCDC is your spiritual home.
Chartered in 1971, we were one of the first congregations to expand from MCC's first church in Los Angeles. We are actually the oldest LGBT community organization in DC. From the beginning, our founders instilled in us the values of health, wholeness and community, and we are deeply grateful to all those who have gone before us. We seek to build on their legacy by embracing radical inclusion, resisting intolerance, and expanding hearts and minds through openness, relationships, and love.
MCCDC has an open door policy and all are welcome to share in a wonderful experience that MCCDC has to offer. We have so much to offer and I am sure that you will find something that will fill your spiritual needs.
Our work has not gone unnoticed. On March 5, 2011 MCCDC was recognized by the Mautner Project with the Healing Works Award. The award is presented to those whose deeds — cultural, political, spiritual, medical — contribute to healing and maintaining the health of our community and the individuals who comprise it.
MCCDC was especially honored for our work with HIV/AIDS awareness, support of two food programs, support for the annual Transgender Day of Remembrance, and providing a venue for those facing addiction. Throughout 2015 and 2016, we are celebrating 45 years of ministry. Our theme is "45 Years: We've Come This Far By Faith!" We are celebrating in a variety of ways, so please see the "Don't Miss" headlines in the opening page of the website.
I believe our best days always lie ahead and that together we can grow in ways we are just beginning to imagine. I hope you'll be a part of it!
Faithfully,

Rev. Elder Dwayne Johnson
Senior Pastor
Follow Me @RevDwayne