Our History with Marriage Equality.
Click on the Picture Below see more Pictures in the slide show
Our History with Marriage Equality. MCCDC has been celebrating same-sex unions for most of our 46-year history. By the late 1970s, the church developed a very robust ministry to gay and lesbian couples. In the 1990s, several of our same-sex couples petitioned the DC government for marriage licenses. Sadly, all were turned down. But we continued that fight up to the present, having helped organize the faith communion during the campaign for Marriage Equality in the District of Columbia. Over a dozen of our members and clergy testified before the DC City Council during their hearings on the marriage equality legislation in 2009. We were among the first houses of worship in DC to hold a same-sex wedding.

Everyone Is Celebrated.
We celebrate all relationships, we don't just tolerate them. We invite you to consider holding your wedding or Holy Union ceremony in our ministry facility. We are committed to ensuring that your celebration is among your most memorable events of your life together.

Ceremony Venues
Sanctuary
We have two venues. Our sanctuary can comfortably accommodate up to 175 attendees. Located on the ground level of our ministry facility, this space provides maximum flexibility for seating. It includes a sound system, overhead microphones, two keyboards, and space for additional instruments. We have a marble altar which remains in place except under very specific circumstances. The color scheme of the sanctuary is gray and shades of purple. Seating can be arranged according to most wishes as we do not have traditional, fixed pews. The seating includes padded chairs with purple cushions.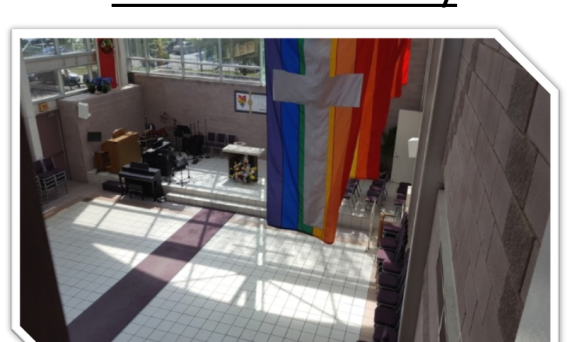 Chapel
Our Chapel, which is located on the second floor (elevator accessible), is a smaller and more intimate venue. It features relatively flexible seating and can comfortably accommodate up to 25 seated people. The color scheme is shades of gray. We have an upright piano available for use during your ceremony. Our Chapel is also home to our columbarium.
Holy Union vs. Wedding?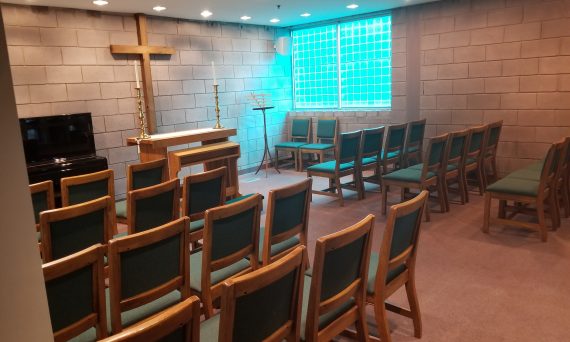 What is a Holy Union and how it is different from a legal marriage? Let's start with how they are the same. Holy Unions and weddings are the spiritual joining of two lives. It is a companionship that involves shared commitment and responsibility. A Holy Union and marriage is a way of calling God's blessing upon the joining of your lives and souls in a covenanted relationship. Weddings and Holy Unions are rites of the church, and all MCC clergy are authorized (by the denomination) to perform them.

How are they different?
Many same-sex couples choose to have a Holy Unions because legal marriage may not be available to them based on state law. Holy Unions are not legally binding ceremonies, but we strongly believe that God is present in the commitment ceremony and blesses the relationship of couples who are committed to each other. Legal marriages, and their wedding ceremonies, involve the officiant (minister or clergy person) acting at the behest of the government in legally binding two people together under the legal union of marriage. While we believe that legal marriages are also blessed by God, from the government's perspective, they are the civil union of two consenting adults.
We Can Meet All Your Needs!
Because of marriage equality in Washington, DC, MCCDC is able to celebrate both with the full backing of the DC government. You do not need to be a member of our congregation or any MCC church in order to have your ceremony here. Under DC law, neither you or your partner/fiancé/spouse need be a DC resident to have a legally recognized wedding. However, you should check with your state government to determine whether your DC marriage license will be recognized by your state of residence.

Available Clergy Support
Our Senior Pastor, Rev. Elder Dwayne Johnson and Associate Pastor Rev Cathy Alexander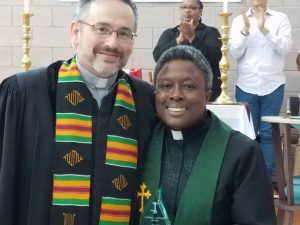 Our Senior Pastor, Rev. Elder Dwayne Johnson is legally authorized by the DC government to perform same-sex weddings anywhere in City. Our Associate Pastor, Rev. Cathy Alexander is legally authorized to perform weddings in DC, VA and MD. Several of our volunteer clergy are also authorized. Our clergy has always been able to officiate at weddings among opposite-sex couples and we will continue to celebrate these blessed unions. For couples wishing to have a Holy Union (a religious rite recognized by Metropolitan Community Churches and other faith traditions), we will continue to celebrate and offer that as well. We firmly believe that if God brings people together to celebrate their love for one another in a bond of mutual affection, it should be celebrated and welcomed. No judgments, no expectations, no rejection.
We have an entire team to help you celebrate your special day. Our Senior Pastor and most of our Volunteer Clergy are licensed to officiate at wedding and all are licensed under Metropolitan Community Churches to perform Holy Unions. Should you wish to have your own clergy person officiate, require the use of outside musicians, or want to use our Ministers of Music please contact the church office at(202) 638-7373