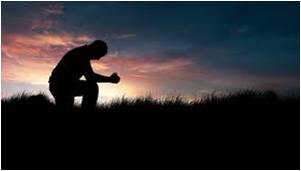 A headline from Time magazine caught my attention this week: "More Millennials Are Dying 'Deaths of Despair,' as Overdose and Suicide Rates Climb." Time reports that between 2007 and 2017, drug-related death increased by 108% among adults ages 18-34; alcohol-related death increased by 69%; suicides increased by 35%. 36,000 millennials in the United States died "deaths of despair" in 2017, with fatal drug overdoses being the highest driver.
Contributing factors to despair are noted as financial stress due to the high cost of health care, housing, and student loans. Another factor: lack of social support as fewer millennials participate in faith-and-community-based organizations. Recommendations to help shift the despair trends include greater accessibility to mental health resources and more affordable health insurance. These are important recommendations. And: the spiritual need must also be addressed.
When despair meets faith, hope is renewed. Psalm 42 includes honest questions prompted by despair. Why are you cast down, O my soul, and why are you disquieted within me? (v5). O God, why have you forgotten me? (v9). Where is your God? (10). Then, despair meets faith as the Psalmist testifies: "Hope in God, for I shall again praise the Holy One, my help and my God" (v11).
Our despairs speak to a deeper yearning. Our cravings rise from deeper hunger and thirst. We long for intimacy and connection beyond the buzz of social media. That's where MCCDC comes in! We provide a place for people to experience God and connect with each other. Here, we find good souls journeying together, forgiving of our imperfections while supporting each other to higher aspirations.
In the message this Sunday from Psalm 42, I'll speak to our call to be a transformative spiritual community where lives of faith are an alternative to deaths of despair.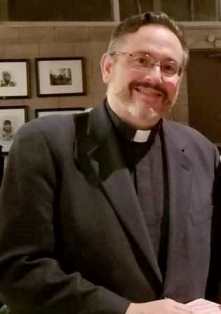 By Faith,Rev Elder Dwayne

"UP COMING EVENTS"
IN MEMORIAL Fannie Woody, Sunrise: September 22, 1933 * Sunset: June 15, 2019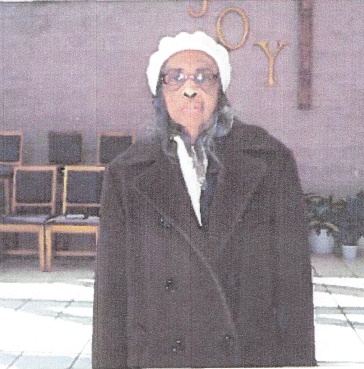 Our condolences are extended to the family, especially to Ms. Fannie's step daughter, Dr. Imani Woody, who invited her to spend her final years in her home. She is fondly remembered for her enthusiastic participation in our worship services by standing and swaying to the music. Final arrangements for a funeral service have not been determined as yet.
We cherish Ms. Fannie's memory with these words by an unknown author:
Do not stand by my grave and weep. I am not there. I do not sleep.
I am a thousand winds that blow. I am a diamond glint of snow.
I am the sunlight's on ripened grain. I am the gentle autumn rain.

When you awake in the morning hush, I am the swift, uplifting rush,
of quiet birds circling in flight. I am the soft starshine at night.
Do not stand by my grave and cry. I am not there. I did not die

June 23rd MEMBERSHIP CLASS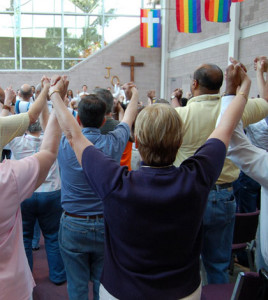 If you have questions about MCCDC and what membership is about, class will be held on June 23rd from 12:30 to 2:30 in the lower level conference room. All are welcome to attend. A light lunch will be served. PLEASE register so that we may have enough food and materials. Contact Rev Cathy at revcathy@mccdc.com or 202-638-7373.

Parking Corner / Options

Click here to find out your parking options
This Ad is to notify the congregation that construction on the M Street lot has started and parking in that area is no longer permitted.
For more information contact Greg Snyder gcsnyder01@aol.com

"CHURCH NEWS"
The Reunion Project, Thriving With HIV Workshop, June 22,2019 ,10 am-5 pm.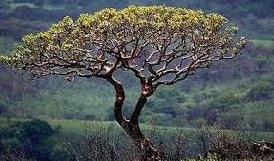 A local experience for long-term survivors of HIV living anywhere in the DMV Area.
Location: Milken Institute at George Washington University, 950 New Hampshire Ave. NW (Foggy Bottom Metro)
Doors open at 9 am. Continental Breakfast and Lunch will be provided.
Registration is free and confidential. Attendance is limited to 150 so register early
A local experience for long-term survivors of HIV living anywhere in the DMV Area.

Mark your Calendars! MCCDC amd UFCDC Partnership Sunday!
04 Aug 2019, 12 PM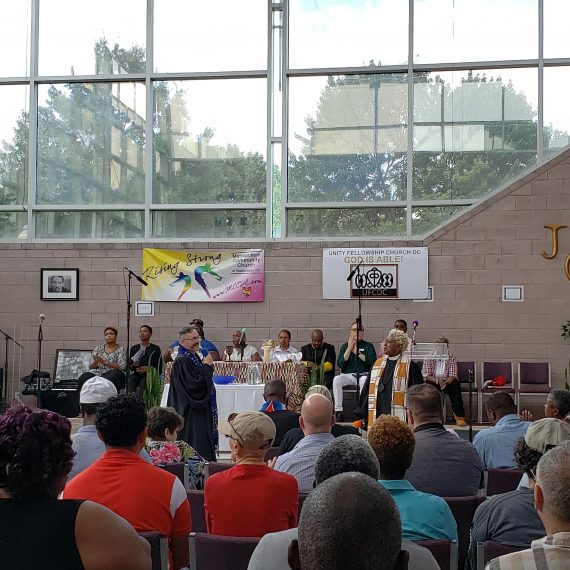 Join your MCCDC and UFCDC families for Partnership Sunday. We will offer our regular 9 am service. The second service will be held in partnership with our UFCDC siblings at 12pm.
Signed up to donate your favor desert or help with clean up and setup. Sign up sheets will be posted on the back of the welcome hall wall. Lunch will be provided after the service.

MCCDC Pool Party, Sponsored by Older Adult Ministry, All ages are welcome.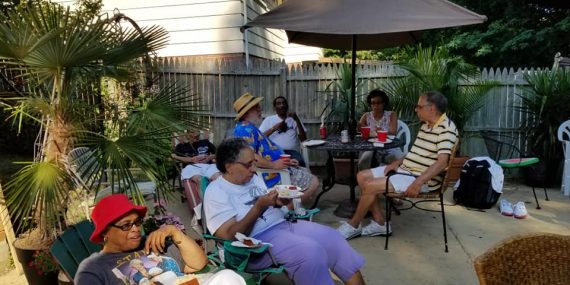 Saturday, July 13th at 4:00 P.M.
The home of Darryl Walker
8312 20th Avenue, Adelphi, MD 20783
You and your friends are cordially invited to the MCCDC Older Adults Pool Party. It is a social affair with home cooked food, live entertainment, great oldies music, dancing, swimming, and just lounging around poolside. The cost is $5 to cover a complete meal, soft drinks, wine, water, and munchies. Bringing a side dish is appreciated. Unused monies will be considered a fund raiser for the Older Adults Ministry. A signup sheet and tickets/RSVP are available on the last Sunday in June and the first Sunday in July at the Information Station following the 9:00 and 11:00 services.
TO RSVP and for MORE INFORMATION: Please email Darryl at darryl_1945@yahoo.com or call 202-297-688

Atlantic City Resort Hotel and Casino Bus Trip 14 Sept 2019

This event is sponsored by the Older Adults Ministry, but anyone is warmly invited to join!
Departs MCCDC promptly at 7AM and returns at 11 PM.
The cost is $50 and must be paid in advance. The deadline for sign up is Sept 1st. For more information please contact Ace Barbari at 703-303-2934.

Dancing * Fun * Dancing, Line Dancing! Line Dancing! It's coming to MCCDC

LGBTQ all are welcome
Saturdays, June 29, July 20, and July 27 at 12pm

474 Ridge Street, Washington, DC. Jerrie our instructor she'll teach us the hottest line dances for the summer!!

Donation – $6 Per Class (cash)
Contact Robin Anderson for info 252robin@gmail.com

MCC General Conference Registration is open. REGISTER NOW by clicking onthe link below.Celebrate the 50th Anniversary of Metropolitan Community Churches in Orlando!

In 1968, 12 people gathered in Rev. Troy Perry's living room to celebrate a risen Christ who includes all at His table, most especially the LGBTQ community.

General Conference 2019 will bring together MCC'ers from around the globe to worship and celebrate God's all-inclusive love. Come, taste, and experience all that MCC is and is becoming.

Join Us on YouTube and subscribe to the MCCDC YouTube Channel!

Stay current on our video postings .

Click here to see more MCCDC Videos

Inspiration Videos, Metropolitan Community Church of Washington DC

"Ministry Spotlight"

"Trustee Corner"

This is an update on the repair project that involves repairing/replacing the lighting control panel in the sanctuary.

Click Here to read Details on Sanctuary lights

The Soundboard Ministry Needs YOU!!!

Soundboard volunteers are needed for 9am and 11am services. No experience needed. You will be trained on a state of the art soundboard, setting mics up for service and learning the technical side of handling the sound board. We would like to have you train at the 9am service and continue training at the 11am service but if your prefer to train only at one service you can.
Please contact me Michael Cunningham at mjcunningham2013@gmail.com or stop by to talk with any soundboard volunteer.

MCCDC Bible Study

A time of community, fun, learning, and sharing!

Tuesdays, from 7:00 – 8:00 PM in the Welcome Hall

For more information please contact Dale Madyun-Baskerville at the churchoffice@mccdc.com or call (202) 638-737.

"

Prayer Corner

Please continue to hold in your prayers Keith Richardson and George Hendrickson who are in Nursing Homes

Join our Worship and Arts Ministry!

Ministry
Meeting Time
Contact
E-mail
9 AM Choir

Sunday

8:15 AM

Daniel Scearce
danscearce@aol.com
11 AM Choir

Thursdays

7:00 PM

Diedre Mouton Gray
msdeedeemusic@gmail.com
Dance
Every other Tuesday
5:00 – 6:45 PM
Cathy Batson
cathybatson1@verizon.net
Drama
Mondays
6:30 PM
Jules Christian
enjoyingtoday@hotmail.com
Eclectic Praise
Sundays
12:30 PM
Johanna Hardy
brassrat93@gmail.com