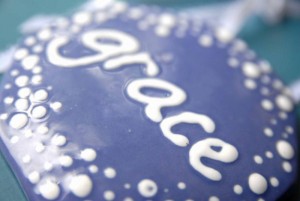 Several years ago, I wrote a song called "Justified" based on Sunday's reading from Romans 5:1-5. The song gratefully celebrates how God uses our faith to make available to us all of God's universal promises. The lyrics of the song declare, "God knows all about me, but God loves me anyway! I've got a witness in heaven. It doesn't matter what the world may do or say!"
Our faith is displayed each day we open our hearts and take the risk to accept the abundant and unconditional love and grace of God. Our faith, our trust in God, gives us access to peace, joy, healing, redemption, and confidence. Indeed there are many songs that express and celebrate the connection between our faith and the confidence it provides. Well-known songs like "Blessed Assurance" and "It Is Well with My Soul" put to music our declarations of confidence. Because of our faith, God encourages us to be more assertive and less timid about our spirituality and connectedness to God.
There is an unfortunate preponderance of persons with low self-esteem and self-worth. For various reasons over time, they have come to believe that they are not loved, cannot be loved, or feel lonely and abandoned. They believe that self-worth and self-assuredness are luxuries beyond their reach. This is where grace comes in. Whenever our short-comings begin to overwhelm us, and tempt us to self-condemnation, our faith taps into God's grace, and God's love is out-poured. Our faith IS our proclamation of our confidence in God. Then through our confidence in God, God grants US confidence based on God's steadfast and unwavering love. We are redeemed and justified; indeed, we are stood aright by God.
The confidence we would display is not arrogant or cocky, as if we have accomplished anything of our own doing. If we were to be so bold as to erroneously base our confidence on our own good works, this would a big mistake; as if we would intentionally stand on shaky, sandy ground. Haughtiness is actually a form of idolatry. This kind of pride is destructive and detrimental to all that it touches.
Today we are celebrating a kind of pride, not in and of ourselves, but completely of God. Based solely on what God has graciously done, we can stand, unashamed, loved, and accepted. We can even boast in God's sharing with us God's glory. In Sunday's gospel lesson from John 16: 12-15, Jesus speaks of the "Spirit of Truth" that comes and guides and declares, and even glorifies.
The Spirit of Truth provides us with constant and perpetual reminders that the Love of God is ever enfolding us, and God's grace is sustaining us. This truth cannot be denied. It supports us as we live our lives for God. When you have the truth and the truth has you, there is no cowering, there is no timidity. There is standing.