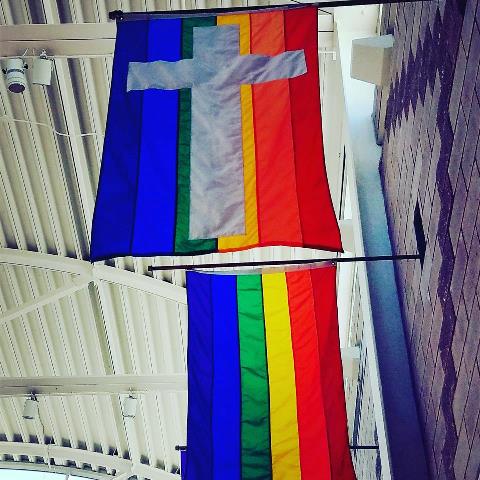 "Unless you choose to do great things with it, it makes no difference how much you are rewarded, or how much power you have." –Oprah Winfrey.

God is certainly a great God that encourages and empowers each of us to be great and to do great things. What exactly is greatness? How do you measure it and how do you know when you have accomplished it? What is God's idea of greatness and "greater things"?
This week Rev. Alberto Najera from New Life MCC of Hampton Roads will join us once again. Rev. Alberto is part of the MCCDC extended family and has been instrumental in supporting the Unid@s Spanish speaking ministry. We welcome him home.
Rev. Alberto will share from John 14:12 and selected verses from Psalms 147. Each passage extols a different perspective on greatness and mighty deeds. God's greatness is reflected in the grandeur and forces of nature. Those forces can be both beautiful and destructive. The winds can demolish and give a gentle kiss on our cheek. Both reflect aspects of the mighty God that we serve. We are encouraged to praise the God of our understanding. Sing praises to God for the potential that has been created in each of us.
Join us for services at 9 and 11 to extol the greatness of our God.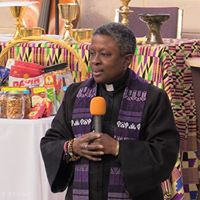 Peace,
Rev Cathy



Guest Speaker Rev. Alberto Nájera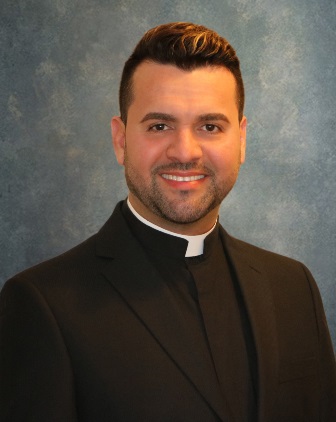 A native of Nicaragua in Central America and a Christian for over 32 years from childhood, Rev. Alberto grew up in the Pentecostal tradition where he assumed increasing ministry responsibilities in the areas of children, youth, and evangelism with the Evangelical Pentecostal Church in Nicaragua. Alberto first came to MCC Peace and Joy in Nicaragua in 2000. In the years that followed his participation was marked with great passion and commitment: as he was ordained a deacon in 2002; later appointed as interim pastoral leader; and in 2006, after an intensive process of theological studies, training, accreditation, recognition of studies completed, and under the leadership of Rev. Elder Darlene Garner, he was ordained as clergy in UFMCC. At that time, Rev. Nájera continued to serve as pastor of MCC Peace and Joy in Managua, Nicaragua and Founder of three groups ICM Mission in Chiriquí, Colón, and Panama City in Panama.
In addition, Rev. Nájera has provided support to the Unidos Latino ministry of MCC Washington, District of Columbia, USA and has served on the international judicial pool of MCC since 2012. Through the years, both in Nicaragua and after coming to the United States, Alberto has remained close to his family. With his parents and three older siblings his early years were spent on a rustic mountain cattle ranch where Alberto developed a lifelong love for riding and horses. Today, he lives in Virginia Beach, Virginia, USA with his husband, Rev. Mark Byrd and their yellow lab, Nica.

"UP COMING EVENTS"
SHARE Food Program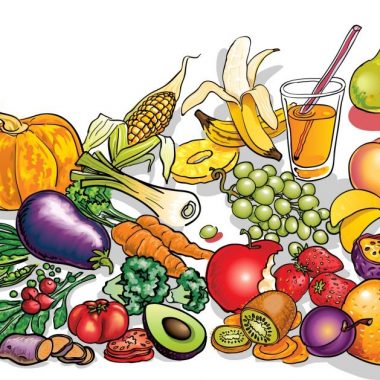 Mark your Calendar for some great food deals!
Place your order NLT June 09, 2019 with Church office at
churchoffice@mccdc.com or 202-638-7373.
See full food menu posted in fellowship hall on the doors. Distribution day is Saturday June 21st at 10 AM.

Parking Corner / Options

Click here to find out your parking options
This Ad is to notify the congregation that construction on the M Street lot has started and parking in that area is no longer permitted.
For more information contact Greg Snyder gcsnyder01@aol.com

"CHURCH NEWS"


MCCDC's Pride Outreach Ministry invites you to share our message of God's inclusive love for all people – at the 2019 Pride events! Let us reach people who are hungry and thirsty for a community that is inclusive, loving and creative. MCCDC is still the place to be!
MCCDC is partnering with MCCs and other faith communities in the DMV area that share our message of faith & inclusion. Together we are a Pride coalition called "ChurchesUnitedInPride". Our message this year is: "We won't be silent – Speaking Truth in Pride".
So, come out and be a part of Pride: Join us for the events and march with us in the Parade!
We are also offering a Pride shirt again. You can order and pay for yours online:
"Last opportunity to order your Pride shirt – please order by Friday, May 31st!"
Click Here To Order Your Shirt
If you have any questions about Pride, please contact Knut Panknin at knutpanknin@gmail.com


Upcoming Pride dates:

La Fe Service / Latino Pride
– Saturday, June 1, 6 PM (MCCDC)
Capital Pride
– Parade Sat, June 8 (Dupont Circle)
CAPITAL PRIDE FESTIVAL


Sunday, June 9, 2019
12:00 PM – 10:00 PM
Pennsylvania Ave. & 3rd St. NW
Metro: (GREEN) Archives-Navy Memorial-Penn Quarter
If you have any questions about Pride, please contact Knut Panknin at knutpanknin@gmail.com

Capital PRIDE Interfaith Service on June 11th at 7 PM
>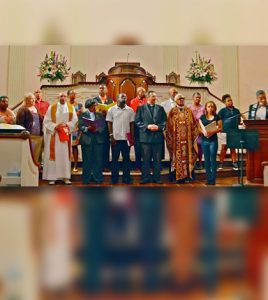 Join your DC faith community in celebrating our 36th annual service. This year the service will be held at Adas Israel.
Our theme is "Shout Outloud Together!"
Location details:
Adas Israel Congregation
2850 Quebec Street, NW
Washington, DC 20008
Cleveland Park Metro

The MCCDC Drama Ministry would like to thank everyone for their support of our presentation, Maker of Zoe!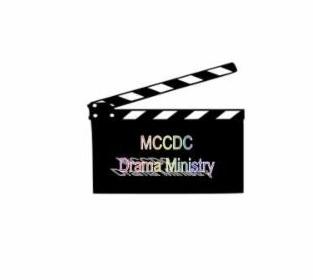 Videos of the play are available for purchase. $15.00 for a digital copy and $20.00 for a DVD.
Please see Linda (lhornsby23@aol.com) or Jules (enjoyingtoday@hotmail.com) after service on Sunday to place your order.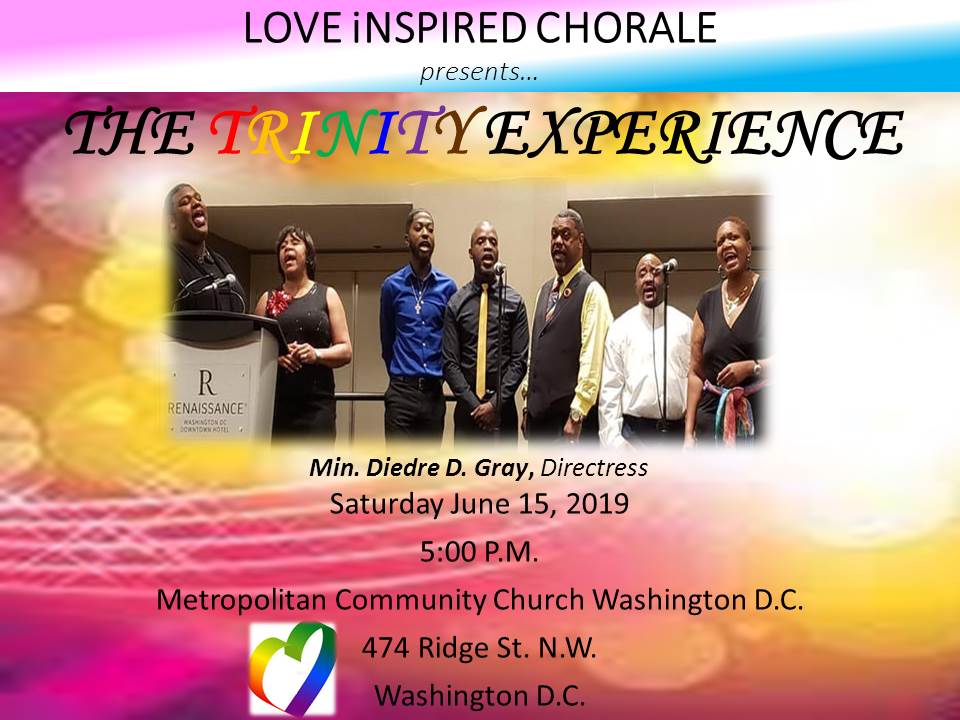 Join your MCCDC family on Sunday June 16 at 11 AM as the LOVEiNSPIRED CHORAL ministers their gift of music.

Older Adult Ministry Potluck/Meeting, 02 June, 12:30 pm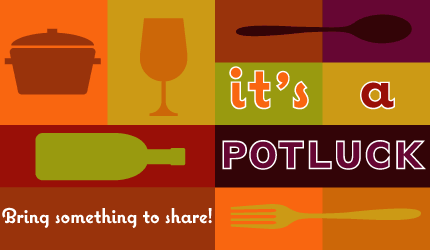 Older Adult Ministry will be holding their monthly Potluck. All age 50 and above are welcome to join. For more information contact Dale Madyun-Baskerville at the church office 202-638-7373

Dancing * Fun * Dancing, Line Dancing! Line Dancing! It's coming to MCCDC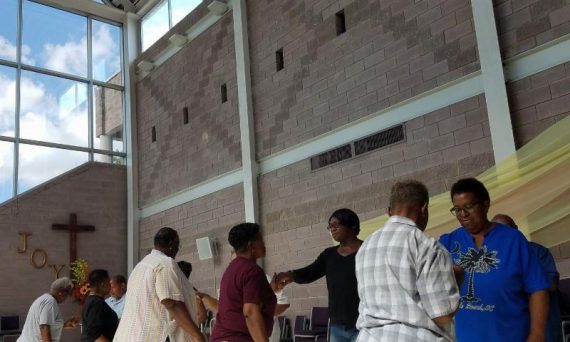 LGBTQ all are welcome
Saturdays,June 8th , June 15th at 12pm
474 Ridge Street, Washington, DC. Jerrie our instructor she'll teach us the hottest line dances for the summer!!
Donation – $6 Per Class (cash)
Contact Robin Anderson for info
252robin@gmail.com

MCC General Conference Registration is open. REGISTER NOW by clicking onthe link below.Celebrate the 50th Anniversary of Metropolitan Community Churches in Orlando!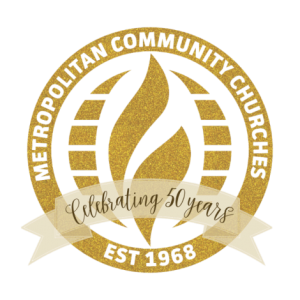 In 1968, 12 people gathered in Rev. Troy Perry's living room to celebrate a risen Christ who includes all at His table, most especially the LGBTQ community.
General Conference 2019 will bring together MCC'ers from around the globe to worship and celebrate God's all-inclusive love. Come, taste, and experience all that MCC is and is becoming.

Join Us on YouTube and subscribe to the MCCDC YouTube Channel!
Stay current on our video postings .
Click here to see more MCCDC Videos
Inspiration Videos, Metropolitan Community Church of Washington DC

"Ministry Spotlight"
"Trustee Corner"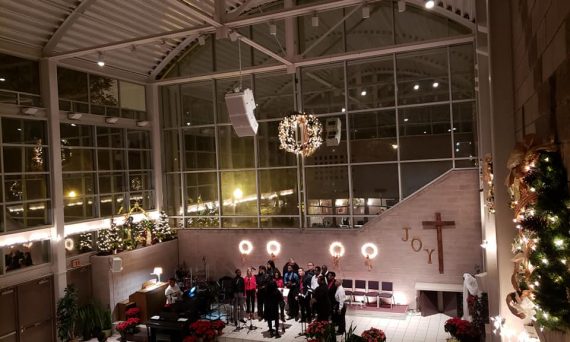 This is an update on the repair project that involves repairing/replacing the lighting control panel in the sanctuary.
Click Here to read Details on Sanctuary lights

The Soundboard Ministry Needs YOU!!!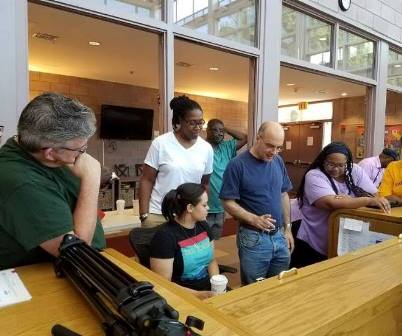 Soundboard volunteers are needed for 9am and 11am services. No experience needed. You will be trained on a state of the art soundboard, setting mics up for service and learning the technical side of handling the sound board. We would like to have you train at the 9am service and continue training at the 11am service but if your prefer to train only at one service you can.
Please contact me Michael Cunningham at mjcunningham2013@gmail.com or stop by to talk with any soundboard volunteer.

The Hospitality Ministry Needs Your Help!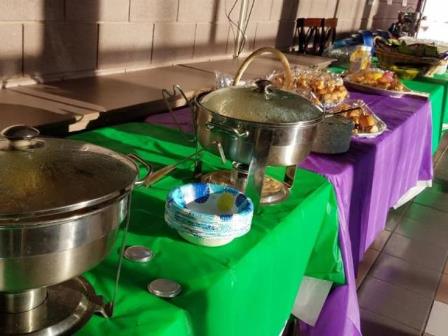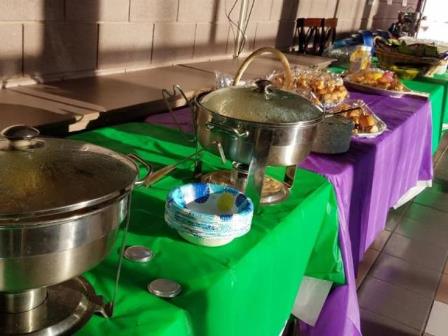 If you have hospitality items that you would be willing to bring in and support Sunday hospitality, please contact the church office at
churchoffice@mccdc.com or 202-638-7373.. Items for consideration are:
Items that are needed:
Keurig Cups
Fresh Fruit
Granola Bars
Box of Coffee Straws
Bagels

MCCDC Bible Study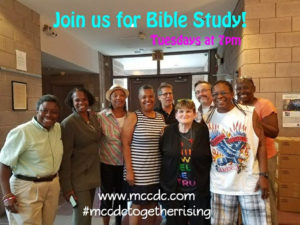 A time of community, fun, learning, and sharing!
Tuesdays, from 7:00 – 8:00 PM in the Welcome Hall
For more information please contact Dale Madyun-Baskerville at the churchoffice@mccdc.com or call (202) 638-737.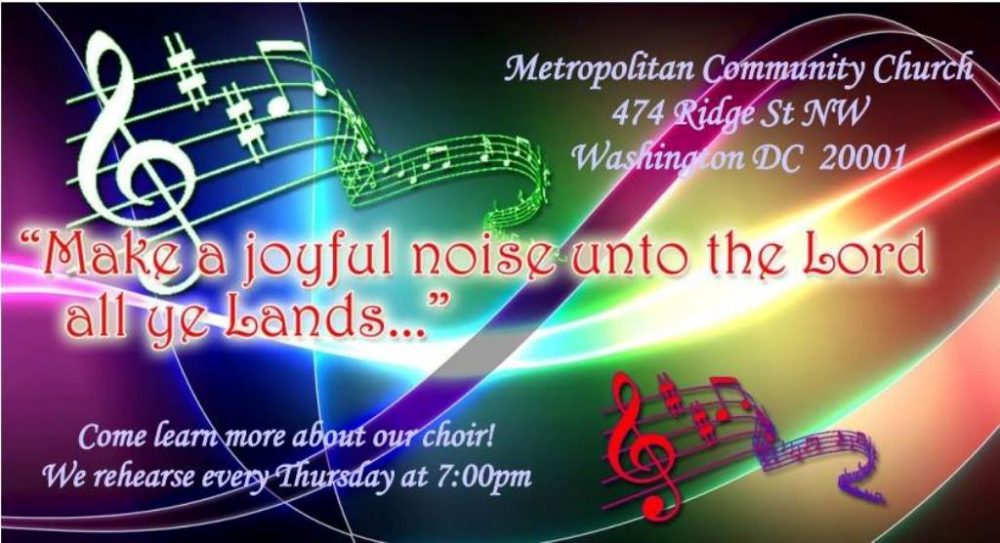 "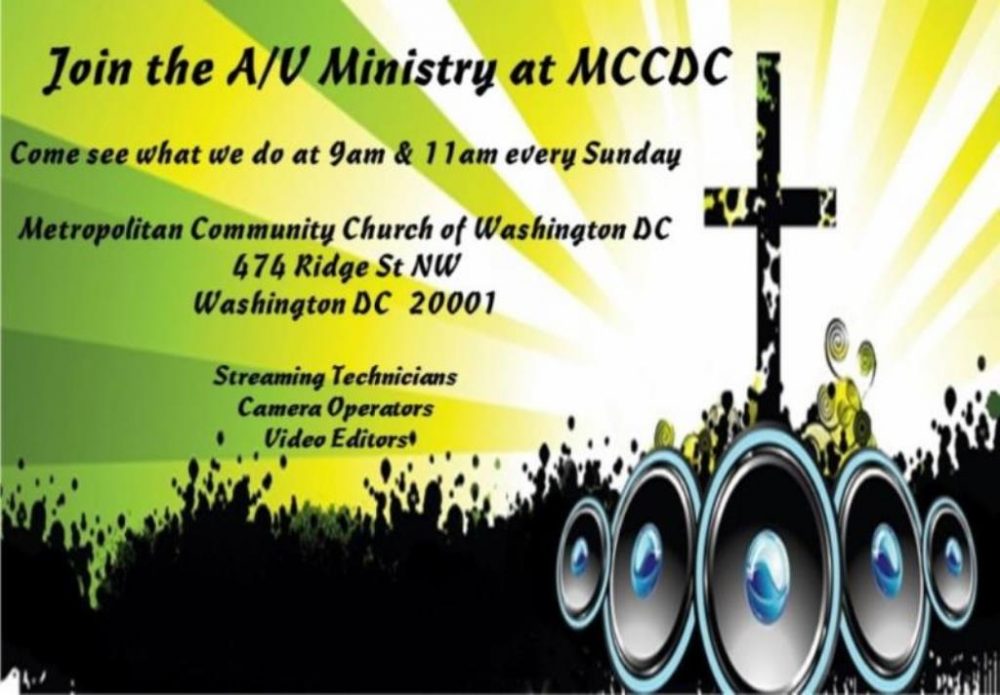 Prayer Corner

Please continue to hold in your prayers Keith Richardson, George Hendrickson and Fannie Woody who are in Nursing Homes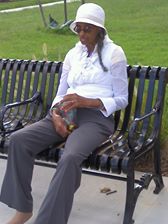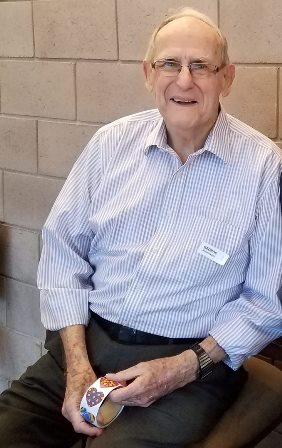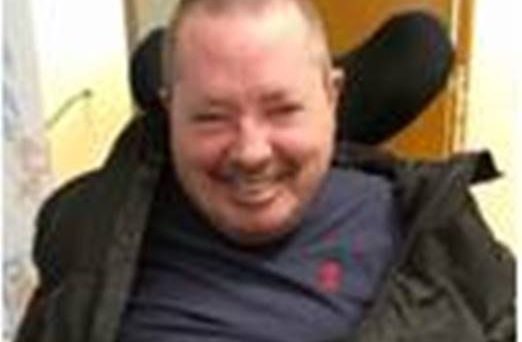 Join our Worship and Arts Ministry!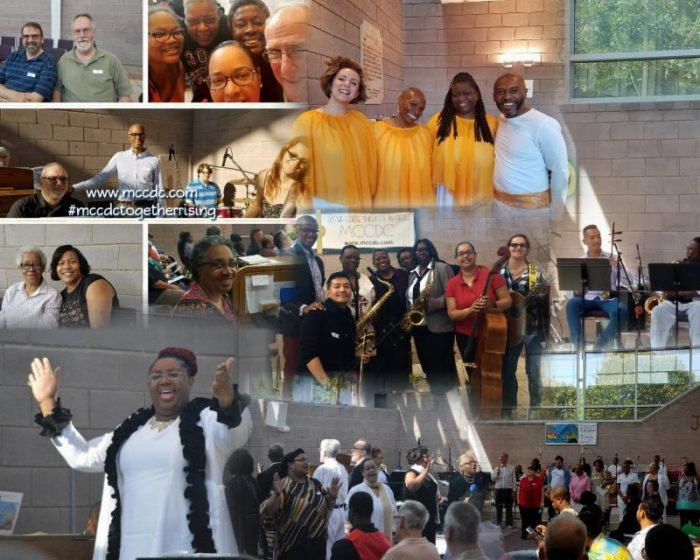 Ministry
Meeting Time
Contact
E-mail
9 AM Choir

Sunday

8:15 AM

Daniel Scearce
danscearce@aol.com
11 AM Choir

Thursdays

7:00 PM

Diedre Mouton Gray
msdeedeemusic@gmail.com
Dance
Every other Tuesday
5:00 – 6:45 PM
Cathy Batson
cathybatson1@verizon.net
Drama
Mondays
6:30 PM
Jules Christian
enjoyingtoday@hotmail.com
Eclectic Praise
Sundays
12:30 PM
Johanna Hardy
brassrat93@gmail.com