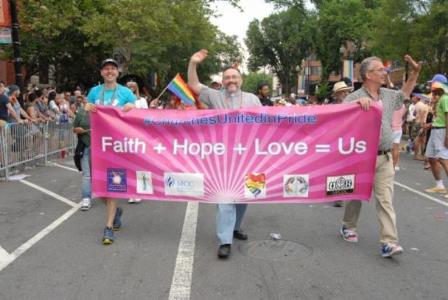 This Sunday we begin the colorful season of Pridetide! At MCCDC we observe traditional seasons of the church calendar such as Advent, Lent, Holy Week and the Great 50 Days of Eastertide. We also welcome emerging observances. Pridetide is one such observance, celebrated in most Metropolitan Community Churches and a growing number of other denominations.
This year, we especially honor the courageous ones at the Stonewall Inn on Christopher Street in New York City who early on the morning of Saturday, June 28, 1969 rioted following a police raid. This uprising, 50 years ago, was one breakthrough moment in the LGBTQ+ movement for equality. Another key breakthrough, a few months before Stonewall, was the first worship service of Metropolitan Community Churches, courageously led by Rev. Troy Perry on October 6, 1968 in Huntington Park, California.
Pridetide is a time to show our true colors, celebrating the legacy of those who have gone before us with hope for future generations who will carry our many flags, and create new ones. Why is LGBTQ+ Pride so important? Because our work is not finished. Hate crimes, stigma, bullying and discrimination continue to make headlines. Thus, we must not rest in our work for equality. The Transgender community, especially, faces continued bias, both blatant and subtle. From insensitivity at TSA screenings, to employment discrimination, to hate crimes, our Transgender siblings face the blunt force of oppression.
Pride celebrations, locally and globally, ensure that voices for justice will continue to resonate. These celebrations inspire hope for those who have not come out. Pride celebrations help create a new vocabulary of mutual respect and understanding.
This Sunday is also Pentecost Sunday, considered by many to be the "birthday" of the church. The Holy Spirit infused the early church with gifts of power, light and witness. We too rely on these gifts to embolden our work of spiritual activism. It is significant that the birthday of the church at Pentecost and the birthday of LGBTQ+ Pride occur closely together on the calendar.
See you Saturday at the Pride Parade and Sunday at worship and the Pride Festival. Together, we will boldly show our True Colors.