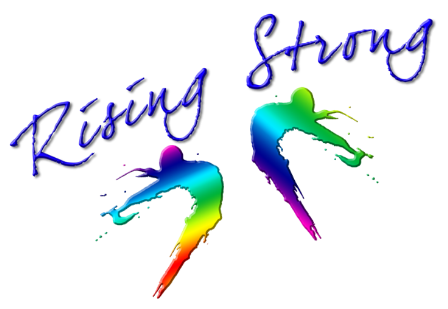 "I believe that Spirit is one and is everywhere present. That it never leaves me. That in my ignorance I may withdraw from it, but I can realize its presence the instant I return to my senses. It is this belief in a power larger than myself and other than myself which allows me to venture into the unknown and even the unknowable. I cannot separate what I conceive as Spirit from my concept of God. Thus, I believe that God is Spirit."
~Maya Angelou from Wouldn't Take Nothing for My Journey Now
It is often difficult to live out the call of Jesus. It takes a strong person to put into practice the counter-cultural teachings of Jesus. It also takes the Holy Spirit to fill us with the strength to live a new way of life. To live with the Spirit is to live the blessing of the Community of Heaven, a commonwealth where the heart of God intersects with the heart of people. At the center of the intersection are relationships.
Those that received the message of Jesus for the first time were seemingly without strength. They were a people under the oppressive rule of Rome. Jesus called them to rethink the meaning of strength, claim their blessedness, and live with higher integrity. It was a call that came with an invitation to trust God, rather than the self-absorbed religious authorities who sought to use God for their own purposes. Jesus wanted them to know that their greatest strength came from the inside
Our scripture this Sunday from Colossians 1:1-14 offers this blessing: "May you be made strong with all the strength that comes from God's glorious power!" True strength is not found in exerting strength over others. The Spirit of the heart of Jesus calls us to live and love differently. This Sunday at 9 AM and 11 AM we will look at what it means to be strong people as defined by the life of Jesus. See you Sunday!

"UP COMING EVENTS"
Combined Memorial Service, 11 AM, Saturday, July 13th, Metropolitan Community Church of Washington, 474 Ridge Street NW, Washington DC
A repast follows
Ms.Fannie Woody, Sunrise: September 22, 1933-Sunset: June 15, 2019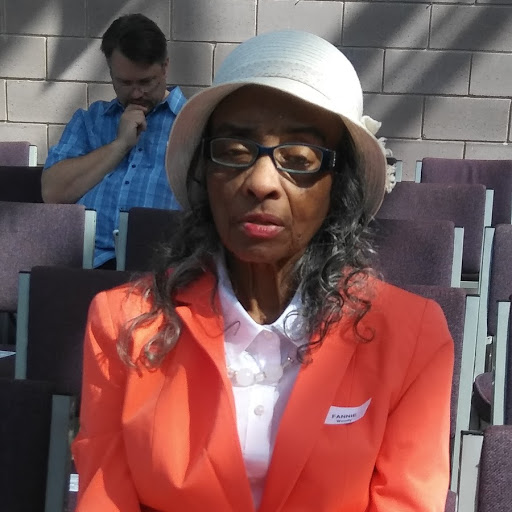 George Howard Hendrickson, Sunrise: August 19, 1932 -Sunset June 21, 2019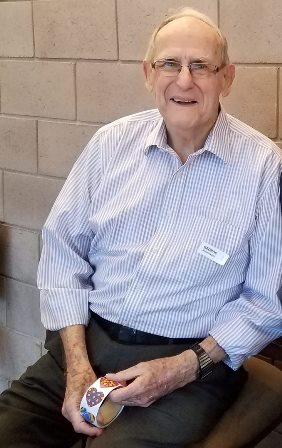 MCCDC Pool Party Sponsored by the Older Adults Ministry
If you are between the age of 1 and 100, you are welcome to attend. It is not too late to rsvp. Just phone Darryl Walker at 202-638-7373 or email darryl_1945@yahoo.com.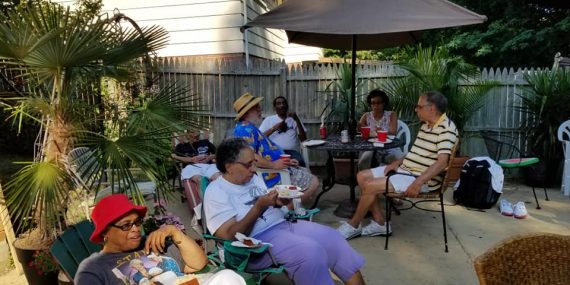 Saturday, July 13th at 4:00 P.M.
The home of Darryl Walker
8312 20th Avenue, Adelphi, MD 20783
You and your friends are cordially invited to the MCCDC Older Adults Pool Party. It is a social affair with home cooked food, live entertainment, great oldies music, dancing, swimming, and just lounging around poolside. The cost is $5 to cover a complete meal, soft drinks, wine, water, and munchies. Bringing a side dish is appreciated. Unused monies will be considered a fund raiser for the Older Adults Ministry. A signup sheet and tickets/RSVP are available on the last Sunday in June and the first Sunday in July at the Information Station following the 9:00 and 11:00 services.

Mark your Calendars! MCCDC amd UFCDC Partnership Sunday!
04 Aug 2019, 12 PM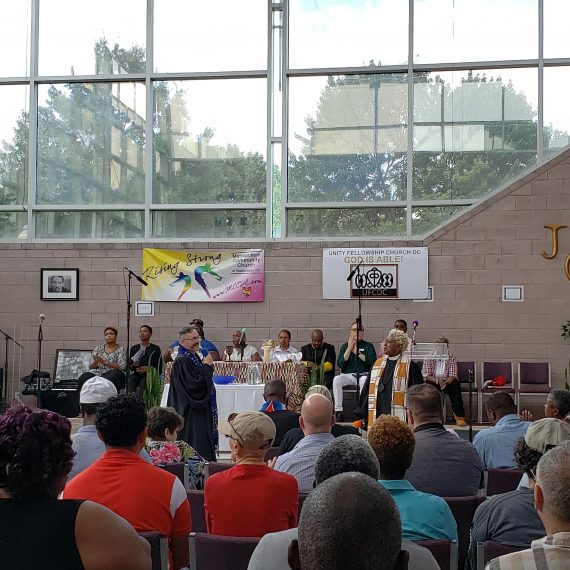 Join your MCCDC and UFCDC families for Partnership Sunday. We will offer our regular 9 am service. The second service will be held in partnership with our UFCDC siblings at 12pm.
Signed up to donate your favor desert or help with clean up and setup. Sign-Up sheets are posted on the back of the welcome hall wall. Lunch will be provided after the service.

"CHURCH NEWS"
Dancing * Fun * Dancing, Line Dancing! Line Dancing! It's coming to MCCDC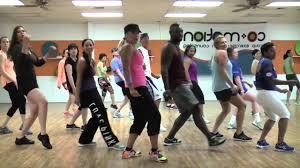 LGBTQ all are welcome
Saturdays, June 29, July 20, and July 27 at 12pm
474 Ridge Street, Washington, DC. Jerrie our instructor she'll teach us the hottest line dances for the summer!!
Donation – $6 Per Class (cash)
Contact Robin Anderson for info 252robin@gmail.com

Walk it Out! Join your MCCDC family in the walk to end breast cancer. All are welcome to join the team.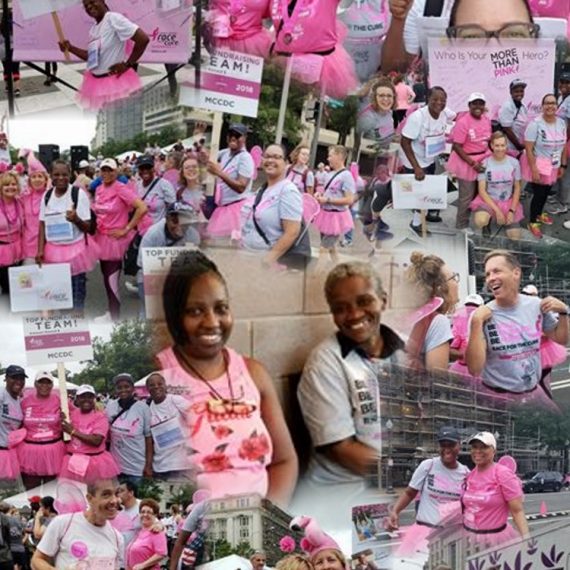 2019 Komen Washington DC MORE THAN PINK Walk
Saturday, September 7, 2019
Freedom Plaza, 1455 Pennsylvania Ave. NW
7:00 AM-Registration and T-shirt Pick-up Opens
8:45 AM-Opening Ceremony
Survivors and Those Living with Metastatic Breast Cancer Strut to the Opening Ceremony (line up at 8:30 in the Hope Village)
9:00 AM-Walk Start
For more information, please contact Rev Cathy Alexander at revcathy@mccdc.com or call (202) 638-7373.

Atlantic City Resort Hotel and Casino Bus Trip 14 Sept 2019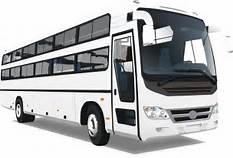 This event is sponsored by the Older Adults Ministry, but anyone is warmly invited to join!
Departs MCCDC promptly at 7AM and returns at 11 PM.
The cost is $50 and must be paid in advance. The deadline for sign up is Sept 1st. For more information please contact Ace Barbari at 703-303-2934.

Join Us on YouTube and subscribe to the MCCDC YouTube Channel!
Stay current on our video postings .
Click here to see more MCCDC Videos
Inspiration Videos, Metropolitan Community Church of Washington DC

"Ministry Spotlight"
"Trustee Corner"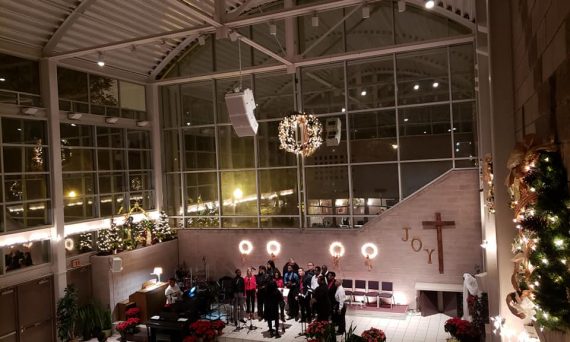 This is an update on the repair project that involves repairing/replacing the lighting control panel in the sanctuary.
Click Here to read Details on Sanctuary lights

The Soundboard Ministry Needs YOU!!!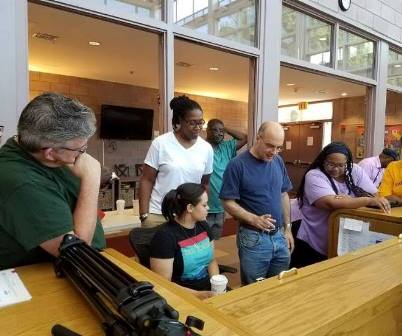 Soundboard volunteers are needed for 9am and 11am services. No experience needed. You will be trained on a state of the art soundboard, setting mics up for service and learning the technical side of handling the sound board. We would like to have you train at the 9am service and continue training at the 11am service but if your prefer to train only at one service you can.
Please contact me Michael Cunningham at mjcunningham2013@gmail.com or stop by to talk with any soundboard volunteer.

MCCDC Bible Study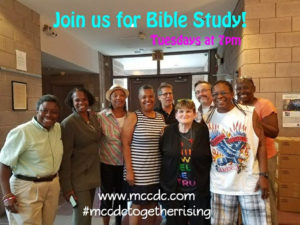 A time of community, fun, learning, and sharing!
Tuesdays, from 7:00 – 8:00 PM in the Welcome Hall
For more information please contact Dale Madyun-Baskerville at the churchoffice@mccdc.com or call (202) 638-737.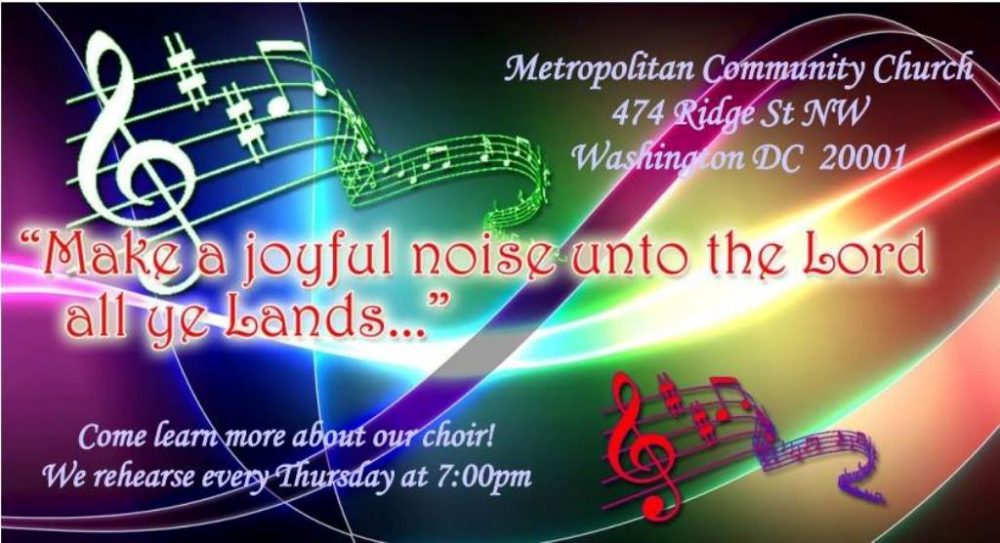 "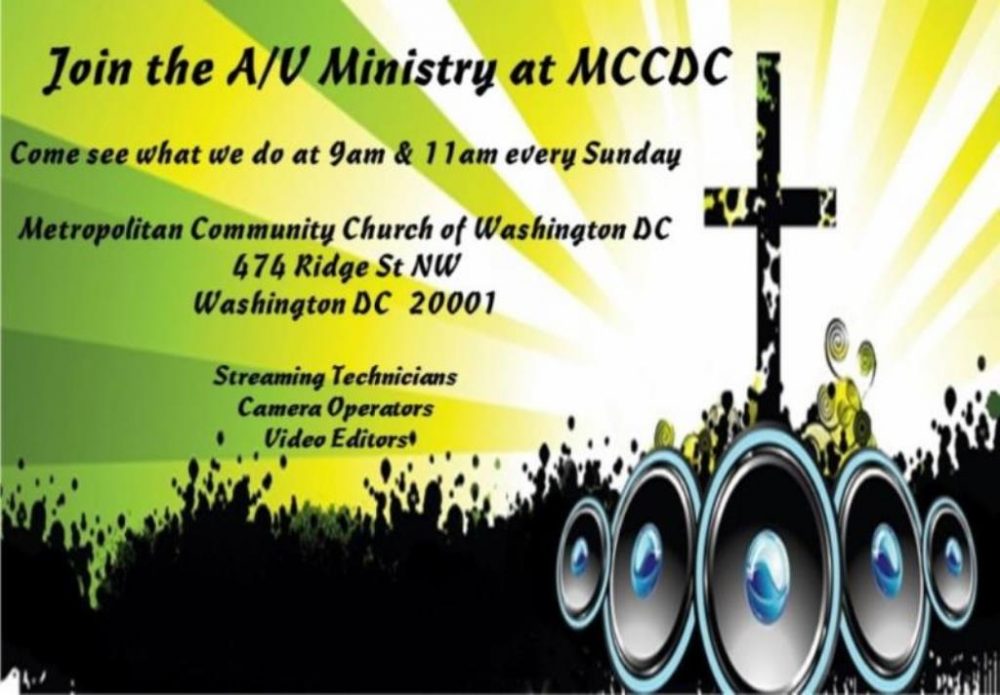 Prayer Corner
Please continue to hold in your prayers Keith Richardson who is in a Nursing Home.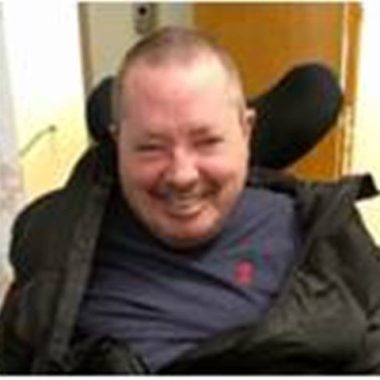 Join our Worship and Arts Ministry!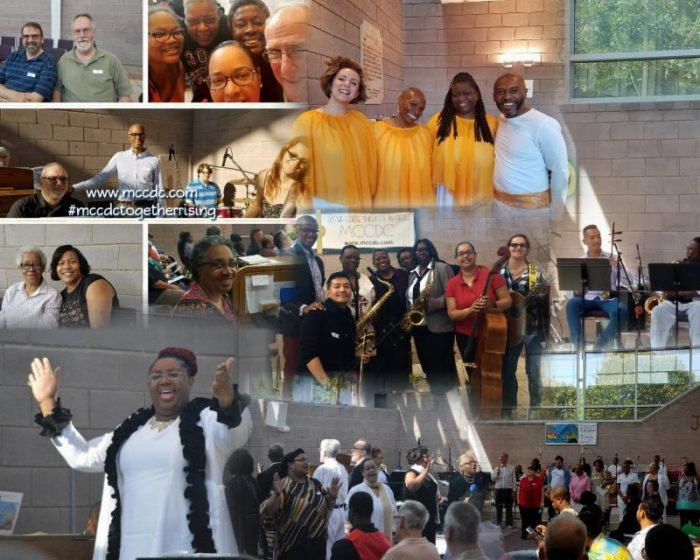 Ministry
Meeting Time
Contact
E-mail
9 AM Choir

Sunday

8:15 AM

Daniel Scearce
danscearce@aol.com
11 AM Choir

Thursdays

7:00 PM

Diedre Mouton Gray
msdeedeemusic@gmail.com
Dance
Every other Tuesday
5:00 – 6:45 PM
Cathy Batson
cathybatson1@verizon.net
Drama
Mondays
6:30 PM
Jules Christian
enjoyingtoday@hotmail.com
Eclectic Praise
Sundays
12:30 PM
Johanna Hardy
brassrat93@gmail.com