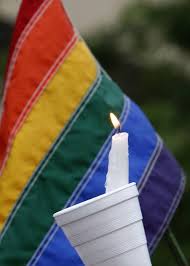 "Imagine a place where mercy resides, love forms each heart and compassion is lived out with grit and determination." ~ Cynthia Langston Kirk
Rev. Troy Perry wasn't sure what was ahead. Because he was gay, he had recently been defrocked by the church he loved and the church that he had served. His church condemned him as a sinner unfit for ministry. Yet beyond his despair he imagined a new church where mercy would reside rather than condemnation.
On October 6, 1968 Rev. Perry opened his small home for the first Metropolitan Community Church worship service. In Huntington Park, a suburb of Los Angeles, the twelve who gathered knew that God was present with them and inspiring them to imagine a church beyond the walls of fear, discrimination and hatred.
A church where "love forms each heart" was a vision that met the needs of the Los Angeles community. And the vision stretched beyond. Soon MCC expanded to other cities, including Washington, DC. The first MCC service in Greater Washington was held in 1970 at 705 7th Street SE. Officially chartered in 1971, the Metropolitan Community Church of Washington, DC continues to live out the vision of love that grows in our hearts from the inside out.
This Sunday at 9:00AM and 11:00AM we are celebrating 48 years of ministry. With gratitude, we will remember those who first came together to create a place with a fully open Communion Table. MCCDC has continued to provide a place where people from a variety of backgrounds come together to create a community where "compassion is lived out with grit and determination."
Today, in 2019, we remain committed to building a generous home that offers welcome and acceptance. As our world becomes increasingly fractured through greed, fear and isolation, our ministry is more vital than ever.
Plan to join in the celebration this Sunday. Our inspiring guest preacher is Kathleen Carey, a long-time lay leader of MCCDC now living the Boston area. Her message from Revelation 21:1-6 invites us to imagine our greatest hope: "God is among the people, living with them and calling them beloveds… for the old order has fallen…look! I'm making everything new!" See you Sunday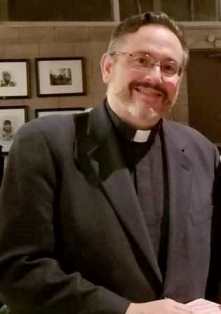 By Faith, Rev Elder Dwayne Johnson

"UP COMING EVENTS"
Congratulating MCCDC on your 48th Anniversary
Congratulations Video from Elder Nancy Maxwell, Metropolitan Community Churches

MCCDC Church 48th Anniversary, May 19th, 9 am and 11 am
Celebrate our 48th anniversary with your MCCDC Family. May 19th will be a day of celebration, memories and community connection. We will honor long time members and encourage new arrivals and everyone in between. Former member Ms. Kathleen Carey will be our guest speaker. Please plan on joining in at 9 am or 11am.

The MCCDC Drama Ministry Presents: The Maker of Zoe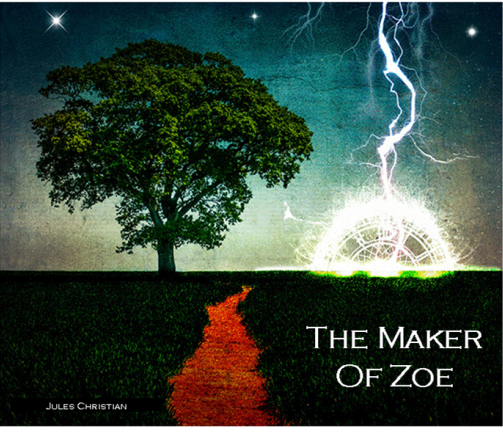 Dinner & A Show: Maker of Zoe!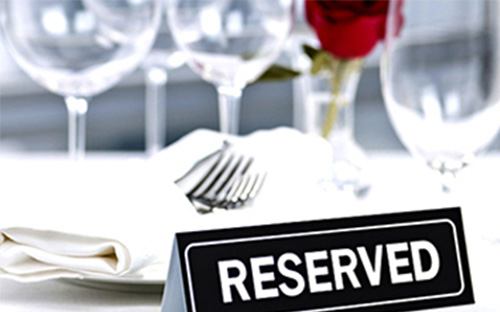 Get Your Tickets at the Door! $32.00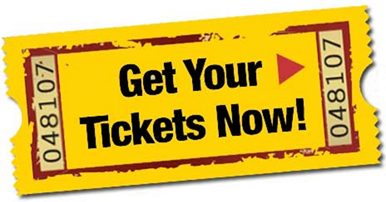 Enjoy an original and inspirational theater experience
Homemade Italian Dinner Served to your table
Support the MCCDC Drama Ministry
For Church Members Only!
Reserve Your Table Today!
300 Includes…
Reserved and Priority Seating for 8
Sit together with your friends
Option to receive Dinner upon arrival
Friday, May 17th at 7:00
Saturday, May 18th at 1:00 & 7:00

"CHURCH NEWS"
Young Adult Innovation Hub Team Meets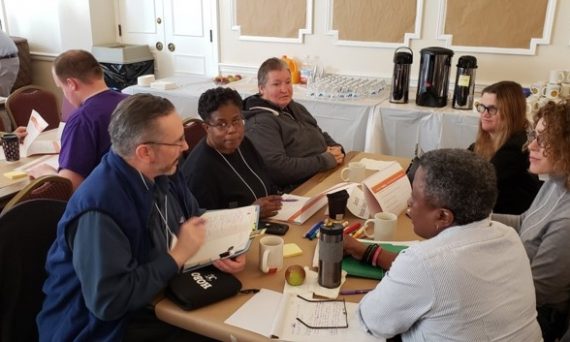 The Innovation Hub sponsored by Wesley Theological Seminary provides a mechanism and structure to do design thinking around reaching and deeply listening to Young Adults. The team meets to listen, learn, and actively plan for a $20,000 grant proposal. We request your continued prayers, thoughts and ideas. A recent survey revealed the many places that people find God.

Capital PRIDE Interfaith Service on June 11th at 7 PM
>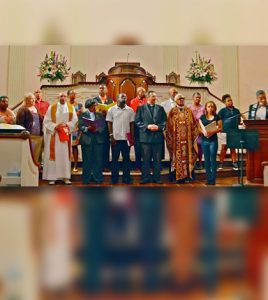 Join your DC faith community in celebrating our 36th annual service. This year the service will be held at Adas Israel.
Our theme is "Shout Outloud Together!"
Location details:
Adas Israel Congregation
2850 Quebec Street, NW
Washington, DC 20008
Cleveland Park Metro

Join your MCCDC Family for the Night Out at the Nationals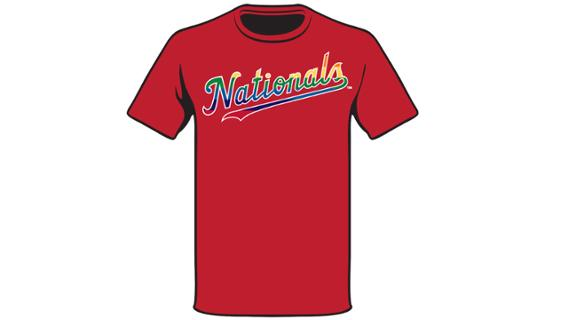 Tuesday Jun 4 at 7:05 PM
Tickets are $31. Payment is due by May 23rd. Do not let cost be a barrier to attending. Please contact Rev Cathy at 202-638-7373 or revcathy@mccdc.com

You're invited! To the Drum Heart Beat Of Humanity 9th Annual Dance Concert, Friday May 24th at 7:30 PM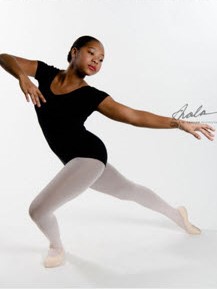 Come out to support our very own McKenzie Green, daughter of Tiffany Green and Lilah Blackstone.
The concert will be held at the Montgomery College Cultural Arts Center, located at 7995 Georgia Ave, Silver Spring, MD 20910.
General Admission $25.00 & 30.00
Click here for more information on their web site.

Join us for our 7th Annual Party with a Purpose: Old School Dance Party, Saturday May 28, 2019 3:30 pm – 7:30 pm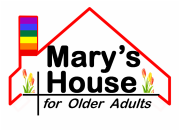 THE GRAND HYATT WASHINGTON
1000 H Street, NW, Washington, DC 20001
DJ/Dancing/Door Prizes
Donation: $40 in advance and $50 at the door.
Click Here to Buy Tickets
Contact:
Mary's House 202-269-5736 * Arie 240-432-5996 * Dre 202-277-2498
Join us at the Kennedy Center for the Dance Theatre of Harlem
Program on May 25th Tickets $75 per person.

MCC General Conference Registration is open. REGISTER NOW by clicking onthe link below.Celebrate the 50th Anniversary of Metropolitan Community Churches in Orlando!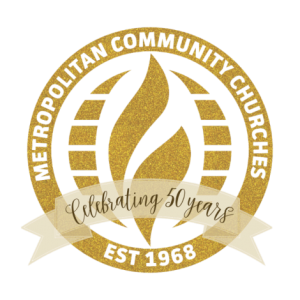 In 1968, 12 people gathered in Rev. Troy Perry's living room to celebrate a risen Christ who includes all at His table, most especially the LGBTQ community.
General Conference 2019 will bring together MCC'ers from around the globe to worship and celebrate God's all-inclusive love. Come, taste, and experience all that MCC is and is becoming.

Join Us on YouTube and subscribe to the MCCDC YouTube Channel!
Stay current on our video postings .
Click here to see more MCCDC Videos
Inspiration Videos, Metropolitan Community Church of Washington DC

"Ministry Spotlight"
"Trustee Corner"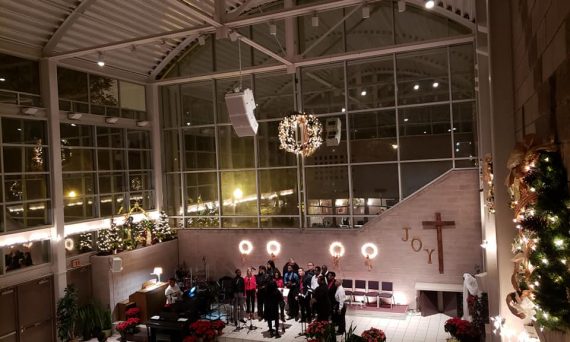 This is an update on the repair project that involves repairing/replacing the lighting control panel in the sanctuary.
Click Here to read Details on Sanctuary lights

The Soundboard Ministry Needs YOU!!!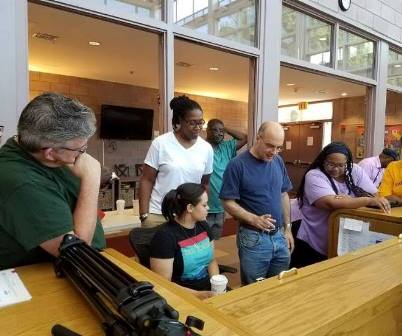 Soundboard volunteers are needed for 9am and 11am services. No experience needed. You will be trained on a state of the art soundboard, setting mics up for service and learning the technical side of handling the sound board. We would like to have you train at the 9am service and continue training at the 11am service but if your prefer to train only at one service you can.
Please contact me Michael Cunningham at mjcunningham2013@gmail.com or stop by to talk with any soundboard volunteer.

The Hospitality Ministry Needs Your Help!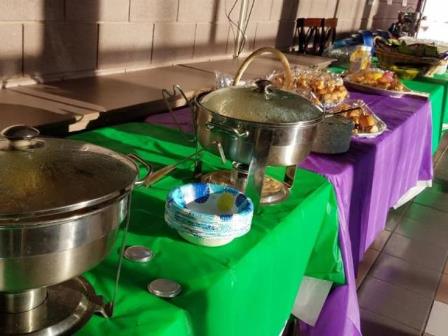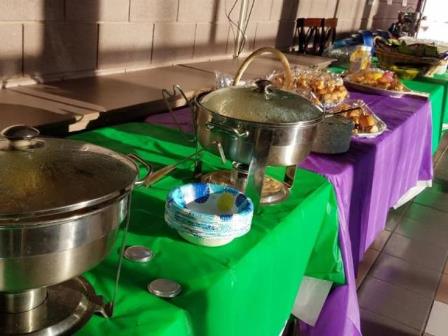 If you have hospitality items that you would be willing to bring in and support Sunday hospitality, please contact the church office at
churchoffice@mccdc.com or 202-638-7373.. Items for consideration are:
Items that are needed:
Keurig Cups
Fresh Fruit
Granola Bars
Box of Coffee Straws
Bagels

MCCDC Bible Study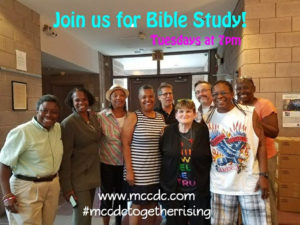 A time of community, fun, learning, and sharing!
Tuesdays, from 7:00 – 8:00 PM in the Welcome Hall
For more information please contact Dale Madyun-Baskerville at the churchoffice@mccdc.com or call (202) 638-737.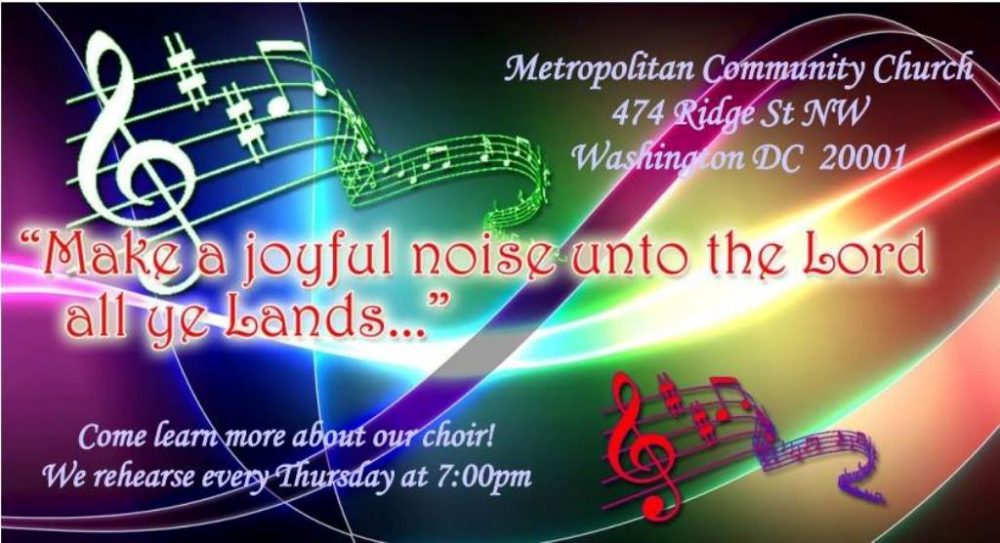 "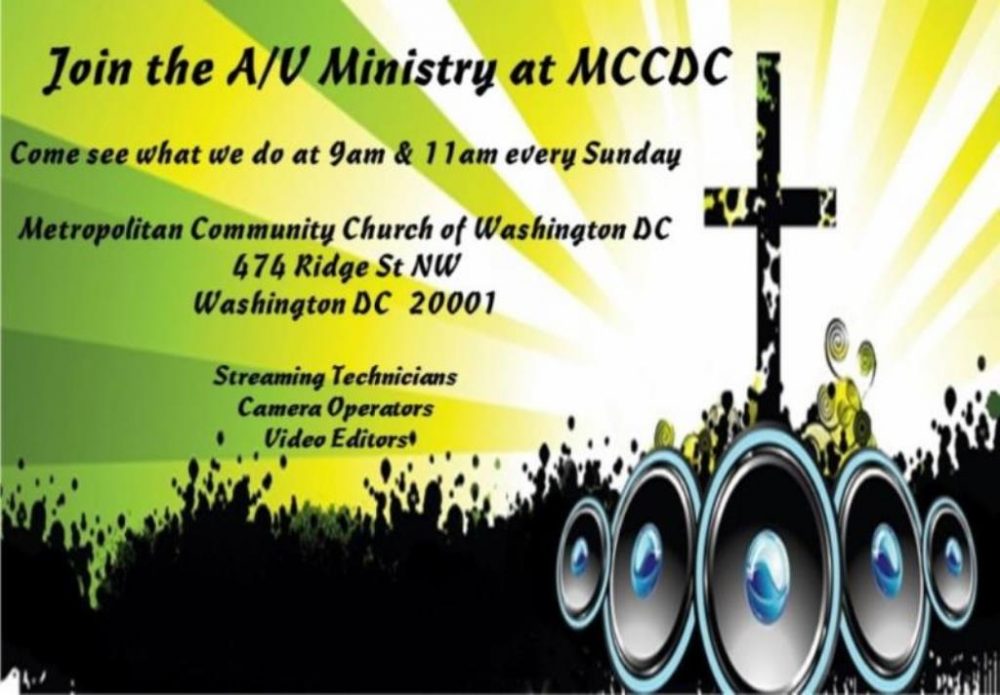 Prayer Corner

Please continue to hold in your prayers Keith Richardson, George Hendrickson and Fannie Woody who are in Nursing Homes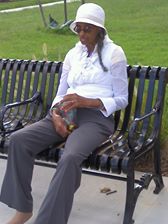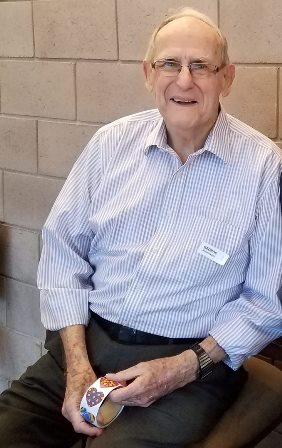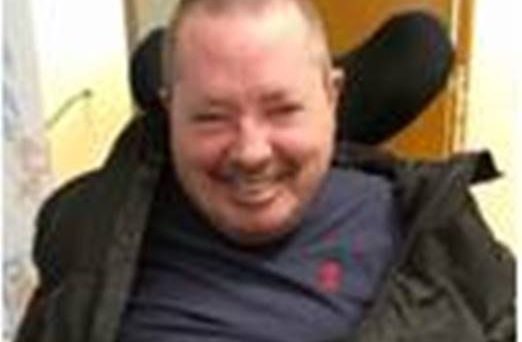 Join our Worship and Arts Ministry!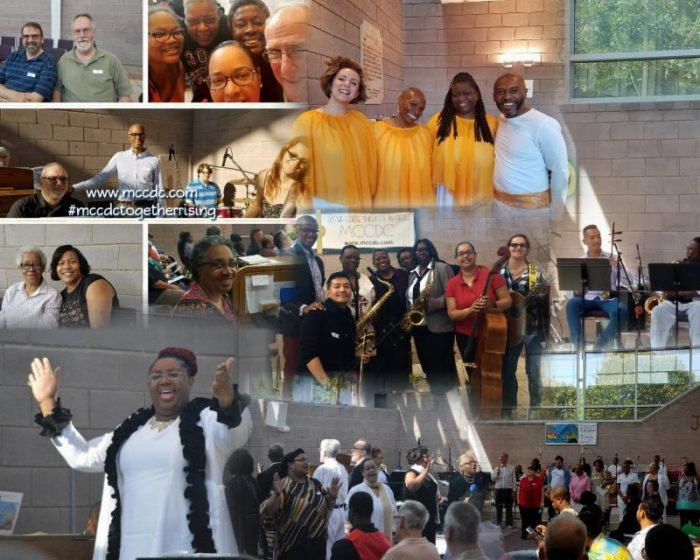 Ministry
Meeting Time
Contact
E-mail
9 AM Choir

Sunday

8:15 AM

Daniel Scearce
danscearce@aol.com
11 AM Choir

Thursdays

7:00 PM

Diedre Mouton Gray
msdeedeemusic@gmail.com
Dance
Every other Tuesday
5:00 – 6:45 PM
Cathy Batson
cathybatson1@verizon.net
Drama
Mondays
6:30 PM
Jules Christian
enjoyingtoday@hotmail.com
Eclectic Praise
Sundays
12:30 PM
Johanna Hardy
brassrat93@gmail.com