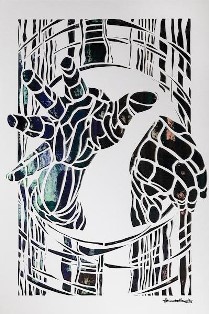 "God, some days feel like dead bone days. Like Ezekiel in the desert, we're not always sure these bones can live. Like Ezekiel in the desert, we're not sure anything good can come from this day. When those days come, remind us that you are a God who breathes life into dust. May we rest in that promise. Amen." ~Prayer from Sanctified Art
Artwork: "Unbind Him" by Hannah Garrity, paper lace over oil paint on linen, inspired by John 11:1-45 and Jesus' call for Lazarus to be unbound.
Our theme for this Lenten season is Seeking: honest questions for deeper faith. On this fifth Sunday of Lent, we meet up with Jesus, who is beginning his return to Jerusalem and an eventual move towards the cross. This week we are seeing lessons on finitude through the lenses of the Holy One. Those impacted by the aftermath of death, on both a large scale and an individual scale, are asked to reflect on their faith in God's power.
In the scripture lessons, followers of God and the teachings of Jesus are asked about the connections between death, life, faith and resurrection? The prophet Ezekiel — finding himself in the Valley of Dry Bones in Ezekiel 37:1-10 — is asked by God, "Can these bones live?" Regarding their recently deceased bother Lazarus, sisters Mary and Martha are asked by Jesus, "Didn't I tell you that if you believe, you will see God's glory?" Both were opportunities for people of faith to look inside and reflect on what faith means in an individual relationship and in a community called to faithful actions.
Ezekiel, Mary, Martha and Lazarus were all asked to turn their belief and faith into faithful actions. They had actions to take in fulfillment of their faith relationship with the Divine. Lazarus was asked to prophesy to the dry bones. Mary and Martha were asked to believe that Jesus was Christ who was sent by God and had power over death and life. Lazarus was asked to get up from where he was lying in death, and come out of the tomb.
In our individual journeys, and our collective journey as a beloved MCCDC community, we are asked to put our faith to action, our beliefs to action. Can we believe that these dead bones can live again? Can we find hope to sustain us? What is God asking each of us to do in community to build upon the bones of our ancestors and put on them new flesh, and new breath, and new life onward to the future? What is your part?
Join us for worship this Sunday at 9:00 and 11:00 a.m. Eastern and later, on demand, as we talk and sing about bringing bones to life.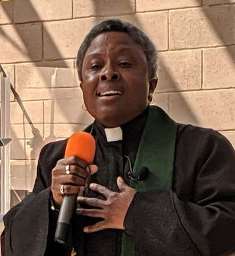 Peace,
Rev. Cathy Alexander
MCCDC Associate Pastor

Congregational Meeting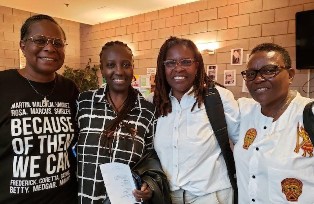 Thank you to all who joined our Congregational Forum on Sunday. We will gather again after worship at 12:30 p.m. Eastern on Sunday, March 26th for our Congregational Meeting, when we will ask active church members to approve the Ministry Action Plan.
Here's how you can participate:
Join us in person at Fifth & Ridge St NW after worship.
* Click here to open Zoom and join automatically
* Launch Zoom and enter Meeting ID 849 4265 4825
* Dial (301) 715-8592 by phone, using the same Meeting ID

Pathways 2 Generosity, Prayer #54 by Clara Carter, MCCDC Prayer Supporter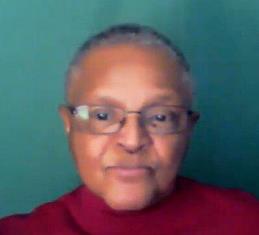 by Clara Carter, MCCDC Prayer Supporter
"It is not the strongest of the species that survive, or the most intelligent, but the one most responsive to change." ~Charles Darwin
Dear God, thank you for blessing us with diversity and inclusiveness in this Beloved Community, for we move and have our being in Christ Jesus. You are our strength and the "wind beneath our wings" helping us to grow stronger in faith each day as we continue sharing generously of the gifts you abundantly granted us.
Thank you for those quiet moments that allow us to look within ourselves, ask honest questions and be open to what your Word reveals. Help us not to rush into finite answers of our own but to obey the infinite prompting of the Holy Spirit.
We are grateful for our gathering space, the Metropolitan Community Church of Washington DC, and the many spiritual places of worship who are continuing to spread the gospel to everyone throughout the world.
Thank you for guiding us through changes that enrich us to glorify your name. You are the One who gives us the courage to endure to the end. Thank you, in your many names. Amen.
"The race is not to the swift, nor the battle to the strong… This means that even if you are not the smartest, strongest, most knowledgeable or best looking in the natural, God can still give you good success when you depend on God's grace." ~Ecclesiastes 9:11 (Egalitarian Translation)

Spring Cleanup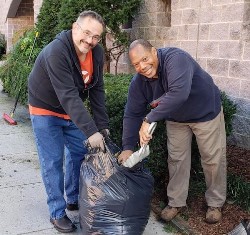 We invite you to join us on Saturday, April 1st at 9:30 a.m. to clean up our church grounds in anticipation of Spring. Please bring your own yard tools to help with the cleanup. Contact Church Administrator Melvin Moore Adams at 202-638-7373 or churchoffice@mccdc.com with questions.

Holy Week Services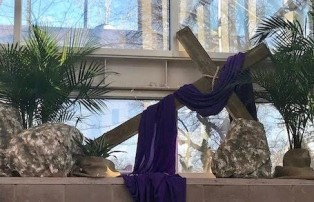 We invite you to plan ahead for Holy Week and put these worship services on your calendar…
* Palm/Passion Sunday: April 2nd at 9:00 & 11:00 a.m., youtube.mccdc.com
* Maundy Thursday: April 6th at 6:00 p.m., Click here to Join via Zoom
* Good Friday: April 7th at 6:00 p.m., Click Here to Join via Zoom
* Resurrection Sunday: April 9th at 9:00 & 11:00 a.m., youtube.mccdc.com
All of these Borderfree Worship services will be offered virtually as well as in-person at our Sanctuary at Fifth and Ridge St NW.

Estate Planning
Join your MCCDC family in learning more about estate planning, wills and legacy giving. The seminar will be on Sunday April 23, 2023 at 1230 EDT by zoom. Attorney Michelle Lanchester will also offer appointments for a free individual consultation.
Join us in person at Fifth & Ridge St NW after worship.
* Click here to open Zoom and join automatically
* Launch Zoom and enter Meeting ID 814 2530 8574
* Dial (301) 715-8592 by phone, using the same Meeting ID

Worship Volunteer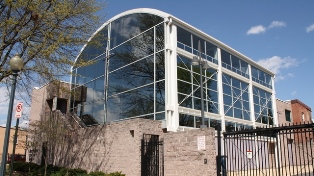 We still need volunteers to sustain in-person worship. Please visit volunteer.mccdc.com and fill out the form for the dates and positions in which you can serve your church. Have questions about roles and responsibilities? Contact Chocolatté Miller, chocolatte.miller@outlook.com

Support for Tim Helm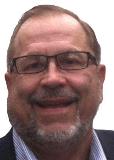 Beloved longtime MCCDC member Tim Helm is recovering from spinal and back wound complications at BridgePoint Hospital on Capitol Hill. Tim welcomes your calls in the afternoon and evening at (202) 368-9877.
Tim, our love and prayers are with you!
~Your MCCDC Family

Prayer Corner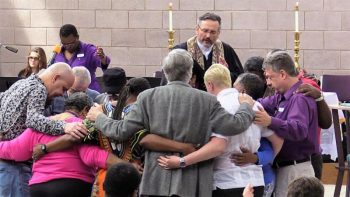 Please lift the following people up during your prayer time:
Johanna Hardy• Jerry Giem • Tim Helm • Min. Diedre Gray • Bill Campbell • Denise Wright, her mother Lucy Mae Coombs and her Aunt Lottie Mae King. • Rose Williams• Cecilia Hayden-Smith and Esther Smith's health• Delores Fowler • Vernessa D. Wilson • Family of Ms. Brittany Harrell • Veronica Franklin• Rev. Dr. Robin Hawley Gorsline • Glenn Conway • Michelle Lax •Anthony Goode • Valeria Myers' children Chantelle & Donald • George Kerr, III • Randy Punley • Lynn Sulyma • Marcus Garnett •Renee Valentine's brother • Arden Shutt • Evelyn Jones• Steve Sloane • Jeffrey Luckenbach • Cathy Batson's niece Lisa • Cynthia Melman •Kim Battle • Joshua Benkins' father Isaac •Elaine Durden-Hunter's recnet loss of her mother Earline • Angela Terrell • Mike Washington •Carol Washington mother's health •Angela Dodd for healing •Buck Carlson •Lolita Gleaton for healing from her cancer • Mezyi Choi request prayer for her success healing from surgery • Lost of Melvin Moore Adams' sister Krissandra Moore •Kia Murphy • Doris Carter Washington of Alexandra, Va. request prayer • Loss of Melvin Moore Adams' sister Krissandra Moore • Patricia Ryan due to the loss of her brother Mickey
•John Hylton

"Church Ministries & Events"


Virtual Choir
Come and join the Virtual Voices of MCC Choir! Lift your voice in our virtual rehearsals while singing from the comfort of your home. For more info, email Music Minister Deidre Mouton Gray at msdeedeemusic@gmail.com.
Spiritual Gifts, Get Involved!
Your're invited to consider sharing your spiritual gifts by making a Scripture Reading Video or sharing a Video Testimony on what MCCDC means to you.
It does not have to be long and the AV team is standing by to help you with the video. Please email me at revdwayne@mccdc.com for more information.
Moving Spirit Dance Ministry
Come dance for God! No experience needed. Email Cathy Batson at cathybatson1@verizon.net for more information. Check out past performances on our YouTube channel, including "I Can Only Imagine" (April 2019) and "Mighty River"(February 2018).
Singing to God
Join the Virtual Voices of the MCC Choir. Lift your voice in our virtual rehearsals while singing from the comfort of your home. Email Music Minister Diedre Gray at msdeedeemusic@gmail.com
JOIN PRAYER FROM NOON TO 12:30 PM Monday thru Saturday
Join Zoom Meeting
https://us02web.zoom.us/j/7078722334
Meeting ID: 707 872 2334
The dial in is 301-715-8592
Meeting ID: 7078722334
Intercessory Prayer Team
Meets the 2nd and 4th Thursdays each month at 7 pm
Contact LaMar Jenkins at 202-750-08887
Bible Study Tuesdays at 7:00 pm Eastern
Click here to Join Zoom Meeting: https://us02web.zoom.us/j/434566329
or Dial: (301) 715-8592 ,Meeting ID: 434 566 329
Contact Dale Madyun-Baskerville at mccdcbiblestudy@mccdc.com for more information.
Pastoral Care Meeting
Meet 1st and 3rd Wednesday, each month at 6::30pm
Contact pastoralcare@mccdc.com for more information or interest in joining this vibrant church ministry this Fall
Writing Ministry
Meets Monthy
For more information, contact Jacqueline Laughlin at yemayah@icloud.com.
Barnabas Culture Sessions
Barnabas Culture, Session 7:00 p.m. Eastern, Thursday. Click Here to Join The Zoom Thursday Nights. For more information contact MCCDC Ministry Intern Rev. Teresa Tygart at Email preachertygart@gmail.com.

Join Us on YouTube and subscribe to the MCCDC YouTube Channel!

Watch on YouTube