This Week's Reflection
"Peace I leave with you, My peace I give to you; not as the world gives do I give to you. Let not your heart by troubled, neither let it be afraid." ~Jesus (John 14:27)
Our hearts long for peace. In the push, pull and stress of this world, peace often seems illusive. Even when we find a semblance of peace, we cannot forecast the onset of disturbance, whether inner or outer. Emotions are often unpredictable. That is also true of circumstances which can shift in an instant.
Our scripture for Sunday from Mark 4:35-41 offers an interplay of circumstance and peace. The circumstance: The disciples are caught in a sudden storm. They are in a boat on the Sea of Galilee on their way to the land of the Gerasenes when gale-force winds crash against their boat. Their fear surges with the waves and rocks with the violent winds. Soon they are swamped and water threatens to sink their boat. Where is Jesus? Calmly sleeping despite the dangerous storm. The disciples mistake his peace for apathy. They wake Jesus up saying: "Don't you care that we are drowning?"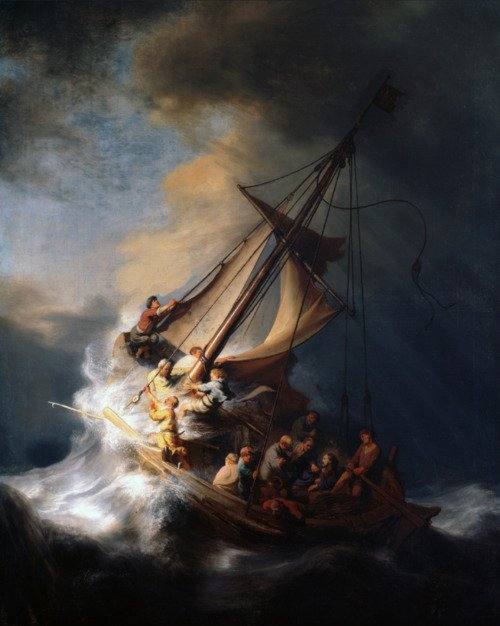 The Storm on the Sea of Galilee (1633) by Rembrandt van Rijn
The question of the disciples is a lingering question. Today, some are literally drowning in boats as they seek refuge from the violence or poverty of their homelands. Others are symbolically drowning in the face of pain such as c19, racism, and the epidemic of mass shootings. Today, many wonder if God cares about the unrest that encircles the globe. Is God asleep in the boat?
In Mark 4:38 the disciples call out. They wake Jesus up. With authority, Jesus gives orders to the storm: "Peace! Be Still" (Mark 4:39). The wind settles and all is calm. There is calming power in the authoritative voice of Jesus. Is it possible that the voice that calms the storm on the Sea of Galilee has the authority to calm the storms in our often-troubled hearts?
Within each of us there is a still small voice. It a voice that speaks peace, calls us by name, and even invites us to claim peace as one of our sacred names. Maybe the voice is not so small. Maybe this inner voice of spiritual authority is actually a still BIG voice.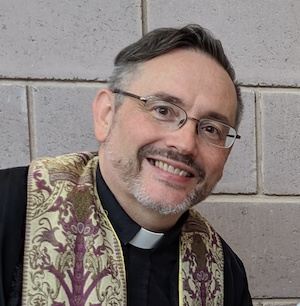 By Faith,
Rev. Elder Dwayne Johnson
MCCDC Senior Pastor

Re-Entry Update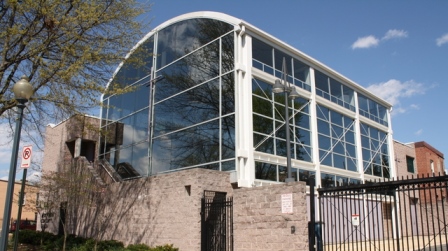 MCCDC's c19 Advisory Team has made recommendations for safe re-entry to our sanctuary at Fifth & Ridge. Our Board of Directors has approved those recommendations.
We have not yet determined our re-entry date, given pending work on the church roof and ventilation systems. We'll share more details at this Sunday's Congregational Forum (see Zoom link below).
We need your help. We have many volunteer opportunities as we prepare for re-entry. We can work with your schedule. Email Melvin Moore Adams at ChurchOffice@mccdc.com for more information.
Our goal is for everyone to share the same worship experience, whether physically present or participating via livestream.

Juneteenth Celebration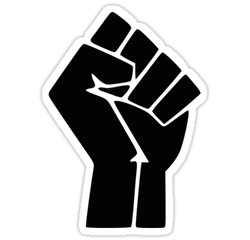 Join our MCC siblings from Wichita Falls, Texas for a celebration of Juneteenth, the holiday commemorating the emancipation of those who were enslaved in the United States. The virtual program "Let Freedom Ring" begins at 2:00 p.m. ET this Saturday, June 19th. The Zoom link is https://bit.ly/Juneteenth2021MCC

MCCDC Writers' Ministry Meeting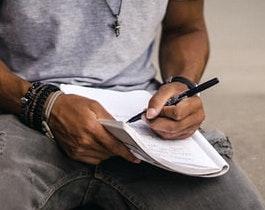 The MCCDC Writers' Ministry will gather on Saturday mornings, 10 am – 12 noon, Saturday, June 19, 10 am – 12 noon.
If you'd like to join this project, please contact Rev. Dr. Robin Hawley Gorsline, Writer-Theologian in Residence, at writer@robinhawleygorsline.com.

Congregational Forum & Meeting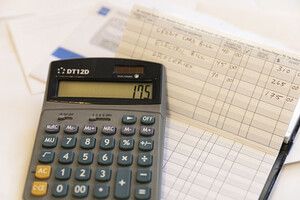 Please join us after worship at 12:30 p.m. ET this Sunday, June 20th. Our Treasurer, Terri Neal, will present the proposed 2021 budget and review expenditures from our Far Reaching Faith Trust Fund. We welcome your questions and feedback. Then, the following Sunday, June 27th, we'll gather again for a Congregational Meeting to vote on and officially approve these plans.
Here are three ways to join on Sunday:
• Click here to open Zoom and join automatically
• Launch Zoom and enter Meeting ID 839 2513 1301
• Dial (301) 715-8592 by phone, using the same Meeting ID

Prayer Corner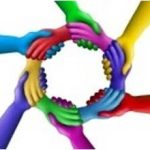 Please lift the following people up during your prayer time:
Francine Clark and the family of Rose Herring • The family of Louis Hicks, Sr. • Lilah Blackstone and the family of Terry Blackstone • Bob Jones • Jerry Giem • Valeria Myers' daughter Chantelle • Michelle Lax • George Kerr, III • Mama Cee's sister and niece • Rose Williams • Randy Punley • Lynn Sulyma • Esther Smith • Marcus Garnett • Renee Valentine • Rose Herring • Arden Shutt • Buck Carlson • Delores Fowler • Elaine Durden-Hunter's mother, Earline T. Green • Evelyn Jones • Valeria Myers' son Donald • Bob Jones' son Chuck & wife Karen • Jerry Giem's Son, Jason and Nephew, Travis • Steve Sloane • Glenn Conrad • Anthony Goode • Renee Valentine's brother • Juanita Dara • Jeffrey Luckenbach • Elaine Durden-Hunter's mother health• Cathy Batson's niece Lisa • Cynthia Melman • Kim Battle •

Remembering Rose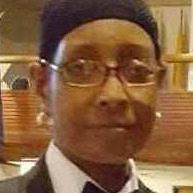 A memorial service for our dearly beloved sister in Christ, Rose Herring, will be held at 11:00 a.m. ET on Saturday, July 17th at Yarborough & Rocke Funeral Home, 1001 N 63rd St in Philadelphia. We're also planning an MCCDC service in Washington

C19 Vaccine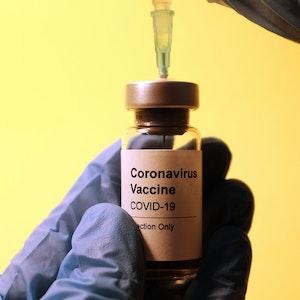 Have you been vaccinated yet? Everyone 12 years or older — including undocumented immigrants — is now eligible. Visit vaccines.gov to find a location near you and make an appointment.
The Federal Emergency Management Agency is providing reimbursements up to $9,000 for funeral expenses incurred as a result of C19. To apply, visit FEMA's website.

"Church Ministries & Events"

Virtual Choir
Come and join the Virtual Voices of MCC Choir! Lift your voice in our virtual rehearsals while singing from the comfort of your home. For more info, email Music Minister Deidre Mouton Gray at msdeedeemusic@gmail.com.
Spiritual Gifts, Get Involved!
Your're invited to consider sharing your spiritual gifts by making a Scripture Reading Video or sharing a Video Testimony on what MCCDC means to you.
It does not have to be long and the AV team is standing by to help you with the video. Please email me at revdwayne@mccdc.com for more information.
Moving Spirit Dance Ministry
Come dance for God! No experience needed. Email Cathy Batson at cathybatson1@verizon.net for more information. Check out past performances on our YouTube channel, including "I Can Only Imagine" (April 2019) and "Mighty River"(February 2018).
Singing to God
Join the Virtual Voices of the MCC Choir. Lift your voice in our virtual rehearsals while singing from the comfort of your home. Email Music Minister Diedre Gray at msdeedeemusic@gmail.com
JOIN REV. DWAYNE IN PRAYER FROM NOON TO 12:30 PM Monday thru Saturday
Phone Number: 646-558-8656, Code: 407 740 6668
Intercessory Prayer Team
Meets the 2nd and 4th Thursdays each month at 7 pm
Contact LaMar Jenkins at 202-750-08887
Bible Study
Tuesdays at 7:00 pm Eastern
Click here to Join Zoom Meeting: https://us02web.zoom.us/j/434566329
or Dial: (301) 715-8592 ,Meeting ID: 434 566 329
Contact Dale Madyun-Baskerville at mccdcbiblestudy@mccdc.com for more information.
Pastoral Care Meeting
Meet 1st and 3rd Wednesday, each month at 6::30pm
Contact pastoralcare@mccdc.com for more information or interest in joining this vibrant church ministry this Fall
Writer's Ministry
The MCCDC Writers' Ministry mission is to offer to our church and the world more reflections and devotionals throughout the year. If you'd like to join this project, now or in the future, please contact Rev. Dr. Robin Hawley Gorsline, Writer-Theologian in Residence, at writer@robinhawleygorsline.com

Join Us on YouTube and subscribe to the MCCDC YouTube Channel!