"What if we were real? We'd think a little less of ourselves. We'd care about someone else. Maybe we could let someone love us. Maybe we'd be a little more like Jesus." ~Mandisa

Check it out: Click Here! Mandisa – What If We Were Real (Neva Remix/Lyric Video)
I've been listening to "What
If We Were Real?" It is a powerful song by Mandisa. It inspires us to take off our masks and be real in a world where so much is fake.
Our Scripture for Sunday from Luke 11: 33-36 aligns with the song. It reminds us that we don't light a lamp to hide it. To be real is to take off our masks and to light the world around us through the light that is within us. In a world desperate for love, we have the opportunity to show real love every day.
Sunday's contemporary reading by Iyanla Vanzant echoes Luke: "You will know love when you realize you cannot hide what you think, what you feel or who you are. You are not present in love if you are afraid to tell the absolute truth about who you are, what you need and what you want. Love does not hide!"
Today is the day to move out of the shadows of fear into the fullness God holds for each of us. Every day we can look in the mirror and see love looking back. Each day we can turn the page, releasing the past once we learn from it. When we're free, we're more available to serve others.
Sunday, we'll talk to each other and to God about throwing away our masks and fully embracing love and truth. When we take off our masks, love is revealed.
"Love rises tall in the truth of what it is for everyone to see and receive it." ~Iyanla Vanzant

"UP COMING EVENTS"
Church Chat 26 Jan 2020 10:00 am and 12:30 pm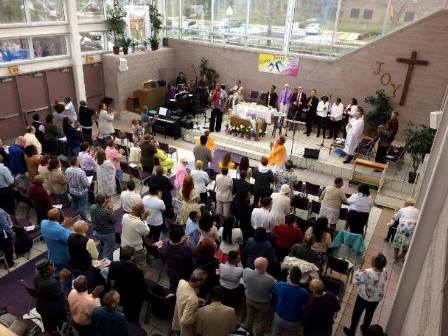 Stop by the Chapel and speak to the Board and Pastor about any concerns you have for the church.

2019 Giving Statements Coming Soon.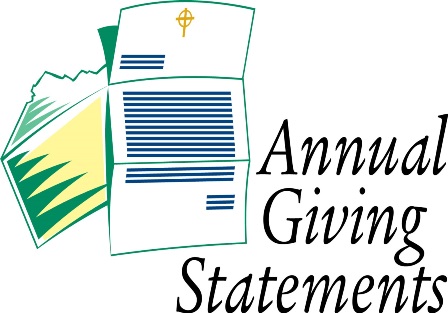 The treasurer and assistant treasurer are preparing your giving statement for tax year 2019 . They will start to be distributed with a phased approach. Please contact treasurer@mccdc.com with questions or attend the church chat on Jan 26 at 10 or 12:30 pm if you have additional questions.

Save This Date! February 15, 2020 at 6 pm.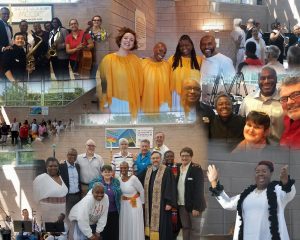 MCCDC Worship Arts Ministry Black History Month Program
February 15, 2020 at 6 pm. Please mark your calendars

Come Join Us for Ash Wednesday Service, 26 Feb, 7 pm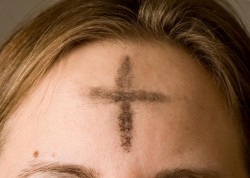 All are welcome to come out.

We're Back! Line Dancing!Fun!MCCDC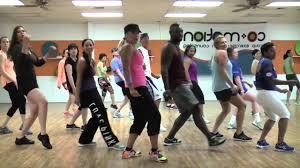 LGBTQ all are welcome
Saturdays Jan 25th, Feb 8th, 12 pm-1 pm
Feb 1st 10-11am. 474 Ridge Street, Washington, DC NW. Jerrie our instructor will teach us the hottest line for the summer!!
 
Donation – $6 Per Class (cash)
Contact Robin Anderson for info
252robin@gmail.com

<
"CHURCH NEWS"
SPONSORED LEAD RETREAT REGISTER NOW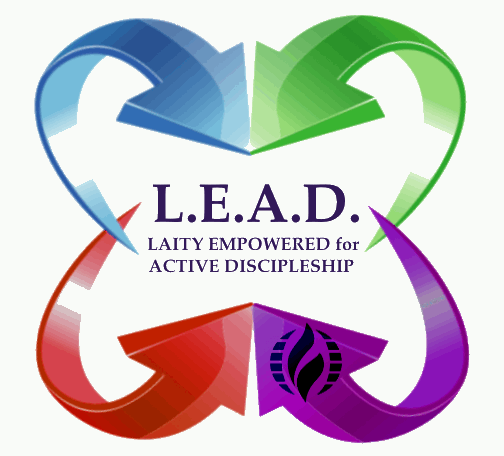 March 27-29, 2020
Austin, Texas, USA
$0 registration fee
$0 housing cost!
Cost to you? Your travel plus $50!
The purpose of L.E.A.D. is to offer lay leaders of UFMCC an opportunity to deepen their spiritual growth, develop their existing skills and furnish them with additional leadership tools so that they may be effective leaders in the church and the world. The L.E.A.D curriculum will engage a variety of methods that include self-paced, instructor-led, and seminar-based training to support each individual's learning style.
Click Here For More Information

COMING SOON….Wesley Young Adult Innovation Hub Team sponsors OPEN MIC.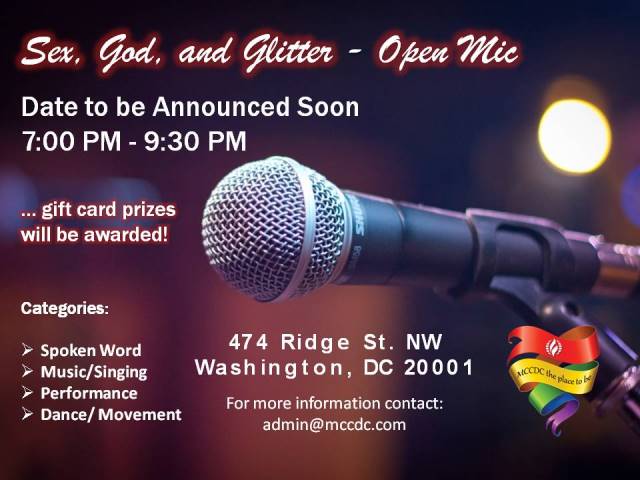 If you know a young adult that would like to participate please pass this information on.
We need your help to made this a successful community outreach event:
• Set up
• Food Service
• Clean up
Other assistance
If you have questions or desire to sign someone up, please contact Rev Cathy at revcathy@mccdc.com or 202-638-7373.

Moving Spirit Dance Ministry Needs YOU!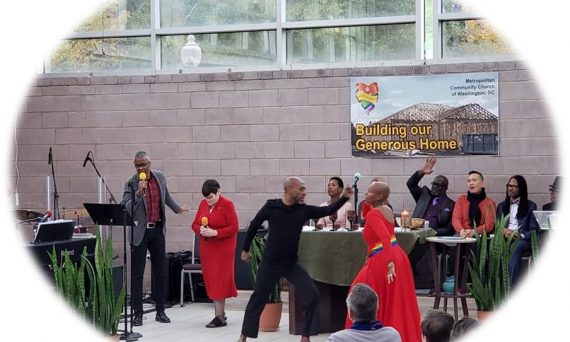 No Dance Experience needed just a willing spirit!
Come Join us for a time of community, fun, and sharing!
Tuesdays from
5:45 PM to 7:00 PM in the Sanctuary.
For more information, please contact Cathy Batson at churchoffice@mccdc.com or call (202) 638-7373.

MCCDC Bible Study goes to Sight and Sounds Theater for the Play: QUEEN ESTHER
300 Hartman Bridge Road,Ronks, PA 17572 (800) 377-1277
Click On picture above to see QUEEN ESTHER 2020 Video Clip
When August 15, 2020
Time: Carpool leaves 9 am from MCCDC to Sight and Sounds
Cost: $79.00
SHOW STARTS AT 3 PM
NOTE!!!
INDIVIDUALS ARE RESPONSIBLE FOR DRIVING OR COORDINATING A RIDE TO AND FROM THEATER LOCATION!!!!
All Money Due No Later Than 28 June 2020!!!
Contact Dale Madyun-Baskerville baskerd6109@gmail.com or call 202-638-7373 for question or information.

Event Rental Space at MCCDC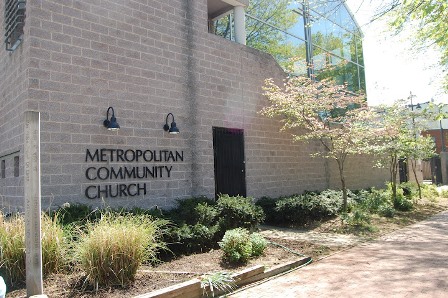 Are you or someone you know planning an upcoming event? Are you looking for a reasonably priced rental space with easy access to public transportation? Look no further.
Call MCCDC today at 202-638-7273 for rates and availability.
Click Here for more Information

Join Us on YouTube and subscribe to the MCCDC YouTube Channel!
Stay current on our video postings .
Click here to see more MCCDC Videos
Inspiration Videos, Metropolitan Community Church of Washington DC

"Ministry Spotlight"
Bible Study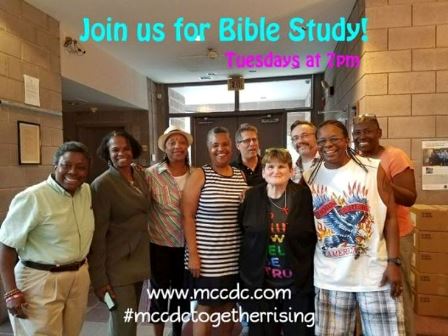 A time of community, fun, learning, and sharing!
Tuesdays from 7:00 – 8:00 PM in the Welcome Hall.
Click here to see the MCCDC 2020 Bible Study Schedule
For more information, please contact Dale Madyun-Baskerville at churchoffice@mccdc.com
or call (202) 638-7373.

Intercessory Prayer Team, "PRAY FIRST" for the New Year! Join us as we endeavor to start off 2020 in prayer!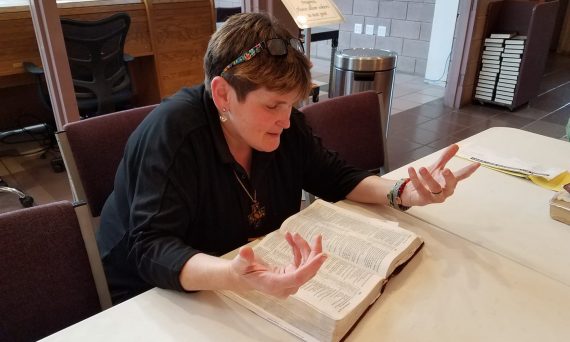 The Intercessory Prayer Team invites the congregation to "PRAY FIRST" for the New Year! Join us as we endeavor to start off 2020 in prayer by praying first in these five areas:
• Before getting out of bed
• Before driving or taking the metro/bus
• Before saying offensive or derogatory words
• Before making impulsive or important decisions
• Before going to sleep
We believe this will make a difference in our year and draw us closer to God and take us into the Lent season.
You can join us at intercessory prayer on the 2nd and 4th Wednesdays of the month in the Chapel. If you have questions or would like more information, please contact Jules at enjoyingtoday@hotmail.com.

Drama for a Day!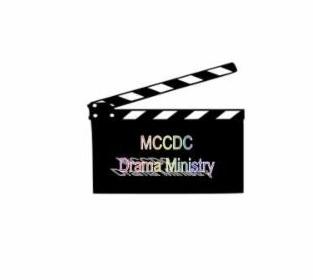 Have you ever wanted to write, direct or act for the drama ministry without making a long-term commitment? Now you can! Sign up to lead or participate in one of our monthly performances. For questions or information, please contact Jules at enjoyingtoday@hotmail.com

LiveStream Volunteer's Needed!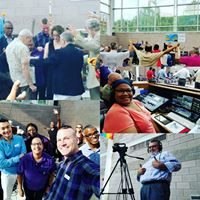 Volunteer! No experience is required. We will train you or someone you recommend. (Perhaps a student interested in picking up new skills?) Opportunities include:
o Producing the livestream itself on Sundays and for special events (greatest need)
o Assisting on Sundays by video recording and managing cameras
o Video editing (this requires access to your own computer and video editing software)
Share our message! Inspired by Rev. Dwayne's spiritual instruction? Moved by a praise & worship song? Post it on Facebook. Send a link to friends and family. They can tune-in to our livestream or watch worship services on demand at livestream.com/mccdc, through our website at mccdc.com, or browse clips on our YouTube Channel.
Click here to visit MCCDC YouTube channel
Email Johanna at mccdclive@gmail.com or talk to any one of the AV team members to volunteer or for more information

The Soundboard Ministry Needs YOU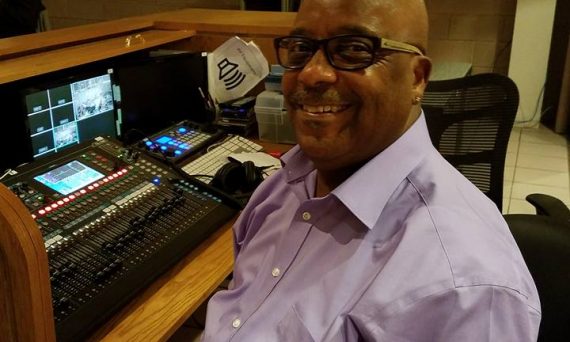 Soundboard volunteers are needed for 9 am and 11 am services. No experience needed!
You will be trained on a state of the art soundboard and learn how to set up mics for services.
Ideally, you will train at the 9 am service and continue training at the 11 am service, but we are flexible.
Please contact Michael Cunningham at mjcunningham2013@gmail.com or stop by to talk with any soundboard volunteer.

Hospitality Ministry Needed Volunteers and Treats
Hospitality personnel are needed to setup treats after 9 am and 11 am service. Also if you have hospitality items that you are willing to share and would like to support our Hospitality Ministry, please contact the church office at churchoffice@mccdc.com or 202-638-7373.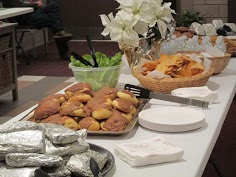 Items that are needed:
White Paper Towel Rolls
Coffee K-Pods
Tea
Box of Coffee Straws
Napkins
Fresh Apples
Fresh Oranges
Plums
Yogurt
Granola Bars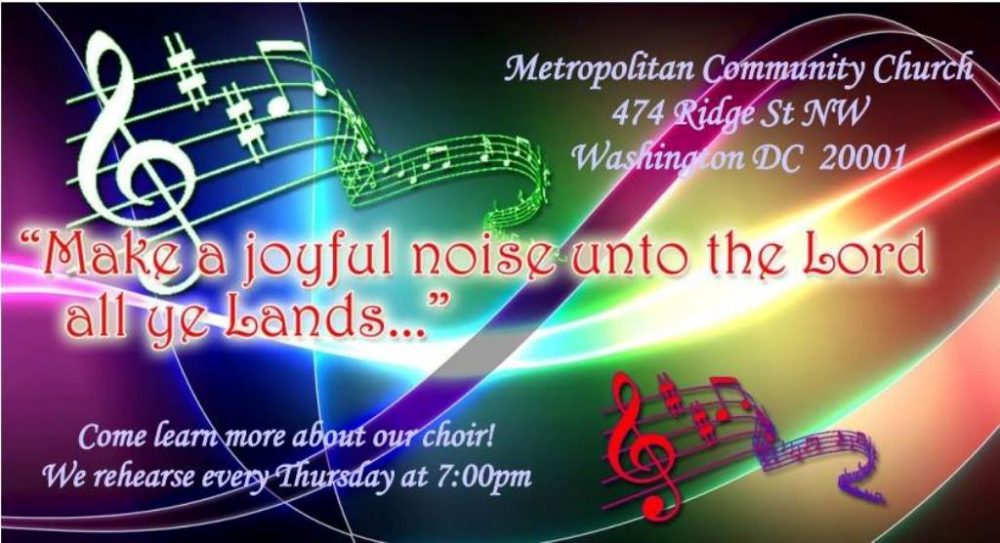 "

Prayer Corner
Please continue to hold in your prayers Keith Richardson who is in a Nursing Home.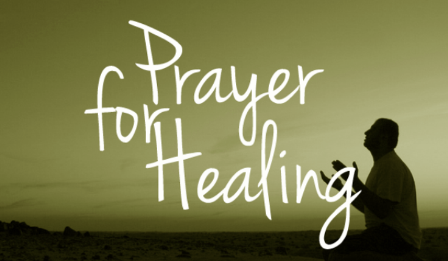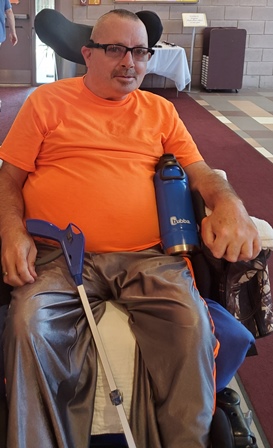 Join our Worship and Arts Ministry!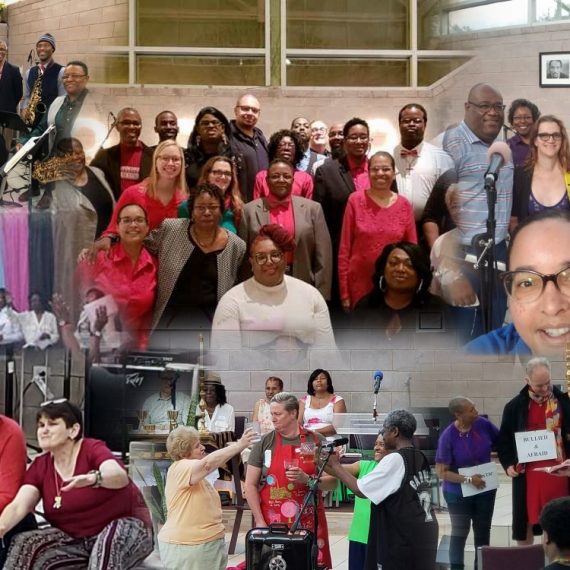 Ministry
Meeting Time
Contact
E-mail
9 AM Choir

Sunday

8:15 AM

Daniel Scearce
danscearce@aol.com
11 AM Choir

Thursdays

7:00 PM

Diedre Mouton Gray
msdeedeemusic@gmail.com
Dance
Every other Tuesday
5:00 – 6:45 PM
Cathy Batson
cathybatson1@verizon.net
Drama
Mondays
6:30 PM
Jules Christian
enjoyingtoday@hotmail.com
Eclectic Praise
Sundays
12:30 PM
Johanna Hardy
brassrat93@gmail.com