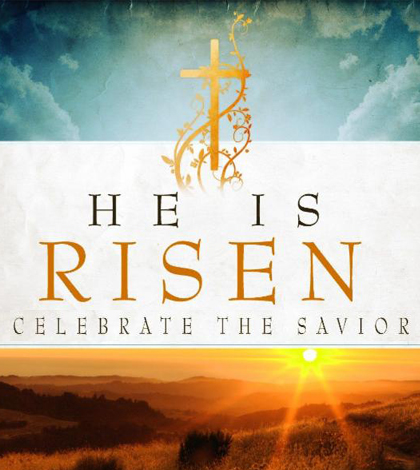 You need imagination in order to imagine a future that doesn't exist." ~Azar Nafisi
The life, death, and resurrection of Jesus call us to imagine the unimaginable. Between Good Friday and Easter Sunday Jesus enters the darkness. Then, darkness is reimagined as a place of hope reborn. It is a holy darkness, a place without butterflies or lilies, yet a place brimming with the creation of a new future that did not previously exist.
Debie Thomas observes that Resurrection "exceeds all of our attempts to pin it down, because it's a mystery known only to God. Whatever the resurrection was and is, its fullness lies in holy darkness, shielded from our eyes. All we can know is that somehow, in an ancient tomb on a starry night, God worked in secret to bring life out of death. Somehow, from the heart of loss and misery, God enacted salvation."
Our scripture for Sunday says "Early on the first day of the week, while it was still dark, Mary Magdalene came to the tomb. . ." Her first step towards resurrection was a willingness to step out into the dark, beyond her fears, choosing movement over avoidance.
Mary's next step was facing the tomb. When she discovers it empty she doesn't run like the others. Rather, she stays with what is barren until the unimaginable happens: emptiness becomes full to overflowing when Jesus, alive again, calls her name: "Mary!" Now she imagines a new future that she can't wait to share with others, announcing: "I have seen the Lord!"
Imagine a world that is alive beyond death! Be it the death of a relationship or the death of a dream, or death in any of its many forms, our faith invites us to imagine again. Through song, dance, word, our open table and so much more, we will gather at 9 AM and 11 AM to proclaim with joyous hope: "Christ is risen. Christ is risen indeed!" See you Sunday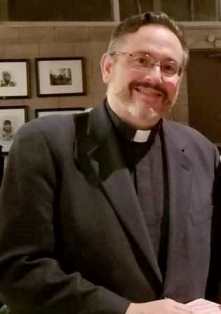 By Faith, Rev. Elder Dwayne

"UP COMING EVENTS"
I Can Only Imagine! Holy Week Schedule 2019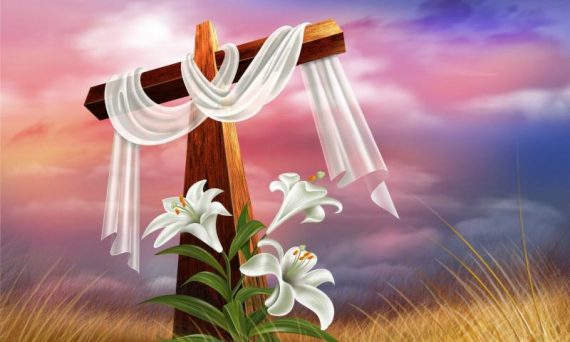 Thursday April 18 7 PM Holy Thursday Service
Friday April 19 7 PM Good Friday Service
Sunday April 21st 9 & 11 AM Resurrection Sunday Service
Christ is Risen Indeed!

MCCDC Church Anniversary, May 19th, 9 am and 11 am
Celebrate our 48th anniversary with your MCCDC Family. May 19th will be a day of celebration, memories and community connection. We will honor long time members and encourage new arrivals and everyone in between. Former member Ms. Kathleen Carey will be our guest speaker. Please plan on joining in at 9 am or 11am.

The MCCDC Drama Ministry Presents: The Maker of Zoe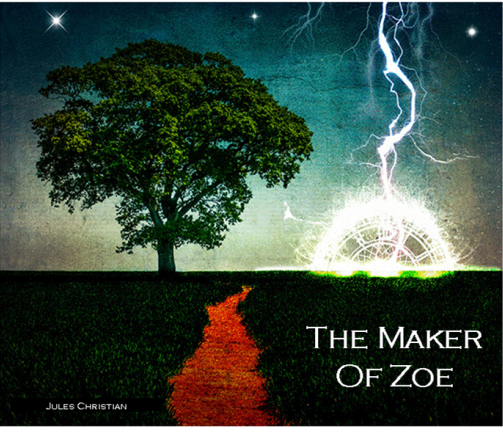 Dinner & A Show: Maker of Zoe!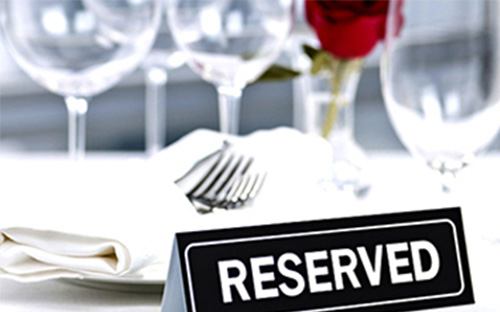 Get Your Ticket Today!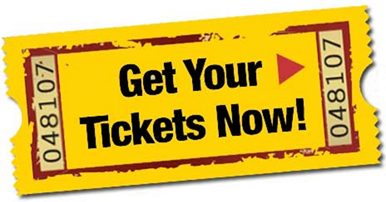 37.50 Includes:
Enjoy an original and inspirational theater experience
Homemade Italian Dinner Served to your table
Support the MCCDC Drama Ministry
For Church Members Only!
Reserve Your Table Today!
300 Includes…
Reserved and Priority Seating for 8
Sit together with your friends
Option to receive Dinner upon arrival
Friday, May 17th at 7:00
Saturday, May 18th at 1:00 & 7:00

"CHURCH NEWS"
Writing Workshop, March 23rd will now be held on May 4th at 10 am
The writing workshop originally scheduled for March 23rd will now be held on May 4th from 10 am to 2 pm. Rev. Robin received has chosen the theme for the workshop to be "Forgiveness."
In 12-Step programs, participants are urged to make "searching and fearless inventory" of themselves, and it is stressed that that includes not only all the stuff you have done wrong, but also all the good stuff about you, too.
For me, forgiveness is like that in a way: there are others I need to forgive and I also need to forgive myself. If you have questions, please contact Rev. Dr. Robin Gorsline at (240) 565-3441 or RevRobin@mccdc.com or RevDrRobin@comcast.net. Or call the church office at 202-638-7373.


DMV Transgender Summit 2019, Wednesday May 1, 2019, 10:00 am – 5:00 pm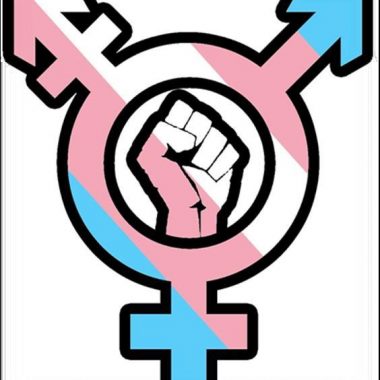 Metropolitan Community Church of Washington D.C.
474 Ridge Street,Washington D.C. 20001
Presenters Include: Lee Blinder, Charmaine Eccles, Aurora "Toni" Lloyd, Amy Nelson, Dane Ray, Alexa Rodriguez, plus many more..
Please visit the website for additional information.
For more information contract Min. Diedre D. Gray
Minister of Worship & Arts, MCCDC at
msdeedeemusic@gmail.com or 202-638-7373

2nd Annual Silver Pride, May 10, 2:00 pm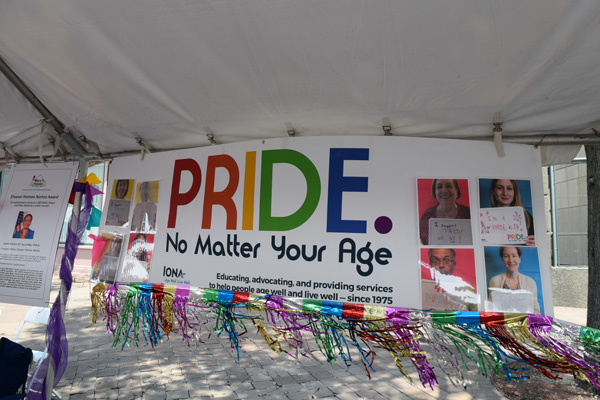 The second annual Silver Pride will be Friday, May 10, 2:00 – 7:00 p.m., at HRC Headquarters, 1640 Rhode Island Ave NW
The tentative program is as follows:
2:00 start
2:20 program – Financial Literacy-Deloitte
3:20 break
3:40 program – Fraud Prevention-AARP
4:40 break
5:00 program – Estate Planning/Powers of Attorney-Whitman-Walker Legal Services
6:00-7:30 party/tea dance
There will be light hors d'oeurves and beverages, and we are working on ending the event with a "tea dance."
The event is free, but we do ask people to register, so we can get a head count (registration instructions are on the flyer).
Contact Murray D. Scheel Senior Attorney, Legal Services WHITMAN-WALKER HEALTH (202) 939-7695 (direct line)

Join us for our 7th Annual Party with a Purpose: Old School Dance Party, Saturday May 28, 2019 3:30 pm – 7:30 pm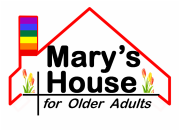 THE GRAND HYATT WASHINGTON
1000 H Street, NW, Washington, DC 20001
DJ/Dancing/Door Prizes
Donation: $40 in advance and $50 at the door.
Tickets purchase through https://maryshouse.eventbrite.com
Contact:
Mary's House 202-269-5736 * Arie 240-432-5996 * Dre 202-277-2498
Join us at the Kennedy Center for the Dance Theatre of Harlem
Program on May 25th Tickets $75 per person.

MCC General Conference Registration is open. REGISTER NOW by clicking onthe link below.Celebrate the 50th Anniversary of Metropolitan Community Churches in Orlando!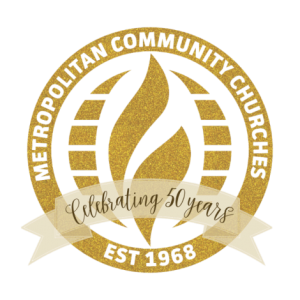 In 1968, 12 people gathered in Rev. Troy Perry's living room to celebrate a risen Christ who includes all at His table, most especially the LGBTQ community.
General Conference 2019 will bring together MCC'ers from around the globe to worship and celebrate God's all-inclusive love. Come, taste, and experience all that MCC is and is becoming.

Join Us on YouTube and subscribe to the MCCDC YouTube Channel!

Stay current on our video postings .
Click here to see more MCCDC Videos
Inspiration Videos, Metropolitan Community Church of Washington DC

"Ministry Spotlight"
The Soundboard Ministry Needs YOU!!!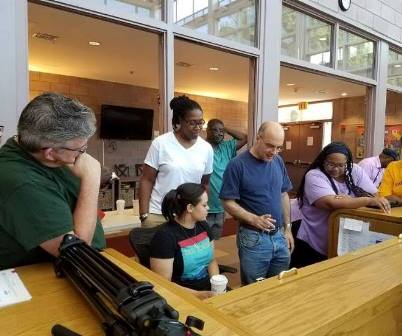 Soundboard volunteers are needed for 9am and 11am services. No experience needed. You will be trained on a state of the art soundboard, setting mics up for service and learning the technical side of handling the sound board. We would like to have you train at the 9am service and continue training at the 11am service but if your prefer to train only at one service you can.
Please contact me Michael Cunningham at mjcunningham2013@gmail.com or stop by to talk with any soundboard volunteer.

The Hospitality Ministry Needs Your Help!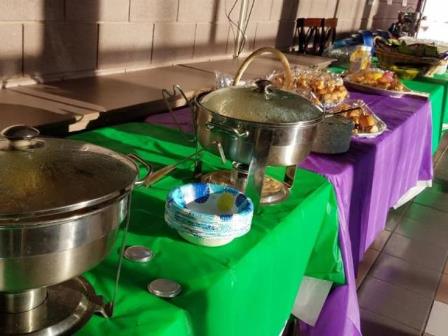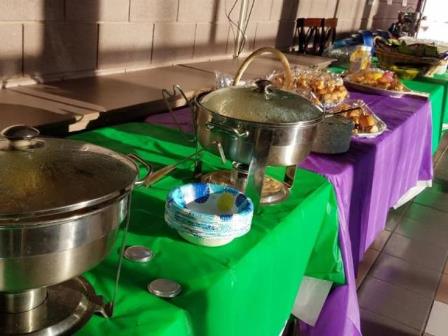 If you have hospitality items that you would be willing to bring in and support Sunday hospitality, please contact the church office at
churchoffice@mccdc.com or 202-638-7373.. Items for consideration are:
Items that are needed:
Keurig Cups
Fresh Fruit
Granola Bars
Box of Coffee Straws
Bagels

MCCDC Bible Study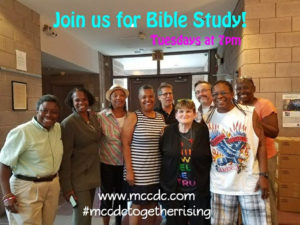 A time of community, fun, learning, and sharing!
Tuesdays, from 7:00 – 8:00 PM in the Welcome Hall
For more information please contact Dale Madyun-Baskerville at the churchoffice@mccdc.com or call (202) 638-737.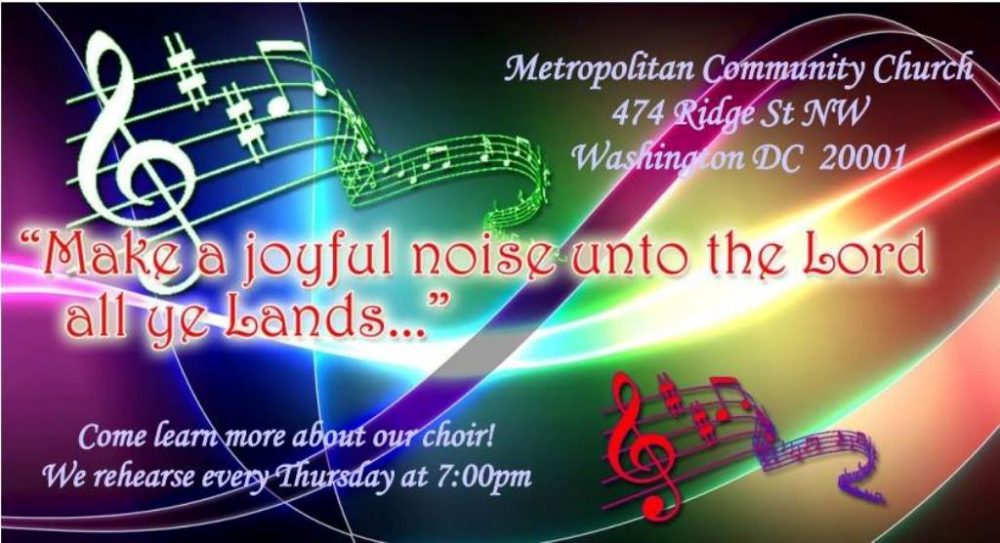 "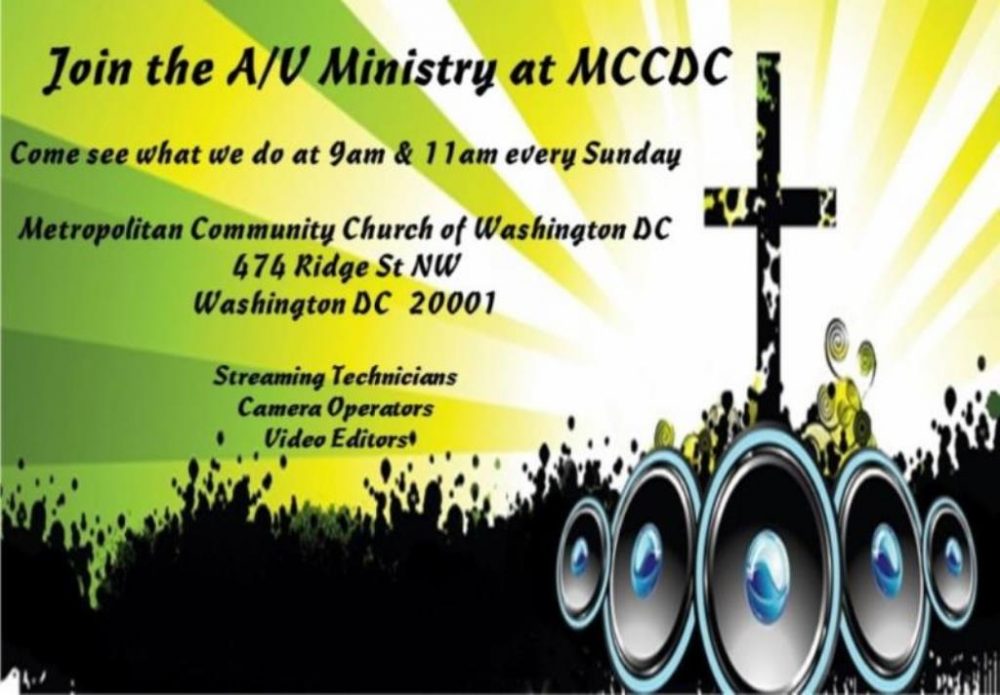 Prayer Corner
Please continue to hold in your prayers Keith Richardson and Fannie Woody who are in Nursing Homes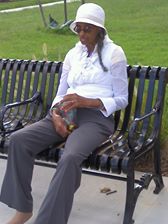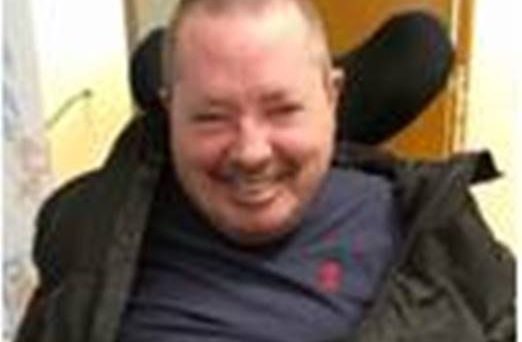 Join our Worship and Arts Ministry!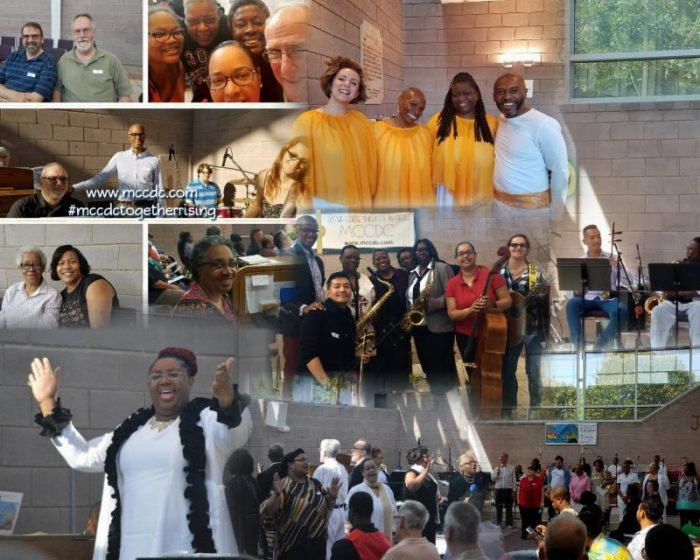 Ministry
Meeting Time
Contact
E-mail
9 AM Choir

Sunday

8:15 AM

Daniel Scearce

danscearce@aol.com
11 AM Choir

Thursdays

7:00 PM

Diedre Mouton Gray

msdeedeemusic@gmail.com
Dance
Every other Tuesday
5:00 – 6:45 PM
Cathy Batson
cathybatson1@verizon.net
Drama
Mondays
6:30 PM
Jules Christian
enjoyingtoday@hotmail.com
Eclectic Praise
Sundays
12:30 PM
Johanna Hardy
brassrat93@gmail.com