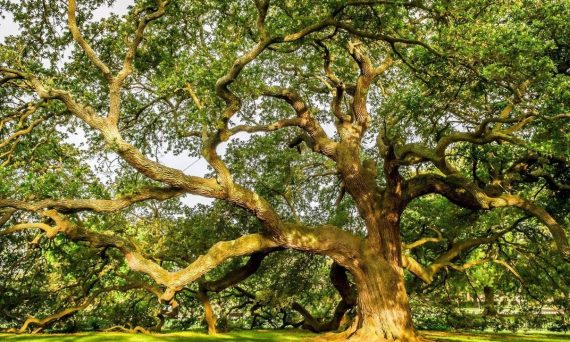 I prefer to be true to myself, even at the hazard of incurring the ridicule of others, rather than to be false, and to incur my own abhorrence.
~ Frederick Douglass
Tomorrow on June 19 there is, for many, a celebration of Juneteenth. This day commemorates bringing the words and impact of the Emancipation Proclamation to those who did not know that by human law they had been freed. "In the westernmost Confederate state of Texas, enslaved people would not be free until much later than the enactment of the law on January 1, 1863. On June 19, 1865 that changed, when enslaved African Americans in Galveston Bay, TX were notified by the arrival of some 2,000 Union troops that they, along with the more than 250,000 other enslaved black people in the state, were free by executive decree."1
It is important to remember and celebrate Juneteenth not only for its monumental historic value and impact on the lives of formerly enslaved people, a second independence day. It shows how essential it is that the critical word gets out to those who are oppressed. Wisdom, information, and knowledge are power. It is important to recognize that there may be forces outside of our control working on our behalf. Once made known, those forces need support.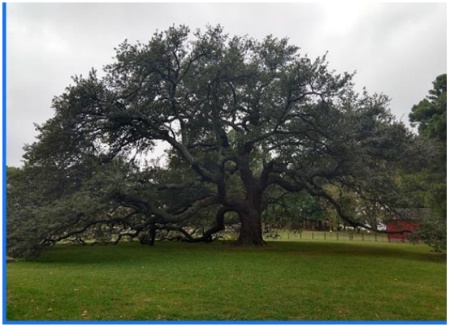 In other places, the Proclamation was being read to formerly enslaved people by the sprig of an oak tree. Learning to read for these formerly enslaved people was illegal. Douglass also wrote, "Once you learn to read, you will be forever free." This reading was the beginning of learning on the grounds of what would become Hampton University. That sprig of an oak tree still grows today and has become known as the Emancipation Tree. It serves as a reminder of the importance of doing our part to gain wisdom, knowledge and understanding.
Like the Emancipation Tree, the seeds of knowledge and freedom continue to grow today. The work for freedom and justice for all continues in the streets, in the halls of congress, in town hall meetings, in our homes, in our spirits and in our hearts. We each have a responsibility to God and to ourselves to wrestle with determining what we can do to end injustice and help all to live in freedom regardless of race, ethnicity, sexual orientation, gender identity.
Read about the history and celebration of Juneteenth at the National Museum of African American History and Culture.
Our scripture for Sunday is taken from Jerimiah 20: 1-13. There the prophet wrestles with speaking the truth God has presented to him (which causes him to be beaten and thrown in jail) or keeping that word inside and having it become like a consuming fire inside him. He ultimately had to speak the truth and he cried out to God in lament for the resulting consequences. We are challenged to wrestle with how to gain knowledge and understanding of the systems of oppression and -isms that are discriminatory so that we may then do our part to implement justice and equity. We each have a role in that proclamation. Hope to see your comments in the chat box at the 9 or 11 service on Sunday.
Peace
Rev. Cathy Alexander


MCCDC Announcements
MCCDC Writers Ministry Meeting next date is 20 June 2020 at 10 am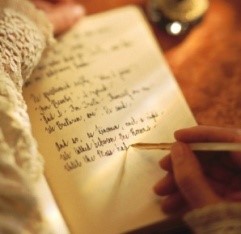 MCCDC's Writing Ministry had a successful first meeting last weekend. The next gathering is planned for 10:00 am to 12:00 pm on Saturday, June 20, 2020. We will explore seasonal devotions, spiritual writing-prayers, benedictions, and poems. Email Rev. Dr. Robin at writer@robinhawleygorsline.com for more information.

The MCCDC Drama Team Needs You!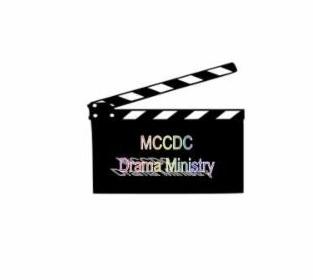 No experience required! Just a willing learner. If you have a passion or artistic flare in front of camera come join the MCCDC Drama team! The Drama Ministry meets on Mondays at 6:30 om via Zoom and performs on the Second Sunday of each month. If you are interested, please contact Clara Carter at c4mcarter26@gmail.com.

Update Browser Require to View MCCDC Live Stream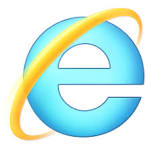 As of June 16, 2020, Vimeo Livestream will no longer support playback on Internet Explorer 11 (IE11). to see Live Stream Services.
You will need to update your web browser in order to see MCCDC Live Stream services.
Click here for details on what you need to upgrade.

Electronic Giving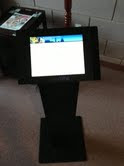 Here is an opportunity to cover the electronic giving transaction fee so that 100% of your donation goes to MCCDC.
Beginning Sunday, May 24, 2020, each time that you make your donation electronically, you will have the option to add $2.00 to help cover the electronic giving transaction fee.
Just Place a check mark next to the statement:
I would like to add $2.00 to help cover the transaction fee so that 100% of my donation supports MCCDC

JOIN REV. DWAYNE IN PRAYER FROM NOON TO 12:30 PM Monday thru Saturday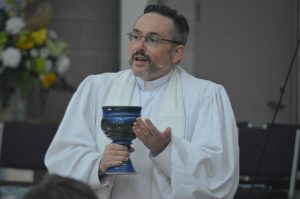 Phone Number: 646-558-8656, Code: 407 740 6668

Bible Study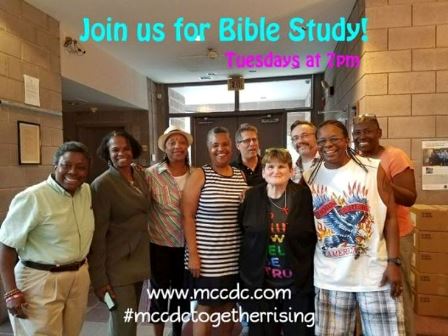 A time of community, fun, learning, and sharing!
Tuesdays from 7:00 – 8:00 PM
Via FREE ZOOM Video Conference Call
Click here to see the MCCDC 2020 Bible Study Schedule
Phone Call in number is: 301 715 8592 US,Meeting ID: 434 566 329
Password: Email Dale Madyun-Baskerville at mccdcbiblestudy@mccdc.com for login invitation

"Ministry Spotlight"
Join Us on YouTube and subscribe to the MCCDC YouTube Channel!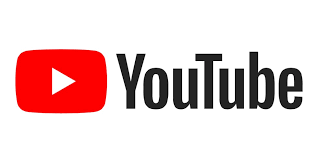 Click here to see more MCCDC Videos

LiveStream Volunteer's Needed!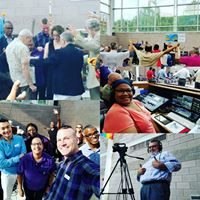 Volunteer! No experience is required. We will train you or someone you recommend. (Perhaps a student interested in picking up new skills?) Opportunities include:
o Producing the livestream itself on Sundays and for special events (greatest need)
o Assisting on Sundays by video recording and managing cameras
o Video editing (this requires access to your own computer and video editing software)
Share our message! Inspired by Rev. Dwayne's spiritual instruction? Moved by a praise & worship song? Post it on Facebook. Send a link to friends and family. They can tune-in to our livestream or watch worship services on demand at livestream.com/mccdc, through our website at mccdc.com, or browse clips on our YouTube Channel.
Click here to visit MCCDC YouTube channel
Email Johanna at mccdclive@gmail.com or talk to any one of the AV team members to volunteer or for more information

The Soundboard Ministry Needs YOU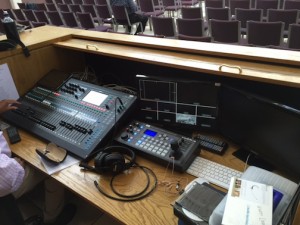 Soundboard volunteers are needed for 9 am and 11 am services. No experience needed!
You will be trained on a state of the art soundboard and learn how to set up mics for services.
Ideally, you will train at the 9 am service and continue training at the 11 am service, but we are flexible.
Please contact Michael Cunningham at mjcunningham2013@gmail.com or stop by to talk with any soundboard volunteer.

"CHURCH NEWS"
Coronavirus Hotline DC, MD and VA
Washington DC
After hours, please call the GW Hospital Emergency Department at 202.715.4000
GW Medical CLEVELAND PARK- Phone: 202.525.5287
GW Medical MCPHERSON SQ- Phone: 202.798.0100
1101 15th St NW
GW Medical RHODE ISLAND AVE- Phone: 202.544.7580
Click Here to go to DC Government Corona Virus Web Site
Maryland
Cough, fever, and shortness of breath, are the three symptoms together that raise the concern for coronavirus,
coronavirus hotline at 1-855-600-3453
Click Here to go to Maryland Government Corona Virus Web Site
Virginia
Cough, fever, and shortness of breath, are the three symptoms together that raise the concern for coronavirus,
coronavirus hotline at 1-855-600-3453
Click Here to go Virginia Government Corona Virus Web Site

Prayer Corner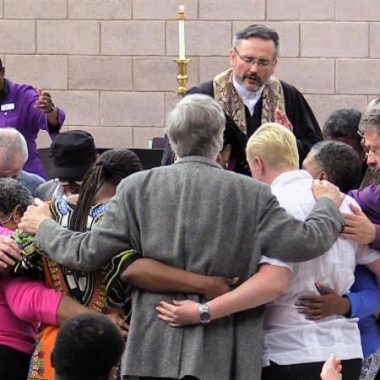 Please lift the following people up during your prayer time:
* George Kerr, III * Mama Cee's sister and niece * Rose Williams,* Lynn Sulyma, * Esther Smith * Marcus Garnett * Renee Valentine * Elaine Durden-Hunter's mother, Earline * T. Green * Evelyn Jones,* Travis, Jerry Giem's Nephew * Valerie Myers' son Donald * Anthony Goode * Larry Harris recent lost of husband Ted Shaffer * Bob Jones' son Chuck & wife Karen * Steve Sloane * Glenn Conrad * Arden Shutt *Renee Valentine's brother *Kim Battle *Juanita Dara * Jeffrey Luckenbach * Bill Campbell, * Keith Richardson * Delores Fowler's sister, Mrs Jenifer Keys passing * Randy Punley