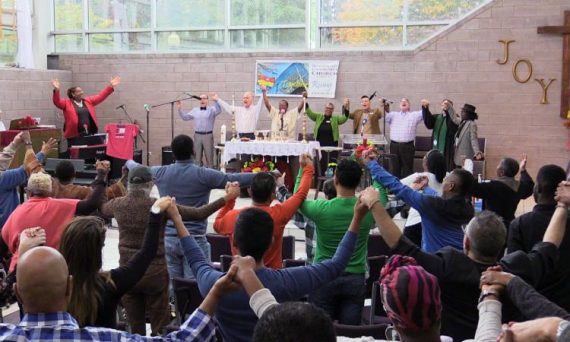 "Rejoice in the Lord always. Again, I say, rejoice."~Philippians 4:4
This Sunday we get our praise on! What a joy to worship with the theme "Praise Out Loud Together." There is so much loud messaging during these troubled times. There are bullying tweets, there are racist chants at rallies, there are the screams of those opposing equality. The messaging is noisy and loud and hard on our hearts—and it is not praise. That's one reason our service this Sunday is so vital: rather than hating out loud we are praising out loud. Hate speech breaks the heart of God. Praise speech excites the heart of God. God loves the praises of God's people!
The message at our 9AM and Noon ( special time!) worship services will consider the power of praise, especially when offered in community. Praise has a positive impact on our state of heart and state of mind. Philippians 4:5b-7 notes that praise reminds us that God is always present: "The Lord is near. Don't be anxious about anything; rather, bring up all of your requests to God in your prayers and petitions, along with giving thanks. Then the peace of God that exceeds all understanding will keep your hearts and minds safe in Christ Jesus."
At Noon we'll celebrate Partnership Sunday with our sibling congregation, Unity Fellowship Church of DC. It is a joy to celebrate four years of praising together at the corner of 5th and Ridge Street Northwest. In a world marked by division on every front, the experience of two congregations coming together offers a powerful message of love and unity. The service will be followed by a complementary catered pizza and salad meal, topped off with a potluck dessert.
I invite you to join me in preparing for Sunday by praising God ahead of time. Praise is not just a Sunday thing. Praise is an everyday thing. So at some point each day I invite you to fill in the blank in the following prayer: "God, today I praise you for _______________."
Here is one of my praise prayers heading into Sunday: "God, I praise you for the wonderful people of MCCDC." See you Sunday at 9AM and Noon.

"UP COMING EVENTS"
Mark your Calendars! MCCDC amd UFCDC Partnership Sunday!04 Aug 2019, 12 PM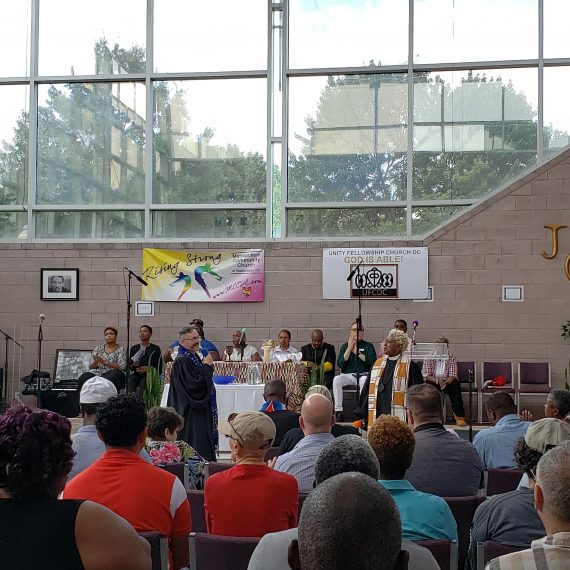 Join your MCCDC and UFCDC families for Partnership Sunday. We will offer our regular 9 am service. The second service will be held in partnership with our UFCDC siblings at 12pm.
Signed up to donate your favor desert or help with clean up and setup. Sign-Up sheets are posted on the back of the welcome hall wall. Lunch will be provided after the service.

The Partnership Sunday Choir wants YOU!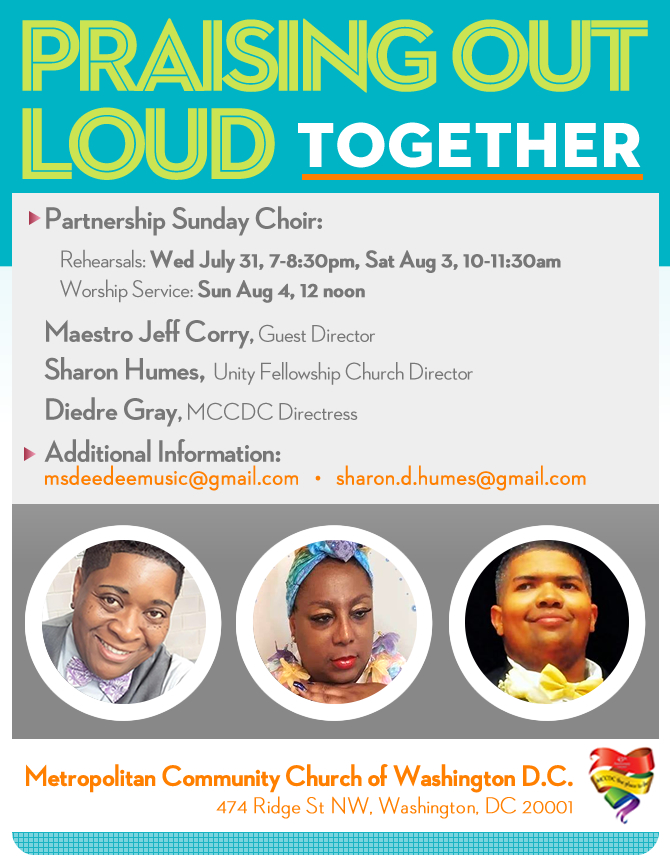 8TH ANNUAL BACKPACK 4KIDS
>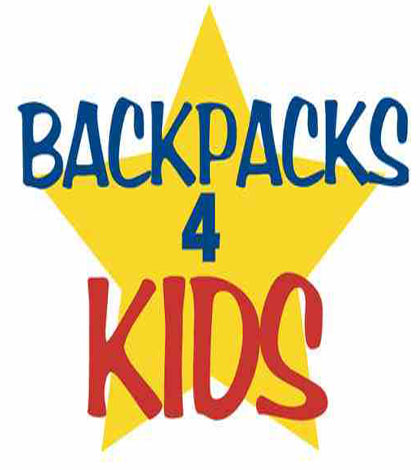 In partnership with the community outreach program at NBC4 Washington, we are collecting backpacks and supplies (or financial donations that would allow us to purchase those items).
It only takes $20 to equip one student with a backpack and supplies for the school year. Our goal is to provide 300 kids with backpacks and supplies for the coming year. We are also encouraging our neighbors to help with the backpack program by donating supplies! You can also reach out to folks at work or send donation requests to family and friends!! Help MCCDC help kids in our community!!
Here's how you can help:
• Donate a new backpack stuffed with school supplies or
• Donate securely online at www.mccdc.com/donate (select the "Donate" tab near the top, and choose "Backpacks 4 Kids" in the dropdown menu). SPONSORING 5 KIDS IS JUST $100!!!
f you would like to donate a backpack, the school supplies needed per backpack include:
• New backpack
• Two packs of loose leaf notebook paper
• Two dozen #2 pencils
• Two packages of cap erasers
• Three spiral composition books
• One yellow highlighter
• Two composition books
• Paper glue
• Box of Kleenex • 2 packs of copy – white paper
• 12-inch ruler
• Calculator
• 8 plain folders with pockets and brads or loose leaf binder with dividers
• One package of 24 crayons and/or one package of colored pencils
• Small pencil or supply box or zippered supply pouch
We have big blue tubs in the Welcome Hall. Drop-off your donations during the week and before or after the Sunday Services. If you need more information, please contact the church office at churchoffice@mccdc.com
Timeline:
• Last collection date: Sunday, August 25th

"CHURCH NEWS"
Walk it Out! Join your MCCDC family in the walk to end breast cancer. All are welcome to join the team.
>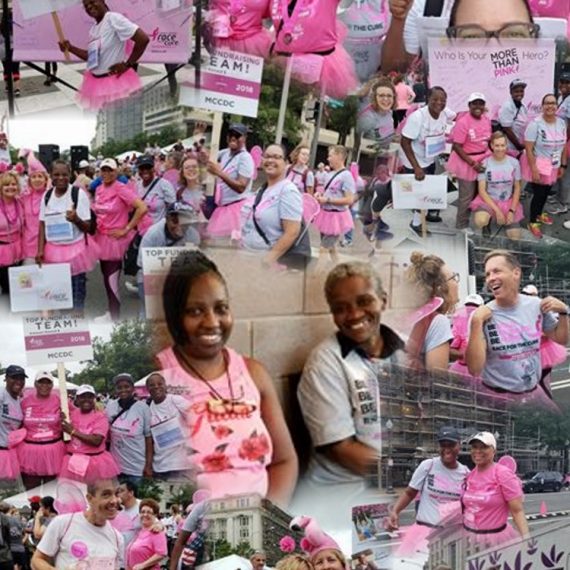 2019 Komen Washington DC MORE THAN PINK Walk
Saturday, September 7, 2019
Freedom Plaza, 1455 Pennsylvania Ave. NW
7:00 AM-Registration and T-shirt Pick-up Opens
8:45 AM-Opening Ceremony
Survivors and Those Living with Metastatic Breast Cancer Strut to the Opening Ceremony (line up at 8:30 in the Hope Village)
9:00 AM-Walk Start
For more information, please contact Rev Cathy Alexander at revcathy@mccdc.com or call (202) 638-7373.

Atlantic City Resort Hotel and Casino Bus Trip 14 Sept 2019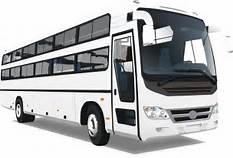 This event is sponsored by the Older Adults Ministry, but anyone is warmly invited to join!
Departs MCCDC promptly at 7AM and returns at 11 PM.
The cost is $50 and must be paid in advance. The deadline for sign up is Sept 1st. For more information please contact Ace Barbari at 703-303-2934.

Join your MCCDC family in the walk to end HIV AIDS Walk All are welcome to join the team.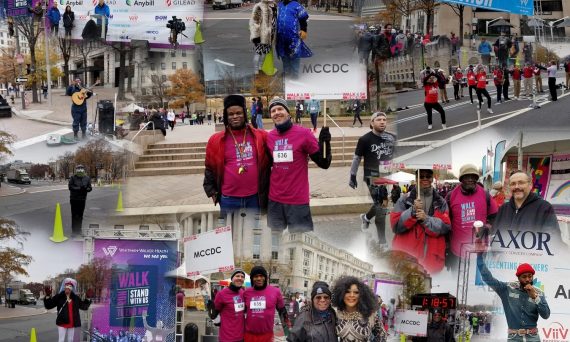 Saturday, October 26.
Location: The Walk & 5K to End HIV
will begin and end at Freedom Plaza
(Pennsylvania Avenue and 13th Street, NW)
5K timed run begins promptly. 9:15 am
Walk to End HIV steps off. 9:20 am
Fees:
General Walk Registration: $25
Student / Senior (60+) Walk Registration: $15
General Timed Run Registration: $35
Sleep Walker Registration: $40
Event Information
Click here For Detail Event information
T-shirt pick -up on-site the morning of the event beginning at 7:30 AM
For more information please contact Dale Madyun-Baskerville baskerd6109@gmail.com or call 202-638-7373.

Revival! Revival! Revival! MCCDC will celebrate revival at the end of September 2019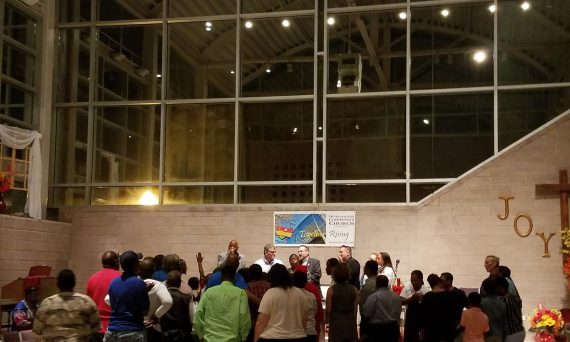 Join Us on YouTube and subscribe to the MCCDC YouTube Channel!
Stay current on our video postings .
Click here to see more MCCDC Videos
Inspiration Videos, Metropolitan Community Church of Washington DC

"Ministry Spotlight"
MCCDC Bible Study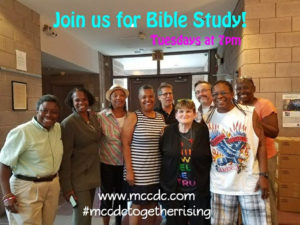 A time of community, fun, learning, and sharing!
Tuesdays, from 7:00 – 8:00 PM in the Welcome Hall
For more information please contact Dale Madyun-Baskerville at the churchoffice@mccdc.com or call (202) 638-737.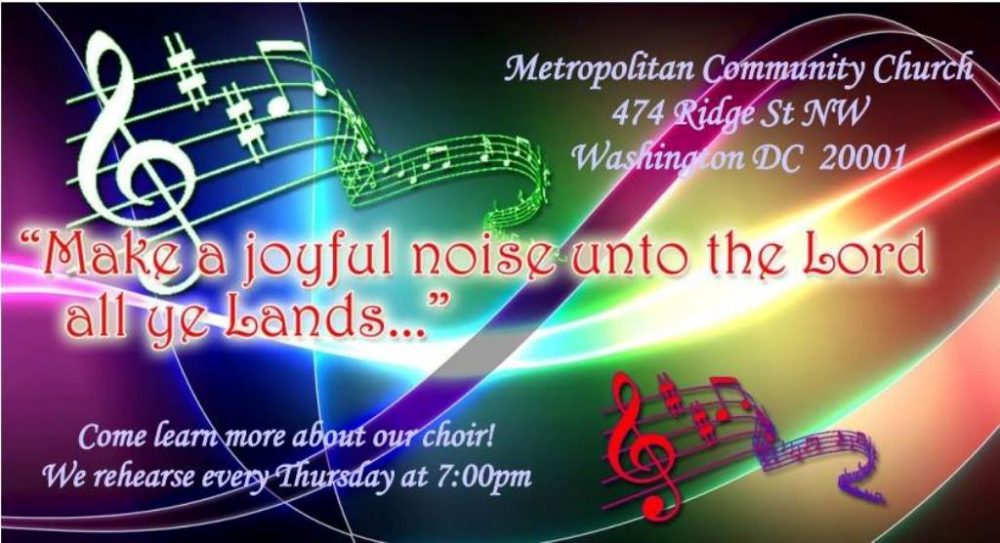 "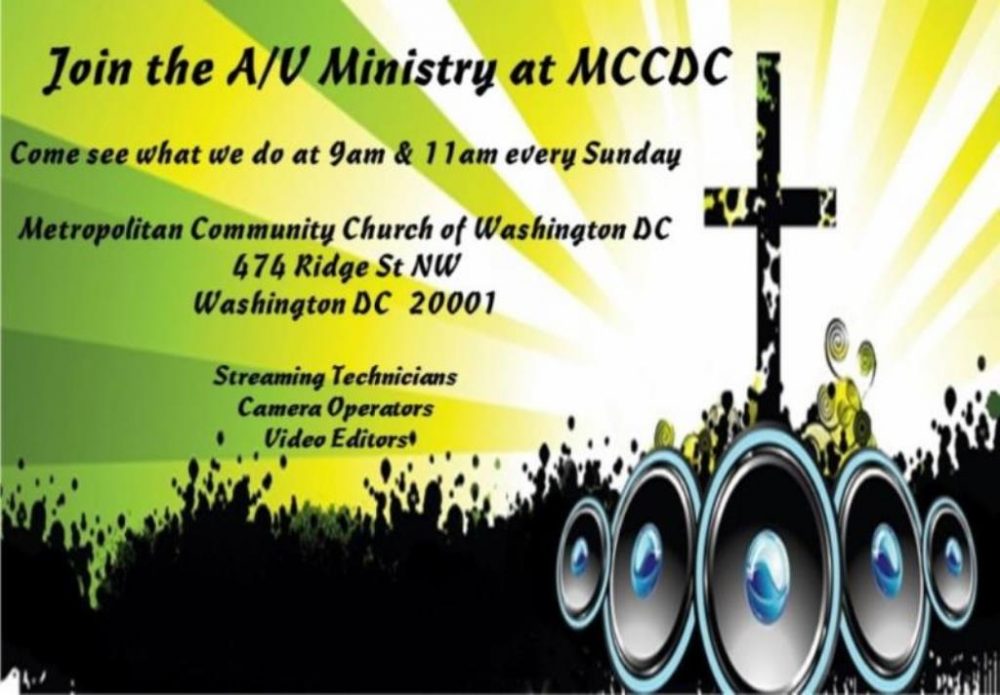 Prayer Corner
Please continue to hold in your prayers Keith Richardson who is in a Nursing Home.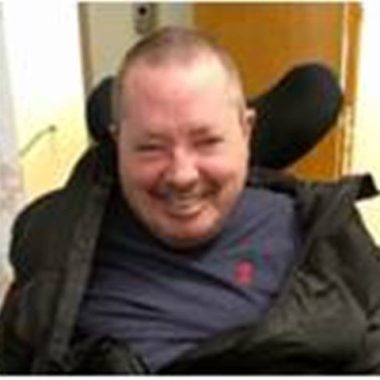 Join our Worship and Arts Ministry!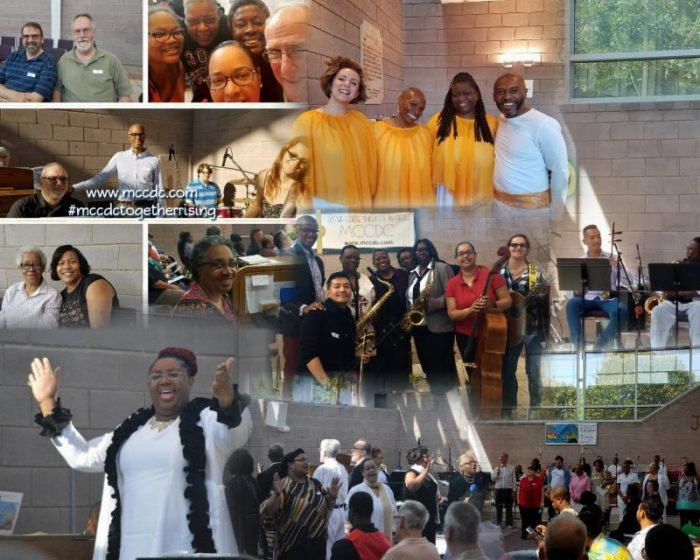 Ministry
Meeting Time
Contact
E-mail
9 AM Choir

Sunday

8:15 AM

Daniel Scearce
danscearce@aol.com
11 AM Choir

Thursdays

7:00 PM

Diedre Mouton Gray
msdeedeemusic@gmail.com
Dance
Every other Tuesday
5:00 – 6:45 PM
Cathy Batson
cathybatson1@verizon.net
Drama
Mondays
6:30 PM
Jules Christian
enjoyingtoday@hotmail.com
Eclectic Praise
Sundays
12:30 PM
Johanna Hardy
brassrat93@gmail.com