I tell my students, "When you get these jobs that you have been so brilliantly trained for, just remember that your real job is that if you are free, you need to free somebody else. If you have some power, then your job is to empower somebody else. This is not just a grab-bag candy game." Nobel Prize and Pulitzer Prize-winning novelist Toni Morrison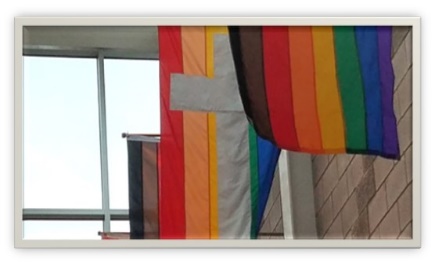 This Sunday begins the six week series entitled "Building Our Generous Home". This is one of MCCDC's recently formulated aspirations for our future. The others are Connecting and Engaging, Growing from the Inside Out, and Becoming a Spiritual Force. In mapping out our future, our congregation has laid out a strategy to move and operate in our neighborhoods, and in our world. Sunday's conversation will be about planning. Making plans with God's guidance is, for me, a significant and foundational part of effectively doing the spiritual work that we do.
Here are some of the elements of Building Our Generous Home:
We will address the physical and financial needs associated with MCCDC's mission and presence in the community; and work with our Board of Directors and Trustees to use our resources efficiently and effectively. We will encourage the spiritual practice of stewardship of our time, talents, and treasure; and enhance our technology infrastructure and capabilities to share our faith with as many people as possible. Click to read our Aspirations
These are bold desires for this community of faith and we are trusting God to encourage and engage throughout. We pray to be sensitive to the leading of God's wisdom and Spirit. The overarching scripture for this series is Psalm 127: 1-2. Verse 1 affirms, "Unless the Lord builds the house, the builders labor in vain. Unless the Lord watches over the city, the guards stand watch in vain." God has indeed been building this community of faith over the ages. The blood,
sweat, tears, messiness, and prayers of those who came before us, connect each of us to the life force of MCCDC. We have a charge and a responsibility to God and to each other to use the gifts God gave each of us and continue to build God's generous home…inside and out. As we construct the home of our hearts and our church home, we can honor what God has placed within us…Spirit, life, the essence of hope, and creation.
We hope to see you at 9 AM or 11 AM on Sunday. Be blessed.
Peace, Rev Cathy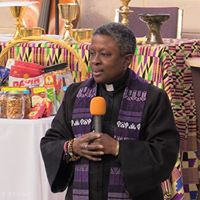 "UP COMING EVENTS"
Thank You!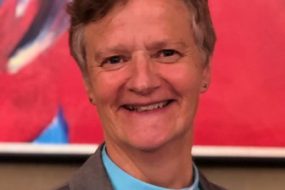 Thank you to all who worked so hard to make MCC's historic anniversary and presentation celebration happen.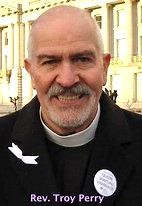 MCCDC Letter of Concerns to Mid-City and to ANC Commissioner Nigro.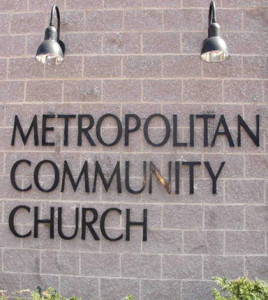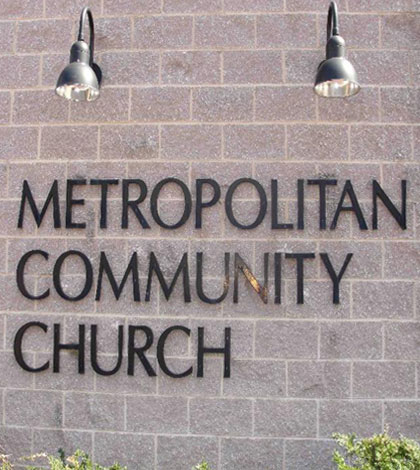 The attached letter has been sent to the Mid-City commissioner concerning impact of recent development around our church neighborhood.
Click Here to Read the Letter Letter MCCDC to MidCityDev 10-7-2019

Join your MCCDC family in the walk to end HIV AIDS Walk All are welcome to join the team.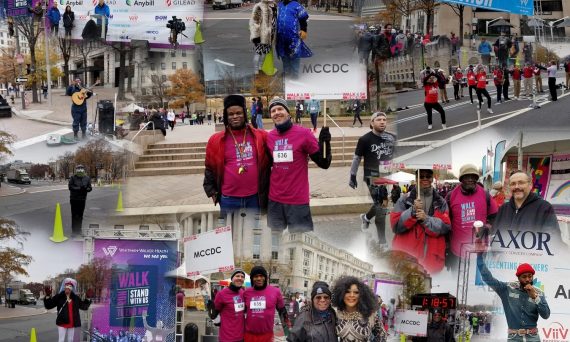 Saturday, October 26.
Location: The Walk & 5K to End HIV
will begin and end at Freedom Plaza
(Pennsylvania Avenue and 13th Street, NW)
5K timed run begins promptly. 9:15 am
Walk to End HIV steps off. 9:20 am
Fees:
General Walk Registration: $25
Student / Senior (60+) Walk Registration: $15
General Timed Run Registration: $35
Sleep Walker Registration: $40
Event Information
T-shirt pick -up on-site the morning of the event beginning at 7:30 AM
For more information please contact Dale Madyun-Baskerville baskerd6109@gmail.com or call 202-638-7373.

MCCDC Thrift Item Sale, October 20, 2019 & Nov 10, 2019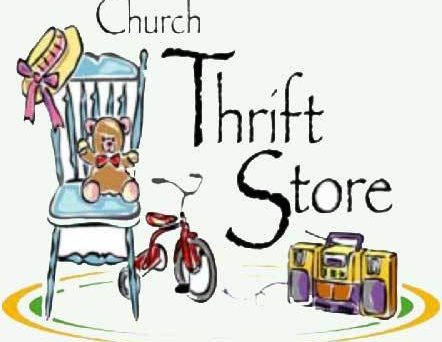 All items $5.00 and below.
A variety of items to choose from.Check out the table in the Welcome Hall.
Please contact Cecilia Hayden- Smith ( Mamma Cee) with questions at 202-638-7373 or churchoffice@mccdc.com

Older Adult Ministry Potluck/Meeting October 13, 12:30 pm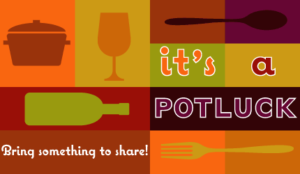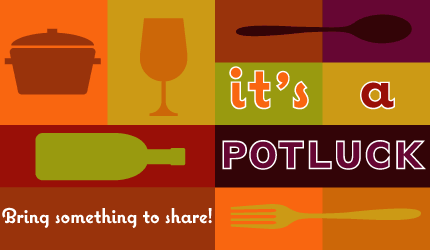 The change in date is due to Rev Troy Perry Visit on October 06, 2019.
Older Adult
All age 50 and above are welcome to join. For more information contact Dale Madyun-Baskerville at the church office 202-638-7373

"CHURCH NEWS"
Your're Invited to Join MCCDC Bible Study on October 15, at 7 pm for a Video Chat with the Author Rev Candace Chellew-Hodge of "Bullet Proof Faith".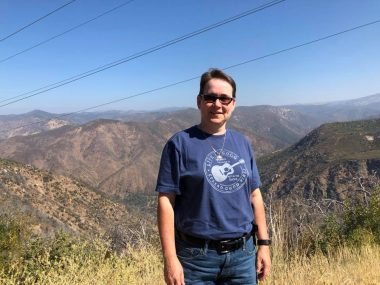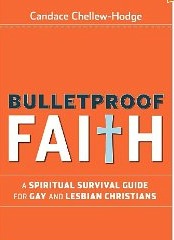 For more information contact Dale Madyun-Baskerville at the church office 202-638-7373

Writing Workshop, November 9, 1:30- 4:00 pm
MCCDC will host a Spiritual Writing Workshop on Saturday, November 9, 1:30- 4:00 pm. All are welcome (but please register in advance if possible).
Facilitated by Rev. Dr. Robin Hawley Gorsline, Writer-Theologian in Residence at MCCDC, the session will focus on liturgical (worship) writing-prayers, invocations, calls to worship, contemporary psalmody and more. Think about what you might like to do, trusting God to guide you in doing it! We will engage in some exercises during our time with plenty of time for your creative writing and discussion with each other. Also, feel free to bring a piece already in process.
A light lunch/snacks will be available, but feel free to share as you can, including beverages.
In other writing news, Rev. Robin is once again coordinating Advent devotionals. Watch this space for more information about this year's theme. It is not too soon to begin thinking about this (Advent begins December 1 this year)!
To register, please contact Rev. Robin at writer@robinhawleygorsline.com or by text/phone at 240-565-3441 or contact the church office at 202-638-7373.

Event Rental Space at MCCDC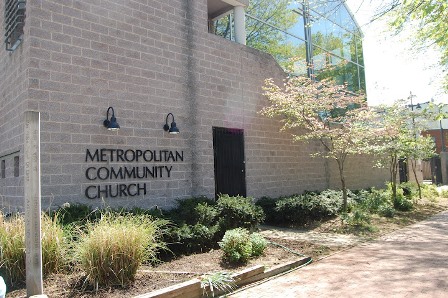 Are you or someone you know planning an upcoming event? Are you looking for a reasonably priced rental space with easy access to public transportation? Look no further.
Call MCCDC today at 202-638-7273 for rates and availability.
Click Here for more Information

Join Us on YouTube and subscribe to the MCCDC YouTube Channel!
Stay current on our video postings .
Click here to see more MCCDC Videos
Inspiration Videos, Metropolitan Community Church of Washington DC

"Ministry Spotlight"
MCCDC Bible Study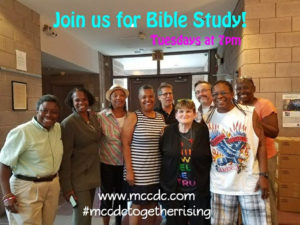 A time of community, fun, learning, and sharing!
Tuesdays, from 7:00 – 8:00 PM in the Welcome Hall
For more information please contact Dale Madyun-Baskerville at the churchoffice@mccdc.com or call (202) 638-737.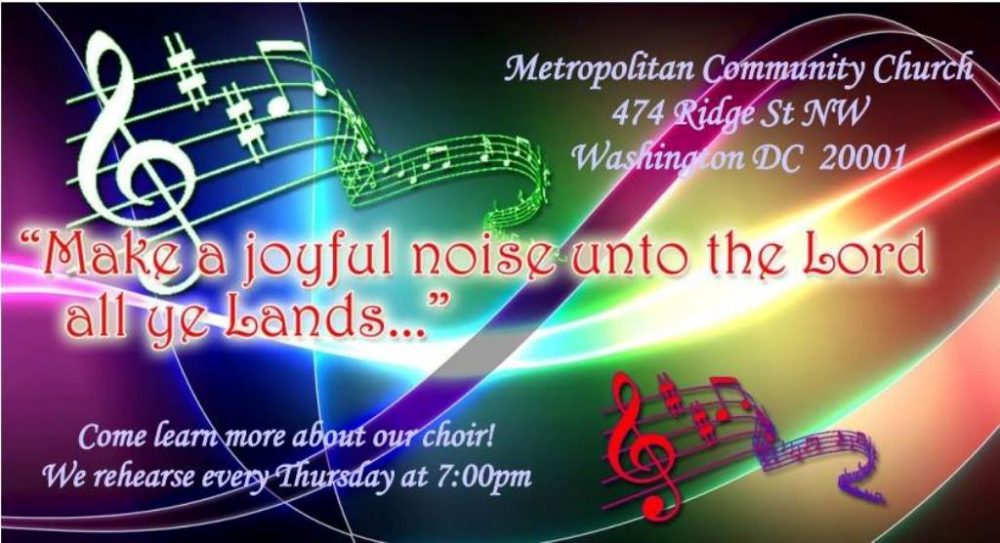 "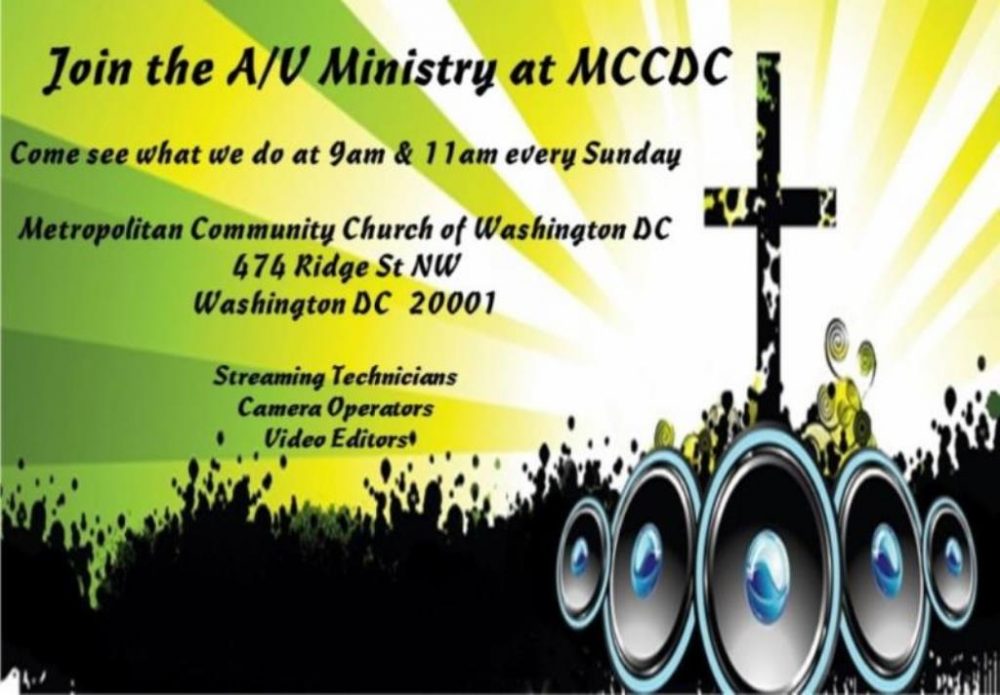 Prayer Corner
Please continue to hold in your prayers Keith Richardson who is in a Nursing Home.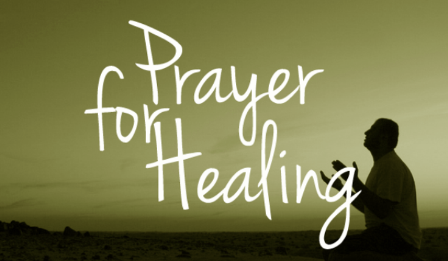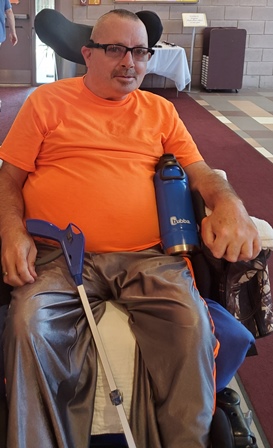 Join our Worship and Arts Ministry!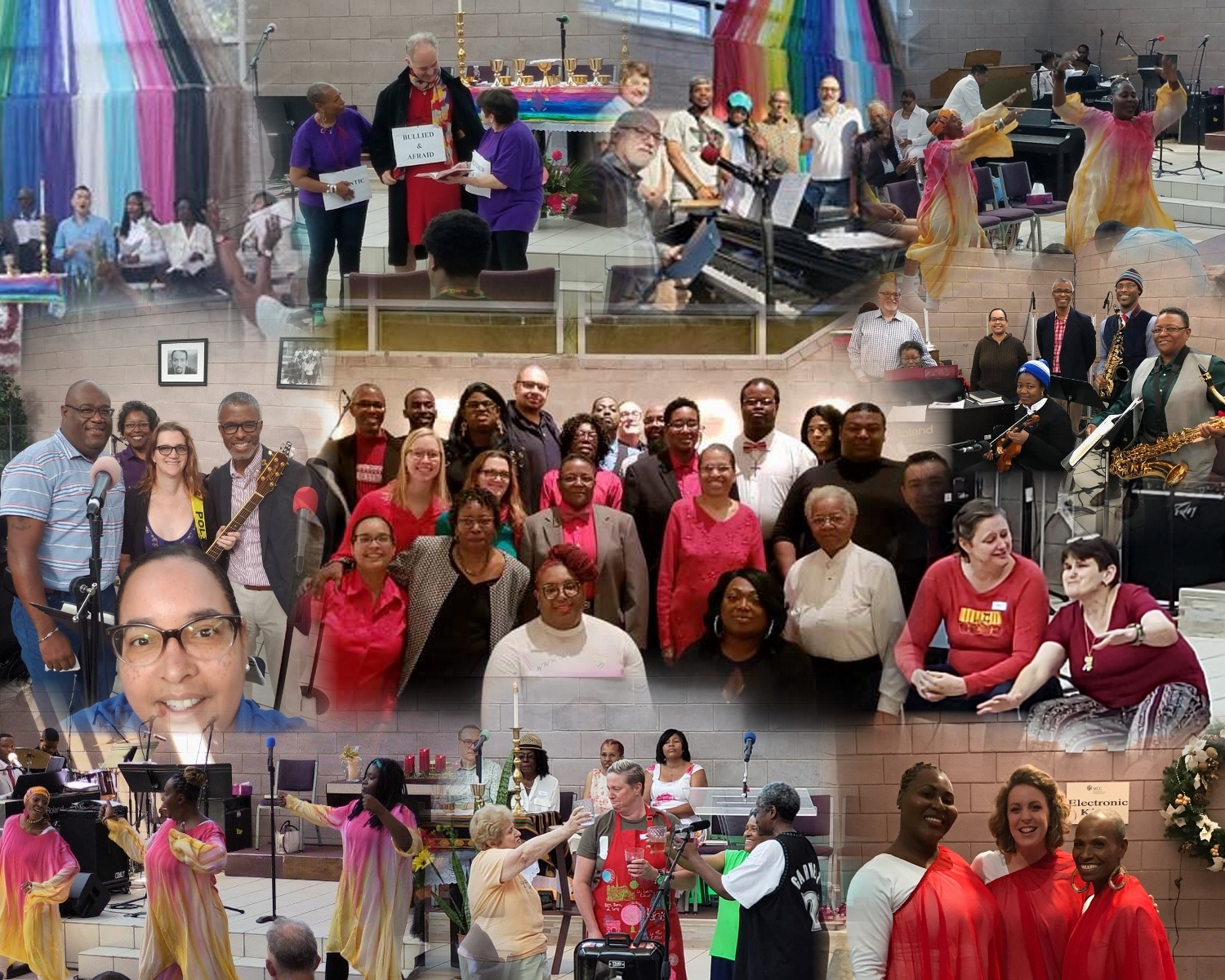 Ministry
Meeting Time
Contact
E-mail
9 AM Choir

Sunday

8:15 AM

Daniel Scearce
danscearce@aol.com
11 AM Choir

Thursdays

7:00 PM

Diedre Mouton Gray
msdeedeemusic@gmail.com
Dance
Every other Tuesday
5:00 – 6:45 PM
Cathy Batson
cathybatson1@verizon.net
Drama
Mondays
6:30 PM
Jules Christian
enjoyingtoday@hotmail.com
Eclectic Praise
Sundays
12:30 PM
Johanna Hardy
brassrat93@gmail.com