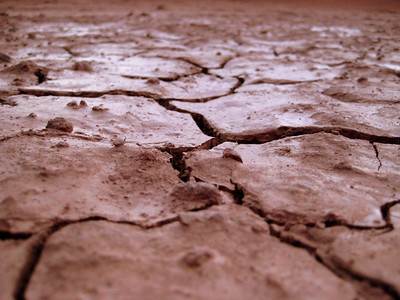 "…someone wrestled with Jacob until the first light of dawn."—Genesis 32:24
Where does one meet God? Though many tell of mystical experiences on mountaintops, God is often met in less lofty places. Mud is one of those places. Though we cherish meeting God during a sweet hour of prayer, sometimes the meeting is a wrestling match. That is true in this week's scripture from Genesis 32:22-31. It is a scene of divine encounter, yet it is nothing like Moses on the mountain. Rather, it is Jacob in the mud. And God meets Jacob there.
Sunday's messy scripture is real to life as we know it today. Like for many of us, Jacob reaches a point of isolation. Like for many of us, the isolation is not serene but disturbing. Like us, Jacob finds himself wrestling. The night he faces is not the silent night of sentimentality, but the anxious night of facing difficult truth. Jacob has to face his past: he ruined his brother's life by cheating him out of his birthright. And Jacob, now old, needs to face the anxiety of his uncertain future, including a reckoning with his brother.
There is a lot of wrestling going on these days. Our wrestling as a nation over who we will choose to be is played out on a personal level. Who will each one of us choose to be? Will we protest or be silent? Will we vote or be apathetic? Will we love our neighbor or look the other way?
In preparation for Sunday:
1. Reflect on Genesis 32:22-31 and ask where you find yourself in the story. Are you more the controller, like Jacob , or more the controlled, like his sibling Esau? A combination of both?
2. What are sublime places where you have met God? Where are some messy places where you have met God? Which place offered the deepest transformation?
3. What or who are you wrestling with these days? What may be emerging from the wrestling
Prayer:
God of the mountains and mud, give us the courage to face the tough realities with which we
wrestle collectively and as individuals. Thank you for meeting us in the messy places, and
helping us to choose life in new ways.
Peace
Rev.Elder Dwayne Johnson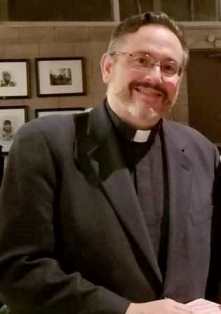 MCCDC Announcements
Older Adult Ministry Virtual BINGO 02 Aug at 2 PM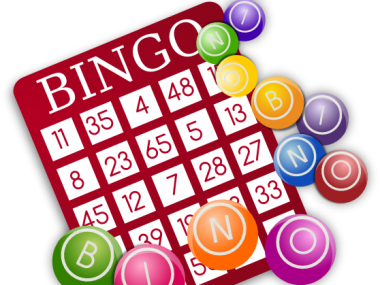 The Older Adult Ministry will hold its monthly meeting via Zoom at 2:00 pm this Sunday, Aug. 2.
We'll email a bingo card link to all who want to play. Please print out five cards prior to the Zoom meeting.
For more information, contact Dale L. Madyun-Baskerville at mccdcbiblestudy@mccdc.com.

Virtual Choir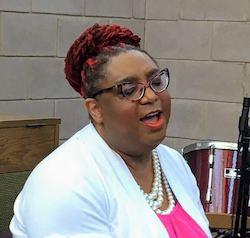 Come and join the Virtual Voices of MCC Choir! Lift your voice in our virtual rehearsals while singing from the comfort of your home. For more info, email Music Minister Deidre Mouton Gray at msdeedeemusic@gmail.com.

Spiritual Gifts, Get Involved!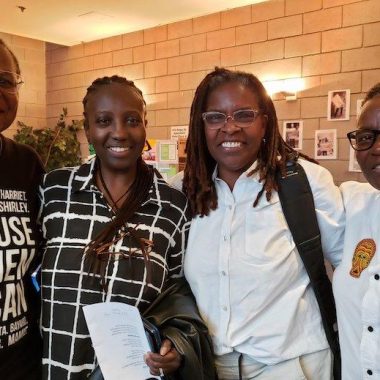 Your're invited to consider sharing your spiritual gifts by making a Scripture Reading Video or sharing a Video Testimony on what MCCDC means to you.
It does not have to be long and the AV team is standing by to help you with the video. Please email me at revdwayne@mccdc.com for more information.

Moving Spirit Dance Ministry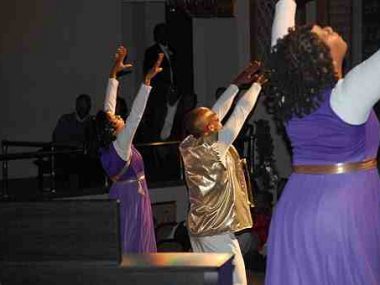 Come dance for God! No experience needed. Email Cathy Batson at cathybatson1@verizon.net for more information. Check out past performances on our YouTube channel, including "I Can Only Imagine" (April 2019) and "Mighty River"(February 2018).

The MCCDC Drama Team Needs You!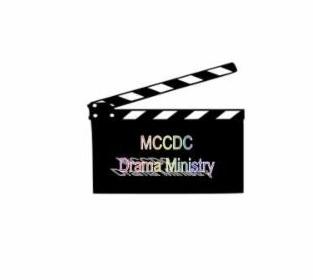 No experience required! Just a willing learner. If you have a passion or artistic flare in front of camera come join the MCCDC Drama team! The Drama Ministry meets on Mondays at 6:30 om via Zoom and performs on the Second Sunday of each month. If you are interested, please contact Clara Carter at c4mcarter26@gmail.com.

Electronic Giving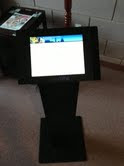 Here is an opportunity to cover the electronic giving transaction fee so that 100% of your donation goes to MCCDC.
Beginning Sunday, May 24, 2020, each time that you make your donation electronically, you will have the option to add $2.00 to help cover the electronic giving transaction fee.
Just Place a check mark next to the statement:
I would like to add $2.00 to help cover the transaction fee so that 100% of my donation supports MCCDC

JOIN REV. DWAYNE IN PRAYER FROM NOON TO 12:30 PM Monday thru Saturday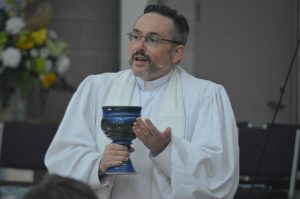 Phone Number: 646-558-8656, Code: 407 740 6668

Bible Study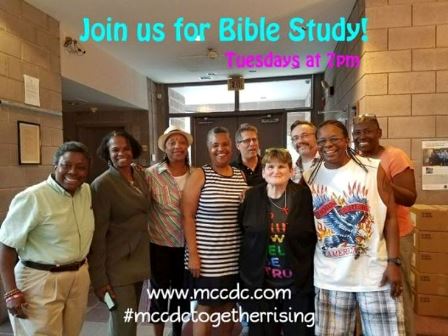 A time of community, fun, learning, and sharing!
Tuesdays from 7:00 – 8:00 PM
Via FREE ZOOM Video Conference Call
Click here to see the MCCDC 2020 Bible Study Schedule
Phone Call in number is: 301 715 8592 US,Meeting ID: 434 566 329
Password: Email Dale Madyun-Baskerville at mccdcbiblestudy@mccdc.com for login invitation

"Ministry Spotlight"
Join Us on YouTube and subscribe to the MCCDC YouTube Channel!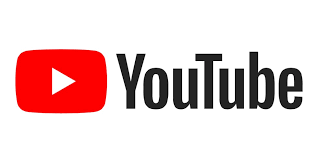 Click here to see more MCCDC Videos

LiveStream Volunteer's Needed!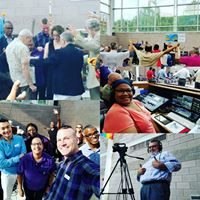 Volunteer! No experience is required. We will train you or someone you recommend. (Perhaps a student interested in picking up new skills?) Opportunities include:
o Producing the livestream itself on Sundays and for special events (greatest need)
o Assisting on Sundays by video recording and managing cameras
o Video editing (this requires access to your own computer and video editing software)
Share our message! Inspired by Rev. Dwayne's spiritual instruction? Moved by a praise & worship song? Post it on Facebook. Send a link to friends and family. They can tune-in to our livestream or watch worship services on demand at livestream.com/mccdc, through our website at mccdc.com, or browse clips on our YouTube Channel.
Click here to visit MCCDC YouTube channel
Email Johanna at mccdclive@gmail.com or talk to any one of the AV team members to volunteer or for more information

The Soundboard Ministry Needs YOU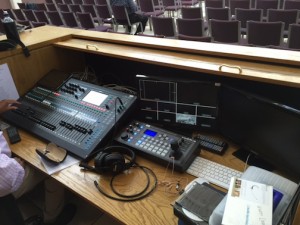 Soundboard volunteers are needed for 9 am and 11 am services. No experience needed!
You will be trained on a state of the art soundboard and learn how to set up mics for services.
Ideally, you will train at the 9 am service and continue training at the 11 am service, but we are flexible.
Please contact Michael Cunningham at mjcunningham2013@gmail.com or stop by to talk with any soundboard volunteer.

"CHURCH NEWS"
Coronavirus Hotline DC, MD and VA
Washington DC
After hours, please call the GW Hospital Emergency Department at 202.715.4000
GW Medical CLEVELAND PARK- Phone: 202.525.5287
GW Medical MCPHERSON SQ- Phone: 202.798.0100
1101 15th St NW
GW Medical RHODE ISLAND AVE- Phone: 202.544.7580
Click Here to go to DC Government Corona Virus Web Site
Maryland
Cough, fever, and shortness of breath, are the three symptoms together that raise the concern for coronavirus,
coronavirus hotline at 1-855-600-3453
Click Here to go to Maryland Government Corona Virus Web Site
Virginia
Cough, fever, and shortness of breath, are the three symptoms together that raise the concern for coronavirus,
coronavirus hotline at 1-855-600-3453
Click Here to go Virginia Government Corona Virus Web Site

Prayer Corner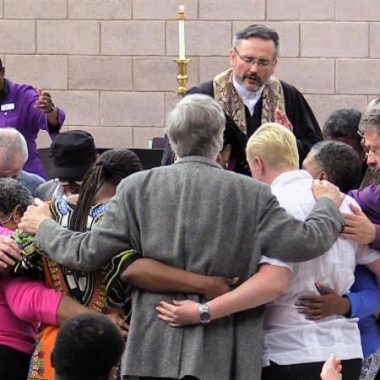 Please lift the following people up during your prayer time:
* The family of Deloris Fowler's sister,* Mrs. Jenifer Keys who transitioned * Jerry Giem's Son * Jason and Nephew * Travis * Valerie Myers' son Donald * Michelle Lax * George Kerr* III * Mama Cee's sister and niece * Rose Williams * Randy Punley * Lynn Sulyma * Esther Smith * Marcus Garnett * Renee Valentine * Elaine Durden-Hunter's mother * Earline * T. Green * Evelyn Jones * Ted Shaffer, husband of Larry Harris * Bob Jones' son Chuck & wife Karen * Steve Sloane * Glenn Conrad * Arden Shutt * Renee Valentine's brother ** Kim Battle * Juanita Dara * Jeffrey Luckenbach * Anthony Goode * Keith Richardson