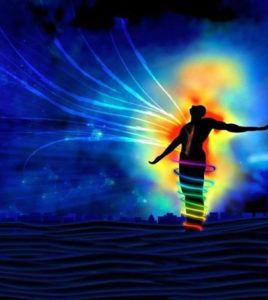 "Deep breathing brings deep thinking and shallow breathing shallow thinking." ~Elsie Lincoln Benedict
When's the last time you had room to breathe? At MCCDC this Sunday at 9 AM and 11 AM we will invite you to take a breath. And another.
To breathe is to pray, especially when words fall flat, seem empty, or small compared to the need. Consider our scripture for Sunday from Romans 8:26: "God's Spirit is right alongside helping us along. If we don't know how or what to pray, it doesn't matter. The Spirit does our praying in and for us, making prayer out of our wordless sighs. . ." The prayer of breath, of wordless sighs, is a prayer received by God.
To breathe is to connect again with God, the Creator of Breath. "God blew breath into us at creation and we continue to breathe all of creation in and out of our bodies constantly" (Marcia McFee).
To breathe together in community, as we will do this Sunday, reminds us we are not alone. Beyond all our differences, we exchange the shared air of life on this earth. As we follow this breath, peace with each other is renewed. When we breathe together, we pray together.
To breathe is to touch simplicity again, to calm the chaos, to still the busyness of overthinking and rampant doing. It is possible to overthink and overdo, yet it is impossible to overbreathe. Thoughts and actions become easily entangled. Breath unwinds and releases.
To breathe is to return to what is essential, and therein to find again our common and most basic purpose: to love and be loved.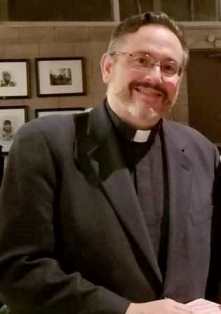 By Faith, Rev. Elder Dwayne

"UP COMING EVENTS"
Writing Workshop Planned during Lent

We have two writing opportunities in February and March at MCCDC. Rev. Dr. Robin Hawley Gorsline, our Writer-Theologian in Residence, who is facilitating both, asks each of us to consider participating.
The first is our Lenten Devotionals. These can be in written form or as video recordings. Our theme at MCCDC for Lent is "Mind Your Purpose." [Not mind your manners, though it can be good thing to do-but mind your purpose.]
Ash Wednesday is on March 6, so there is less than one month to go to the beginning of Lent. Please consider submitting something to Rev. Robin by March 1 if at all possible, but let me know if you are planning to submit something later. There are 40 days in Lent, ending on April 14.
The second opportunity is during Lent, a Spiritual Writing Workshop on Saturday, March 24, 2:30-5 pm. Based on a suggestion Rev. Robin received from a member, as well as thinking about Lent, he has chosen the theme for the workshop to be "Forgiveness."
In 12-Step programs, participants are urged to make "searching and fearless inventory" of themselves, and it is stressed that that includes not only all the stuff you have done wrong, but also all the good stuff about you, too. For me, forgiveness is like that in a way: there are others I need to forgive and I also need to forgive myself.
If you have questions, please contact Rev. Dr. Robin Gorsline at (240) 565-3441 or RevRobin@mccdc.com or RevDrRobin@comcast.net. Or

Lenten Prayer for the Easter Season! Noon, 6 March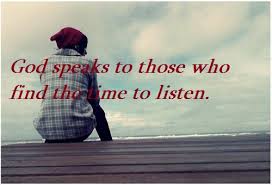 Meeting in the small conference room or call in conference Number: 1-857-232-0476, Pass-code#976702

Security Awareness Training, March 23, 10am to 12 pm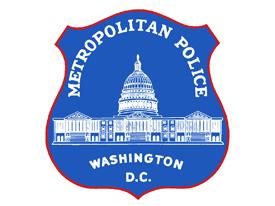 The Metropolitan Police Department will be conducting security awareness training to assist everyone in being more alert before, during, and after worship service?
This training will cover how to create a safer house of worship. Topics include:
Safety Team and Building Security
Responses to Active Violence
Crime Reporting
Emergency Preparedness
This training is OPEN to ALL!!!!
For questions or more information contact please contact Dale Madyun-Baskerville or Rev. Cathy Alexander at revcathy@mccdc.com or 202-638-737

The MCCDC Drama Ministry Presents: The Maker of Zoe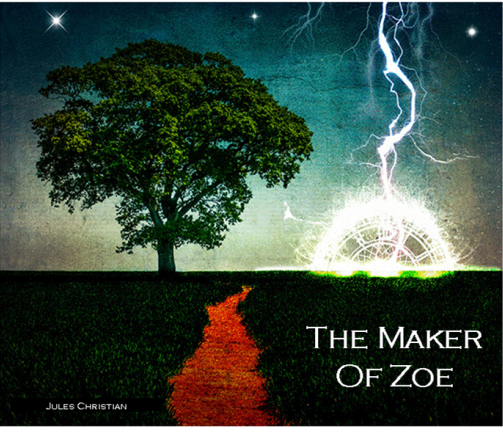 In the heart of Washington DC, Avery, an outwardly confident and whimsical toy designer, finds true meaning and purpose, after a supernatural encounter with an angelic messenger. Avery is transported to the Land of Zoe and embarks on a journey filled with mystery and wonder. This moving and suspenseful tale will delight and intrigue audiences, as it unfolds the truth of The Maker's Love for all and looks at the common misconceptions of Scripture concerning homosexuality.
You will be moved by this inspirational and entertaining performance, enjoy a delicious Italian Dinner served right to your table, and help support God's message of love for all people

"CHURCH NEWS"
Eastern Network Gathering April 6 from 8:30 to 4:00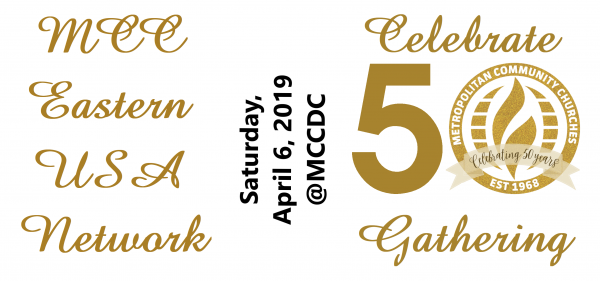 Come out and join other churches from Delaware, Maryland, Virginia and New Jersey to discuss a way forward for the MCC denomination, review the July General Conference and the vote for a new Moderator and Governing Board. Please contact Rev Cathy for more information or to assist MCCDC as host for this regional event. Rev Cathy may be reached at revcathy@mccdc.com or 202-638-7373.

Maker of Zoe Volunteer Meeting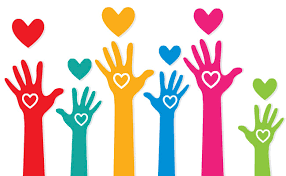 If you would like to volunteer as your admission to the play,
Please come to the volunteer meeting on
Sunday, April 14th, after the 11:00 service in the chapel.
You can contact Jules or Ceclia Hayden-Smith email: enjoyingtoday@hotmail.com or call 202.638.7373 for more information.

EASTER HONOR AND REMEMBRANCE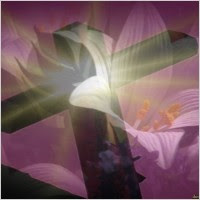 We invite you to remember someone you love with a Remembrance. The names of those remembered will be included in our Sunday bulletin. Please attach a check payable to MCCDC to the form and place it in the communication box (next to the front door) or mail it to the church (474 Ridge St, NW Washington DC 20001). Please be sure to print the names clearly and legibly. You can also give through the kiosk or at mcccdc.com/donate. The deadline for being included in the bulletin is Tuesday April 16th

TAKE ACTION TODAY Help Support LGBTQ+ Immigrants Brought to D.C. From Border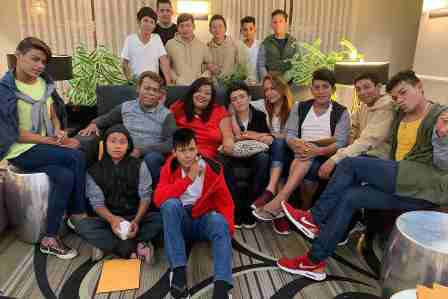 Our still speaking God calls us love everyone and be our siblings' keeper. Show that love and live into that call by helping Empowerment Justice Center (EJC), and Casa Ruby's meet 15 LGBTQ+ immigrants' basic needs.
The U.S. Department of Immigration and Customs Enforcement (ICE) put the queer children of God into EJC and Casa Ruby's custody after five detention centers in the San Antonio, Texas area rejected them. They were brought to D.C. by van. An LGBTQ+ network provided necessities during stops in Houston, Birmingham, and Atlanta.
We humbly ask Dignity communities to donate to help sustain our new neighbors.Click Her to Donate Donations go toward the latter needs as well as clothing, food, securing permanent housing, mental health care, and immigration processing.
EJC is a ministry of Empowerment Liberation Cathedral (a United Church of Christ congregation) led by Bishop Alyson Abrams.
Casa Ruby, founded by Ruby Corado in 2012, is an LGBTQ+ community center.
Sincerely,
Rev. Jason Carson Wilson
Interim Administration Coordinator
Metropolitan Community Church
Of Washington DC
202.638.7373

MCC General Conference Registration is open. REGISTER NOW by clicking onthe link below.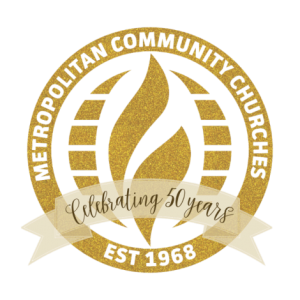 Please click here to check out this amazing conference and celebration.

Join Us on YouTube and subscribe to the MCCDC YouTube Channel!

Stay current on our video postings .
Click here to see more MCCDC Videos
Inspiration Videos, Metropolitan Community Church of Washington DC

"Ministry Spotlight"
Bible in 90 Days: In person/call in/livestream meets Thursday nights at 7 pm Call In Number is: 641-715-0632, Conference Code 190766 .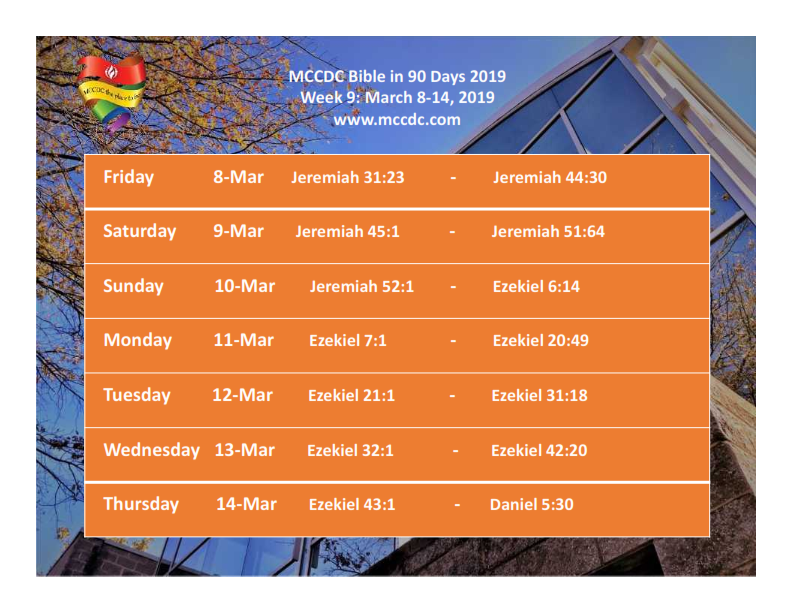 The Soundboard Ministry Needs YOU!!!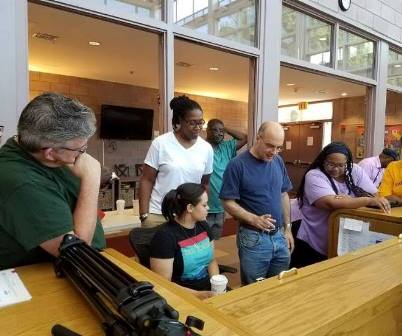 Soundboard volunteers are needed for 9am and 11am services. No experience needed. You will be trained on a state of the art soundboard, setting mics up for service and learning the technical side of handling the sound board. We would like to have you train at the 9am service and continue training at the 11am service but if your prefer to train only at one service you can.
Please contact me Michael Cunningham at mjcunningham2013@gmail.com or stop by to talk with any soundboard volunteer.

The Hospitality Ministry Needs Your Help!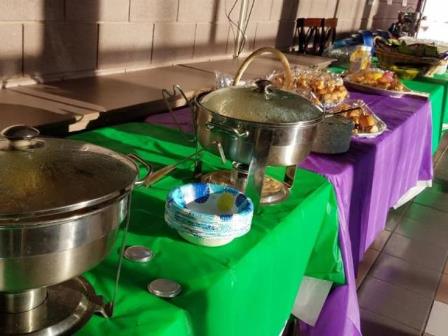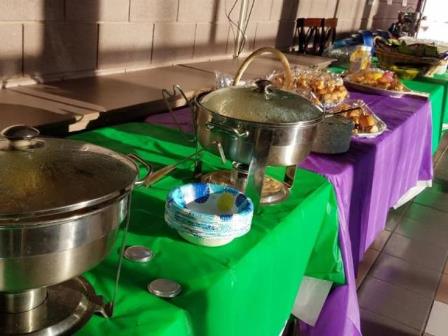 If you have hospitality items that you would be willing to bring in and support Sunday hospitality, please contact the church office at
churchoffice@mccdc.com or 202-638-7373.. Items for consideration are:
Items that are needed:
White Paper Towel Rolls
Large Cans of Regular Coffee
Large Cans of Decaffeinate Coffee
Box of Coffee Straws
Napkins
Fresh Apples
Fresh Oranges
Plums
Yogurt
Granola Bars

MCCDC Bible Study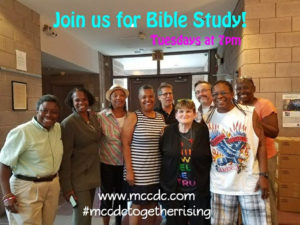 A time of community, fun, learning, and sharing!
Tuesdays, from 7:00 – 8:00 PM in the Welcome Hall
For more information please contact Dale Madyun-Baskerville at the churchoffice@mccdc.com or call (202) 638-737.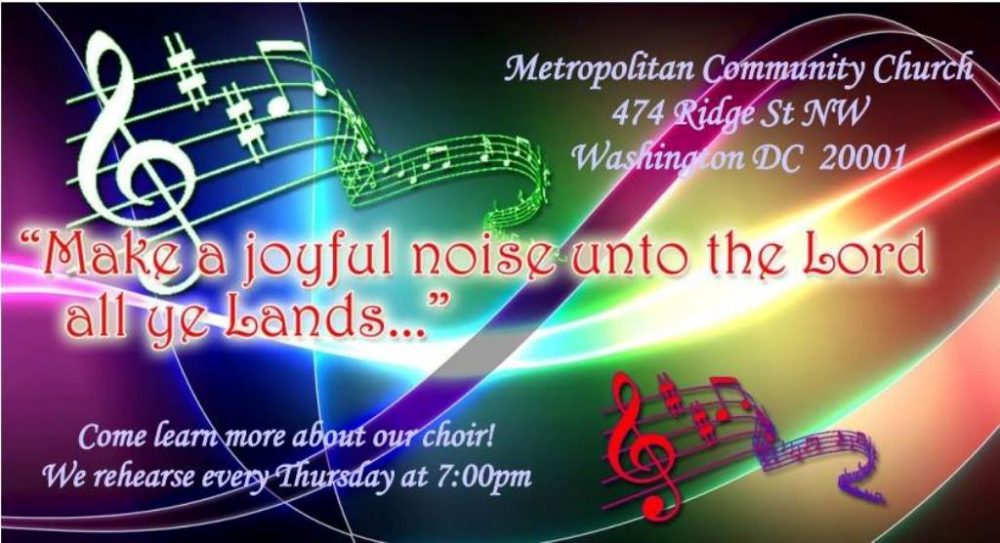 "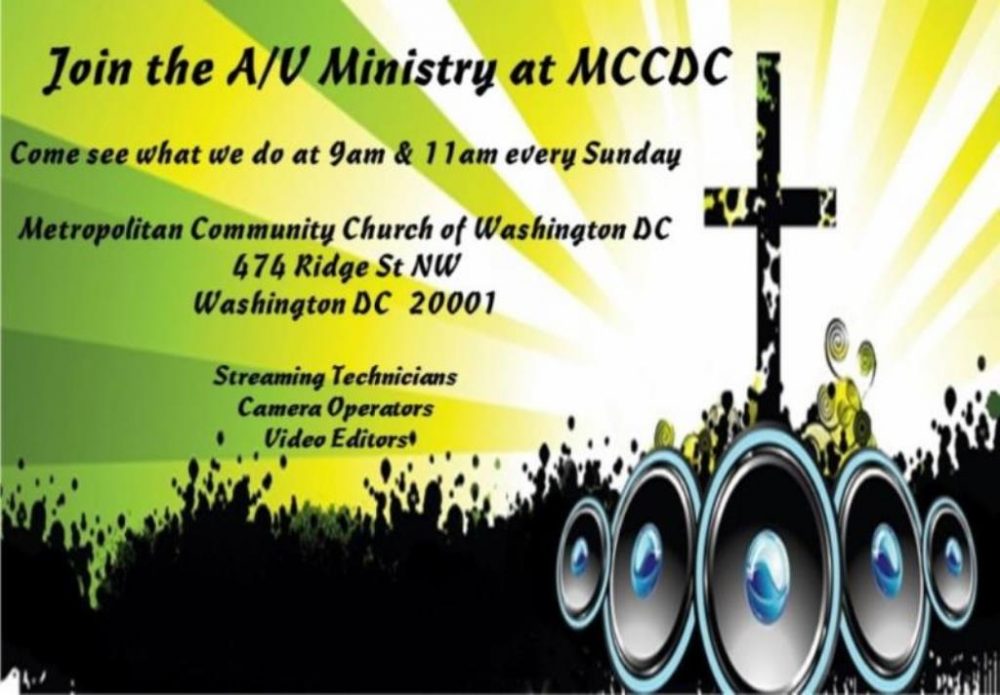 Prayer Corner
Please continue to hold in your prayers Keith Richardson and Fannie Woody who are in Nursing Homes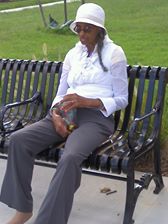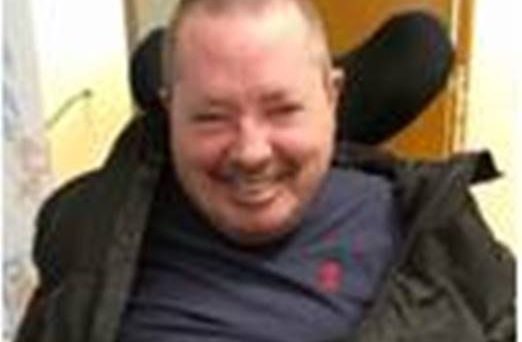 Join our Worship and Arts Ministry!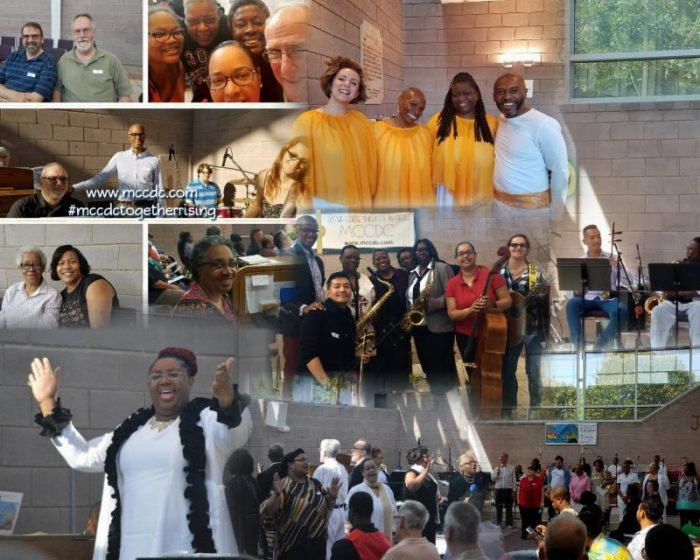 Ministry
Meeting Time
Contact
E-mail
9 AM Choir

Sunday

8:15 AM

Daniel Scearce

danscearce@aol.com
11 AM Choir

Thursdays

7:00 PM

Diedre Mouton Gray

msdeedeemusic@gmail.com
Dance
Every other Tuesday
5:00 – 6:45 PM
Cathy Batson
cathybatson1@verizon.net
Drama
Mondays
6:30 PM
Jules Christian
enjoyingtoday@hotmail.com
Eclectic Praise
Sundays
12:30 PM
Johanna Hardy
brassrat93@gmail.com