"O God, all the nations that you've made will come and bow down before you; they will glorify your name, because you are awesome and a wonder-worker." ~Psalm 86:9-10

With shepherds quaking, glories streaming, and heavenly hosts singing-the second verse of the beloved hymn "Silent Night" is the most spectacular. The song goes from calm to explosive. In Luke 2 the shepherds were just doing their jobs when the Lord's angel stood before them, and the Lord's glory shone around them, and they were terrified.
We have teamed up with Worship Designer Marcia McFee to help plan our worship for Advent and Christmas Eve. Marcia says, "The shepherds got quite a wake-up call that night when the sky lit up 'like a Christmas tree' (so to speak). Awe at the transformative glory of what God can do in our lives is the focus this week. Glories are streaming every day if we only have eyes to see. How would our lives be renewed if we saw the world and our lives through the lens of
wonder?"
I've been reflecting on Marcia's question and as I plan the message for Sunday, I have some questions of my own: Is there glory that is not so much spectacular as it is deep? The shepherds were humble folk who got caught up in glory. Which makes me wonder: is true glory about radiant humility? What glory is streaming from our lives?
In preparation for Sunday, I invite you to join me in reflecting on these questions (or questions of your own) and singing/saying/praying verse two of "Silent Night:"
Silent night, holy night!
Shepherds quake at the sight,
Glories stream from heaven afar,
Heavenly hosts sing "Alleluia"!
Christ, the Savior is born,
Christ, the Savior is born.
See you Sunday at 9AM and 11AM

"UP COMING EVENTS"
Love Offering now through Dec 9th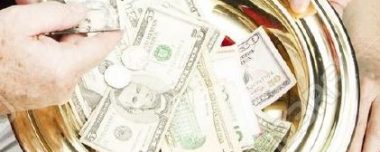 The Board of Directors would like to ask the congregation to show love and generosity this holiday season. We are taking a love offering for MCCDC Pastors and Staff on Sunday, December 9th. You can either give at the second plate offering that Sunday or through MCCDC's website, kiosk or text already now and until December 9th. Thank you for giving back.

Estate Planning, December 9th at 12:45pm, Guest Speaker Michelle Profit

Join us on December 9th at 12:45pm at MCCDC where estate planner Michelle Profit with give a presentation about Legacy Giving. Learn about the wonderful ways that you can make meaningful gifts that reflect your beliefs and values while leaving a unique legacy to memorialize those values and beliefs by supporting them during your lifetime and beyond.

Blue Christmas: A Service of Wholeness, Healing and Hope
This is a service for those who feel at odds with or separated from the general feeling of joy and happiness typically associated with this time of year. You may have experienced a personal loss: death of a loved one, illness, or job loss. The service seeks to provide a space of comfort and a reminder that you are not alone. We honor your feelings are honored. It will be a time of meditation and sharing. All are welcome to attend. Tuesday Dec 11 from 7-8 pm.

"CHURCH NEWS"
Advent/Christmas HONOR AND REMEMBRANCE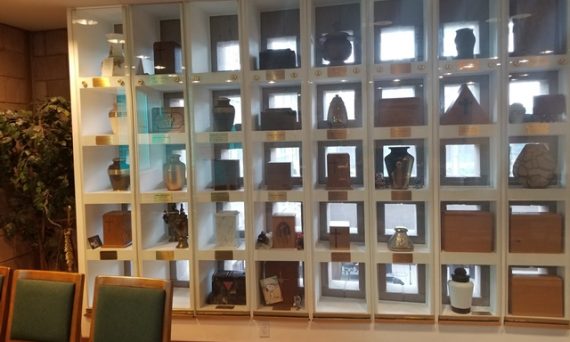 We invite you to remember someone you love with a Remembrance. The names of those remembered will be included in our Sunday bulletin. Please attach a check payable to MCCDC to this form and place it in the communication box (next to the front door) or mail it to the church (474 Ridge St, NW Washington DC 20001). You can also give through the kiosk or at mcccdc.com/donate. The deadline for being included in the bulletin is Wed December 26th.

Christmas Eve Service on Tuesday Dec 24th at 7 pm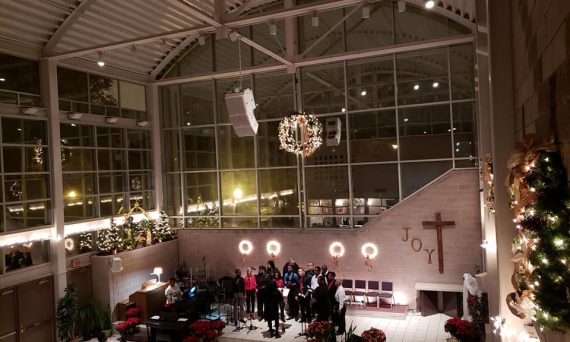 Christmas Eve Service on Tuesday Dec 24th at 7pm. Come join for a time of community, peace, love and joy.

CALLING ALL CREATIVE PEOPLE…YES THIS IS YOU!!for MCCDC's 2018 Advent Daily Devotionals

During November and early December, we are seeking participants to create the content for MCCDC's 2018 Advent Daily Devotionals. These Daily Devotionals will be simultaneously published on MCCDC's Facebook page and distributed by special eblast. Our theme this year is "Calm and Bright," celebrating the two hundredth anniversary of the beloved Christmas hymn, Silent Night. The first day of Advent is December 2 and it concludes December 23, so we seek 22 devotionals, one for each day. Please contact Rev Dr. Robin Gorsline, MCCDC's Writer-Theologian in Residence, at RevDrRobin@comcast.net 1 if you would like to participate, have ideas on how to broaden participation, or thoughts on how best to articulate the theme through words, music, or video. We hope a variety of forms will help these meditations touch many, if not all, of us, at this special time.

The Workshop facilitated by Rev. Dr. Robin Hawley Gorsline, "Writing as a Spiritual Calling" 8 December, 1 pm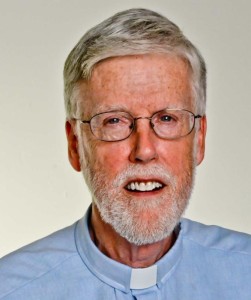 This workshop was rescheduled to Saturday, December 8, 1-4 pm. For questions or to register, please contact Rev. Robin at RevDrRobin@comcast.net
In this interactive workshop we will explore how the words we write convey spiritual truths more deeply than appears from just seeing the words as words. In other words, writing is a spiritual practice, a spiritual calling-when we let ourselves be guided by divinely-inspired impulses and prompts to convey profound and beautiful truths.
We will use prayer and meditation, short writing exercises and conversation to help us deepen our spiritual writing journey.
Feel free to bring lunch-there will be some simple snacks available for mid-afternoon energy boost.

Membership Class, December 16th, 12:30 pm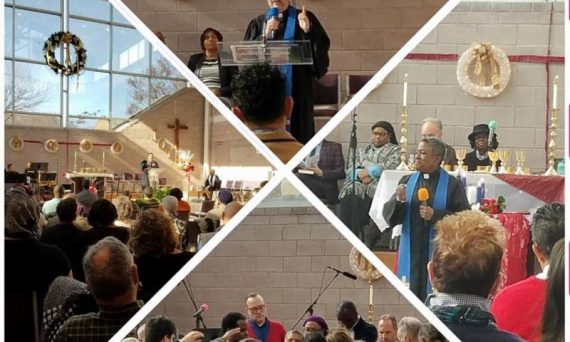 If you have questions about MCCDC and what membership is about, class will be held on December 16th from 12:30 to 2:30 in the chapel. All are welcome to attend. A light lunch will be served. Please register so that we may have enough food and materials. Contact Rev. Cathy at revcathy@mccdc.com or 202-638-7373.

Join us this holiday season!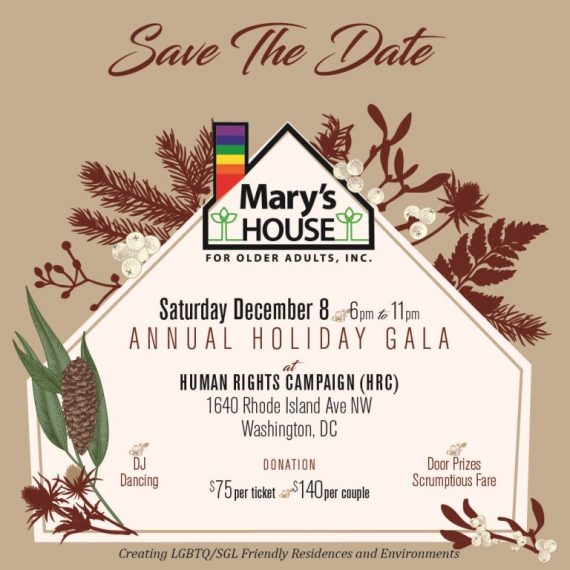 Mary's House is honored to host its 2018 Annual Holiday Gala, and to celebrate this holiday season with supporters from across the region. This event is a great opportunity to support LGBT-friendly affordable housing for older adults. All proceeds go toward helping Mary's House to "build that house".
Click here Purchase your tickets via the "registration" link

MCC General Conference Registration is open. REGISTER NOW by clicking onthe link below.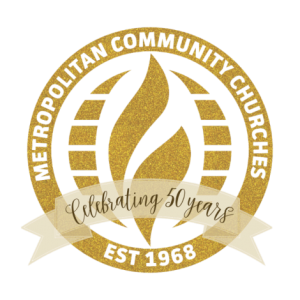 Please click here to check out this amazing conference and celebration.

Join Us on YouTube and subscribe to the MCCDC YouTube Channel!

Stay current on our video postings .
Click here to see more MCCDC Videos
Inspiration Videos, Metropolitan Community Church of Washington DC

"Ministry Spotlight"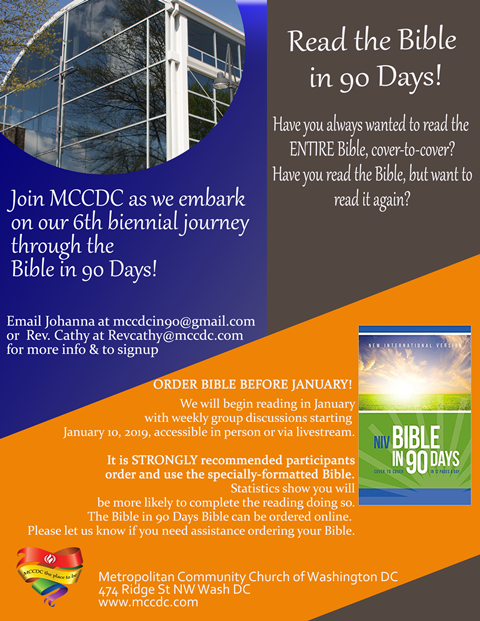 The Soundboard Ministry Needs YOU!!!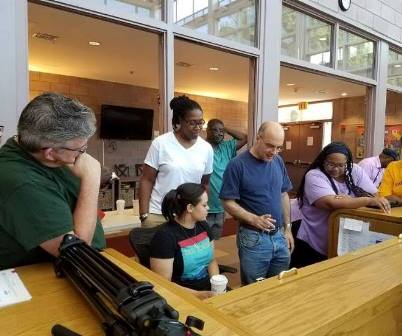 Soundboard volunteers are needed for 9am and 11am services. No experience needed. You will be trained on a state of the art soundboard, setting mics up for service and learning the technical side of handling the sound board. We would like to have you train at the 9am service and continue training at the 11am service but if your prefer to train only at one service you can.
Please contact me Michael Cunningham at mjcunningham2013@gmail.com or stop by to talk with any soundboard volunteer.

The Hospitality Ministry Needs Your Help!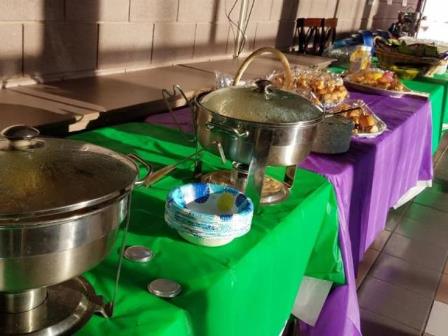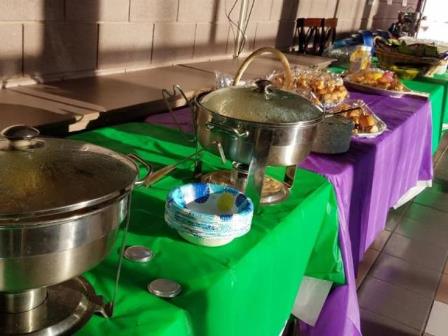 If you have hospitality items that you would be willing to bring in and support Sunday hospitality, please contact Sonia Grant in the church office at
churchoffice@mccdc.com or 202-638-7373.. Items for consideration are:
Items that are needed:
White Paper Towel Rolls
Large Cans of Regular Coffee
Large Cans of Decaffeinate Coffee
Box of Coffee Straws
Napkins
Fresh Apples
Fresh Oranges
Plums
Yogurt
Granola Bars

MCCDC Bible Study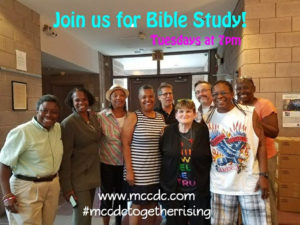 A time of community, fun, learning, and sharing!
Tuesdays, from 7:00 – 8:00 PM in the Welcome Hall
For more information please contact Dale Madyun-Baskerville at the churchoffice@mccdc.com or call (202) 638-737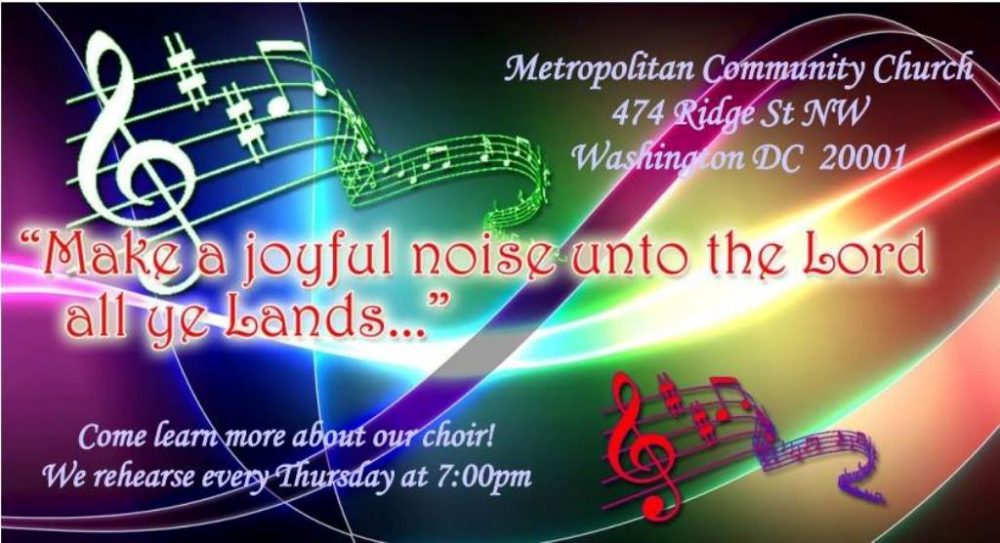 "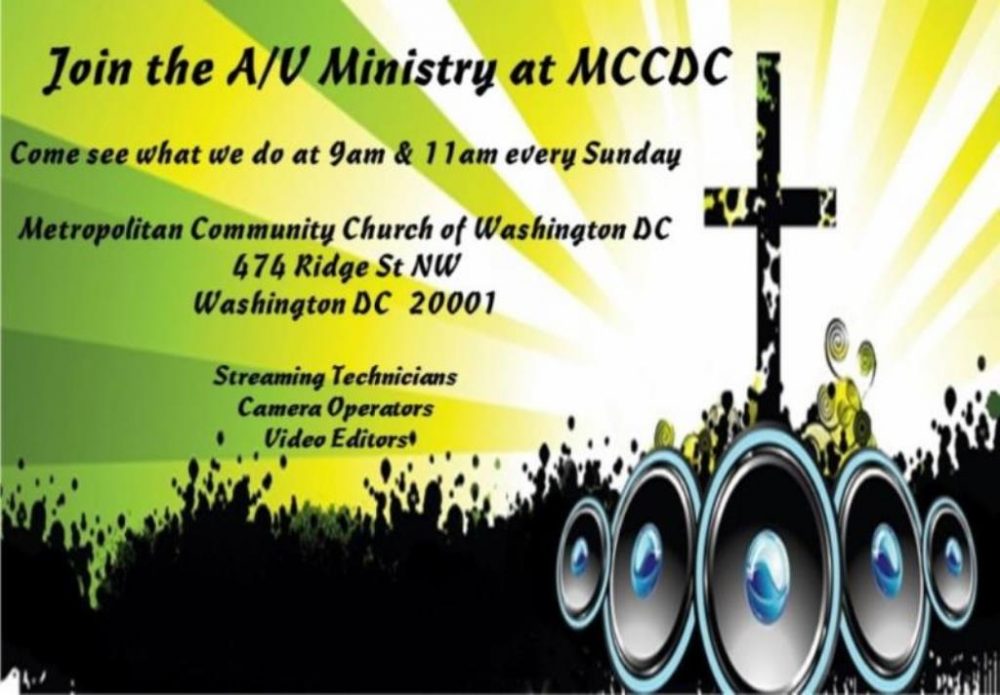 Prayers!
Please continue to hold in your prayers Keith Richardson and Fannie Woody who are in Nursing Homes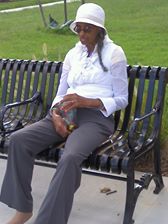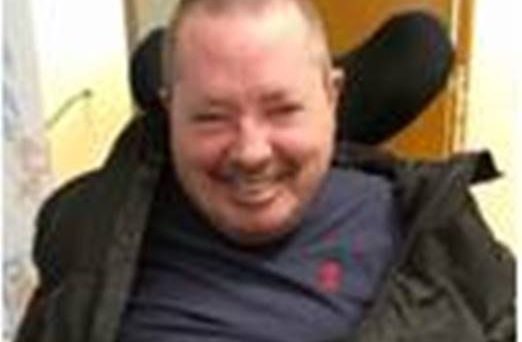 Join our Worship and Arts Ministry!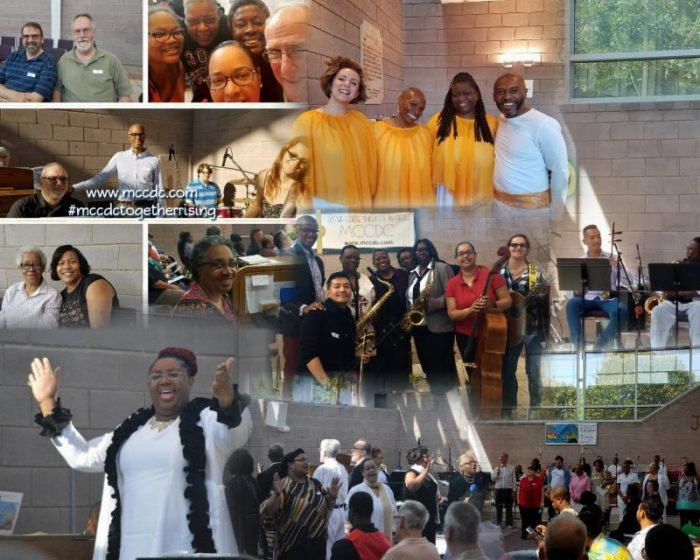 Ministry
Meeting Time
Contact
E-mail
9 AM Choir

Sunday

8:15 AM

Daniel Scearce

danscearce@aol.com
11 AM Choir

Thursdays

7:00 PM

Diedre Mouton Gray

msdeedeemusic@gmail.com
Dance
Every other Tuesday
5:00 – 6:45 PM
Cathy Batson
cathybatson1@verizon.net
Drama
Mondays
6:30 PM
Jules Christian
enjoyingtoday@hotmail.com
Eclectic Praise
Sundays
12:30 PM
Johanna Hardy
brassrat93@gmail.com