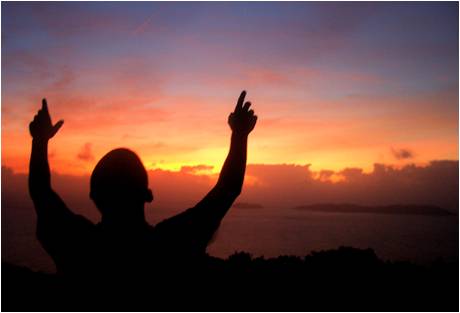 "What happens when people open their hearts in prayer? They get better."
~ Haruki Murakami, alt.
Many of my pastoral conversations center on prayer. Is there really power in prayer? We pray for wholeness of body, mind and spirit. We also pray for our broken world, including prayers for peace to calm the dangerous escalation of uncivil rhetoric and actions.
What is prayer? Prayer is being honest to God, a holy conversation of telling our truths to the Creator of Truth. Prayer is being still. And prayer requires one to move. Perhaps prayer is a movement to a new way of thinking. Prayer is to make moves towards specific actions that might stretch one's skill sets, comfort levels, or resilience.
Prayer is action for the woman we meet in Mark 5:24-34. She longs for the healing power of prayer. She is an outcast woman moving through marginalization and shame to stop 12 years of bleeding. She finds her power through active prayer, beyond words, by boldly reaching out to touch Holy Healing.
Here are some questions I'm thinking about heading into Sunday: How does prayer work?
How do we keep praying when we hit obstacles to prayer? What part do others play in our praying? I invite you to think on these things as you prepare your heart for worship. What questions are rising in you?
"The very act of being connected with God and with others through prayer," writes Marcia McFee, "has healing and power-bestowing benefits." Our words, prayers, and songs this Sunday will weave together threads of prayer. We will experience the power of prayer in community. See you Sunday at 9 AM and 11 AM.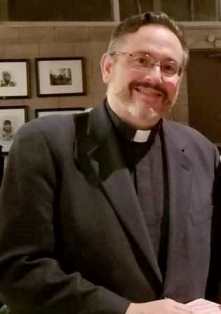 By Faith, Rev. Elder Dwayne

"UP COMING EVENTS"
UPDATE!!! Writing Workshop, March 23rd will now be held on May 4th at 10 am
The writing workshop originally scheduled for March 23rd will now be held on May 4th from 10 am to 2 pm. Rev. Robin received has chosen the theme for the workshop to be "Forgiveness."
In 12-Step programs, participants are urged to make "searching and fearless inventory" of themselves, and it is stressed that that includes not only all the stuff you have done wrong, but also all the good stuff about you, too.
For me, forgiveness is like that in a way: there are others I need to forgive and I also need to forgive myself. If you have questions, please contact Rev. Dr. Robin Gorsline at (240) 565-3441 or RevRobin@mccdc.com or RevDrRobin@comcast.net. Or call the church office at 202-638-7373.

Lenten Prayer for the Easter Season! Noon Each Day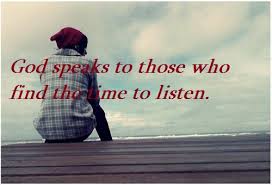 Meeting in the small conference room or call in conference Number: 1-857-232-0476, Pass-code#976702

Remembering Darius Smith, Memorial Service, 06 April 3:30 pm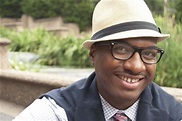 Location: MCCDC, 474 Ridge Street NW, Washington, DC

The MCCDC Drama Ministry Presents: The Maker of Zoe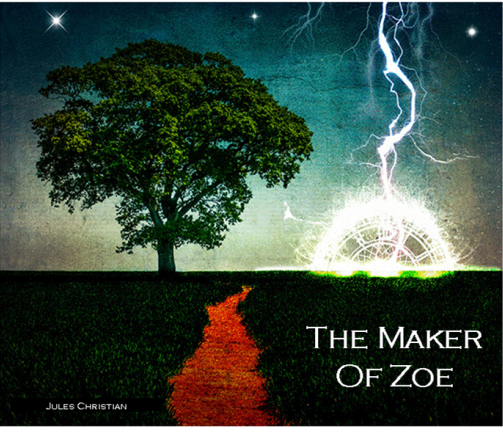 In the heart of Washington DC, Avery, an outwardly confident and whimsical toy designer, finds true meaning and purpose, after a supernatural encounter with an angelic messenger. Avery is transported to the Land of Zoe and embarks on a journey filled with mystery and wonder. This moving and suspenseful tale will delight and intrigue audiences, as it unfolds the truth of The Maker's Love for all and looks at the common misconceptions of Scripture concerning homosexuality.
You will be moved by this inspirational and entertaining performance, enjoy a delicious Italian Dinner served right to your table, and help support God's message of love for all people

"CHURCH NEWS"
I Can Only Imagine! Holy Week Schedule 2019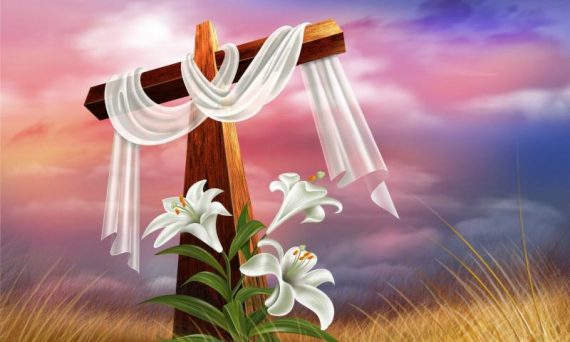 Thursday April 18 7 PM Holy Thursday
Friday April 19 7 PM Good Friday Service
Sunday April 21st 9 & 11 AM Resurrection Sunday Service
Christ is Risen Indeed!

EASTER HONOR AND REMEMBRANCE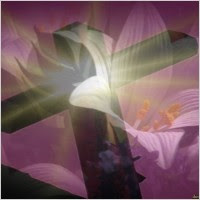 We invite you to remember someone you love with a Remembrance. The names of those remembered will be included in our Sunday bulletin.
Suggested Donation is $20.00
Please attach a check payable to MCCDC to the form and place it in the communication box (next to the front door) or mail it to the church (474 Ridge St, NW Washington DC 20001). Please be sure to print the names clearly and legibly. You can also give through the kiosk or at mcccdc.com/donate. The deadline for being included in the bulletin is Tuesday April 16th.

MCCDC's Board of Directors met on Tuesday, March 19, 2019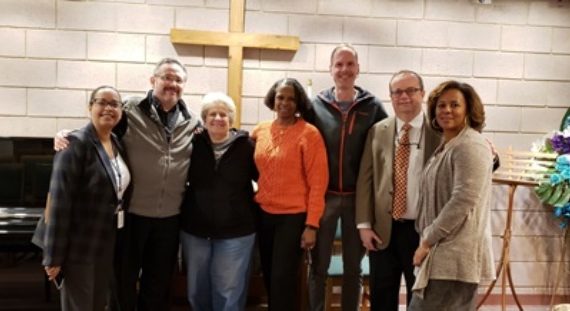 Here are some highlights from their meeting:
• Far Reaching Faith Trust Fund Investment Committee – In February 2018, the Congregation voted that the proceeds from the sale of the M Street lot be deposited into the Far Reaching Faith Trust Fund and that the interest from the fund be used as a new revenue stream for MCCDC. Recently the Board adopted an Investment Policy Statement to provide guidance on how the funds should be invested. As part of the policy, the Board created an Investment Committee composed of three members, including at least one Board members, to oversee the Far Reaching Faith Trust Fund. The Board appointed Board Treasurer Terri Neal and Rev. Cathy Alexander to serve on the committee. The Board also will be selecting a member of the congregation to serve as the third member.
• Special Board Meeting –The Board received an update on the recent unexpected and unplanned emergency plumbing situation in the lower level bathrooms. It was determined that the pumps supporting the sewer tank have failed and need to be replaced. This is expected to cost around $10,000 to address, including draining the tanks and buying and installing new pumps. The Board engaged in an extensive discussion about the building needs and resulting unexpected expenditures. The Board decided to have a special meeting to continue this discussion in more detail and develop recommendations on addressing these issues. The Special Board Meeting will be held on April 2, 2019, at 7:00 p.m. and will be limited to the topic of discussing a plan for addressing building needs to mitigate further unexpected expenses.
The Board posts the minutes of each of its meetings on the MCCDC website and on the bulletin board in the Welcome Hall.

Older Adult Ministry Potluck/Meeting, 07 April 12:30 pm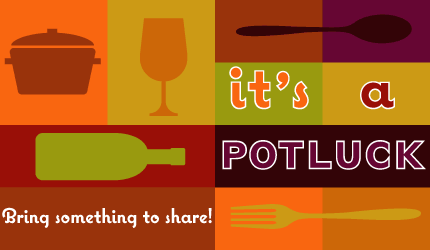 Guest Speaker : Murray D. Scheel, Senior Attorney, Legal Services
WHITMAN-WALKER HEALTH
Topic: Last Will and Testament
Older Adult Ministry will be holding their monthly Potluck. All age 50 and above are welcome to join. For more information contact Dale Madyun-Baskerville at the church office 202-638-7373

Eastern Network Gathering April 6 from 8:30 to 4:00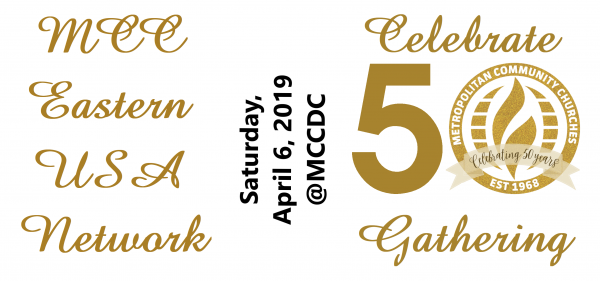 Come out and join other churches from Delaware, Maryland, Virginia and New Jersey to discuss a way forward for the MCC denomination, review the July General Conference and the vote for a new Moderator and Governing Board. Please contact Rev Cathy for more information or to assist MCCDC as host for this regional event. Rev Cathy may be reached at revcathy@mccdc.com or 202-638-7373.

LANDSCAPING DAY of SERVICE – 9am-1pm, SAT. April 13th!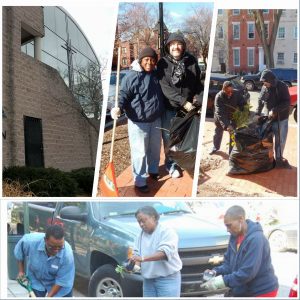 Join other MCCers to beautiful our church's property and get it ready for spring and Easter. We'll rake and collect debris, trim bushes, pull weeds, plant flowers and make our church property prettier-and we'll have some fun too! Join us in building community with each other. If you can, please bring your landscaping tools (rakes, brooms, clippers, etc.) and gloves.
We'll have some light breakfast foods to fuel us. Please RSVP to Greg Snyder, gcsnyder01@aol.com, 202-427-6313, if you can join us.

Maker of Zoe Volunteer Meeting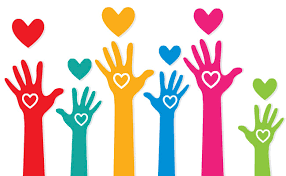 If you would like to volunteer as your admission to the play,
Please come to the volunteer meeting on
Sunday, April 14th, after the 11:00 service in the chapel.
You can contact Jules or Ceclia Hayden-Smith email: enjoyingtoday@hotmail.com or call 202.638.7373 for more information.

MCC General Conference Registration is open. REGISTER NOW by clicking onthe link below.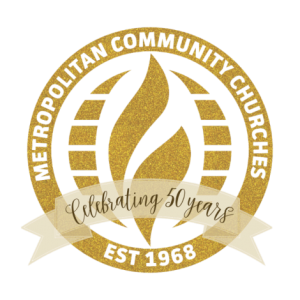 Please click here to check out this amazing conference and celebration.

Join Us on YouTube and subscribe to the MCCDC YouTube Channel!

Stay current on our video postings .
Click here to see more MCCDC Videos
Inspiration Videos, Metropolitan Community Church of Washington DC

"Ministry Spotlight"
Bible in 90 Days: In person/call in/livestream meets Thursday nights at 7 pm. The new call in for B90 is:712-770-4598 Code: 190766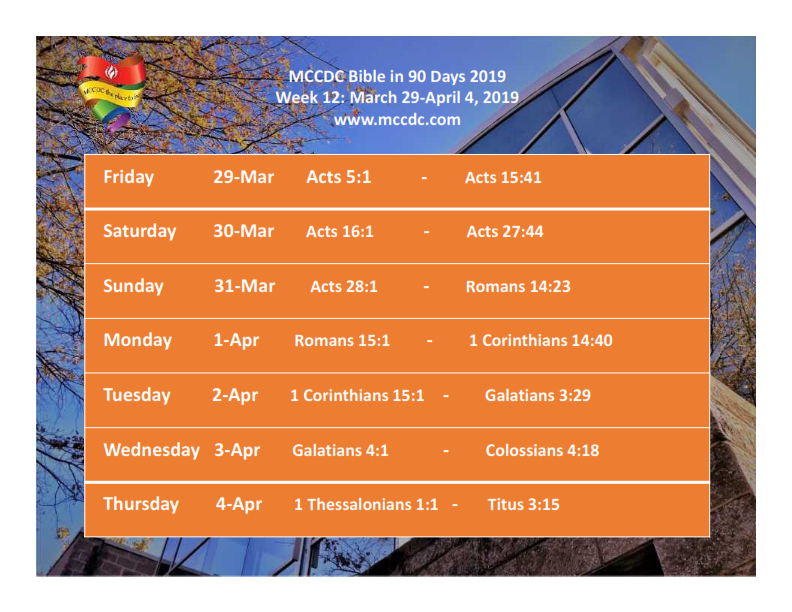 The Soundboard Ministry Needs YOU!!!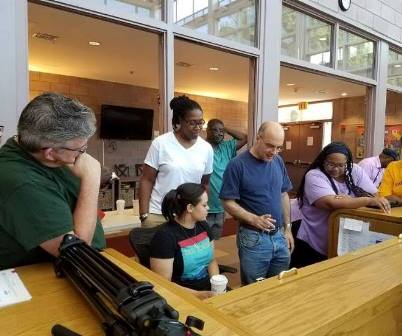 Soundboard volunteers are needed for 9am and 11am services. No experience needed. You will be trained on a state of the art soundboard, setting mics up for service and learning the technical side of handling the sound board. We would like to have you train at the 9am service and continue training at the 11am service but if your prefer to train only at one service you can.
Please contact me Michael Cunningham at mjcunningham2013@gmail.com or stop by to talk with any soundboard volunteer.

The Hospitality Ministry Needs Your Help!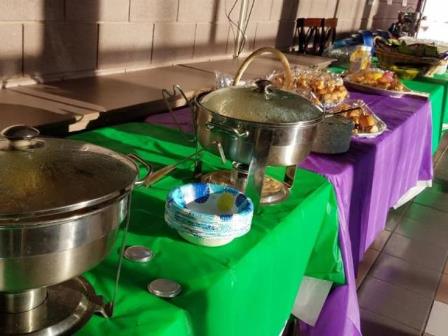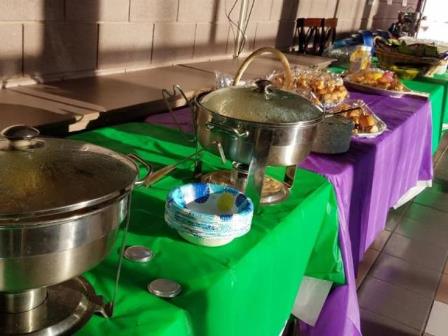 If you have hospitality items that you would be willing to bring in and support Sunday hospitality, please contact the church office at
churchoffice@mccdc.com or 202-638-7373.. Items for consideration are:
Items that are needed:
Keri Cups
Fresh Fruit
Granola Bars
Box of Coffee Straws
Bagels

MCCDC Bible Study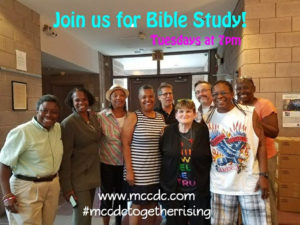 A time of community, fun, learning, and sharing!
Tuesdays, from 7:00 – 8:00 PM in the Welcome Hall
For more information please contact Dale Madyun-Baskerville at the churchoffice@mccdc.com or call (202) 638-737.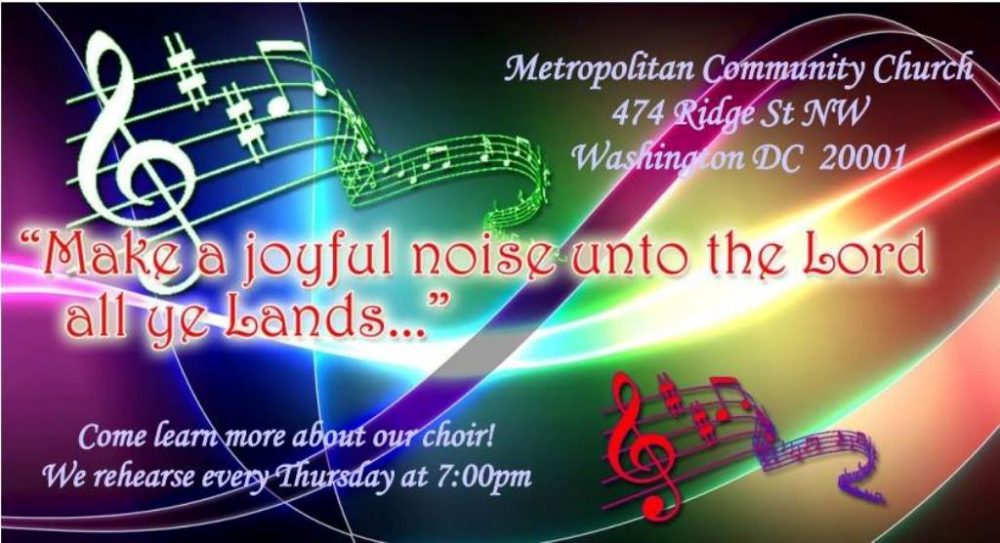 "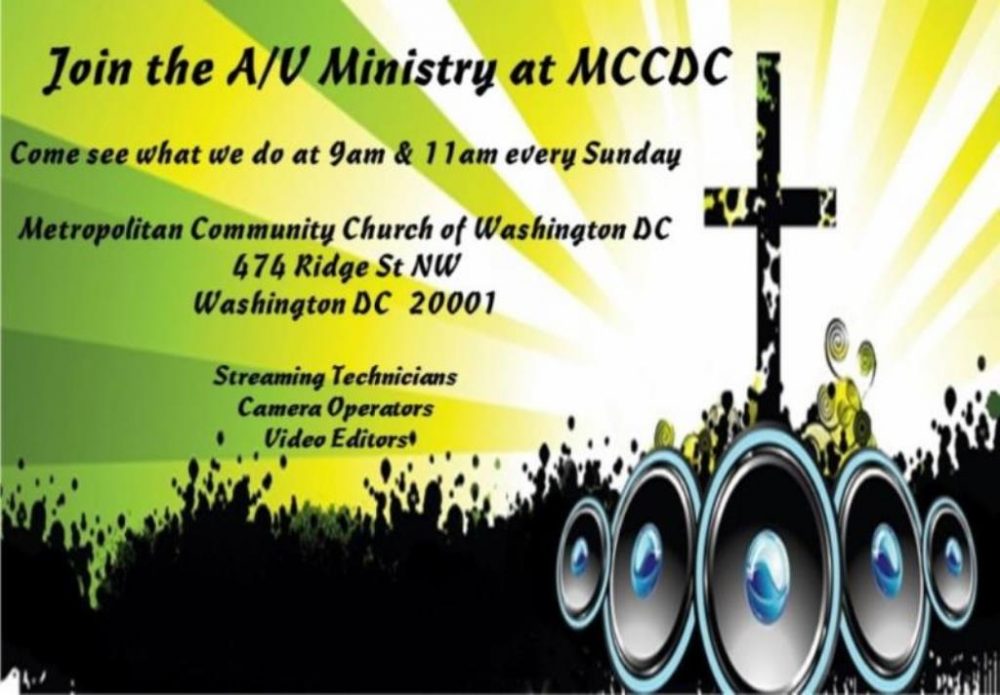 Prayer Corner
Please continue to hold in your prayers Keith Richardson and Fannie Woody who are in Nursing Homes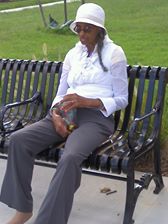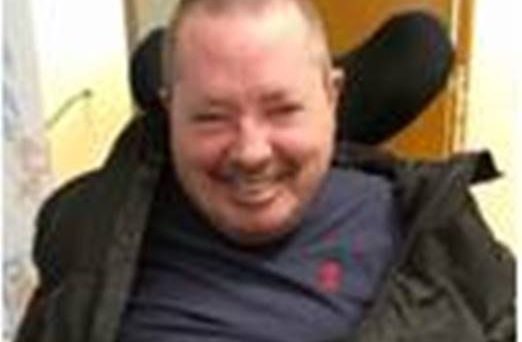 Join our Worship and Arts Ministry!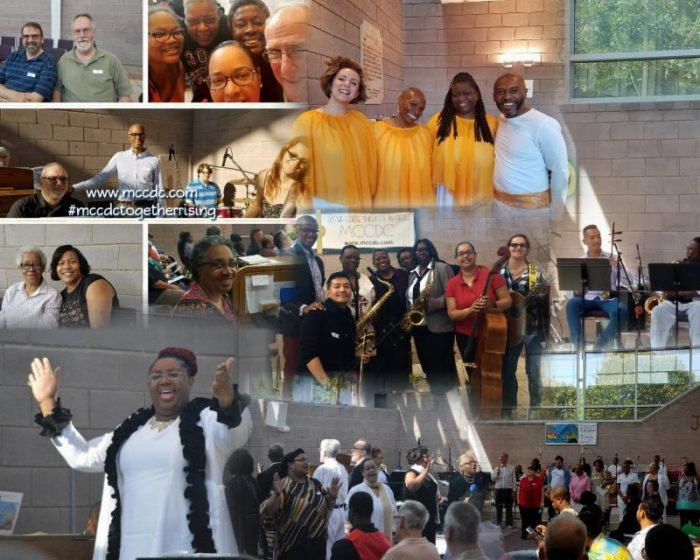 Ministry
Meeting Time
Contact
E-mail
9 AM Choir

Sunday

8:15 AM

Daniel Scearce

danscearce@aol.com
11 AM Choir

Thursdays

7:00 PM

Diedre Mouton Gray

msdeedeemusic@gmail.com
Dance
Every other Tuesday
5:00 – 6:45 PM
Cathy Batson
cathybatson1@verizon.net
Drama
Mondays
6:30 PM
Jules Christian
enjoyingtoday@hotmail.com
Eclectic Praise
Sundays
12:30 PM
Johanna Hardy
brassrat93@gmail.com