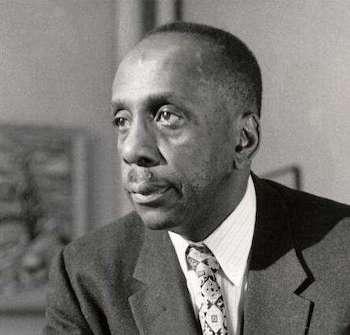 "I shall not despair. I shall not allow the events of my life to make me their prisoner. I shall believe that life has much more to it than experience disclosed to me. I shall continually believe that God is not through, not merely with life, but with me. I shall co-operate with God until through my life there begins to pulse something much vaster and greater than anything I have ever known before." ~ Howard Thurman, The Growing Edge, 179
Howard Thurman is known for using his head and heart in his ministry and writings. Indeed, With Head and Heart is the title of his autobiography. Howard Thurman is in good company, for Moses is an example of another leader who brought together head and heart. In both cases, head and heart also moved into feet and hands. Embodied and emboldened, Howard Thurman and Moses knew that faith without action is empty.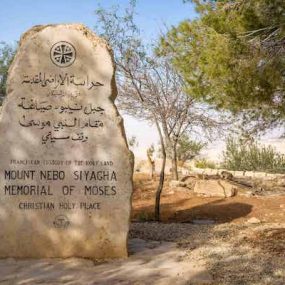 Head and heart spurred Moses to faithfully climb Mount Nebo, offering a view of the Promised Land. Faith is wasted unless shared, and in a potent description in this Sunday's scripture from Deuteronomy 34:1-12, it is clear that Moses did not hoard his faith, but extended it to Joshua and the Israelites: "Joshua, born of Nun, was full of the Spirit of Wisdom, because Moses had laid his hands on him. So the Israelite's listened to Joshua. They did what the Lord had commanded Moses" (v. 9).
With Moses' leadership, faith became multi-generational . He inspired others to climb mountains of promise and then to act on the vision they witnessed. He laid hands on Joshua who in turn laid hands of anointing on others—an act of empowerment that continues to our day.
Bringing together head and heart is knowing what to do and when to do it. Yet fear and resistance sometimes block faithful action. Thus, faith is not lived and the subsequent faith that is made possible through action is short-circuited. On the other hand, with action, faith is released and multiplied.
One invitation from our scripture this Sunday is to seek out moments that inspire you to put your faith into action through head and heart. For Moses the moment was on a mountain. It may be awhile before some of us climb a mountain, especially during this time of pandemic and physical distancing. However, such moments are available now through mountaintop prayers that open spiritual vistas, like this head/heart prayer from Howard Thurman: "Breathe through our needs, O God, our Parent, that even our anxieties and distresses of body and mind may become instruments in Thy hand, working in us Thy perfect work. This, O God, our Parent, is all our spirits can abide. We do this with quiet confidence, O God, God our Parent." (The Growing Edge, alt. 175)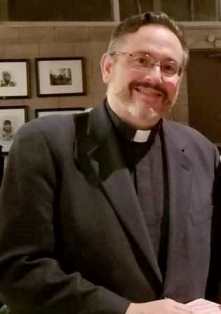 By Faith, Rev. Elder Dwayne

MCCDC Announcements
Join MCCDC Team HIV Virtual Walk & 5K to End HIV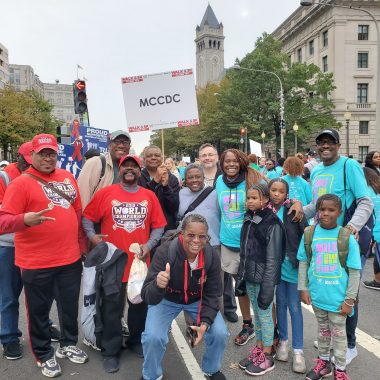 On Saturday, October 24, We are participating in the 34th annual Walk & 5K to End HIV benefiting the HIV programs and services of Whitman-Walker Health.
While we may not be able to walk side-by-side this year, we can come together virtually to share stories, support one another, and raise money to save lives.
Date: Saturday, October 24, 2020
Time: 7:00 AM – 12:00 PM
Location: Virtual Walk
Click Here For More Information and Join The team

Join us for Virtual Hospitality Half Hour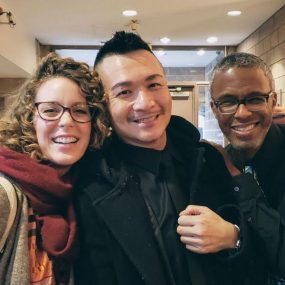 Please join us via Zoom, On 18 October at 12:30 PM after service for a virtual hospitality 1/2 hour. We can't wait to see everyone's smiles!
Join Zoom Meeting
Click Here to Join the Zoom Meeting
Or Call In at:
+13017158592
Meeting ID: 8741592399

Challenging Racism
The MCC Governing Board has issued a statement on the beginning of developing a pathway of healing addressing racism—with a special recognition of Rev. Elder Darlene Garner and Rev. Candy Holmes.
Click here to Read the Statement

"Save These Dates"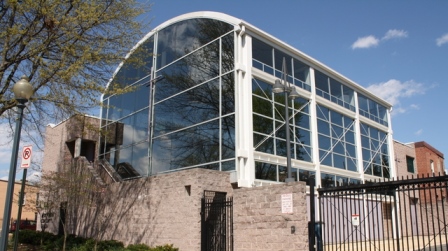 We will hold our annual Congregational Forum on Sunday, November 1st, following worship services. Two weeks later, on November 15th, we'll hold our Congregational Meeting for active members to approve the 2021 budget and elect new board members.

Giving Survey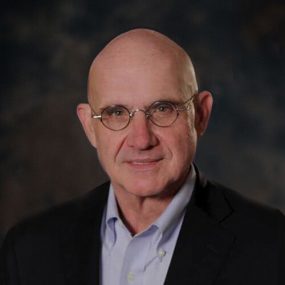 Thanks to all who participated in our Giving & Generosity webinar with Tom Melzoni last month. Please take five minutes and click here to complete a brief survey so Horizons Stewardship can better advise MCCDC leadership on our journey to expand our ministries. You may remain anonymous if you prefer.
(Missed the webinar? Watch a four minute conversation between Tom and our pastors. Or watch Tom's sermon, "Do You Fear Faith?")

Join MCCDC's Bible in 90 Days Journey 2021!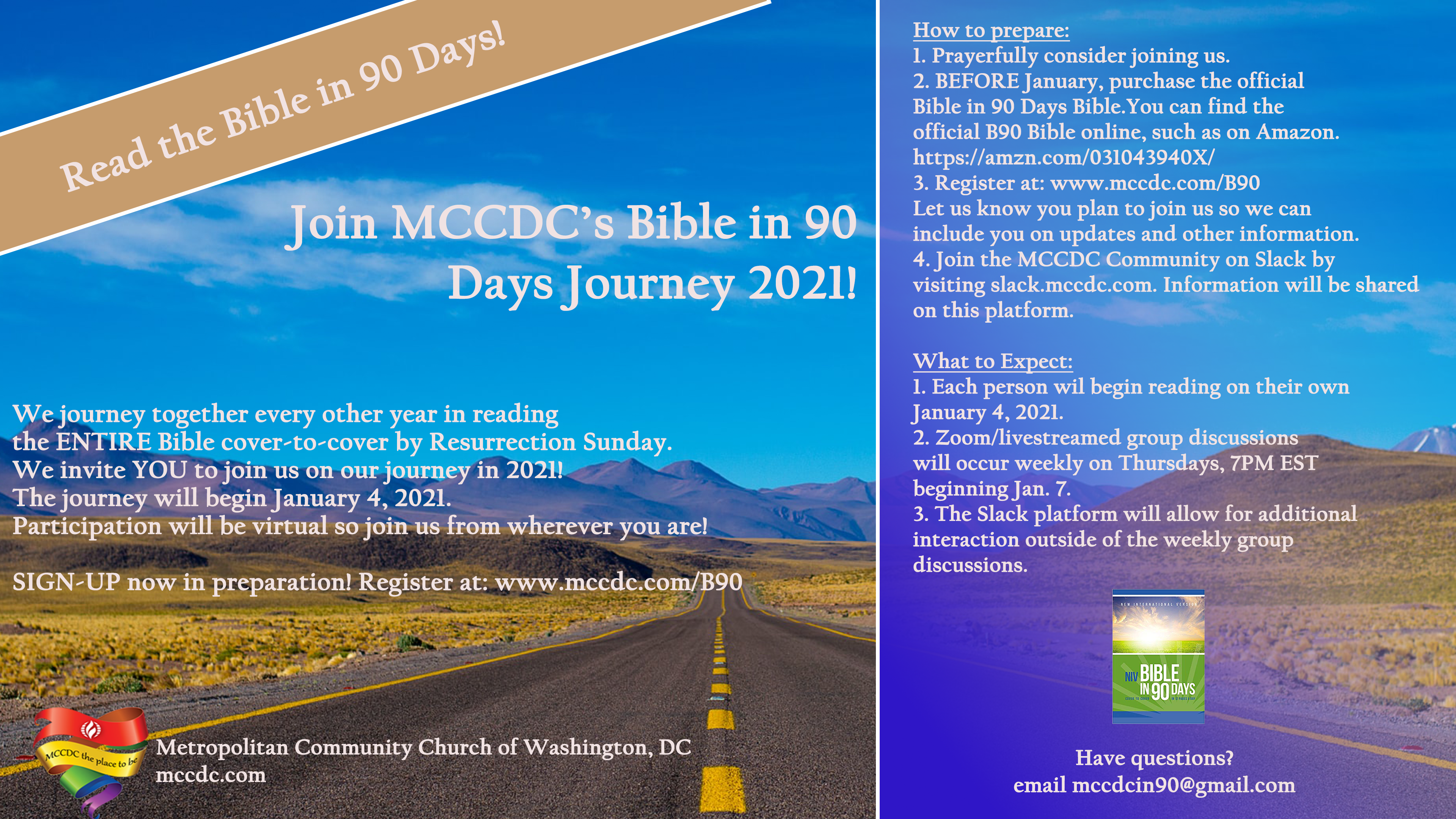 Writers' Ministry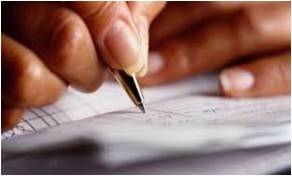 Our Writers' Ministry has scheduled their next three Zoom meetings, from 10:00 a.m. to noon Eastern on:
• Saturday, October 31st
• Saturday, November 21st and
• Saturday, December 19th.
Contact Rev. Dr. Robin Hawley Gorsline, writer@robinhawleygorsline.com, for more information

Security Awareness Training, November 22, at 1 PM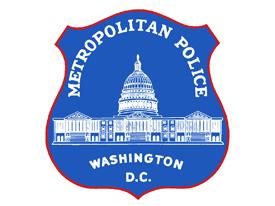 Metropolitan Police Department will offer virtual security training on home safety and personal safety after worship services. The training is open to all who attend MCCDC. Contact Dale Madyun-Baskerville, baskerd6109@gmail.com for more information.

"Virtual Church Events"

Virtual Choir
Come and join the Virtual Voices of MCC Choir! Lift your voice in our virtual rehearsals while singing from the comfort of your home. For more info, email Music Minister Deidre Mouton Gray at msdeedeemusic@gmail.com.
Spiritual Gifts, Get Involved!
Your're invited to consider sharing your spiritual gifts by making a Scripture Reading Video or sharing a Video Testimony on what MCCDC means to you.
It does not have to be long and the AV team is standing by to help you with the video. Please email me at revdwayne@mccdc.com for more information.
Moving Spirit Dance Ministry
Come dance for God! No experience needed. Email Cathy Batson at cathybatson1@verizon.net for more information. Check out past performances on our YouTube channel, including "I Can Only Imagine" (April 2019) and "Mighty River"(February 2018).
JOIN REV. DWAYNE IN PRAYER FROM NOON TO 12:30 PM Monday thru Saturday
Phone Number: 646-558-8656, Code: 407 740 6668
Intercessory Prayer Team
Meets the 2nd and 4th Thursdays each month at 7 pm
Contact LaMar Jenkins at 202-750-08887
Drama Ministry Practice Via Zoom
The 3rd Mondays each month at 6:30 pm Eastern
Contact Clara Carter at c4mcarter26@gmail.com for information
Bible Study
Tuesdays at 7:00 pm Eastern
Click here to Join Zoom Meeting: https://us02web.zoom.us/j/434566329
or Dial: (301) 715-8592 ,Meeting ID: 434 566 329
Contact Dale Madyun-Baskerville at mccdcbiblestudy@mccdc.com for more information.
Pastoral Care Meeting
Meet 1st and 3rd Wednesday, each month at 6::30pm
Contact pastoralcare@mccdc.com for more information or interest in joining this vibrant church ministry this Fall

"Ministry Spotlight"
Join Us on YouTube and subscribe to the MCCDC YouTube Channel!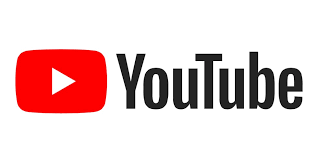 Click here to see more MCCDC Videos

LiveStream Volunteer's Needed!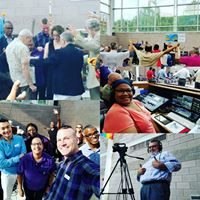 Volunteer! No experience is required. We will train you or someone you recommend. (Perhaps a student interested in picking up new skills?) Opportunities include:
o Producing the livestream itself on Sundays and for special events (greatest need)
o Assisting on Sundays by video recording and managing cameras
o Video editing (this requires access to your own computer and video editing software)
Share our message! Inspired by Rev. Dwayne's spiritual instruction? Moved by a praise & worship song? Post it on Facebook. Send a link to friends and family. They can tune-in to our livestream or watch worship services on demand at livestream.com/mccdc, through our website at mccdc.com, or browse clips on our YouTube Channel.
Click here to visit MCCDC YouTube channel
Email Johanna at mccdclive@gmail.com or talk to any one of the AV team members to volunteer or for more information

The Soundboard Ministry Needs YOU!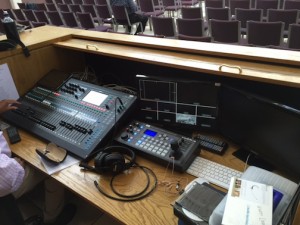 Soundboard volunteers are needed for 9 am and 11 am services. No experience needed!
You will be trained on a state of the art soundboard and learn how to set up mics for services.
Ideally, you will train at the 9 am service and continue training at the 11 am service, but we are flexible.
Please contact Michael Cunningham at mjcunningham2013@gmail.com or stop by to talk with any soundboard volunteer.

Prayer Corner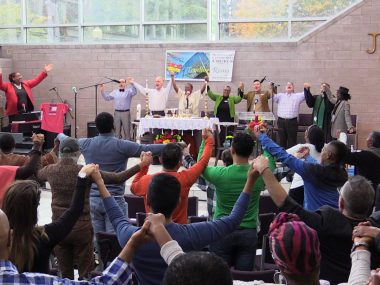 Please lift the following people up during your prayer time:
* Jerry Giem's Son, *Jason and Nephew, Travis * Valeria Myers' daughter Chantelle * Michelle Lax *George Kerr, III * Mama Cee's sister and niece * Rose Williams * Randy Punley * Lynn Sulyma * Esther Smith * Marcus Garnett * Renee Valentine * Rose Herring * Elaine Durden-Hunter's mother, Earline * T. Green * Evelyn Jones * Valeria Myers' son Donald * Bob Jones' son Chuck & wife Karen * Steve Sloane * Glenn Conrad * Arden Shutt, * Renee Valentine's brother, * Kim Battle, *Juanita Dara , * Jeffrey Luckenbach, * Anthony Goode,* Keith Richardson, *Diedre Gray