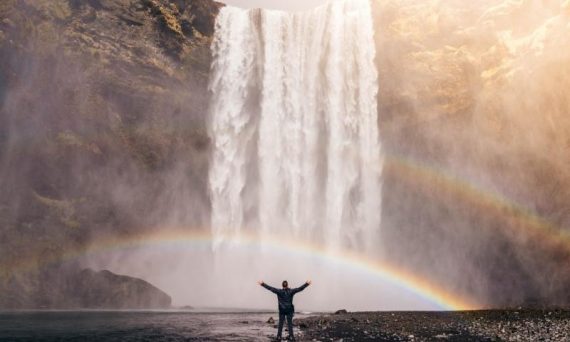 "God couldn't do everything, so the Divine passed on to her children the same creative ability God has. God actually could have done it all but if that had been the case, what would be left for you and me to do? Not very much. Instead, the Divine infused us with the power to conceive, express, and enjoy the fruits of our creative power." ~Iyanla Vanzant (One Day My Soul Just Opened Up, 57.
We are creative by design. Our creativity is a gift from the Creator. It is a gift God gave to Bezalel, a little known Biblical personage we visit in our text for Sunday from Exodus 35: 30-35. God asks Bezalel to use willingness and creativity to design special features in the Temple, a generous home of ancient times. With careful attention to detail, God enables Bezalel "to design every kind of work that needs to be done by the carvers, the artisans, the embroiderers of indigo, purple and scarlet yarn and fine linen, and the weavers-all sorts of skilled craft work and design work" (vv 34-35).
Ultimately, the ancient Temple of God was made possible through the creativity of God's people. It was also made possible through abundant generosity. We are creative by divine design and also generous by divine design. To be generous is to participate in the character of God as expressed through our character. To be selfish is to go against our true nature. Unfortunately, consumerism entices us to become someone we are not.
The message this Sunday is "Building Our Generous Home: Divine Design." We will look at the possibilities of our God given power to create and re-create through thought, word and deed. I believe that we are always creating something. With intention, we can direct our creativity towards good and beauty. On the other hand, just "going with the flow" could be flowing in the wrong direction.
ACTION: Between now and Sunday do some creative design work. Keep it simple. Maybe choose a beautifully designed card for someone, write them a note, and then add your own creative touch through a doodle, a simple sketch, or even a hand drawn heart on the back of the envelope. How did you experience God through this activity? How did you experience generosity through this activity?
PRAYER: God, prepare our hearts for Sunday worship. Show us what it means for MCCDC to participate in your divine design. Help us to create beauty inside and outside our building and campus. And help us to create beauty inside and outside our hearts. Amen.

MCC: Early Days to Current Lessons,Moderator's Reflection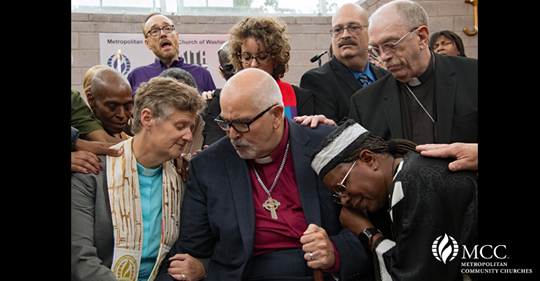 Rev. Elder Cecilia Eggleston receives the blessing of MCC Founder, Rev. Troy Perry (front row, center) and those attending the celebration of MCC's 51st anniversary. MCC of Washington DC hosted the event. Rev. Perry also presented personal artifacts to the Smithsonian Museum during the service. (photo by dbking)

"UP COMING EVENTS"
Livestream Sunday – November 10th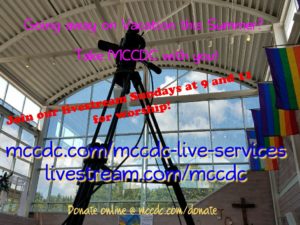 Sunday is Livestream Sunday celebrating our broadcasting and reaching people outside our walls with our message of God's love for ALL! We have broadcast our worship services, provided livestream access for our Bible in 90 Days sessions, livestreamed special events such as the Transgender Day of Remembrance and Rev. Troy Perry's presentation of MCC artifacts to the Smithsonian. We continue to grow our audience and receive requests on how our livestreaming can support the community.
These efforts could not have been possible without your support! THANK YOU! Help us to continue and expand our ability to make our message accessible to the world. How can you help? There are many ways —
•
Equipment Needs:
Give – To cover the cost to continue our livestream service, our fundraising goal is $2,500. Visit mccdc.com/donate and select LiveStreaming in the drop-down menu to donate. We also have an aspirational goal of an additional $2,500 – $3,000 to replace, upgrade aging equipment. In addition, we are working to identify a company and the costs of conducting a top-down assessment of our system and equipment. In-kind donations are welcome or alert us if you see any deals for equipment. Our most critical needed equipment is:
o Mac Mini (2018 or later), 3.2 GHz 6-Core Intel Core i7, 32GB RAM with ethernet adapter and USB 3 hub. Estimated cost: $1900 (Most critical – Our current computer is not only aging but is incapable of handling new features and software)
o Blackmagic UltraStudio Mini Recorder(s) – $150-$300 (Two likely needed) (Video Capture Card – This would assist us in expanding our livestream service options)
o Professional Studio Headphones with 3.5mm cord and noise cancelling feature – $200-300 (Live sound in the sanctuary often bleeds into the headphones making it difficult to ensure sound in the livestream is balanced).
Volunteer Needs
• Volunteer – Our livestream ministry is dedicated but small. Giving of your time and talent will help to ensure continuity in our livestreaming and help existing volunteers. Except as noted below, no experience is required. We will train you. Areas where you can help, include:
o Managing the livestreaming on Sundays and/or special events (greatest need)
o Assisting on Sundays by video recording and managing cameras
o Video editing (this requires access to your own computer and video editing software)
o Graphics – Create and develop graphics for use in the livestreams (Access to and knowledge of Photoshop is needed)
o Developing and creating other video projects
Perhaps you know of students or others interested in gaining experience in livestreaming and video. This would be a great volunteer opportunity for them.
• Share our livestreams and tell friends and family to subscribe to and tune-in to our livestream. You can follow our livestream at livestream.com/mccdc or via our website at mccdc.com.

Congregational Meeting, Sunday Nov. 17th at 12:30 pm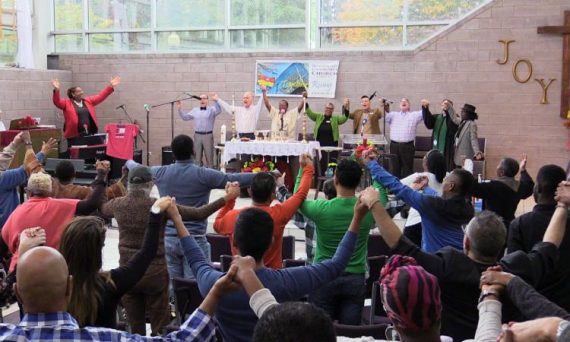 Our congregational meeting will be held on Sunday Nov 17th at 12:30 pm. All members are encouraged to attend.

OPPORTUNITY FOR SERVICE AND LEADERSHIP MCCDC BOARD OF DIRECTORS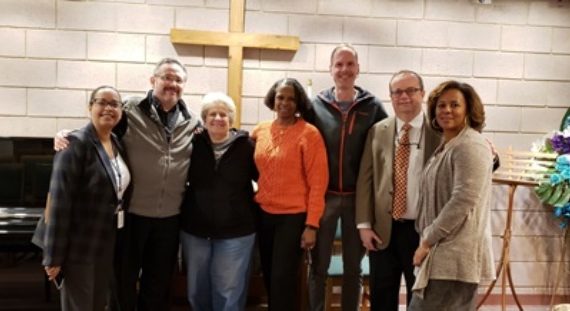 Two positions are open for a three year term from 2019-2022 and will be elected at the Annual Congregational Meeting on November 17.
If you are an active member of MCCDC for 6 months or more please consider how your gifts could make a positive difference at MCCDC.
Are you experienced in financial planning, financial development, administration, human resources or policy development?
Do you have a heart for growth, reaching our community, and ensuring a dynamic future for MCCDC?
From our Aspirations:
"The Holy Spirit will inspire many different voices to help MCCDC build upon our strengths. We ask for your prayerful discernment of how you personally will be part of shaping our way forward as a church."
Please Contact Rev. Elder Dwayne Johnson (Moderator) to apply or for more information email RevDwayne@MCCDC.com.

"CHURCH NEWS"
Writing Workshop, November 9, 1:30- 4:00 pm

MCCDC will host a Spiritual Writing Workshop on Saturday, November 9, 1:30- 4:00 pm. All are welcome (but please register in advance if possible).
Facilitated by Rev. Dr. Robin Hawley Gorsline, Writer-Theologian in Residence at MCCDC, the session will focus on liturgical (worship) writing-prayers, invocations, calls to worship, contemporary psalmody and more. Think about what you might like to do, trusting God to guide you in doing it! We will engage in some exercises during our time with plenty of time for your creative writing and discussion with each other. Also, feel free to bring a piece already in process.
A light lunch/snacks will be available, but feel free to share as you can, including beverages.
In other writing news, Rev. Robin is once again coordinating Advent devotionals. Watch this space for more information about this year's theme. It is not too soon to begin thinking about this (Advent begins December 1 this year)!
To register, please contact Rev. Robin at writer@robinhawleygorsline.com or by text/phone at 240-565-3441 or contact the church office at 202-638-7373.

Advent Devotionals Again this Year! Time to Submit Yours!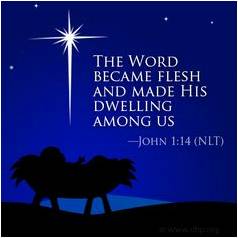 Advent begins Sunday, December 1 this year, and once again we are collecting and publishing daily devotionals from members and friends. You are invited to contribute your wisdom, stories, hopes, dreams, etc. Rev. Dr. Robin Hawley Gorsline, Writer-Theologian in Residence, will be coordinating the collection and editing of submissions.
Our Advent theme this year is "Repeat the Sounding Joy," based on the 300th anniversary of the composing of "Joy to the World."
The words of the hymn are by English writer Isaac Watts, based on Psalm 98 Psalm 96:11–12 and Genesis 3:17–18. The song was first published in 1719 in Watts' collection The Psalms of David: Imitated in the language of the New Testament.
Watts' interpretation of Psalm 98 invites us to sing a"new song"–-and it is a powerful cosmic performance of all creation being renewed and freed. Rather than "joy" being yet another word for "happiness," the depths of joy can be found especially in the midst of suffering, the work of justice, and the presence of compassion–-all part of the coming of Jesus to this world and a message the world still so desperately needs.
As in past years, you are encouraged to offer devotionals/meditations in various forms: stories from your past (or right now), prayers, poems, etc. They can be texts or on video of you speaking or singing (or both or even all three). We are very open to all forms of expression.
Rev. Robin is happy to offer editing guidance on the written texts. Our excellent A/V folks will be helpful with videos—either filming you at church or taking your own video and making sure it plays well online. They also responsible to publish the written texts, too. It works best if you can submit your devotionals to Rev. Robin earlier than you think is necessary—to allow time for editorial feedback and to give the staff ample time to get the messages ready.
Please send any questions to him (or call 240/565-3441) and submit your offering(s) to writer@robinhawleygorsline.com

MCCDC Thrift Item Sale, Nov 10,Dec 8 and 15 2019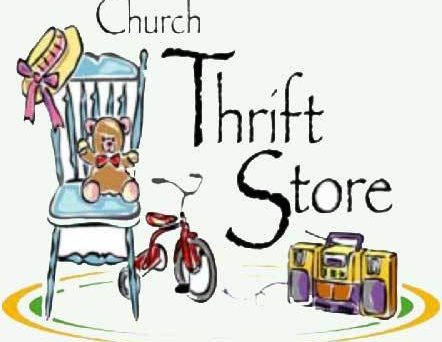 All items $5.00 and below.
A variety of items to choose from.Check out the table in the Welcome Hall.
Please contact Cecilia Hayden- Smith ( Mamma Cee) with questions at 202-638-7373 or churchoffice@mccdc.com

Older Adult Ministry Potluck/Meeting, 10 November 12:30 pm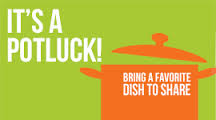 Older Adult Ministry will be holding their monthly Potluck. All age 50 and above are welcome to join. For more information contact Dale Madyun-Baskerville at the church office 202-638-7373

Transgender Day of Remembrance, 20 November , 6:00 pm – 8:30 pm
Metropolitan Community Church of Washington, DC, 474 Ridge Street NW, Washington, DC 20001

Please join us for the Washington DC observance of the Transgender Day of Remembrance. Nationally, this is the 19th annual observance of the Transgender Day of Remembrance, which commemorates those who have been killed due to anti-transgender hatred. The 1998 murder of Rita Hester, a Boston transgender woman, sparked the Remembering Our Dead web project and a San Francisco candlelight vigil in 1999. Rita Hester's murder, like most anti-transgender murder cases, has yet to be solved.

Thanksgiving Eve Service,Wed , 27 Nov, 7 pm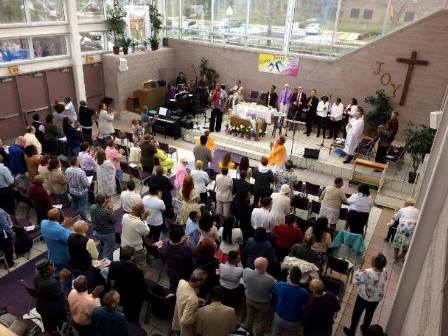 Come join for a time of community and thankfulness.

Deck the Halls!!!Advent/Christmas Sanctuary Decorating PARTY!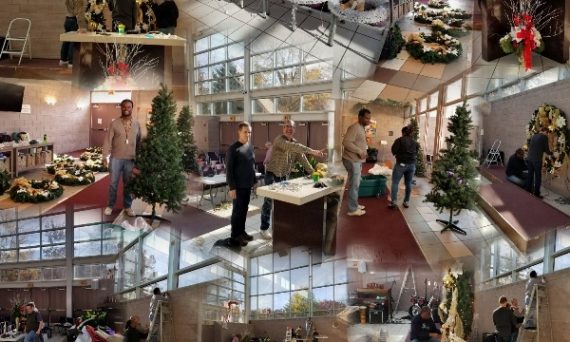 Come one, Come all.
Saturday November 30th from 10 AM to 2 PM
Contact Rev. Cathy at 202-638-7373 or revcathy@mccdc.com for more information

Save The Date!!!! MCCDC Christmas Extravaganza"Repeat the Sounding Joy" Saturday December 7th, 6 pm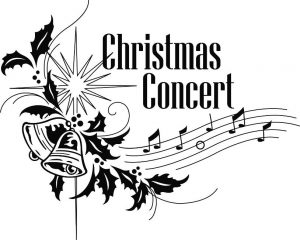 MCCDC Bible Study goes to Sight and Sounds Theater for the Play: QUEEN ESTHER
Click On picture above to see QUEEN ESTHER 2020 Video Clip
When August 15, 2020
Time: Carpool leaves 9 am from MCCDC to Sight and Sounds
Cost: $79.00
SHOW STARTS AT 3 PM
NOTE!!!
INDIVIDUALS ARE RESPONSIBLE FOR DRIVING OR COORDINATING A RIDE TO AND FROM THEATER LOCATION!!!!
All Money Due No Later Than 28 June 2020!!!
Contact Dale Madyun-Baskerville baskerd6109@gmail.com or call 202-638-7373 for question or information.

Event Rental Space at MCCDC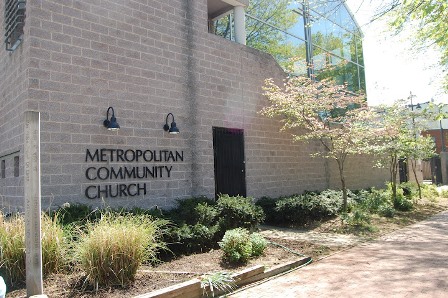 Are you or someone you know planning an upcoming event? Are you looking for a reasonably priced rental space with easy access to public transportation? Look no further.
Call MCCDC today at 202-638-7273 for rates and availability.
Click Here for more Information

Join Us on YouTube and subscribe to the MCCDC YouTube Channel!
Stay current on our video postings .
Click here to see more MCCDC Videos
Inspiration Videos, Metropolitan Community Church of Washington DC

"Ministry Spotlight"
MCCDC Bible Study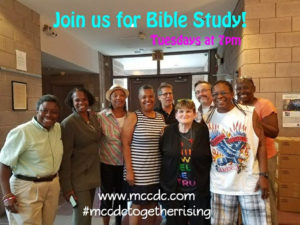 A time of community, fun, learning, and sharing!
Tuesdays, from 7:00 – 8:00 PM in the Welcome Hall
For more information please contact Dale Madyun-Baskerville at the churchoffice@mccdc.com or call (202) 638-737.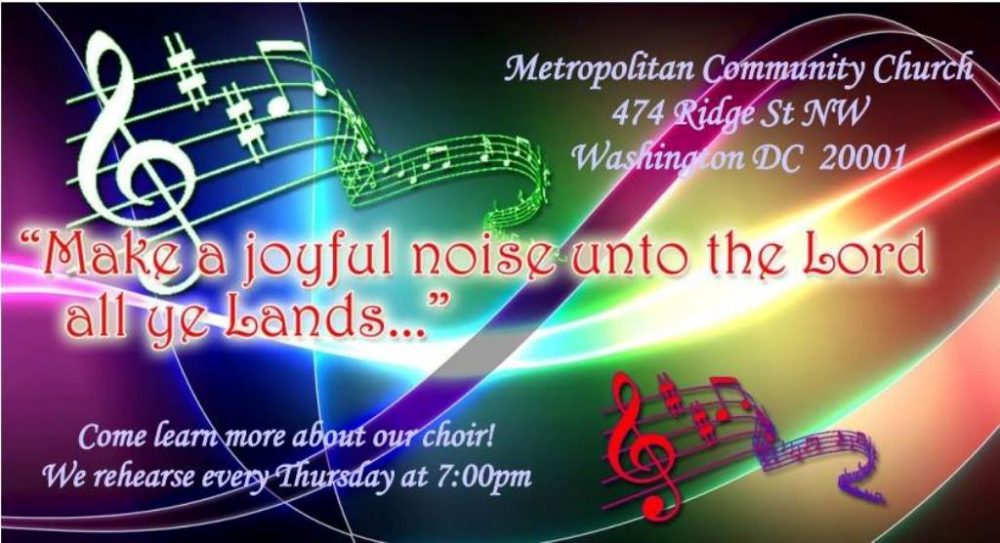 "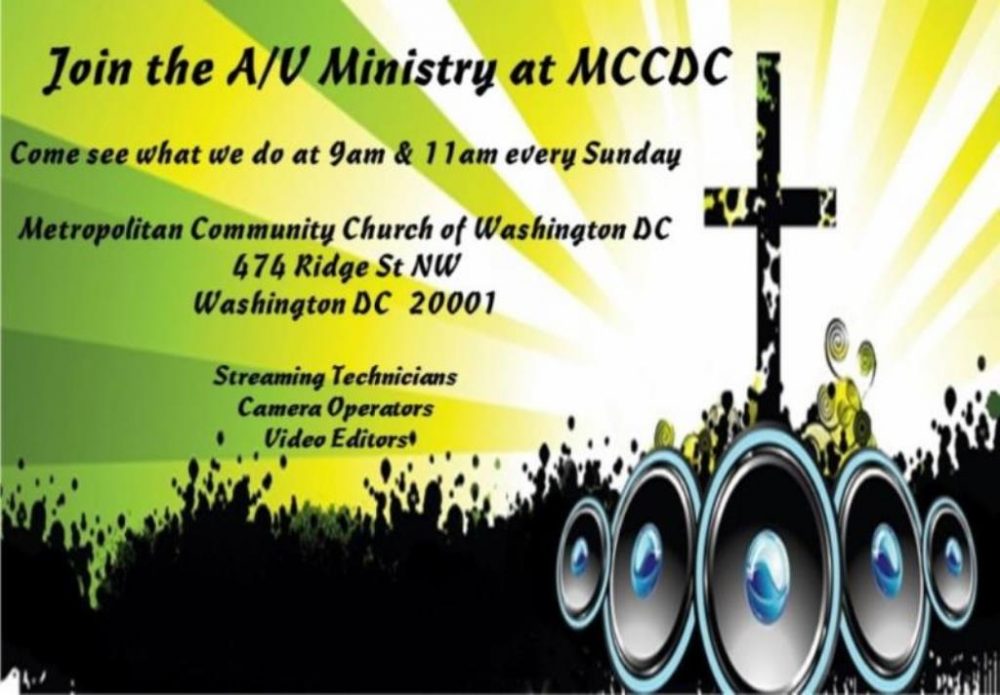 Prayer Corner
Please continue to hold in your prayers Keith Richardson who is in a Nursing Home.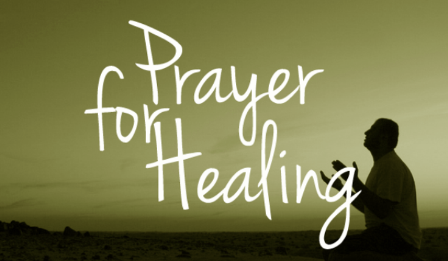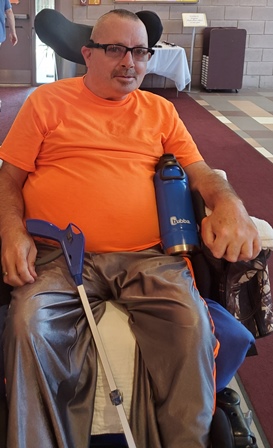 Join our Worship and Arts Ministry!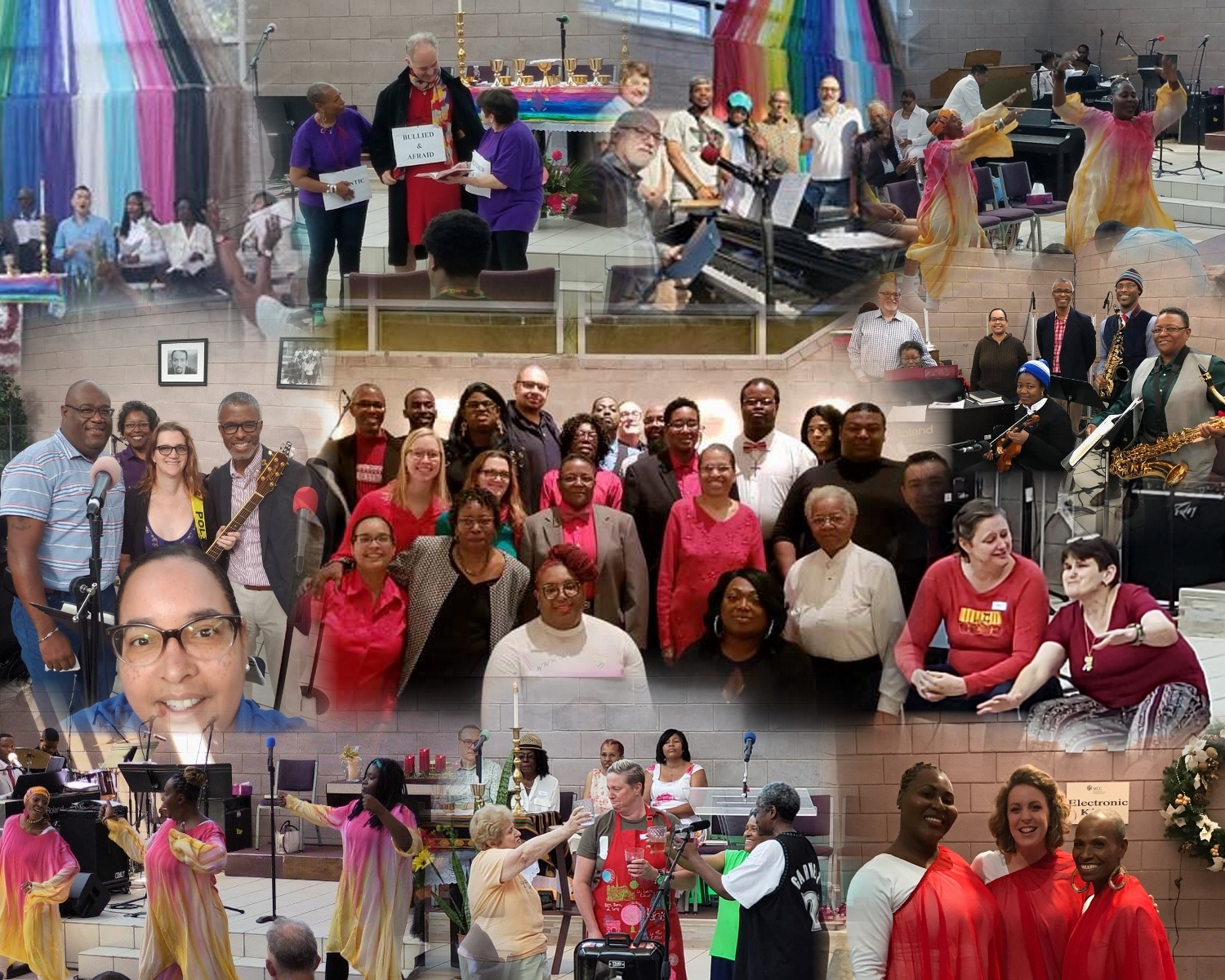 Ministry
Meeting Time
Contact
E-mail
9 AM Choir

Sunday

8:15 AM

Daniel Scearce
danscearce@aol.com
11 AM Choir

Thursdays

7:00 PM

Diedre Mouton Gray
msdeedeemusic@gmail.com
Dance
Every other Tuesday
5:00 – 6:45 PM
Cathy Batson
cathybatson1@verizon.net
Drama
Mondays
6:30 PM
Jules Christian
enjoyingtoday@hotmail.com
Eclectic Praise
Sundays
12:30 PM
Johanna Hardy
brassrat93@gmail.com