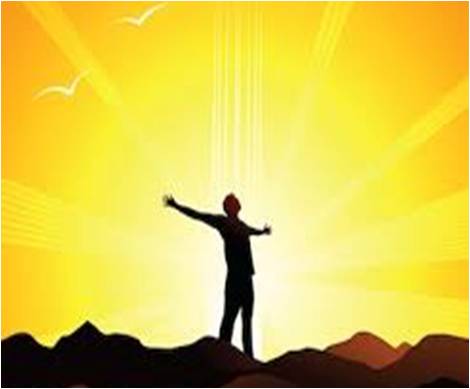 "The life that we find when we give up our lives to follow God's call, is, after all is said and done, the life most worth living." ~Kathryn M. Schifferdecker
God is full of surprises. The prophet Jeremiah got a big surprise when God called him to be a prophet to the nations. He resisted the call. "But God! I don't know how to speak! I'm too young!" God insisted. Ultimately Jeremiah responded to the call. Action by action, God gave Jeremiah the courage to rise to the call.
What surprises from God await us? It could be the still small voice that challenges one to take a course that builds a new skill. It could be exploring that nagging sense that re-prioritization may be in order. It may be awareness that one has enough and greater generosity beckons. Perhaps you're typically quiet and reserved, yet you feel intrigued by the possibility of joining the drama ministry. Or maybe you're feeling a tug towards leadership at MCCDC.
I love the familiar quote: "Be patient. God is not finished with me yet." Like Jeremiah, we all have unfinished purposes. There is something that God seeks to do through each of us to accomplish God's plan in the world. Another quote says: "The sign of God's presence with you is that your feet are where you did not expect them to be." I've been inspired by several members of MCCDC who never saw themselves as activists, yet now are one of the first to show up for a rally or a march.
Though it may seem scary, courageous living is true living. When we rise to the occasions God presents to us we rise to our true selves. In small yet important ways we began to align ourselves more with prophets and saints and less with the values of ego and consumerism.
To prepare for Sunday's message I invite you to read Jeremiah 1:4-10. Take a close look at Jeremiah's conversation with God, and ask yourself if you have had or are open to a similar conversation. See you Sunday at 9 AM and 11 AM.

"UP COMING EVENTS"
National Trans Visibility March Benefit Concert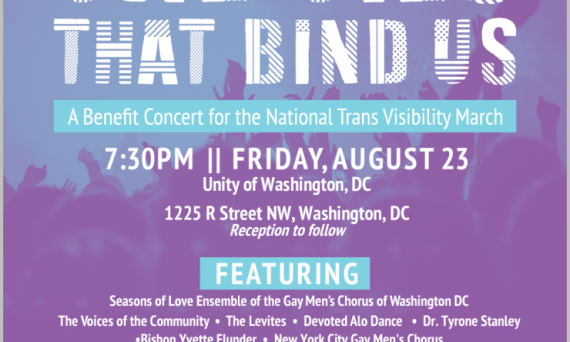 Live August 23, 2019, 7:30-9 pm
Unity of Washington DC,1225 R Street NW, Washington, DC as we kick-off the first National Trans Visibility March activity.
FEATURING
Seasons of Love Ensemble of the Gay Men's Chorus of Washington DC
The Voices of the Community The Levites * Devoted Alo Dance * Dr. Tyrone Stanley
Bishop Yvette Flunder * New York City Gay Men's Chorus
~MCCDC has ten free tickets.
Please email RevDwayne@MCCDC.com by 4PM today (Thursday, August 22) to request. First come first served and names will be added to the list to be checked at the door.
~All additional tickets are now $10

8TH ANNUAL BACKPACK 4KIDS
>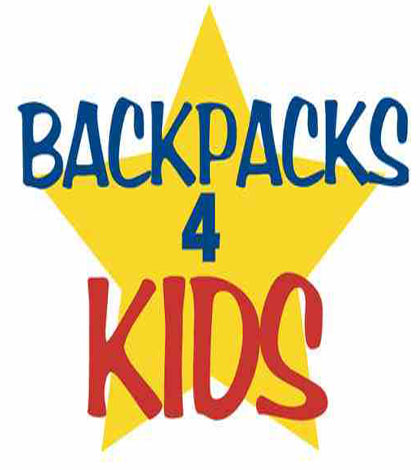 In partnership with the community outreach program at NBC4 Washington, we are collecting backpacks and supplies (or financial donations that would allow us to purchase those items).
It only takes $20 to equip one student with a backpack and supplies for the school year. Our goal is to provide 300 kids with backpacks and supplies for the coming year. We are also encouraging our neighbors to help with the backpack program by donating supplies! You can also reach out to folks at work or send donation requests to family and friends!! Help MCCDC help kids in our community!!
Here's how you can help:
• Donate a new backpack stuffed with school supplies or
• Donate securely online at www.mccdc.com/donate (select the "Donate" tab near the top, and choose "Backpacks 4 Kids" in the dropdown menu). SPONSORING 5 KIDS IS JUST $100!!!
If you would like to donate a backpack, the school supplies needed per backpack include:
• New backpack
• Two packs of loose leaf notebook paper
• Two dozen #2 pencils
• Two packages of cap erasers
• Three spiral composition books
• One yellow highlighter
• Two composition books
• Paper glue
• Box of Kleenex • 2 packs of copy – white paper
• 12-inch ruler
• Calculator
• 8 plain folders with pockets and brads or loose leaf binder with dividers
• One package of 24 crayons and/or one package of colored pencils
• Small pencil or supply box or zippered supply pouch
We have big blue tubs in the Welcome Hall. Drop-off your donations during the week and before or after the Sunday Services. If you need more information, please contact the church office at churchoffice@mccdc.com
Timeline:
• Last collection date: Sunday, August 25th

Lauren's Ordination, 4 pm on Saturday, August 31st
Join in the celebration of Lauren Bennett's ordination with Metropolitan Community Churches!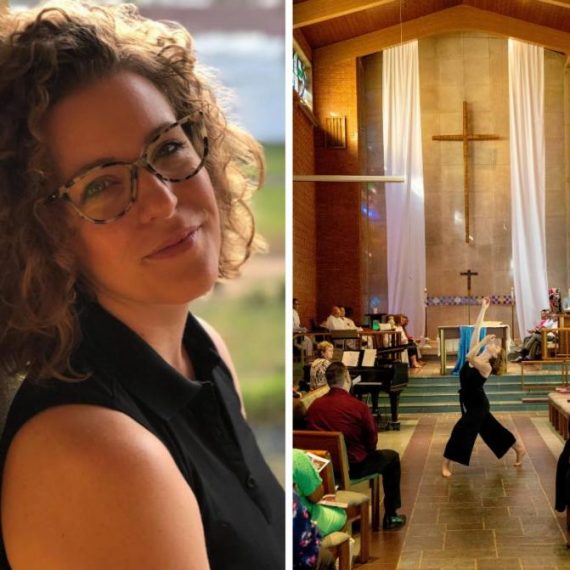 Come 4 pm on Saturday, August 31st at Metropolitan Community Church of Washington, DC (MCCDC) 474 Ridge Street NW, a reception will follow immediately after the close of the service catered by Sakina Halal Grill (yum!).

Walk it Out! Join your MCCDC family in the walk to end breast cancer. All are welcome to join the team.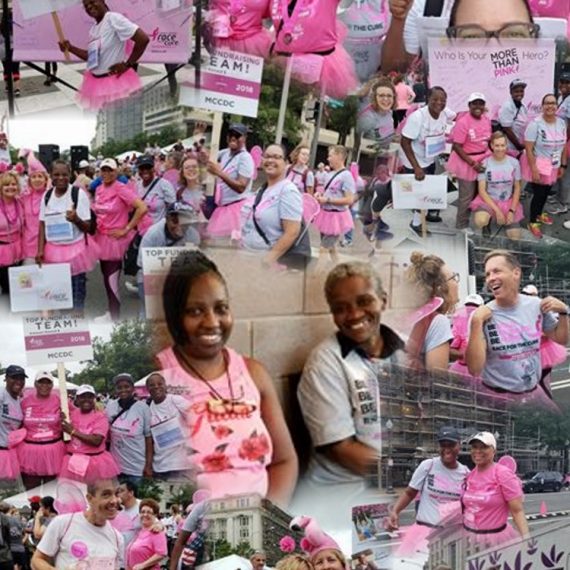 2019 Komen Washington DC MORE THAN PINK Walk
Saturday, September 7, 2019
Freedom Plaza, 1455 Pennsylvania Ave. NW
7:00 AM-Registration and T-shirt Pick-up Opens
8:45 AM-Opening Ceremony
Survivors and Those Living with Metastatic Breast Cancer Strut to the Opening Ceremony (line up at 8:30 in the Hope Village)
9:00 AM-Walk Start
For more information, please contact Rev Cathy Alexander at revcathy@mccdc.com or call (202) 638-7373.

"CHURCH NEWS"
Atlantic City Resort Hotel and Casino Bus Trip 14 Sept 2019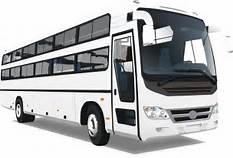 This event is sponsored by the Older Adults Ministry, but anyone is warmly invited to join!

Departs MCCDC promptly at 7AM and returns at 11 PM.

The cost is $50 and must be paid in advance. The deadline for sign up is Sept 1st. For more information please contact Ace Barbari at 703-303-2934.

Important New Development Presentation – September 15, 2019, 12:30 pm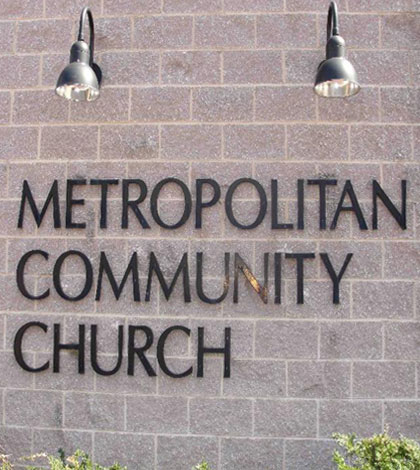 Everyone is invited to attend a presentation and Q&A with Mid-City Development regarding their planned redevelopment of the Washington Apartments at 1200 Fifth St. NW (directly across the street from the church). Representatives from Mid-City Development will be on hand to describe the new development and answer questions. The meeting will be held in the sanctuary following the 11 am service on Sept 15. All are encouraged to attend.

Innovation by Design I: Saturday, September 21 and November 16, 8:30-4:30
Location: Wesley Seminary, 4500 Massachusetts Ave NW Washington, DC 20016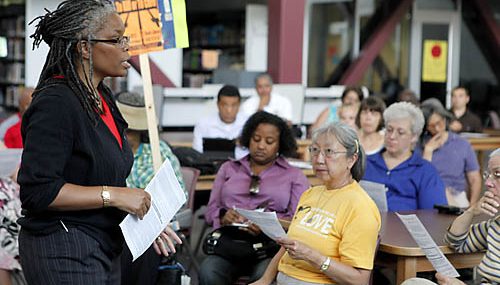 Open to anyone in MCCDC who leads, or is interested in learning how to design ministries relevant to your community- ONE complimentary registration to audit
This course will appeal to the natural evangelists, disciples, creators, and entrepreneurs in your congregation. Maybe there is someone in your community who benefits from one of your ministries and a certificate of completion from seminary will give them confidence to flourish in new and beautiful ways.
Registration form attached. If you are interested, please contact Rev Cathy at revcathy@mccdc.com or 202-638-7373.

Join your MCCDC family in the walk to end HIV AIDS Walk All are welcome to join the team.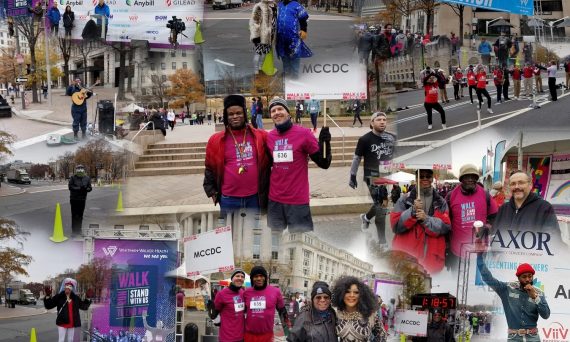 Saturday, October 26.
Location: The Walk & 5K to End HIV
will begin and end at Freedom Plaza
(Pennsylvania Avenue and 13th Street, NW)
5K timed run begins promptly. 9:15 am
Walk to End HIV steps off. 9:20 am
Fees:
General Walk Registration: $25
Student / Senior (60+) Walk Registration: $15
General Timed Run Registration: $35
Sleep Walker Registration: $40
Event Information
T-shirt pick -up on-site the morning of the event beginning at 7:30 AM
For more information please contact Dale Madyun-Baskerville baskerd6109@gmail.com or call 202-638-7373.

Part-time Janitorial Help Wanted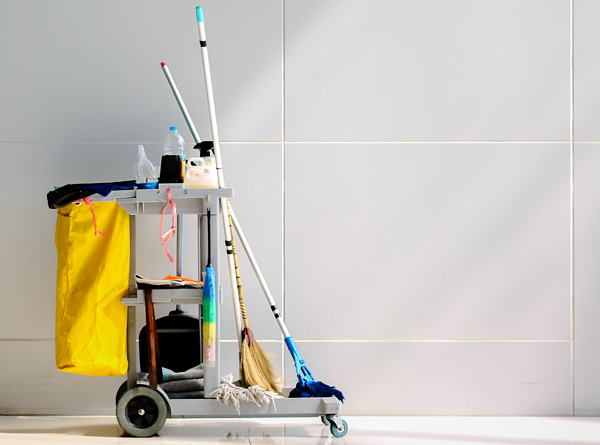 MCCDC is seeking someone who is reliable, personable and effective to be our next part time janitor. If you know someone who would be a great fit, please have them contact Rev Cathy at revcathy@mccdc.com or 202-638-7373.

Revival! Revival! Revival!MCCDC will celebrate revival on September 20-22.
Please mark your calendars. If you would like to join this years' revival planning team, please contact Rev. Cathy at revcathy@mccdc.com or 202-638-7373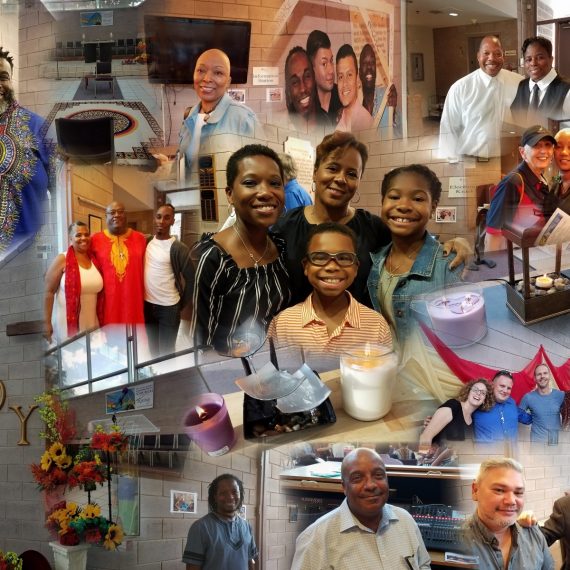 THE TIES THAT BIND US! THE NATIONAL TRANS VISIBILITY MARCH, SEPTEMBER 28, 2019, Freedom Plaza, Washington, DC 11 am-1 pm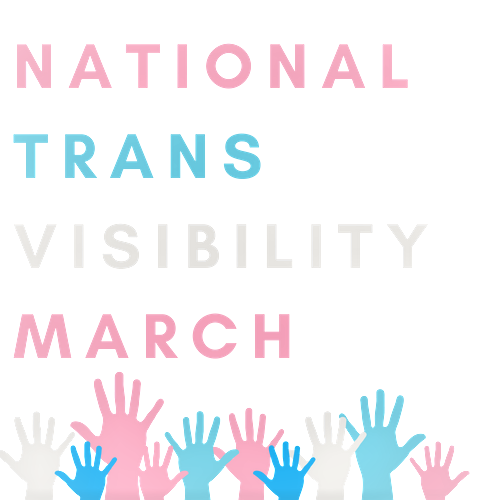 We must show that Transgender, Gender Non-Conforming and Non-Binary Lives Matter More than Ever!!
The National Trans Visibility March is HISTORIC-This is the First National Trans March!!
If you are interested in forming an MCCDC team please contact Rev. Cathy at revcathy@mccdc.com or 202-638-7373.

NATIONAL TRANS VISIBILITY EVENTS, WASHINGTON, DC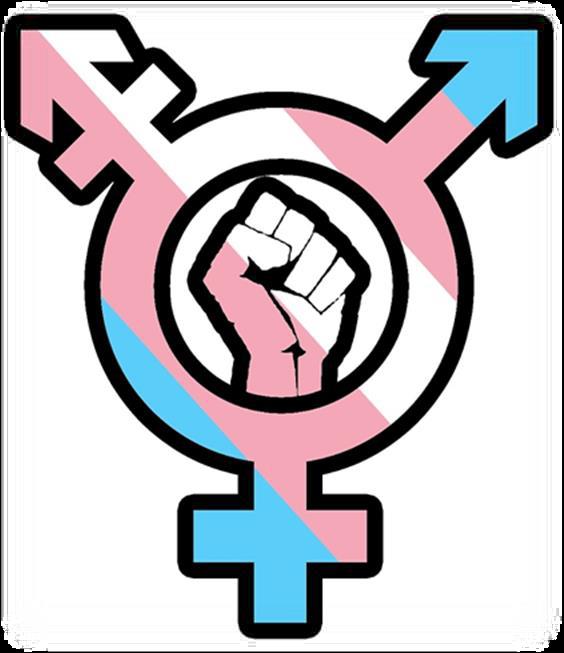 The National Trans Visibility March is of critical importance at this time. With the Equality Act of 2019 being threatened by the Senate and the continuation of the Trans military ban implementation, there is a need to mobilize America to recognize and fight for the rights of TGNC/NB people. Although the current administration has intentionally rolled back efforts to prevent inclusion of transgender communities in the upcoming 2020 Census, individuals from the TGNC/NB communities have mobilized and issued a call to action to dismantle the social structures that have oppressed and disenfranchised the TGNC/NB community for far too long.
March with us at the National Trans Visibility March to show the world that our lives matter, that our health matters, that our present and future matters, that our voices matter, that our minds matter, that our feelings matter. March with us to demand justice for our sisters and brothers whose lives were taken through senseless murders, violence and systemic oppression. March with us to demand financial equity and employment opportunities. March with us to fight for health equity. March with us to show the world that no decisions are made about us, without us.
Schedule of events:
August 23, 2019 7:30pm National Trans Visibility March Benefit Concert-Washington, DC Watch Parties across the country
September 27, 2019 1-5pm National Trans Visibility March Community Rally Workshops 7:30-10pm National Trans Visibility March Torch Awards, Crystal City Gateway Marriott
September 28, 2019 9am-11am National Trans Visibility March Rally, Freedom Plaza, Washington, DC 11am-1pm National Trans Visibility March Freedom Plaza to U.S. Capitol, Washington, DC
For more information visit their website at Click here for More Information on these event

Join Us on YouTube and subscribe to the MCCDC YouTube Channel!
Stay current on our video postings .
Click here to see more MCCDC Videos
Inspiration Videos, Metropolitan Community Church of Washington DC

"Ministry Spotlight"
MCCDC Bible Study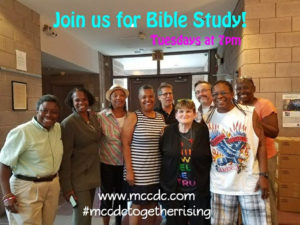 A time of community, fun, learning, and sharing!
Tuesdays, from 7:00 – 8:00 PM in the Welcome Hall
For more information please contact Dale Madyun-Baskerville at the churchoffice@mccdc.com or call (202) 638-737.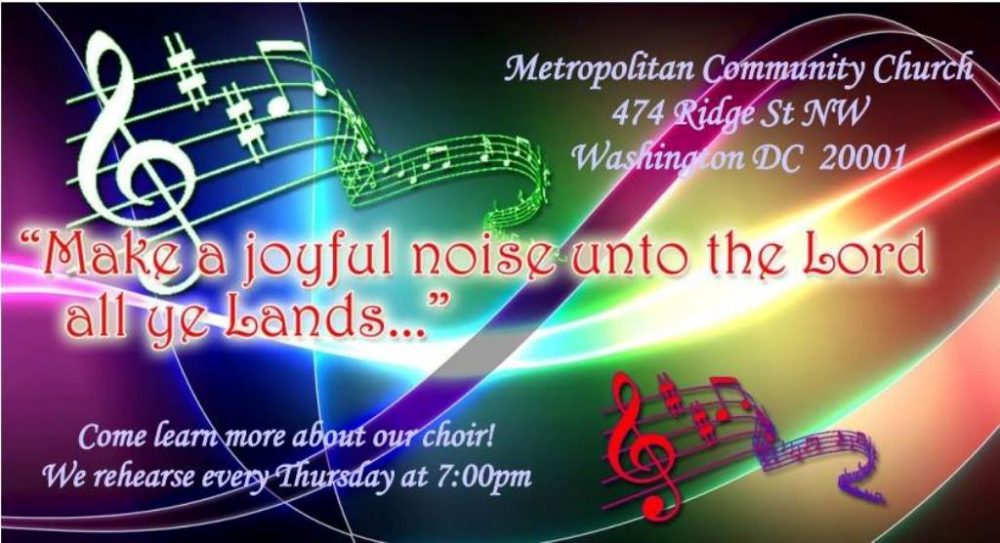 "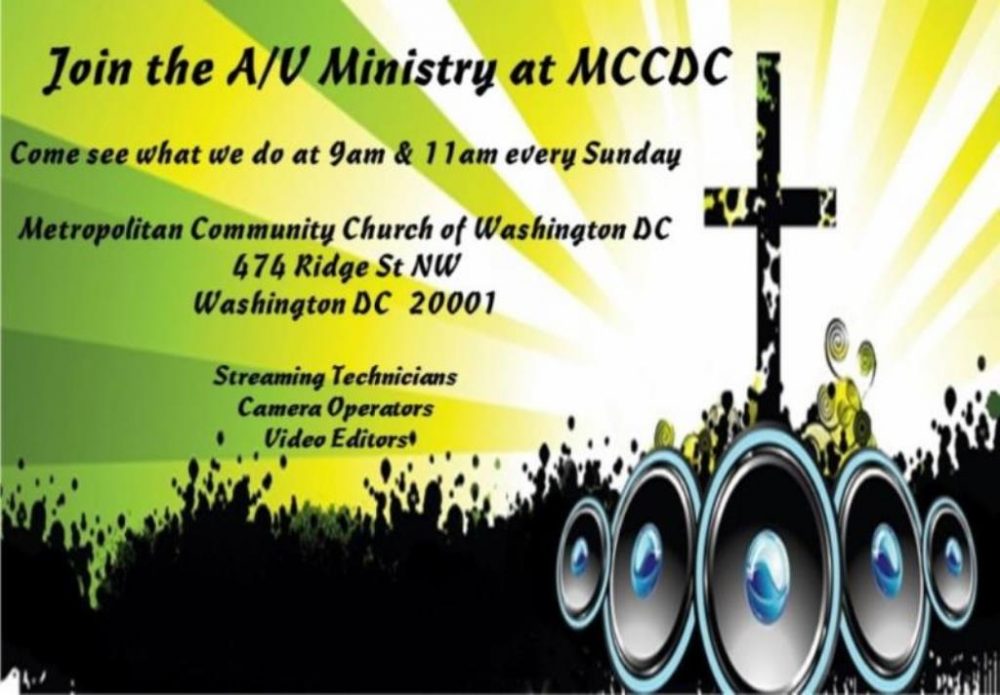 Prayer Corner
Please continue to hold in your prayers Keith Richardson who is in a Nursing Home.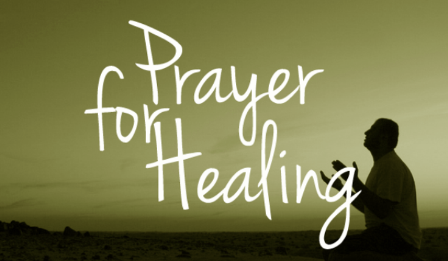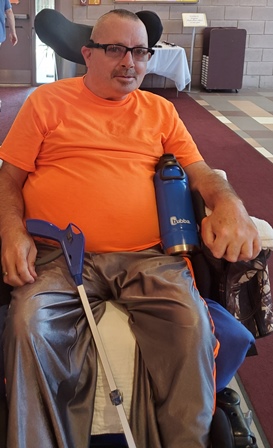 Join our Worship and Arts Ministry!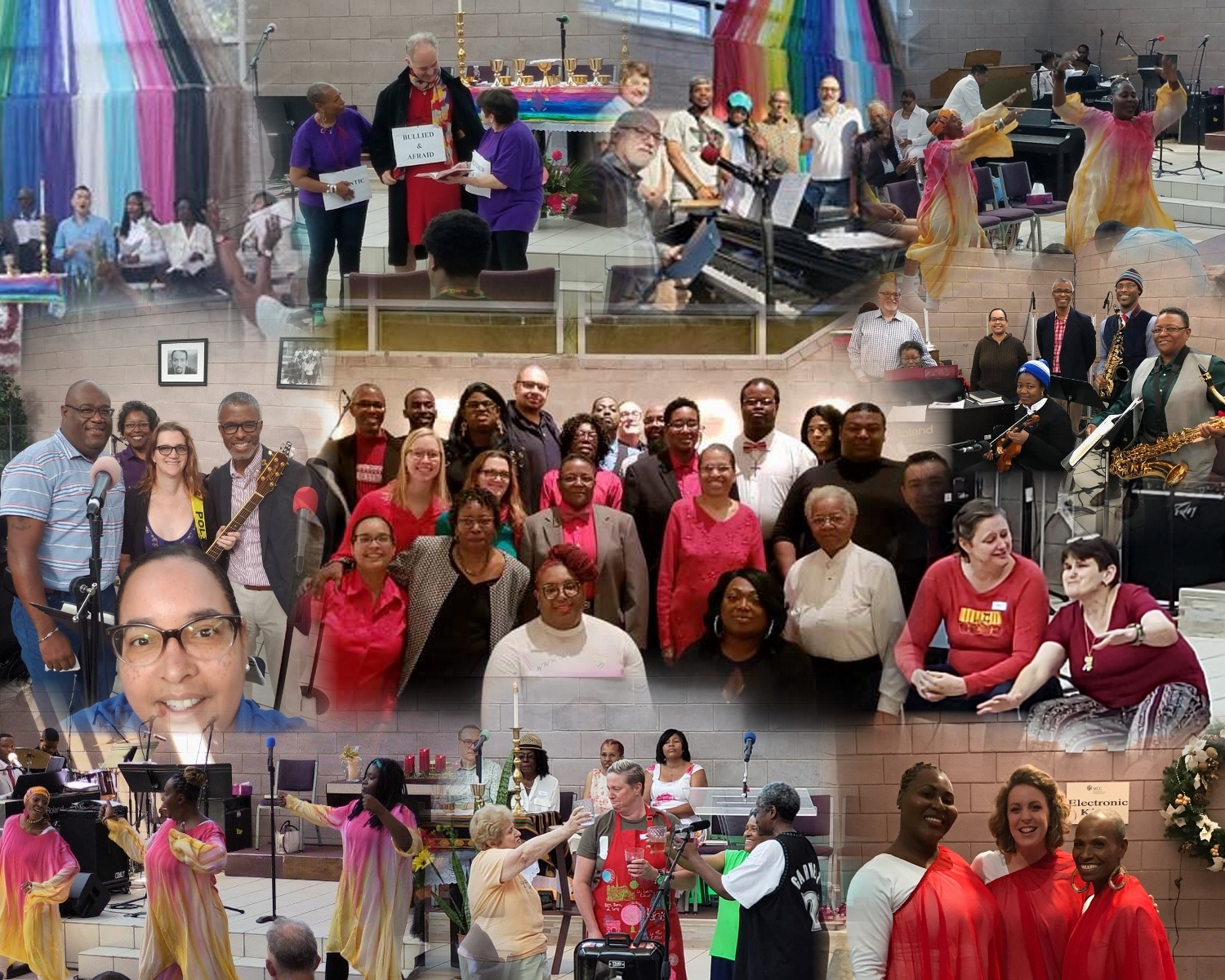 Ministry
Meeting Time
Contact
E-mail
9 AM Choir

Sunday

8:15 AM

Daniel Scearce
danscearce@aol.com
11 AM Choir

Thursdays

7:00 PM

Diedre Mouton Gray
msdeedeemusic@gmail.com
Dance
Every other Tuesday
5:00 – 6:45 PM
Cathy Batson
cathybatson1@verizon.net
Drama
Mondays
6:30 PM
Jules Christian
enjoyingtoday@hotmail.com
Eclectic Praise
Sundays
12:30 PM
Johanna Hardy
brassrat93@gmail.com