This Week's Reflection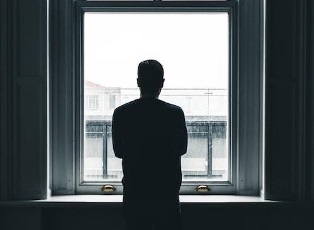 "The day I began to recover from alcoholism is not the day I stopped drinking. It's the day I stopped evading God." ~Liz Leuthner
MCCDC has a long history of being a place of sanctuary for those facing addictions. Alcoholics Anonymous, Narcotics Anonymous and other groups have gathered here throughout the years. We have been and we remain a healing place of respect, understanding and love. Through our Higher Power, we are lifted higher and grow higher, celebrating recovery, supporting each other through the downs on the way up. Recovery is never quick, never a direct line, and always a process of turnings, leanings and openings.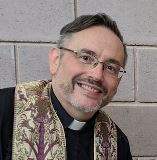 Our scripture for Sunday from John 17:1-11 offers encouragement for those in recovery. Jesus prays: "Holy Creator, protect them in your name." This prayer for all people includes those living with addiction, and that's all of us according to Gerald G. May, M.D., author of Addiction and Grace: Love and Spirituality in the Healing of Addictions. May writes: "The same processes that are responsible for addictions to alcohol and narcotics are also responsible for addiction to ideas, work, relationships, power, moods, fantasizes, and an endless variety of other things."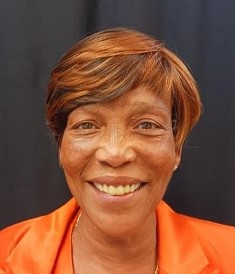 As we continue Mental Health Awareness Month, we welcome Pamela Duke, who comes to us through Volunteers of America. She is a visionary and a community leader in the fields of counseling, substance abuse, and recovery. Join us in the Sanctuary at 9:00 and 11:00 a.m. Eastern, online or later on demand. Immediately following the 11:00 service, there will be a panel on addiction and recovery. They will offer tips, tools and wisdom followed by a Q&A. The panel will also be online and later on demand.
In preparation for Sunday, I invite you to join me in praying this blessing by Jan Richardson:
May your longings lead you far and farther still toward the place where what you desire can be met only by God.
May your hungering bring you home by another way.
Grace and peace,
Rev. Elder Dwayne Johnson
Senior Pastor, MCCDC

Mental Health Awareness Month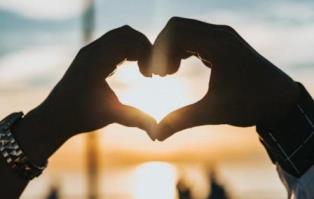 May is Mental Health Awareness Month. MCCDC joins the national movement to raise awareness, fight stigma, provide support, educate the public and advocate for policies that support the millions of people affected by mental health issues.
• Sunday, May 21: "Addition & Recovery" — presented by Volunteers of America after the 11:00 a.m. worship service
• Sunday, May 28: "Moral Injury & Mental Health" — addressed during worship by our pastors
For more information on these programs, or if you're looking for related resources, contact Rev. Cathy at revcathy@mccdc.com.

Gospel Explosion!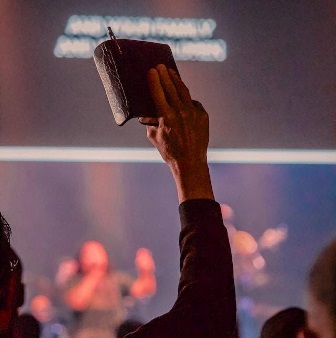 Come enjoy a "Gospel Explosion!" at 3:30 p.m. Eastern on Sunday, May 28th. The DMV Black Pride event will be held at the Community Church of Washington DC, 5201 Ames St NE. The event will feature DMV gospel artists, churches, singers, and the DMVBP Mass Choir. Contact Diedre Gray at (301) 383-3850 to get more information.

Pride Month Remembrance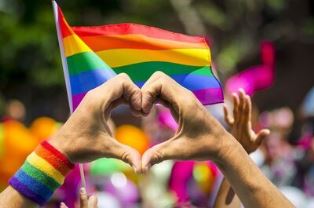 We invite you to remember or honor someone you love with a Pride Tribute. The names of those remembered will be included in our Sunday worship folder and at the end of our Sunday worship live stream. Suggested donations start at $25.00 per name. All gifts matter. Submit payment online at tributes.mccdc.com or mail a check payable to MCCDC to 474 Ridge St NW, Washington DC 20001.

Remembering Bob Jones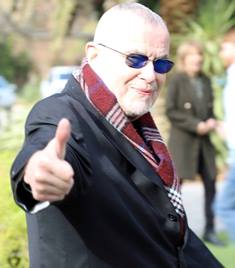 Join Jerry Giem and your MCCDC family after worship at 12:30 p.m. Eastern on Sunday, June 4th for the inurnment ceremony for longtime member Bob Jones. We will gather in the MCCDC Memorial Chapel and columbarium on the second level of our Sanctuary. Contact Pastor Dwayne at revdwayne@mccdc.com for additional information.

Nat's Night Out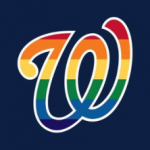 Join your MCCDC family for Night Out at the Nationals on Tuesday, June 6th at 7:05 p.m. The Nats will play the Arizona Diamondbacks.
Tickets are $35 and include a free Nats jersey! To reserve your seat, visit donate.mccdc.com and select "Nats Tickets" from the drop-down Fund menu. Please pay no later than May 30th.
Contact Dale Madyun-Baskerville, baskerd6109@gmail.com, with any questions or to get more information.

Atlantic City Trip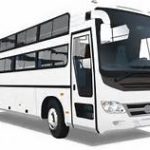 MCCDC's Older Adults Ministry will resume its annual day trip to the Resorts Casino in Atlantic City, New Jersey. We'll depart from the church at 7:00 a.m. on Saturday, September 16th. Tickets cost $65 and include $15 for food and $20 for slots. To reserve your seat, visit
oam.mccdc.com. Please pay no later than September 1st. Contact Dale Madyun-Baskerville, baskerd6109@gmail.com, with any questions.

Meet MCC Founder Rev Troy Perry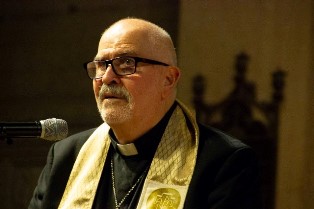 Join a very special session of MCCDC's Bible Study at 7:00 p.m. on Tuesday, June 20th. Rev. Troy Perry, founder of the Metropolitan Community Churches, will join us via Zoom to discuss his autobiography "Don't Be Afraid Anymore."
Here's how you can participate:
· Join us in person at Fifth & Ridge St NW
· Click here to open Zoom and join automatically
· Launch Zoom and enter Meeting ID 434 566 329
· Dial (301) 715-8592 by phone, using the same Meeting ID

Pathways 2 Generosity, Prayer #62 by Clara Carter, MCCDC Prayer Supporter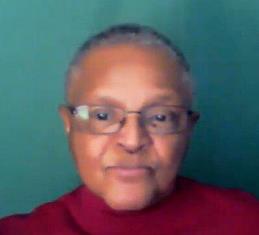 by Clara Carter, MCCDC Prayer Supporter
"What we can conceive, we can achieve with the help of God." ~ Catherine Ponder
Dear God, thank you for being in our lives during happy times, through our loneliness, our depressions, and seasons of unbearable grief. Thank you for the people who comfort and encourage us. We pray to always trust You, not only when things are going well but when we are in deepest despair and wracked with doubt. Thank you for the strength to move forward in faith.
We celebrate the gifts you granted us according to your purpose for our life's journey. Thank you for the willingness to share these gifts generously in financial giving, through our talents, skills, time and treasures with our churches, our families, and people in need. You bless us with more than we think to ask for. We are prosperous because of you.
God, we thank you for all the spiritual leaders and associated ministries who dedicate themselves week after week to spread the gospel of your unlimited grace across the globe. We are grateful for the places of spiritual worship all over the world where people gather to praise and glorify your name. Thank you, in your many precious names. Amen.
"To God—whose power now at work in us can do immeasurably more than we ask or imagine—To God be glory in the church and in Christ Jesus through all generations, world without end." ~Ephesians 3:20-21 (The First Egalitarian Translation)

Worship Volunteer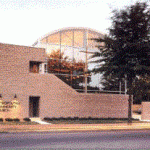 We still need volunteers to sustain in-person worship. Please visit volunteer.mccdc.com and fill out the form for the dates and positions in which you can serve your church. Have questions about roles and responsibilities? Contact Chocolatté Miller, chocolatte.miller@outlook.com

Support for Tim Helm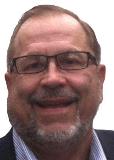 Beloved longtime MCCDC member Tim Helm is recovering from spinal and back wound complications at BridgePoint Hospital on Capitol Hill. Tim welcomes your calls in the afternoon and evening at (202) 368-9877.
Tim, our love and prayers are with you!
~Your MCCDC Family

Prayer Corner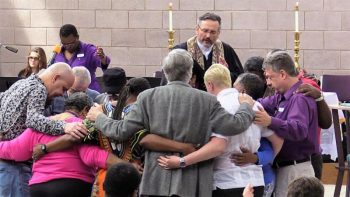 Please lift the following people up during your prayer time:
Johanna Hardy• Jerry Giem • Tim Helm • Min. Diedre Gray • Bill Campbell • Denise Wright, her mother Lucy Mae Coombs and her Aunt Lottie Mae King. • Rose Williams• Cecilia Hayden-Smith and Esther Smith's health• Delores Fowler • Vernessa D. Wilson • Family of Ms. Brittany Harrell • Veronica Franklin• Rev. Dr. Robin Hawley Gorsline • Glenn Conway • Michelle Lax •Anthony Goode • Valeria Myers' children Chantelle & Donald • George Kerr, III • Randy Punley • Lynn Sulyma • Marcus Garnett •Renee Valentine's brother • Arden Shutt • Evelyn Jones• Steve Sloane • Jeffrey Luckenbach • Cathy Batson's niece Lisa • Cynthia Melman •Kim Battle • Joshua Benkins' father Isaac •Elaine Durden-Hunter's recnet loss of her mother Earline • Angela Terrell • Mike Washington •Carol Washington mother's health •Angela Dodd for healing •Buck Carlson •Lolita Gleaton for healing from her cancer • Mezyi Choi request prayer for her success healing from surgery • Lost of Melvin Moore Adams' sister Krissandra Moore •Kia Murphy • Doris Carter Washington of Alexandra, Va. request prayer • Loss of Melvin Moore Adams' sister Krissandra Moore • Patricia Ryan due to the loss of her brother Mickey
•John Hylton • Summer Allen • Healing and recovery for our 9:00 a.m. interpreter Ashley P.

"Church Ministries & Events"


Virtual Choir
Come and join the Virtual Voices of MCC Choir! Lift your voice in our virtual rehearsals while singing from the comfort of your home. For more info, email Music Minister Deidre Mouton Gray at msdeedeemusic@gmail.com.
Spiritual Gifts, Get Involved!
Your're invited to consider sharing your spiritual gifts by making a Scripture Reading Video or sharing a Video Testimony on what MCCDC means to you.
It does not have to be long and the AV team is standing by to help you with the video. Please email me at revdwayne@mccdc.com for more information.
Moving Spirit Dance Ministry
Come dance for God! No experience needed. Email Cathy Batson at cathybatson1@verizon.net for more information. Check out past performances on our YouTube channel, including "I Can Only Imagine" (April 2019) and "Mighty River"(February 2018).
Singing to God
Join the Virtual Voices of the MCC Choir. Lift your voice in our virtual rehearsals while singing from the comfort of your home. Email Music Minister Diedre Gray at msdeedeemusic@gmail.com
JOIN PRAYER FROM NOON TO 12:30 PM Monday thru Saturday
Join Zoom Meeting
https://us02web.zoom.us/j/7078722334
Meeting ID: 707 872 2334
The dial in is 301-715-8592
Meeting ID: 7078722334
Intercessory Prayer Team
Meets the 2nd and 4th Thursdays each month at 7 pm
Contact LaMar Jenkins at 202-750-08887
Bible Study Tuesdays at 7:00 pm Eastern
Click here to Join Zoom Meeting: https://us02web.zoom.us/j/434566329
or Dial: (301) 715-8592 ,Meeting ID: 434 566 329
Contact Dale Madyun-Baskerville at mccdcbiblestudy@mccdc.com for more information.
Pastoral Care Meeting
Meet 1st and 3rd Wednesday, each month at 6::30pm
Contact pastoralcare@mccdc.com for more information or interest in joining this vibrant church ministry this Fall
Writing Ministry
Meets Monthy
For more information, contact Jacqueline Laughlin at yemayah@icloud.com.
Barnabas Culture Sessions
Barnabas Culture, Session 7:00 p.m. Eastern, Thursday. Click Here to Join The Zoom Thursday Nights. For more information contact MCCDC Ministry Intern Rev. Teresa Tygart at Email preachertygart@gmail.com.

Join Us on YouTube and subscribe to the MCCDC YouTube Channel!

Watch on YouTube