"If you find it in your heart to care for somebody else you will have succeeded."
~Maya Angelou
Hi Everyone,
In Mark's gospel Jesus is off and running. After his baptism in Mark 1:9 Jesus faces the wilds of temptations for 40 days, preaches the good news of God in Galilee, calls four fishers to follow him, offers astounding teaching in the synagogue at Capernaum, and performs his first miracle by commanding an oppressive spirit to depart from one suffering deeply. Whew! Will Jesus ever slow down? Yes. In Mark 1: 31 Jesus slows down enough to care, really care, for Simon's mother-in-law who was in bed with a fever: "Jesus came and took her by the hand and lifted her up. Then the fever left her."
The impact is beyond her personal healing. Upon receiving deep care and healing, she rises from her bed. And taking a cue from the playbook of Jesus, she does what he did: she cares. The text says it simply: "The fever left her, and she served." With her active response to the healing she has received, she becomes the first Pastoral Care Minister!
Mark's gospel moves forward at a fast pace, and it may seem that Simon's mother-in-law is left behind. However, I imagine that rather than left behind, she is behind the scenes, caring for others with a heart of gratitude. Even after Jesus has moved to other places of ministry, she extends his ministry through her care.
So, my MCCDC friends, I'm pondering this question heading into Sunday: What if we became a congregation that slows down enough to more fully care?
Faithfully, Rev Elder Dwayne Johnson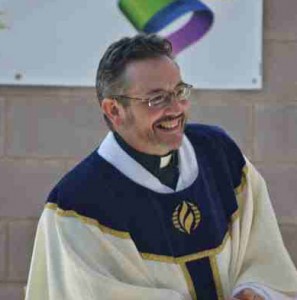 "UP COMING EVENTS"
MCCDC PASTORAL CARE MINISTRY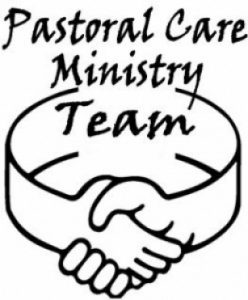 The Pastoral Care Ministry (PCM), under the guidance and leadership of Senior Pastor, Dwayne Johnson and Assistant Pastor, Cathy Alexander, provides itself in loving service to the congregation of MCCDC. This dedicated ministry team has been inspired and empowered to Expand Their Faith Journey and "Step outside their Comfort Zones" in order to support the ongoing spiritual care needs of the MCCDC congregation.
What services of support does the PCM contribute to MCCDC's ministry?
With spiritual passion and a dedication to service, the PCM Team carries out the following services that continue to enrich our MCCDC's communities: (These are only a few of the life-changing acts of service carried out by the PCM Team)
• Being the Candlewick of Inspiration and Leadership in order to enrich a variety of Community Endeavors
• Attend monthly Collaborative Team Building and Training Sessions
• Conduct Home and Hospital Visitations
• Provide Prayerful Intercessions/Assistance for congregational members in need via Telephone/ e-mail
• Provide Strategic planning for evolving, new and innovative PCM Ministry Endeavors
• Conduct and participate in Spiritual Growth Exercises, both individually and collectively
• Provide Pastoral Care Ministry during 9:00am and 11:00am Sunday Services
What gifts and talents can you add to the Pastoral Care Team?
• Prayers for people seeking God's presence for comfort, renewal, strength, and wisdom to handle various situations
• The gifts of your mindfulness, uniqueness, presence, personality, and perspective on new and innovative PCM ministry opportunities
• Offering volunteer support for ongoing service programming
• Participate in Home and Hospital Visitations
• Spiritual Awareness and Openness during weekly services
• Spiritual Empowerment and/or Enhancement, through prayers and nonjudgmental support efforts

Protect, Sustain, Grow: Best Practices for Handling Your Church's Money Conference & Livestream
This event provides practical advice, best practices, and resources for pastors, finance committee members, church treasurers, financial secretaries, and bookkeepers – all those charged with the sacred trust of protecting, sustaining, and growing the resources God has entrusted to your church.
Sessions: * The Ministry of Financial Management * Protecting Your Church's Money through * Oversight and Integrity * Sustaining Your Church's Ministry through * Paying Attention * Growing Your Church's Money through New * Sources and Means of Giving

Summary of Board Meeting, January 2018
The Board discussed the proposal to sell the M Street NW lot and the establishment of the Far Reaching Faith Trust Fund. In preparation for the Congregational Listening Post and in follow up to concerns expressed at the Congregational Forum, the Board had consulted with SunTrust around the sale and the mortgage, scheduled a first Trustee meeting and prepared a presentation as a basis for discussions with the congregation and visits of all ministries. The Board also received an update on the strategic planning process, the visit of MCC's Interim moderator, and discussed a proposal to rent church space for a day care center. The Board accepted the Treasurer's report and authorized a payment to the pastors' pension funds to cover 2017 obligations. Finally the Board voted that the 2018 Congregational Forum be held on November 4th and the Congregational Meeting on November 18th.

Older Adult Ministry Potluck/Meeting, February 04, 2018, 12:30 pm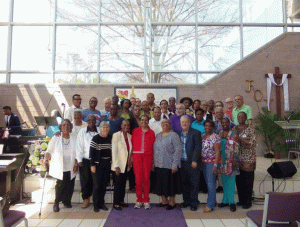 Older Adult Ministry will be holding their monthly Potluck. Guest speaker this month will be Dr. Gail Rucker, Podiatrist who will talk about foot care. All age 50 and above are welcome to join. For more information contact Dale Madyun-Baskerville at the church office 202-638-7373.

MCCDC Worship Arts Ministry Event, Saturday, February 24, 2018, 6 PM at MCCDC

HOW WE GOT OVER! Come Join us in our celebration of black history month.

Forum with MCC Interim Moderator Forum with MCC Interim Moderator REV. ELDER RACHELLE D. BROWN has been moved to March 11 at 1230.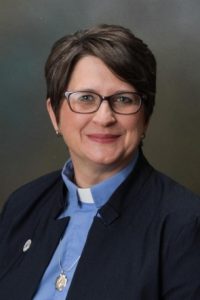 he meeting with the MCC Interim Moderator, Rev. Elder Rachelle Brown, has been moved to March 11 at 1230. We encourage all of you who are able to attend to do so. Please contact Rev. Dwayne if you have any questions or concerns.

Security Awareness Training, March 03, 2018, 10am to 12 pm,
The Metropolitan Police Department will be conducting security awareness training to assist everyone in being more alert before, during, and after worship service?
This training will cover how to create a safer house of worship. Topics include:
Safety Team and Building Security
Responses to Active Violence
Crime Reporting
Emergency Preparedness
This training is OPEN to ALL!!!!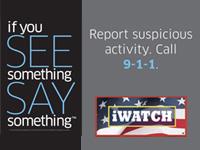 For questions or more information contact please contact Dale Madyun-Baskerville or Rev. Cathy Alexander at revcathy@mccdc.com or 202-638-7373.

Communion Celebrant Training March 10, 10:00 am to 12:30 pm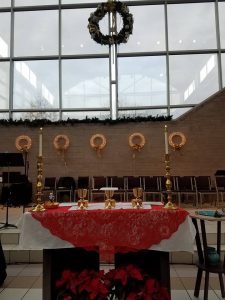 Interested in altar setup, praying and distributing Holy Communion to the congregation during Sunday services at 9am and 11 am? Then Communion Celebrant Training is for you! For questions or more information please contact Dale Madyun-Baskerville at churchoffice@mccdc.com or 202-638-7373.

Usher Training, March 10, 10:00 am to 12:30 pm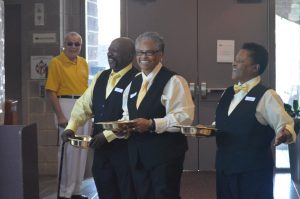 Are you interested in welcoming and serving our congregation during church services? Consider becoming an Usher. For questions or more information, please contact Louis Hicks at churchoffice@mccdc.com or 202-638-7373.

CHURCH NEWS
Come Join MCCDC Bible Study to see the Play Jesus at Sight & Sound Theatres -" Where they Bring the Bible to Life on Stage"
Sight & Sound Theatres
300 Hartman Bridge Road
(Route 896)
Ronks (Strasburg), PA 17572
800-377-1277
When August 18, 2018
Cost $79.00
Money due by Feb. 6 2018
Leave from MCCDC Church at 8 am
Car Pool to and from location
Buffet Lunch is separate
Contact Dale Madyun-Baskerville :baskerd6109@gmail.com or 202 638-7373 for payment in CASH OR CHECK ONLY.

Join Us on YouTube and subscribe to the MCCDC YouTube Channel!
MCCDC: FULFILLING TIME
Stay current on our video postings and help us in our goal of more than 100 subscribers to qualify for a custom MCCDC link that will help us reach more people."

Join MCCDC AV ministry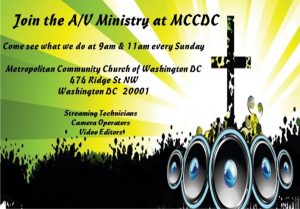 If you have questions, please contact Johanna Hardy at nerd4mit@aol.com

MCCDC Share Program Needs You!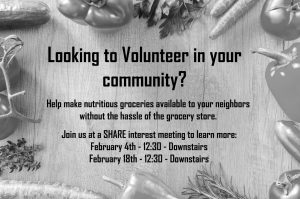 Middle Adults Ministry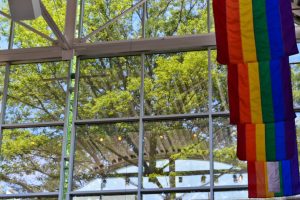 It's Official!!! The Middle Adult Ministry, AKA The Yelders will have their first fellowship on Sunday, February 25th. We will meet for lunch after the 11:00 service (approximately 1:00pm) at Carmine's Italian Restaurant at 425 7th St NW, Washington DC. Here we will get to know one another better and plan upcoming events. All are welcome to attend. ( If you cannot afford to come but would like to attend, please see Jules.) For more information or to add your name to our contact list, please contact Jules Christian @ enjoyingtoday@hotmail.com or 336-419-7579.

MCCDC Intercessory Prayer Team (IPT)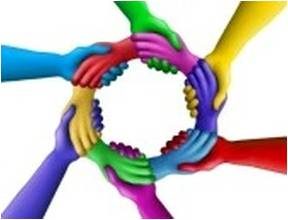 Are you a Prayer Warrior? Do you desire to connect and support others through prayer practices? Do you want to make a difference in our church, city, nation and world? Come join the Intercessory Prayer Team! The IPT will meet on the 2nd and 4th Wednesday of each month at 7:00 PM to have a Spirit-led time of prayer. We will also host a quarterly prayer event. For more information please contact Rev. Jules Christian at enjoyingtoday@hotmail.com or 336-419-7579.


Tyrone Washington is in a nursing home near Dupont Circle. Please continue to hold him in your prayers



Keith Richardson is in a nursing home near the church. Please continue to hold him in your prayers.

Join our Worship and Arts Ministry!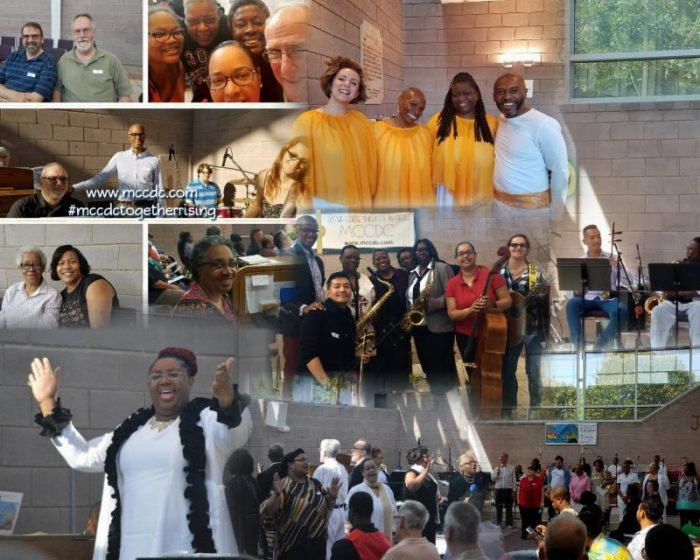 Ministry
Meeting Time
Contact
E-mail
9 AM Choir

Sunday

8:15 AM

Daniel Scearce

danscearce@aol.com
11 AM Choir

Thursdays

7:00 PM

Diedre Mouton Gray

msdeedeemusic@gmail.com
Dance
Every other Tuesday
5:00 – 6:45 PM
Cathy Batson
cathybatson1@verizon.net
Drama
Mondays
6:30 PM
Jules Christian
enjoyingtoday@hotmail.com
Eclectic Praise
Sundays
12:30 PM
Johanna Hardy
brassrat93@gmail.com

TUESDAY BIBLE STUDY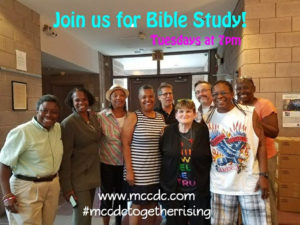 Please join the Tuesday Night Bible Study from 7-8 PM in the Welcome Hall. A time of community, fun learning and sharing. For more information please contact Dale Madyun-Baskerville at churchoffice@mccdc.com or 202-638-7373.

MCCDC LIVE STREAMING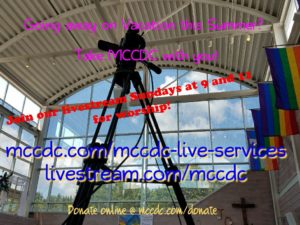 MCCDC is live! We have an opportunity to use of our AV system to reach outside our walls to many people who may not be able to join us in person. To make this happen we must have a subscription service that will provide us the ability to stream our services, concerts and special events, and expand opportunities for participation in our bible studies and other activities remotely. The testing done so far with streaming has generated a lot of excitement, particularly by those who have been unable to visit our church.
You can be a part of making this happen in a number of ways: (1) pray for our reach beyond the walls of our church (2) join others in donating to cover the one-time annual cost of the service and associated AV training for our volunteers; and (3) consider joining the AV ministry.
You can contact the church office with questions at 202-638-7373 or churchoffice@mccdc.com.

ELECTRONIC GIVING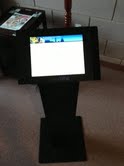 With EasyTithe, supporting the church is as simple as clicking a mouse or whipping out your smart phone.
Our new online system allows you to make a financial donation to the church with your credit card or direct debit from your banking account.
You'll be asked to set up your MCCDC EasyTithe Account. You can set it up to make a one-time/anytime donation or make a recurring donation.
You also can give by text 202-999-3841. Please contact the church office with questions at 202-638-7373 or churchoffice@mccdc.com.