"I always like a good song: puts me in a good mood." ~Waris Ahluwalia
This Sunday, worship at MCCDC will embody Psalm 100:1-2: "Make a joyful noise to the Lord, all the earth. Worship the Lord with gladness; come into God's presence with singing."
Both services will be 80% music, our voices lifting with our spirits. The 9 am service featuring "Daniel & Friends" will be an old-fashioned hymn sing where you can call-out your favorites. The 11 am service will feature the L.O.V.E. Gospel Choir directed by Min. Diedre Mouton-Gray.
Come ready to sing . . . and come hungry. The Board of Directors, Trustees and Staff are serving Pancakes & More following both services. This is our way of saying "thank you" for your love and support for the MCCDC Community through your time, talents, and financial support. We also want to provide an opportunity for people to deepen friendships and make new friends.
Sunday is also Father's Day. We look forward to honoring all fathers with special recognition and the presentation of a gift for all fathers that will bring memories of this day for years to come.
Following the Worship in Song movements of the services, I will offer a brief reflection from Psalm 100: "Enter God's gates with thanksgiving and the courts with praise! Give thanks to God! Bless God's Name. For God is good; God's steadfast love endures forever and God's faithfulness to all generations" (4-5).
See you Sunday for song, fathers, pancakes and more!
By Faith,
Rev. Elder Dwayne Johnson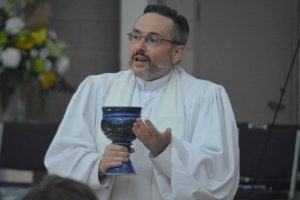 By Faith, Rev. Elder Dwayne Johnson

"UP COMING EVENTS"
LOVE GOSPEL CHOIR 16 June, 5pm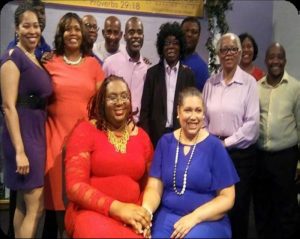 LOVE GOSPEL CHOIR Featuring Min. Diedre Mouton-Gray"LIVE"In Concert Saturday June 16 @5pm Metropolitan Community Church of Washington DC 474 Ridge St NW

MCCDC Pancake Breakfast, 17 June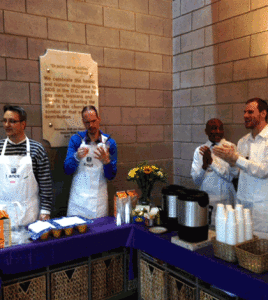 Come one come all to the pancake breakfast sponsored by your Pastors, Board of Directors and the Trustees on Jun 17, 2018. You will be our guests. We will cook and serve, so do not eat before coming to Church. This will be a fun and connecting time together. Please contact the board with questions at board@mccdc.com.

OUR HEROES 2018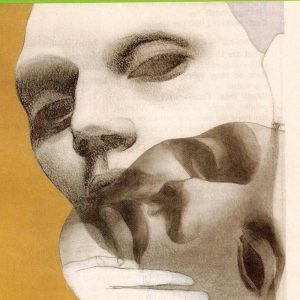 During the month of June, 2018, 40 pieces of one of the most
historical collections on the history of HIV/AIDS in Washington DC
is on display at Metropolitan Community Church Washington DC.
The complete collection of the Our Heroes exhibit includes 300
black and white portrait photographs of individuals, places, events
and organizations that have made an impact in the war against
AIDS in Washington, DC over the past 32 years (1981-2015).
Their portrait photography and stories will help archive the history of AIDS and its impact in Washington, DCl. Their portrait photograph and stories will also share with the world our journey and heroism in the fight against HIV and AIDS in your life and the lives of others. In 2013 the complete collection was given to the Martin Luther King Memorial Library as part of Washington, DC history in the fight against HIV/AIDS and remains one of the
largest collections at the Martin Luther King Memorial Library Washington DC. We extend our thanks to MCCDC member Wallace Corbett who is the Lead Organizer of the Our Heroes Project.

"CHURCH NEWS"
MCC General Conference Registration is open. REGISTER NOW by clicking onthe link below.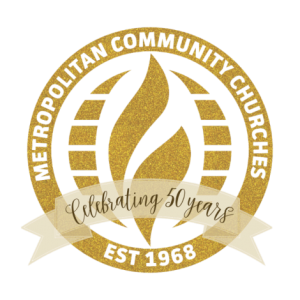 Please click here to check out this amazing conference and celebration.

Young Adult Ministry (YAM) Fund Raiser! Washington Mystics, Friday, July 13th
Tickets $25.00 will be sold
after both 9 am &
11 am worship services, now until
June 10th. Game Day: Friday, July 13th.
Where: Capital One Arena
601 F St NW
Washington, DC 20004
Time: 7:00 pm
Point of Contact: Chocolatté Miller at Chocolatte.Miller@outlook.com

JOIN THE FINANCIAL PEACE UNIVERSITY CLASS, Thursdays at 6 PM
Class Schedule:
• June 21, 2018 Lesson 7: Retirement and College Planning
• June 28, 2018 Lesson 8: Real Estate and Mortgages
• July 05, 2018 Lesson 9: The Great Misunderstanding

Life In the Middle…….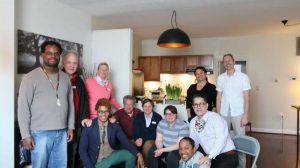 It's a Drumaque! On Sunday, June 24 the Middle Adults will have a lunch gathering at Todd's House from 1:00-3:00. (In the event of rain we will meet at MCCDC.) Bring a dish to share. If you play or have a drum, bring that as well for a jam session! We will meet in the Welcome Hall at 12:45 and walk over together, or you can meet us at 922 O Street NW (Lower Level). For more information contact Todd at 202-236-8468 or todd@thedcplace.com.
Coming Soon…..
Volunteering at the Autism Society's Conference
Middle Adults VS. Young Adults Kickball Game
Cook Out at Irena's House

Older Adult Ministry Pool Party, Saturday, 14 July, 3:00 to 8:00 pm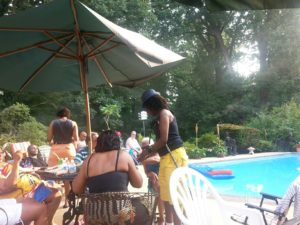 Where: 8312 20th Avenue, Adelphi, MD
It is almost time for the annual Older Adults Ministry pool party featuring home-cooked food, dancing, card playing and swimming. Everyone is welcome to attend, regardless of age. This event is only $5 plus a potluck side dish. Tickets are available each Sunday after the 11:00 service through July 7th. See Darryl Walker at the Information Station or email him at Darryl_1945@yahoo.com.

JOIN TEAM MCCDC in the Susan G. Komen Race for the Cure! September 8, 2018
Be a part of Team MCCDC's 3rd Annual Participation in the Race for the Cure!
Join us in walking, running, or sleepwalking to raise funds and awareness in support of those fighting breast cancer and working towards a CURE!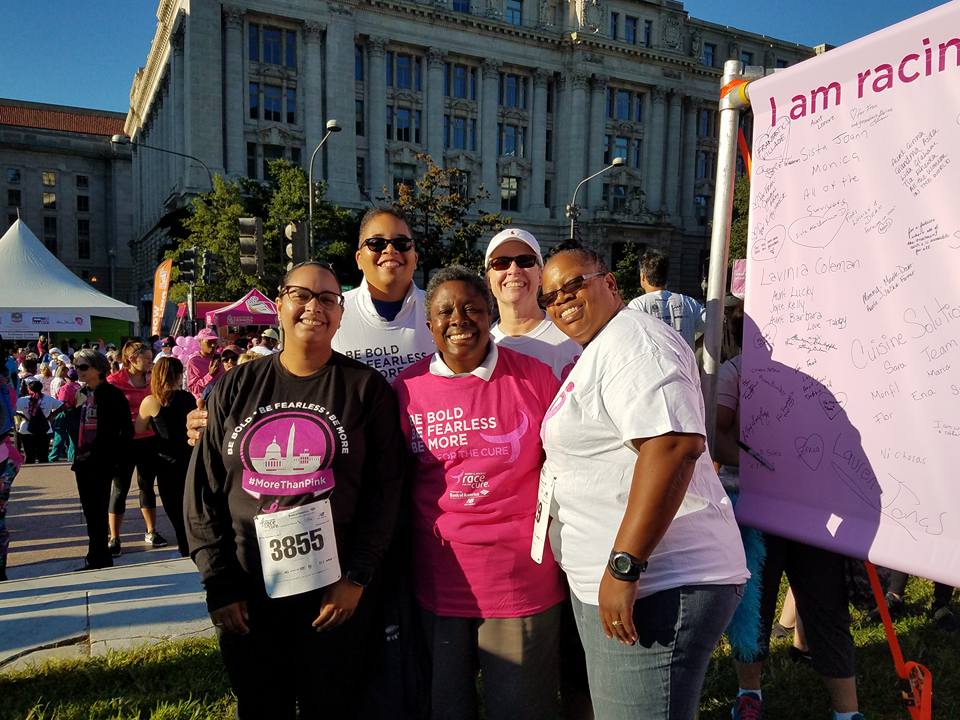 Join Team MCCDC today!
To sign up for the team, visit: and look for MCCDC. For more info and to let us know you're joining us, contact Rev. Cathy at revcathy@mccdc.com
Did you know?
• 1 in 8 women in the U.S. will be diagnosed with breast cancer in her lifetime
• Breast cancer is the most commonly diagnosed cancer in women
• On average, every 2 minutes a woman is diagnosed with breast cancer and every 13 minutes a woman will die
• Although rare, approximately 2,500 men will be diagnosed with breast cancer

Join Us on YouTube and subscribe to the MCCDC YouTube Channel!
Stay current on our video postings .
Click here to see more MCCDC Videos
Inspiration Videos, Metropolitan Community Church of Washington DC

MCCDC Bible Study
Bible Study Book Review : "Don't Be Afraid Anymore: The Story of Reverend Troy Perry and the Metropolitan Community Churches"
"Don't Be Afraid Anymore: The Story of Reverend Troy Perry and the Metropolitan Community Churches"

Tuesdays, Bible Study from 7:00 – 8:00 PM in the Welcome Hall
For more information please contact Dale Madyun-Baskerville at the churchoffice@mccdc.com or call (202) 638-7373.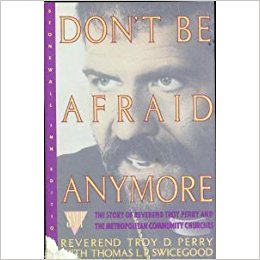 Come JoinBible Study to see the play "Jesus"
Sight & Sound Theaters
300 Hartman Bridge Road
(Route 896)
Ronks (Strasburg), PA 17572
800-377-1277
When August 18, 2018
Cost $79.00
Tickets can be purchase directly from Sight & Sound Web Site: Click Here To Purchase Tickets From Sight and Sound Sight
Leave from MCCDC Church at 11 am
Show Starts At 7 pm
Car Pool to and from location
Buffet Lunch is separate
Contact Dale Madyun-Baskerville :baskerd6109@gmail.com or 202 638-7373 for more information.

Toby's Dinner Theatre, 5900 Symphony Woods Road, Columbia, MD 21044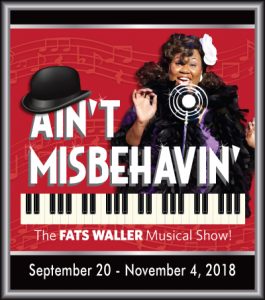 Ain't Misbehavin'
October 20, 2018, 6 PM Tickets $63.55, meet at Toby's, Money Due NLT Aug. 26, 2018, Contact Dale Madyun-Baskerville :baskerd6109@gmail.com or 202 638-7373 for more information.
'This joint will be jumpin' with Ain't Misbehavin', one of the most popular, well-crafted revues of all time and a Tony Award winner for Best Musical. The inimitable Thomas "Fats" Waller rose to international fame during the Golden Age of the Cotton Club with his infectious swing music. Ain't Misbehavin' evokes the delightful humor and powerful energy of this 'American original' with music made famous from uptown clubs to Tin Pan Alley to Hollywood!
Click below to see Buffet Menu that is Include

For questions or more information please contact Dale Madyun-Baskerville at churchoffice@mccdc.com or 202-638-7373.

The MCCDC Drama Team needs crew members.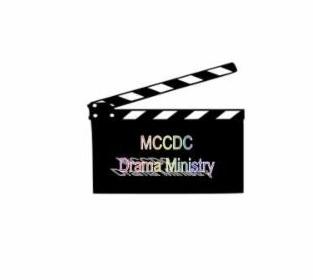 We are looking for anyone interested in helping with props, set décor, costumes, music. lighting, clean up, etc. If you have a passion and artistic flare for behind the scenes work and would like to join the drama team! The Drama Ministry meets on Mondays at 6:30 and performs on the Second Sunday of each month. If you are interested, please contact Jules at enjoyingtoday@hotmail.com or 336-419-7579.

Prayers for healing

Keith Richardson is in a nursing home near the church. Please continue to hold him in your prayers

Join our Worship and Arts Ministry!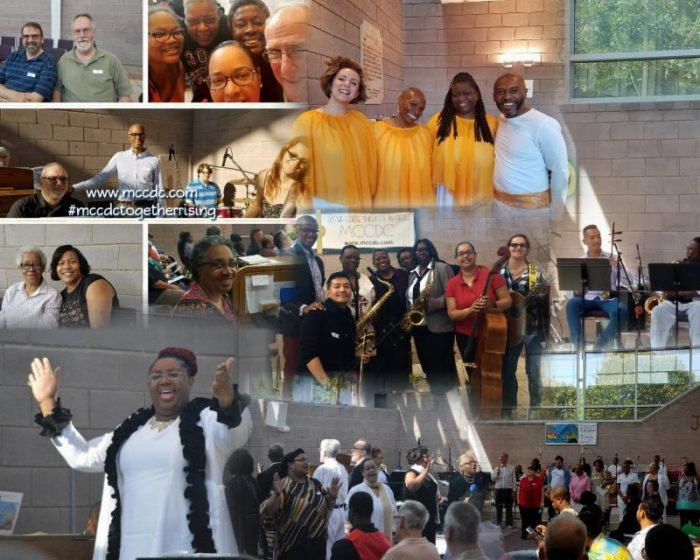 Ministry
Meeting Time
Contact
E-mail
9 AM Choir

Sunday

8:15 AM

Daniel Scearce
danscearce@aol.com
11 AM Choir

Thursdays

7:00 PM

Diedre Mouton Gray
msdeedeemusic@gmail.com
Dance
Every other Tuesday
5:00 – 6:45 PM
Cathy Batson
cathybatson1@verizon.net
Drama
Mondays
6:30 PM
Jules Christian
enjoyingtoday@hotmail.com
Eclectic Praise
Sundays
12:30 PM
Johanna Hardy
brassrat93@gmail.com