This Sunday at 9 AM and 11 AM we will proclaim "Christ is risen! Christ is risen indeed! Alleluia!" We will gather for the first of The Great Fifty Days of Easter. Our theme is "Rising Strong with Life." How do we live, really live? Our worship Sunday will inspire ways to live our strongest lives.
We live in complicated times. We deal with life draining, soul crushing, even deadening realities. The values and demands that surround us pull us in confusing and conflicting directions. At times, the values of power, greed, and ego lead us to compromise what matters most to us, and we hardly realize we've made the compromises until we notice a vague feeling that something is not quite right. Our heart has become divided.
Other times it is expectations doing the pulling. Our lives become defined by our attempts to please others, often authority figures, sometimes peers. Whether it is the pressure of authority or pressure of peers, our fears so easily lead us down the path of living someone else's life.
It is time for the stone to roll away from the tombs of half-lives, divided lives. Now is the time to draw on Resurrection Power to rise strong to our authentic, true, and whole selves. Now is the time to seize the promise of our God-parent Isaiah who proclaims "God removes death forever" (Isaiah 25:8).
Mark 16:1-8 says the first witnesses to the empty tomb were overcome with such terror and dread that they fled from the tomb, saying nothing to anyone, because they were afraid. I pray that we too will abandon the tomb, not because we're afraid, but because at last we are unafraid to live our truest, most vibrant lives.
In preparation for the glorious Sunday coming, I invite you to join me in praying this prayer:
"O God, for too long I have lived with a divided heart.
I pray for Your heart to become my heart.
I pray for Your will to become my will.
I pray for Your desire to become my desire.
I pray for Your life to become my life.
I pray for Your love to become my love. Amen."
Faithfully, Rev Elder Dwayne Johnson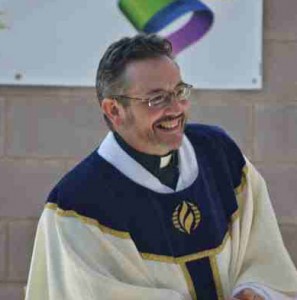 "UP COMING EVENTS"
Join your MCCDC Family for Holy Week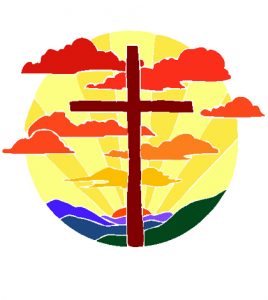 Thursday March 30 th 7 PM Holy Thursday
Friday March 31th 7 PM Good Friday
Sunday April 1st 9 & 11 AM Resurrection Sunday Service.
Christ is Risen Indeed!

Life In The Middle..Join us for a drop in at Knut's place on Easter Sunday, April 1st, 1:00 PM.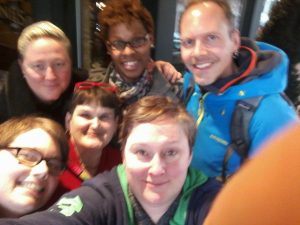 We will meet in the Welcome Center and walk over together. If you would like to join us there, the address is 57 Bates St NW, Apt A, 20001. Please bring your own Beverage and a finger food to share. For more information, please contact Knut at
knutpankin@gmail.com or 202-277-2470 or Jules Christian at enjoyingtoday@hotmail.com
or 336-419-7579

Older Adult Ministry Potluck/Meeting, April 08, 2018, 12:30 pm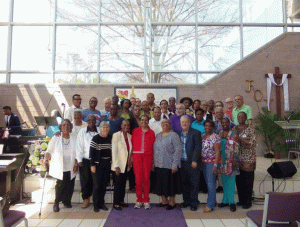 Older Adult Ministry will be holding their monthly Potluck. All age 50 and above are welcome to join. For more information contact Dale Madyun-Baskerville at the church office 202-638-7373.

CHURCH NEWS
April is Autism Awareness Month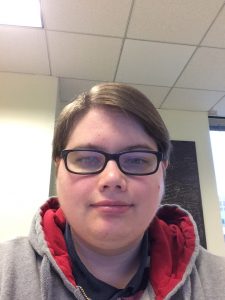 Our drummer Kris Guin will be speaking on a panel on autism acceptance and faith. The panel will be held at 4pm on April 15 at Emmaus United Church of Christ, 900 Maple Ave E, Vienna, VA 22180. Please consider attending and supporting Kris.

The Older Adult Ministry Flea Market, April 14, 2018, 10 am to 2 pm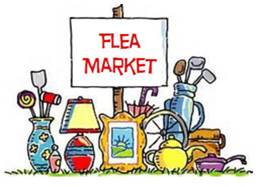 Household Goods, Clothes, Pictures, and more will be sold at unbelievable prices ! Your Bargain is just waiting for you!!
Got Stuff you want to sell? Want to help your church? Reserve a table for FREE AT MCCDC Flea Market!!!
All PROCEED TO BE GIVEN TO MCCDC GENERAL OPERATION FUND
Mamma Ce Fried Chicken will be sold during the Flea market.
Contact Dale L. Maydun-Baskerville @ email baskerd6109@gmail.com,OR Sonia Grant at churchoffice@mccc.com or call202-638-7373

Strengths Assessment, April 21st, 9:30 am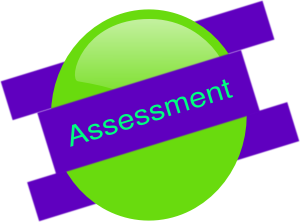 What are your strengths and how can you best use them in accomplishing your individual goals and your goals on a team? MCCDC will host a half day session on March 21st from 9:30 AM to 4 PM with a certified Strengthfinders coach. The assessment tool will also be provided at no charge. If you would like to participate, please contact Rev Cathy at revcathy@mccdc.com. See below for more information.
An Assessment to Help You to Discover the True You
Completing the Strengths online talent assessment is your way to:
• discover what you naturally do best
• learn how to develop your greatest talents
• use your customized results to live your best life
• receive coaching to best understand how to interpret the result and use them in our MCCDC ministry setting and beyond
Understand how your talents work with others

Come Join MCCDC Bible Study to see the play "Jesus"
Sight & Sound Theatres
300 Hartman Bridge Road
(Route 896)
Ronks (Strasburg), PA 17572
800-377-1277
When August 18, 2018
Cost $79.00
Tickets can be purchase directly from Sight & Sound Web Site: Click Here To Purchase Tickets From Sight and Sound Sight
Leave from MCCDC Church at 11 am
Show Starts At 7 pm
Car Pool to and from location
Buffet Lunch is separate
Contact Dale Madyun-Baskerville :baskerd6109@gmail.com or 202 638-7373 for more information.

Toby's Dinner Theatre, 5900 Symphony Woods Road, Columbia, MD 21044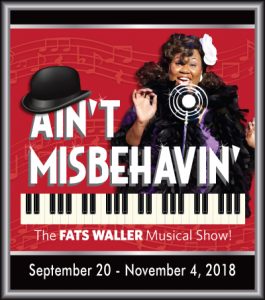 Ain't Misbehavin'
October 20, 2018, 6 PM Tickets $63.55, meet at Toby's, Money Due NLT Aug. 26, 2018
'This joint will be jumpin' with Ain't Misbehavin', one of the most popular, well-crafted revues of all time and a Tony Award winner for Best Musical. The inimitable Thomas "Fats" Waller rose to international fame during the Golden Age of the Cotton Club with his infectious swing music. Ain't Misbehavin' evokes the delightful humor and powerful energy of this 'American original' with music made famous from uptown clubs to Tin Pan Alley to Hollywood!
Click below to see Buffet Menu that is Include

For questions or more information please contact Dale Madyun-Baskerville at churchoffice@mccdc.com or 202-638-7373.

6th Annual Party with a Purpose OLD SCHOOL DANCE PARTY,Saturday, May 26, 2018 at 3:00 pm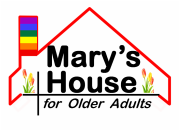 THE GRAND HYATT WASHINGTON
1000 H Street, NW, Washington, DC
Buffet / Cash Bar / Silent Auction
Creating LGBTQ/SGL $40 advance tickets
Friendly Environments $50 at the door
Tickets available after both services in the Welcome Hall at the Information Station on Sunday April, 8th and 1

Middle Adult Ministry Coming Soon: The Middle Adults are planning a Friday trip to The Escape Room!
This is a fun, team building activity where we work together to solve clues and find the key that unlocks the room in 60 minutes or less! There is a limit of ten people in each room and the cost is $28.00 Per person. Reservations are required, so If you are interested, please contact Jules @ enjoyingtoday@hotmail.com or 336-419-7579.

Join Us on YouTube and subscribe to the MCCDC YouTube Channel!
MCCDC: RISING STRONG WITH SOLIDARITY
Stay current on our video postings and help us in our goal of more than 100 subscribers to qualify for a custom MCCDC link that will help us reach more people."

The Information Station Ministry Needs You!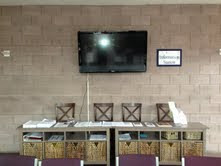 We are in need of Information Station volunteers for both 9am and 11am worship services. It's a very easy commitment of one (1) Sunday a month. No experience needed just your time and willingness to serve. Volunteering includes: greeting & directing MCC attenders, providing information about church events, and more. Please sign up at the Information Station or contact Chocolatté Miller at Chocolatte.Miller@outlook.com.

Join MCCDC AV ministry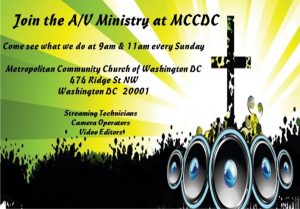 If you have questions, please contact Johanna Hardy at nerd4mit@aol.com

MCC General Conference Registration is open.1-5 July 2019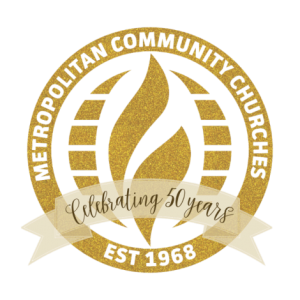 Please Click Here to Check Out this Amazing Conference and Celebration
Please click here to check out this amazing conference and celebration

MCCDC Intercessory Prayer Team (IPT)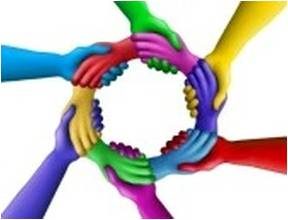 Are you a Prayer Warrior? Do you desire to connect and support others through prayer practices? Do you want to make a difference in our church, city, nation and world? Come join the Intercessory Prayer Team! The IPT will meet on the 2nd and 4th Wednesday of each month at 7:00 PM to have a Spirit-led time of prayer. We will also host a quarterly prayer event. For more information please contact Rev. Jules Christian at enjoyingtoday@hotmail.com or 336-419-7579.

Join our Worship and Arts Ministry!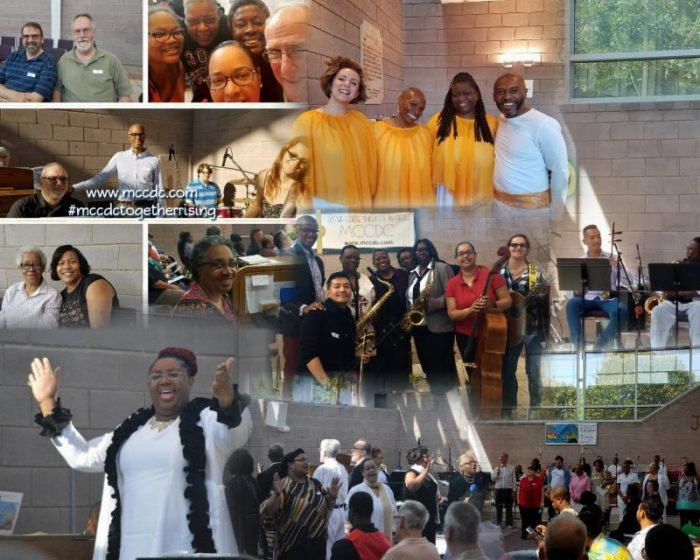 Ministry
Meeting Time
Contact
E-mail
9 AM Choir

Sunday

8:15 AM

Daniel Scearce

danscearce@aol.com
11 AM Choir

Thursdays

7:00 PM

Diedre Mouton Gray

msdeedeemusic@gmail.com
Dance
Every other Tuesday
5:00 – 6:45 PM
Cathy Batson
cathybatson1@verizon.net
Drama
Mondays
6:30 PM
Jules Christian
enjoyingtoday@hotmail.com
Eclectic Praise
Sundays
12:30 PM
Johanna Hardy
brassrat93@gmail.com

TUESDAY BIBLE STUDY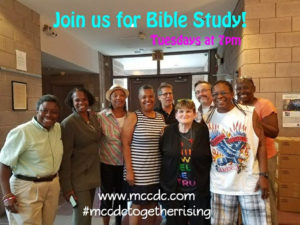 Please join the Tuesday Night Bible Study from 7-8 PM in the Welcome Hall. A time of community, fun learning and sharing. For more information please contact Dale Madyun-Baskerville at churchoffice@mccdc.com or 202-638-7373.

MCCDC LIVE STREAMING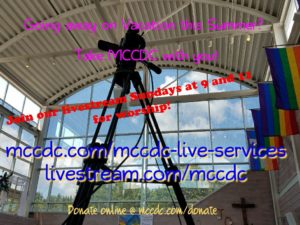 MCCDC is live! We have an opportunity to use of our AV system to reach outside our walls to many people who may not be able to join us in person. To make this happen we must have a subscription service that will provide us the ability to stream our services, concerts and special events, and expand opportunities for participation in our bible studies and other activities remotely. The testing done so far with streaming has generated a lot of excitement, particularly by those who have been unable to visit our church.
You can be a part of making this happen in a number of ways: (1) pray for our reach beyond the walls of our church (2) join others in donating to cover the one-time annual cost of the service and associated AV training for our volunteers; and (3) consider joining the AV ministry.
You can contact the church office with questions at 202-638-7373 or churchoffice@mccdc.com.

ELECTRONIC GIVING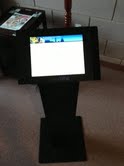 With EasyTithe, supporting the church is as simple as clicking a mouse or whipping out your smart phone.
Our new online system allows you to make a financial donation to the church with your credit card or direct debit from your banking account.
You'll be asked to set up your MCCDC EasyTithe Account. You can set it up to make a one-time/anytime donation or make a recurring donation.
You also can give by text 202-999-3841. Please contact the church office with questions at 202-638-7373 or churchoffice@mccdc.com.