"In God's hands, the worst thing that happens to me can be transformed into the best thing that ever happened to me."
~Grace Imathiu
I am so grateful for Grace Imathiu, one of my colleagues in the Academy for Spiritual Formation. Along with Brene Brown, Maggie Ross and others, she continues to teach me what it means to live big: to take big juicy bites of life-even when life bites back.
I'm learning that God has a knack for turning around the "bad stuff" in surprising ways. Part of what it means to live big is to live with a curious, more open perspective. To do this, I ask myself: "What does it mean to see with the eyes of my heart."
In our scripture this Sunday from Luke 24: 36-53 the disciples are in panic, scared out of their minds—and their hearts. They wouldn't know peace if it was standing right in front of them. Which, in Luke 24:36, it actually is! Scripture describes Jesus standing in their midst, and saying to them: "Peace be with you." Their response: they continue with their hissy fit, thinking Jesus is a ghost rather than their risen Savior.
While the disciples are frothing, Jesus asks two questions that are still relevant today: "Why are you disturbed? Why do such ideas cross your mind?" (Luke 24: 38). These questions from Jesus cannot be fully answered in a few moments of superficial navel gazing or even in a half day workshop. Yet making these questions part of our ongoing inner work is one move to become free from the fears that reduce us. These questions can be a prompt to live big beyond disturbance and see new possibilities for peace with the eyes of our hearts.
We'll chat more about this on Sunday at 9 AM and 11 AM. In the meantime, have a great rest of your week.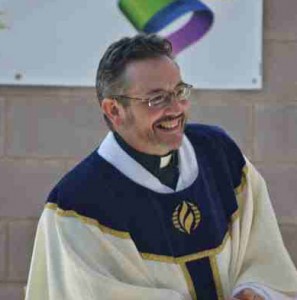 By Faith,
Rev. Elder Dwayne Johnson

"UP COMING EVENTS"
The Older Adult Ministry Flea Market, April 14, 10 am to 2 pm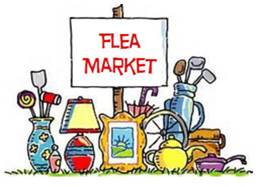 Household Goods, Clothes, Pictures, and more will be sold at unbelievable prices ! Your Bargain is just waiting for you!!
Got Stuff you want to sell? Want to help your church? Reserve a table for FREE AT MCCDC Flea Market!!!
All PROCEED TO BE GIVEN TO MCCDC GENERAL OPERATION FUND
Mamma Ce Fried Chicken will be sold during the Flea market.
Contact Dale L. Maydun-Baskerville @ email baskerd6109@gmail.com,
OR Sonia Grant at churchoffice@mccc.com or call202-638-7373

Young Adults Ministry Brunch, 15 April, 11 am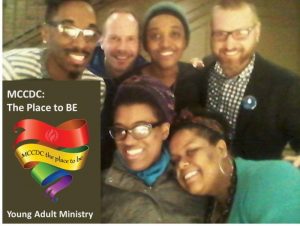 The Young Adults Ministry will go to brunch at Sospeso DC after the 11 am worship service on Sunday, April 15th. The address and brunch menu link are below. If you have any questions see Chocolatté Miller & Juan Garcia.
1344 H Street Northeast, Washington, DC

MCCDC Speaks at Unity Fellowship Church, DC (UFCDC) Pastor Anniversary, April 15th, 3PM
Rev Cathy will be sharing the message at Unity Fellowship Church, DC (UFCDC) on Sunday April 15th at 3PM. The occasion is Rev. Akousa McCray-Peters' pastor anniversary. If you are in the area please plan on attending.

Come Celebrate The Ordination of Wendy Hamilton, 19th May, 1:00 pm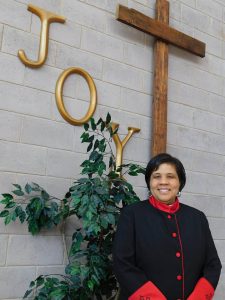 Wendy has completed her journey of academic requirements, and passed her examination by Metropolitan Community Churches Clergy Interview Team and will be ordained into
Holy service on May 19th at 1 PM.
You are invited to join her in this joyful moment and to stay for refreshments directly after service. Please contact the Rev Cathy or church office at 202-638-7373 for questions or more information.

MCCDC Celebrates 47 years on May 19 and May 20.
You are invited to a dinner to honor the career and ministry of Rev. Elder Darlene Garner on Saturday May 19th at 7 PM.
This is a ticketed event. Please plan on coming out to celebrate the next chapter in her ministry.
If you would like to work on the planning team, please contact Rev Cathy at revcathy@mccdc.com or 202-638-7373 there is room for you

MCCDC Celebrates 47th Anniversary on 20 May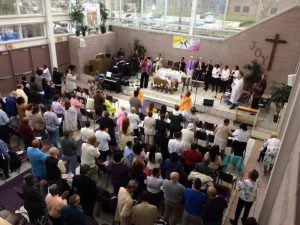 On Sunday May 20th at 9 & 11, Rev. Elder Garner will be coming home to share the message MCCDC: 47 Years of Rising Strong
If you would like to work on the planning team, please contact Rev Cathy at revcathy@mccdc.com or 202-638-7373 there is room for you.

Life in the Middle . . .Sunday, 22 April, 12;30 pm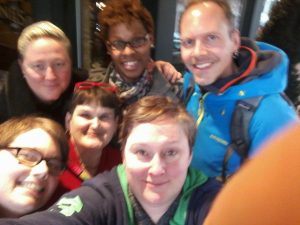 Join the Middle Adults for a picnic at the Arboretum! It is cheduled for Sunday, April 22nd,immediately following the 11:00 service. We will drive over together or you can meet us at the National Arboretum at 3501 New York Avenue, NE. Bring your own picnic lunch.
Bottled Water will be provided.

Young Adults Ministry Bake Sale, 28 April, 11am – 2 pm, and 29 Apr, 1230 pm
Sales will take place outside the building. Buy and enjoy some sweet treats

"CHURCH NEWS"
Join Us on YouTube and subscribe to the MCCDC YouTube Channel!
Stay current on our video postings .
Click here to see more MCCDC Videos
MCCDC: Believe Before You Can See

Private Piano Lessons With Our Very Own Diedre Gray


April is Autism Awareness Month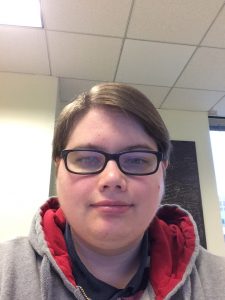 Our drummer Kris Guin will be speaking on a panel on autism acceptance and faith. The panel will be held at 4pm on April 15 at Emmaus United Church of Christ, 900 Maple Ave E, Vienna, VA 22180. Please consider attending and supporting Kris.

Building Bridges of Hope, Cultures of Care & Gratitude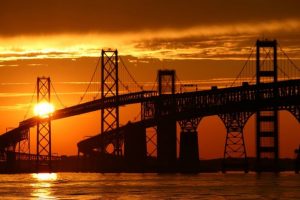 Saturday, May 5th, 2018, MCC Eastern USA Network Gathering, New Life MCC of Hampton Roads 1000 Sunset Dr. Norfolk, VA 23503, (757) 434-2892
For more information please contact Rev Cathy at revcathy@mccdc.com or 202-638-7373

MCCDC Youth and Young Adult Innovation Hub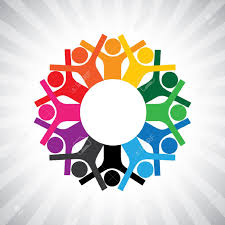 Are you interested in helping MCCDC attract more youth and young adults? MCCDC has been invited to the Wesley Innovation Hub, a cohort of churches that are using innovation principles to build relationships with youth and young adults. The Wesley Innovation Hub seeks to engage the full diversity of young adults and churches in the DC metro area. The application and further information is available at www.wesleyseminary.edu/wesley-innovation-hub/.
If you are interested in joining this team, please contact Rev Cathy at revcathy@mccdc.com or 202-638-773 by April 25th.

6th Annual Party with a Purpose OLD SCHOOL DANCE PARTY,Saturday, May 26, 2018 at 3:00 pm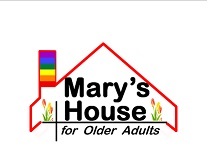 THE GRAND HYATT WASHINGTON
1000 H Street, NW, Washington, DC
Buffet / Cash Bar / Silent Auction
Creating LGBTQ/SGL $40 advance tickets
Friendly Environments $50 at the door
Tickets available after both services in the Welcome Hall at the Information Station on Sunday April, 8th and 1

Come JoinBible Study to see the play "Jesus"
Sight & Sound Theaters
300 Hartman Bridge Road
(Route 896)
Ronks (Strasburg), PA 17572
800-377-1277
When August 18, 2018
Cost $79.00
Tickets can be purchase directly from Sight & Sound Web Site: Click Here To Purchase Tickets From Sight and Sound Sight
Leave from MCCDC Church at 11 am
Show Starts At 7 pm
Car Pool to and from location
Buffet Lunch is separate
Contact Dale Madyun-Baskerville :baskerd6109@gmail.com or 202 638-7373 for more information.

Toby's Dinner Theatre, 5900 Symphony Woods Road, Columbia, MD 21044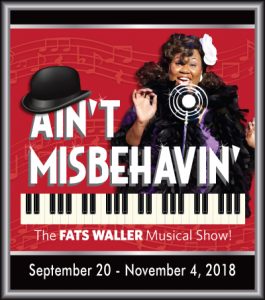 Ain't Misbehavin'
October 20, 2018, 6 PM Tickets $63.55, meet at Toby's, Money Due NLT Aug. 26, 2018
'This joint will be jumpin' with Ain't Misbehavin', one of the most popular, well-crafted revues of all time and a Tony Award winner for Best Musical. The inimitable Thomas "Fats" Waller rose to international fame during the Golden Age of the Cotton Club with his infectious swing music. Ain't Misbehavin' evokes the delightful humor and powerful energy of this 'American original' with music made famous from uptown clubs to Tin Pan Alley to Hollywood!
Click below to see Buffet Menu that is Include

For questions or more information please contact Dale Madyun-Baskerville at churchoffice@mccdc.com or 202-638-7373.

Middle Adult Ministry Coming Soon: The Middle Adults are planning a Friday trip to The Escape Room!
This is a fun, team building activity where we work together to solve clues and find the key that unlocks the room in 60 minutes or less! There is a limit of ten people in each room and the cost is $28.00 Per person. Reservations are required, so If you are interested, please contact Jules @ enjoyingtoday@hotmail.com or 336-419-7579.

The Information Station Ministry Training, 26 May, 11 am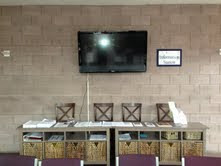 Point of contact for Information Station Training for all current and future Information Station is Chocolatte.Miller@outlook.comtion volunteers will take place on Saturday, May 26th 11:00 am – 1:00 pm. If you are interested in volunteering for the Information Station please join us at our training. It's a very easy commitment of one (1) Sunday per month. No experience needed, just your time and willingness to serve. Volunteering includes: greeting & directing MCC attenders, providing information about church events, and more. Please sign up at the Information Station or contact Chocolatté Miller at Chocolatte.Miller@outlook.com.

Prayers for healing

Keith Richardson is in a nursing home near the church. Please continue to hold him in your prayers

MCC General Conference Registration is open.1-5 July 2019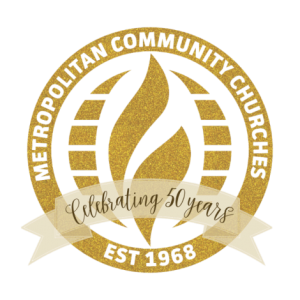 Please Click Here to Check Out this Amazing Conference and Celebration
Please click here to check out this amazing conference and celebration

MCCDC Bible Study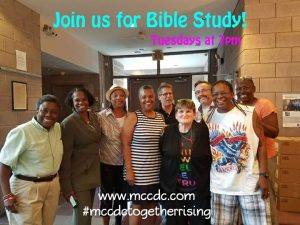 A time of community, fun, learning, and sharing!
Tuesdays, from 7:00 – 8:00 PM in the Welcome Hall
For more information please contact Dale Madyun-Baskerville at the churchoffice@mccdc.com or call (202) 638-7373.

MCCDC Intercessory Prayer Team (IPT)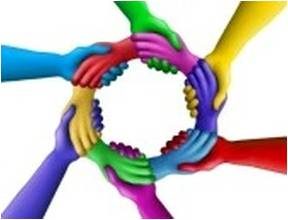 Are you a Prayer Warrior? Do you desire to connect and support others through prayer practices? Do you want to make a difference in our church, city, nation and world? Come join the Intercessory Prayer Team! The IPT will meet on the 2nd and 4th Wednesday of each month at 7:00 PM to have a Spirit-led time of prayer. We will also host a quarterly prayer event. For more information please contact Rev. Jules Christian at enjoyingtoday@hotmail.com or 336-419-7579.

Join our Worship and Arts Ministry!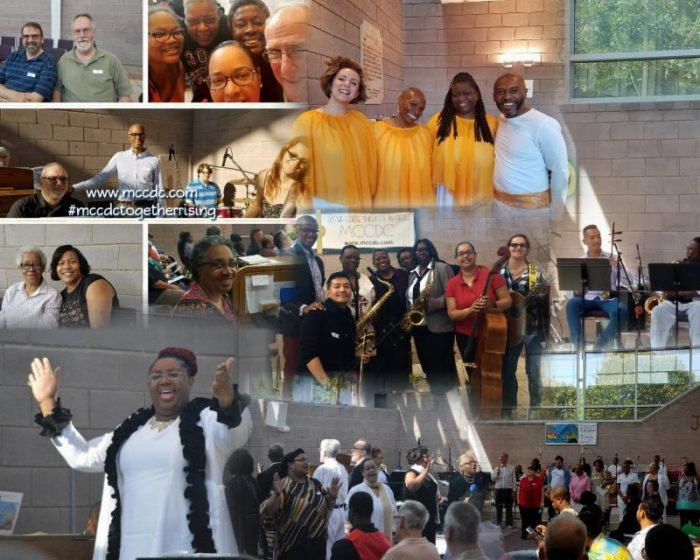 Ministry
Meeting Time
Contact
E-mail
9 AM Choir

Sunday

8:15 AM

Daniel Scearce
danscearce@aol.com
11 AM Choir

Thursdays

7:00 PM

Diedre Mouton Gray
msdeedeemusic@gmail.com
Dance
Every other Tuesday
5:00 – 6:45 PM
Cathy Batson
cathybatson1@verizon.net
Drama
Mondays
6:30 PM
Jules Christian
enjoyingtoday@hotmail.com
Eclectic Praise
Sundays
12:30 PM
Johanna Hardy
brassrat93@gmail.com