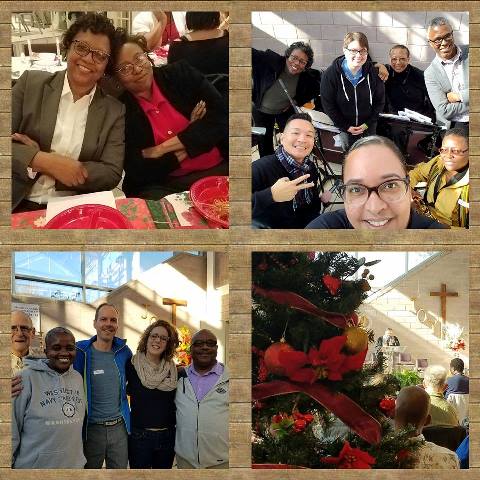 "Lots of people want to ride with you in the limo, but what you want is someone who will take the bus with you when the limo breaks down." ~Oprah Winfrey
This Sunday at MCCDC will be a celebration of friends. The music, message, and prayers will weave together expressions of friendship. All in attendance will receive a gift to take home as a memento of this day of celebration. Invite your friends to join you for joy and inspiration.
Friendship is woven throughout the Bible, from Ruth and Naomi in the Hebrew Scriptures to the New Testament's description of the warm friendship Jesus shared with Mary, Martha and Lazarus. In the scripture this Sunday from John 15:15 Jesus says, "I no longer speak of you as subordinates, because a subordinate doesn't know a superior's business. Instead, I call you friends."
MCCDC is the place to be—the place to be in friendship with God and each other. Our hearts are designed for sharing and connection, yet often the call of our hearts gets lost in the demands that pull in so many directions. Even social gatherings can be more about networking and competition than true connection.
Does friendship with God deepen our friendship with others? Or, is friendship with others an open door to a fuller life with God? These are some of the questions I'm pondering heading towards Sunday. In preparation for Sunday, I invite you to read Romans 12:9-18 and John 15:12-17 and to think about the dimensions of friendship in your life.
See you Sunday with your friends!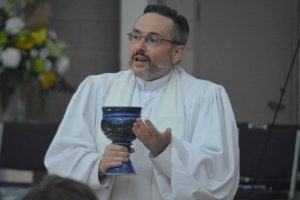 By Faith, Rev. Elder Dwayne Johnson

"UP COMING EVENTS"
Celebrating Friendship Sunday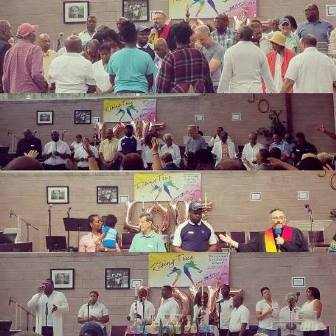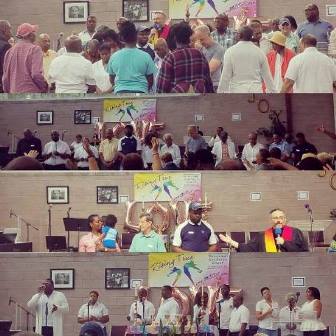 This July we are celebrating friendship. On Sunday July 29th we will have a friendship blessing during the 9 am and 11 am services. Please invite friends and family to come to church with you to have your friendship blessed. If you have questions, please contact Rev Dwayne at revdwayne@mccdc.com

Life in the Middle….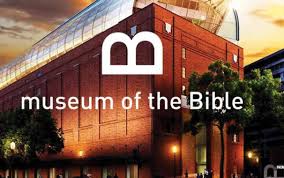 The Middle Adults will be going to the
Museum of the Bible next Sunday, July 29th at 2:30.
We have a few tickets left; please contact Jules if you would like to go!

1st Sunday Singers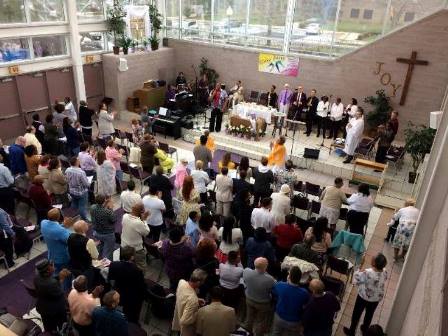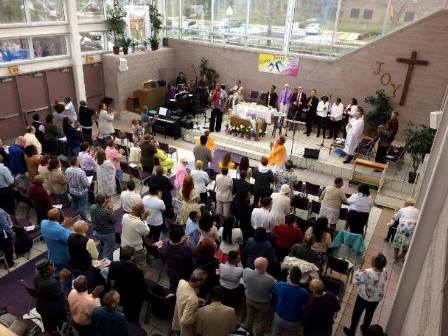 We want to extend a special invitation to the 1st Sunday Singers as well as all members of the congregation to join us on Wednesday 7/25, 8/1 and 8/8 at 7 pm. Help us to make a joyful noise to the Lord

August 12th is MCCDC and UFCDC Partnership Sunday and Combined Church Potluck/Cookout sponsored by the MCCDC Older Adult Ministry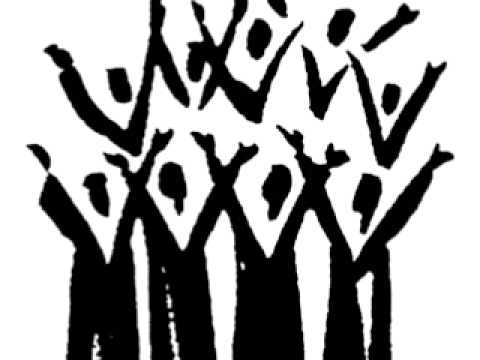 MCCDC and Unity Fellowship Church, DC will celebrate our 3rd Anniversary by having a joint worship service and cookout/potluck.
Worship will begin at noon (NOTE WORSHIP TIME). The cookout/potluck will follow the service at 1:30 PM. For more information contact Robin Anderson at 252robin@gmail.com or contact the church office at churchoffice@mccdc.com or 202-638-7373

7th ANNUAL BACKPACK 4 KIDS DEADLINE: Sunday, August 5th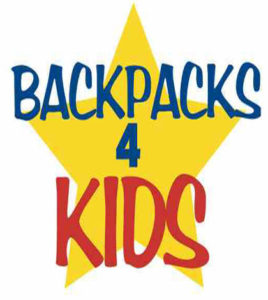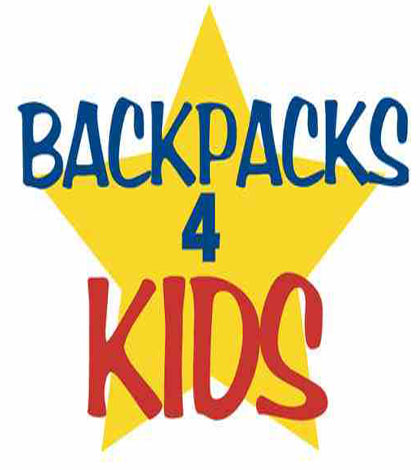 Dear MCCDC Friends,
This is the final week to support our Backpacks4Kids fundraiser! As in years past, MCCDC is partnering with the community outreach program at NBC4 Washington, collecting backpacks, supplies or financial donations to support kids going back to school.
It only takes $20 to equip one student with a backpack and supplies for the school year. Our goal is to provide 300 kids with backpacks for the coming year and so far, we have collected donations for 90 kids! That is great, but we still have room for more.
Here's how you can help:
• Donate a new backpack stuffed with school supplies or
• Donate securely online at www.mccdc.com/donate (select the "Donate" tab near the top, and choose "Backpacks4Kids" in the dropdown menu).
• DEADLINE: Sunday, August 5th
If you prefer donating a backpack or supplies, you can drop them off this week or on Sunday in the big blue tubs in the Welcome Hall. The school supplies needed per backpack include:
• New backpack
• Two packs of loose leaf notebook paper
• Two dozen #2 pencils
• Two packages of cap erasers
• Three spiral composition books
• One yellow highlighter
• Eight plain folders with pockets and brads or loose leaf binder with dividers
• One package of 24 crayons and/or one package of colored pencils
• Small pencil or supply box or zippered supply pouch
• Two composition books
• Paper glue
• Box of Tissue
• 2 packs of copy – white paper
• 12-inch ruler
• Calculator
Every person deserves a solid education, so let us make sure that our kids have the basic tools to succeed. More importantly, let us show our kids that we have their back and that there is a community that loves them. One of the easiest and most practical ways to do that is by supporting our Backpacks4Kids fundraiser. Thank you for your support and if you need more information, please Lilah Blackstone at churchoffice@mccdc.com.

Middle Adults VS. Young Adults Game Night Challenge!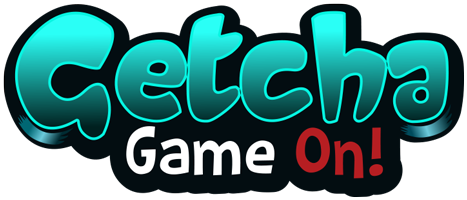 It's a blast to the past with Charades, Pictionary and Trivia!
Saturday, August 4th @ 6:00 PM!
Right here at MCCDC!
Come and have a blast, show off your skills and meet some new people!
Bring a finger food or snack to share with the group.
All ages are welcome. Drinks will be provided.
For questions, please contact
Chocolatte @202-465-0873/chocolatte.miller@outlook.com
Jules @ 336-419-7579/enjoyingtoday@hotmail.com

"CHURCH NEWS"
The Soundboard Ministry Needs YOU!!!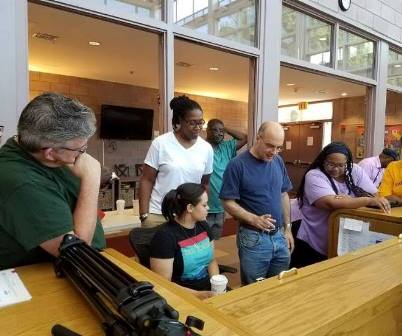 Soundboard volunteers are needed for 9am and 11am services. No experience needed. You will be trained on a state of the art soundboard, setting mics up for service and learning the technical side of handling the sound board. We would like to have you train at the 9am service and continue training at the 11am service but if your prefer to train only at one service you can.
Please contact me Michael Cunningham at mjcunningham2013@gmail.com or stop by to talk with any soundboard volunteer.

The Hospitality Ministry Needs Your Help!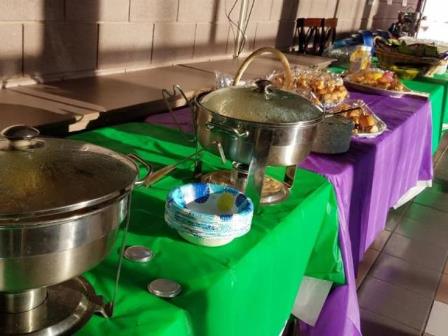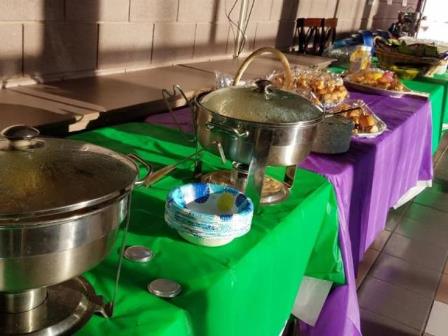 If you have hospitality items that you would be willing to bring in and support Sunday hospitality, please contact Sonia Grant in the church office at
churchoffice@mccdc.com or 202-638-7373.. Items for consideration are:
Coffee
Paper Coffee Cups (No Styrofoam)
Paper towels
Cookies
Fruit
Cakes
Yogurt
Sugar
Coffee Creamer
Granola Bars
Veggie Trays
Kool Aide
Fruit Juice
Paper Plates ( 8 inch and 4 inch, No Styrofoam)
Paper Bowls
Forks
Spoon
Bottle Water

JOIN TEAM MCCDC in the Susan G. Komen Race for the Cure! September 8, 2018
Be a part of Team MCCDC's 3rd Annual Participation in the Race for the Cure!
Join us in walking, running, or sleepwalking to raise funds and awareness in support of those fighting breast cancer and working towards a CURE!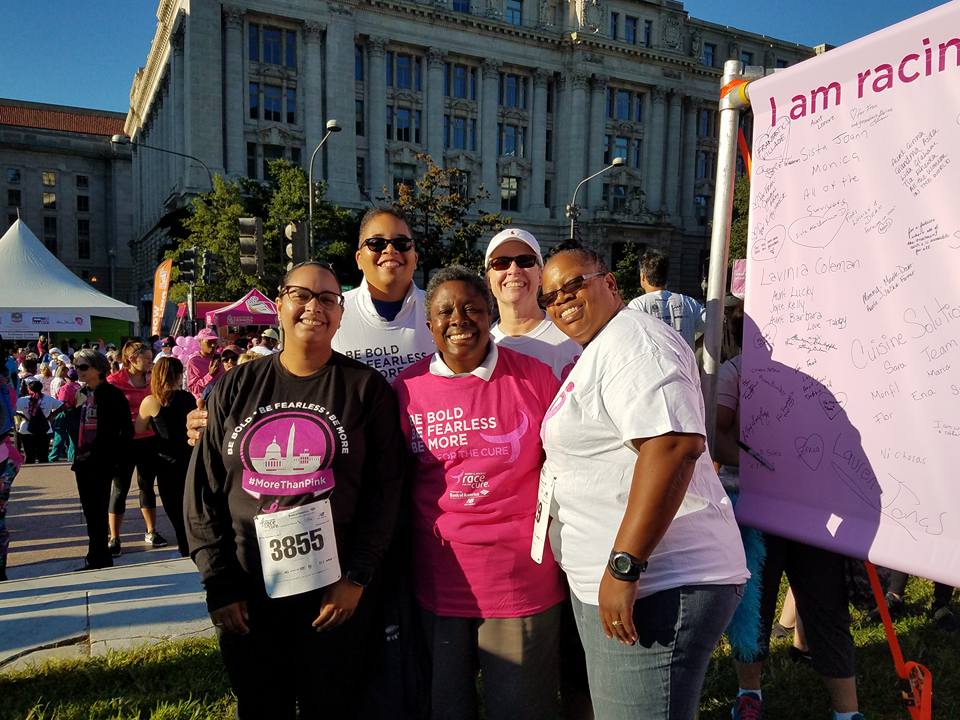 Join Team MCCDC today!
To sign up for the team, visit: and look for MCCDC. For more info and to let us know you're joining us, contact Rev. Cathy at revcathy@mccdc.com

Atlantic City Resort Hotel and Casino Bus Trip, 22 Sept 2018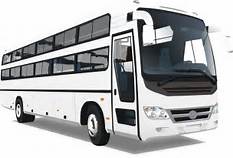 This event is sponsored by the Older Adults Ministry, but anyone is warmly invited to join!
Departs MCCDC promptly at 7AM and returns at 11PM.
The cost is $50 and must be paid in advance. The deadline for sign up is Sept 1st. For more information please contact Ace Barbari at 703-303-2934.

Toby's Dinner Theatre, 5900 Symphony Woods Road, Columbia, MD 21044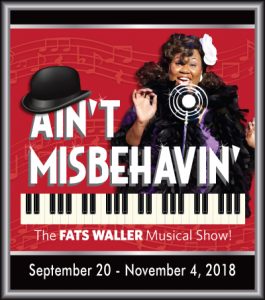 Ain't Misbehavin'
October 20, 2018, 6 PM Tickets $64.00, meet at Toby's, Money Due NLT Aug. 26, 2018, Contact Dale Madyun-Baskerville :baskerd6109@gmail.com or 202 638-7373 for more information.
'This joint will be jumpin' with Ain't Misbehavin', one of the most popular, well-crafted revues of all time and a Tony Award winner for Best Musical. The inimitable Thomas "Fats" Waller rose to international fame during the Golden Age of the Cotton Club with his infectious swing music. Ain't Misbehavin' evokes the delightful humor and powerful energy of this 'American original' with music made famous from uptown clubs to Tin Pan Alley to Hollywood!
Click below to see Buffet Menu that is Include

For questions or more information please contact Dale Madyun-Baskerville at churchoffice@mccdc.com or 202-638-7373.

Update on MCCDC's Strategic Plan

The MCC Statement of Faith affirms that "Metropolitan Community Churches is one chapter in the story of the Church, the Body of Christ… We are people on a journey… We are part of an ongoing conversation on matters of belief and faith, shaped by scripture and the historic creeds, building on those who have come before us. Our chapter begins when God says to us: 'Come, taste, and see.'"
Through his parables, Jesus teaches that we are stewards of our life and talents. In this time and place, each of us receives different gifts of the Spirit to be used for the greater good. In 1 Corinthians 12: 4-7, St. Paul reminds us:
"Now there are varieties of gifts, but the same Spirit; and there are varieties of services, but the same Lord; and there are varieties of activities, but it is the same God who activates all of them in everyone. To each is given the manifestation of the Spirit for the common good."
Today, MCCDC must be about discovering our renewed aspirations – engaging our community in "our songs of imagining" who we can become, why we exist as a church, and what difference we can make in our challenging and often disheartening world.
We believe that the Holy Spirit will inspire many different voices to help MCCDC build upon our strengths. As we work to complete the MCCDC Strategic Plan over these next weeks, we ask for your prayerful discernment of how you personally can be part of shaping our way forward as a church.

MCC General Conference Registration is open. REGISTER NOW by clicking onthe link below.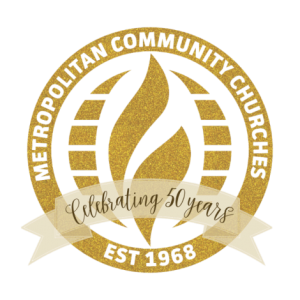 Please click here to check out this amazing conference and celebration.

Join Us on YouTube and subscribe to the MCCDC YouTube Channel!
Stay current on our video postings .
Click here to see more MCCDC Videos
Inspiration Videos, Metropolitan Community Church of Washington DC

MCCDC Bible Study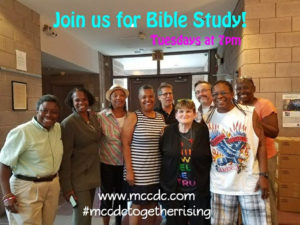 A time of community, fun, learning, and sharing!
Tuesdays, from 7:00 – 8:00 PM in the Welcome Hall
For more information please contact Dale Madyun-Baskerville at the churchoffice@mccdc.com or call (202) 638-737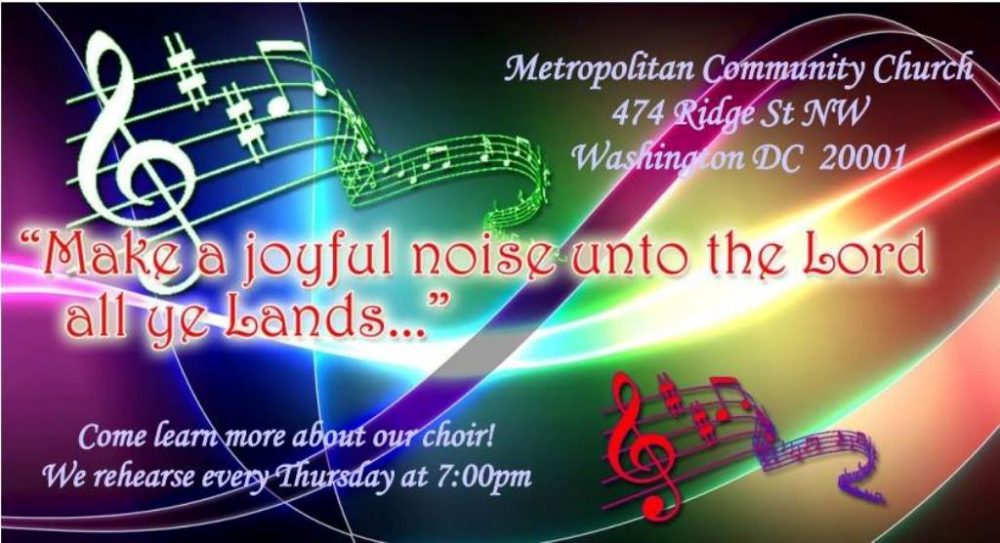 "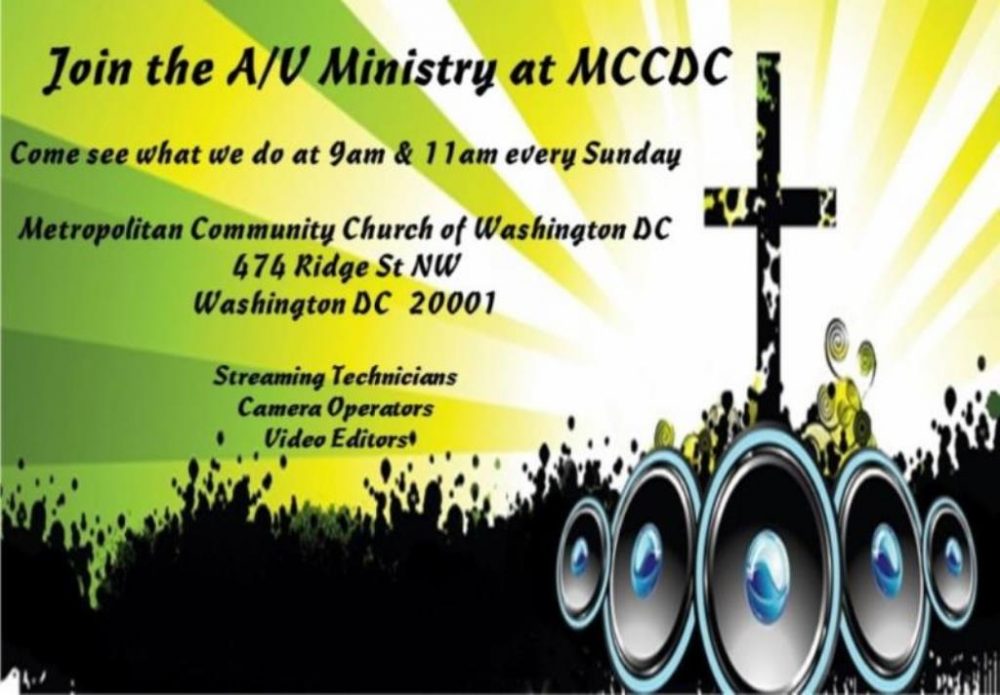 Prayers for Healing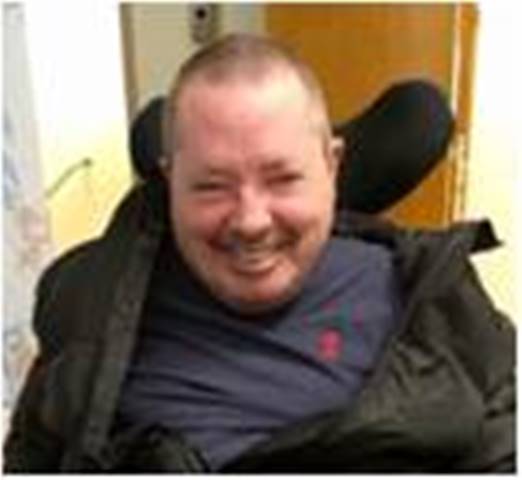 Keith Richardson is in a nursing home near the church. Please continue to hold him in your prayers

Join our Worship and Arts Ministry!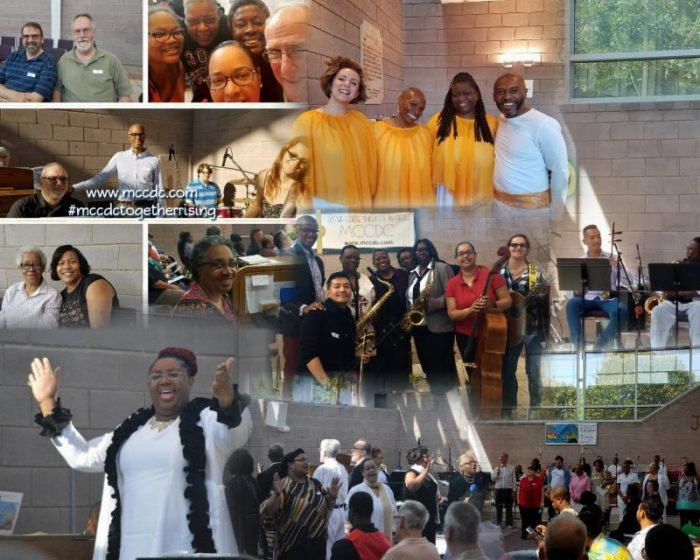 Ministry
Meeting Time
Contact
E-mail
9 AM Choir

Sunday

8:15 AM

Daniel Scearce
danscearce@aol.com
11 AM Choir

Thursdays

7:00 PM

Diedre Mouton Gray
msdeedeemusic@gmail.com
Drama
Mondays
6:30 PM
Jules Christian
enjoyingtoday@hotmail.com
Eclectic Praise
Sundays
12:30 PM
Johanna Hardy
brassrat93@gmail.com