". . .lasting transformation takes practice."
~Jean Fain
There is no way to microwave spiritual transformation. Though dinner is served with the push of a button, the feasts of the Spirit cannot be rushed. A life of spiritual growth takes practice. In Philippians 4:9 Paul teaches, "Practice these things: whatever you learned, received, heard or saw in us. The God of peace will be with you." Yes, transformation takes practice.
The message for this Sunday is drawn from Philippians 4:1-9. At the heart of Paul's teaching in this text is the call to consistently rejoice: "Rejoice in the Lord always. Again, I say, rejoice!" (v. 4). In other words, practice joy by keeping it at the center. Center our relationships in joy. Center our thoughts in joy. Center our worship in joy. When discouragement hits, don't dwell there. Give it a nod, notice it, then center and re-center on joy.
Social and mass media, coming at us from so many directions, can be disorienting and exhausting. Even though Paul lived centuries before us, his advice is timely: "From now on, siblings, if anything is excellent and if anything is admirable, focus your thoughts on these things: all that is true, all that is holy, all that is just, all that is pure, all that is lovely, and all that is worthy of praise."
This Sunday at 9 AM and 11 AM we will center our worship on joy. In centering joy, the outflow of our lives will be ongoing transformation. See you Sunday!
Rev Elder Dwayne Johnson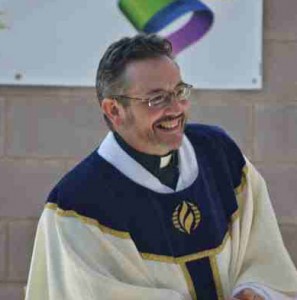 "UP COMING EVENTS"
MCCDC SUPPORTS OUR SIBLING CONGREGATION, RESURRECTION MCC HOUSTON, TEXAS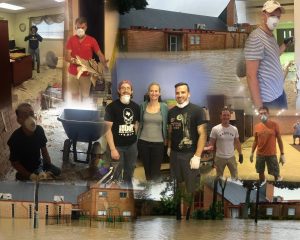 The Sanctuary of Resurrection
MCC was devastated by the flood waters of Hurricane Harvey and has been unable to worship in the Sanctuary since the storm. They are currently worshipping in a smaller, multi-purpose on their property.
Despite the storm, they have continued to serve the community with ministry, food, supplies, and spiritual support.
Through continuing recovery efforts, Resurrection MCC remains a source of hope.
How you can help Resurrection MCC recover from Hurricane Harvey?
THE MCCDC BOARD OF DIRECTORS HAS APPROVED A SPECIAL OFFERING THE SERVICES OF OCTOBER 15
You may also give at the drop down menu at the kiosk in the Welcome Hall. Or Click Here to Donate to on MCCDC Website

MCCDC's Congregational Form and Meeting , after 11 AM service on November 5th.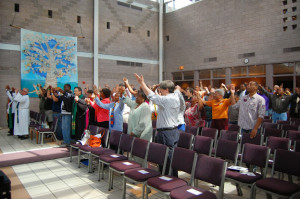 MCCDC's Congregational Forum will be held after the 11AM service on November 5th. The Congregational Meeting will be held after the 11AM service on November 19th. If you have questions, please email Board@mccdc.com.

MCCDC Leadership Opportunities!!!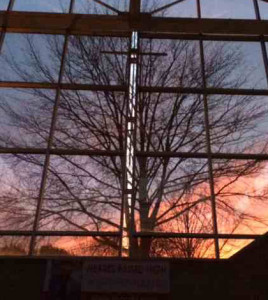 Do you have the spiritual gifts of leadership, discernment, and compassion? Do you look for new ways to serve your church? Then the Board of Directors might be the right place for you! We are looking for motivated and qualified candidates to run for the Board of Directors. Three positions will be open due to term expirations and vacancies in 2017. What we are especially looking for people with experience in strategic planning, financial management/fundraising, policy development, program oversight, or legal matters.
If you feel called and have been an MCCDC member in good standing for the past six months, you are eligible to run. Please submit a brief bio and a letter of interest to the Board at board@mccdc.com by Sunday, October 22nd.

Hand Dancing Class is coming to MCCDC
Come out and have fun learning Hand Dancing! Classes will be held at MCCDC on Saturday Oct 7, 14, and 21 at 12 PM. The cost is $5 per class. For more information contact Robin Anderson at 252robin@gmail.com.

MCCDC Intercessory Prayer Team (IPT)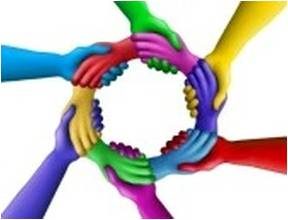 Are you a Prayer Warrior? Do you desire to connect and support others through prayer practices? Do you want to make a difference in our church, city, nation and world? MCCDC is forming a new Intercessory Prayer Team (IPT). Here, IPT will come together to have a Spirit-led time of prayer. There will be an informational session on Sunday, October 15th, after both the 9:00 a.m. and 11:00 a.m. worship services. We will discuss the nature of the ministry, coordinate possible days and times to meet, and address questions surrounding IPT. For more information, please contact Rev. Jules Christian at enjoyingtoday@hotmail.com or (336) 419-7579.

CHURCH NEWS
MCCDC MEMBERSHIP CLASS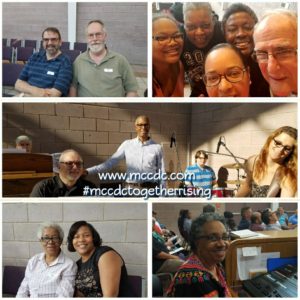 If you have questions about MCCDC and what membership is about, class will be held on October 22nd from 12:30 to 2:30 in the lower level conference room. All are welcome to attend. A light lunch will be served. PLEASE register so that we may have enough food and materials. Contact Rev Cathy at revcathy@mccdc.com or 202-638-7373.

Join MCCDC HIV Aids Team, 28 Oct @ 9 AM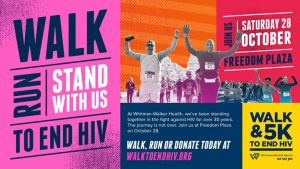 Help us reach our goal of raising $3,000!
Register for the event and join the MCCDC team by clicking here.
Walker: $25
Runner: $35
Sleepwalker: $40
Student/Senior Walker: $15
The walk will start at Freedom Plaza. We will meet at 9 AM at the Federal Triangle metro station.
If you would like to be matched with a sponsor for the registration fee, please contact us!
Questions? Need help registering?
silviamiddleton@gmail.com
(803) 760-0858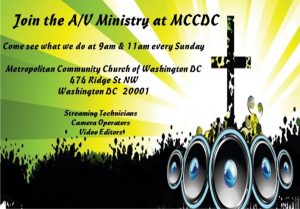 MCCDC Halloween Potluck Party Oct 28th, 6 PM to 9 PM
Hosted by The Older Adult Ministry & Young Adult Ministry
A night of fun dancing, prizes, and dance contest.
Pizza will be provided.
Please Bring/ Donate the following items when you arrive at the door:
Drinks: Water, Soda, Juice
Salads: Marconi, Potato, Bean Salad
Deserts: Cookies and Cupcakes
Ice
Help in all areas needed: Setup, Servers, clean up.
Contact: Dale L. Maydun-Baskerville @ email baskerd6109@gmail.com or Juan Garcia @ enmail juan31789@gmail.com

Eastern Network Gathering,October 21st, 8:30 am – 4:00 pm
Eastern Network Gathering to be held at MCC of Northern VA in Fairfax. MCC interim moderator Rev. Elder Rachelle Brown will be present conducting her denominational "listening tour". All are welcome. Please contact Rev Cathy for additional information.

Lay Delegate Corner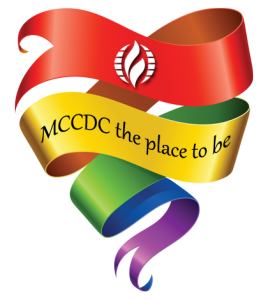 Greetings MCCDC,
On behalf of all your Lay Delegates, I would like to inform you of some changes to the structure of the MCC denomination offices. In the following letter from Rev. Elder Rachelle Brown you will see that we have a new office, some structural changes, and some new and old names on staff. As a denomination we are working hard to make changes that will help us to touch more lives and spread God's love for all. As you read the letter and move forward with your days ahead, I would like to ask that you keep the MCC staff in your prayers as they all continue the hard work they do for the denomination.
Peace & Blessings, Chocolatté Miller
Please click here to view the first letter.
Please Click Here to read Letter Two

MCCDC Drama Ministry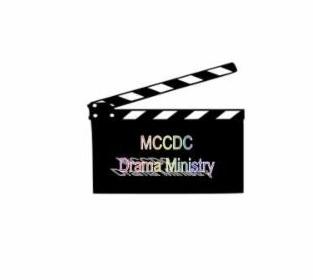 As the MCCDC Drama Ministry Team, we nurture and utilize our talents to bring glory to God. We enhance and empower our spiritual community through innovative means of drama, story-telling, music, dance and mime. We contribute our creativity for the out reach and growth of the church. You can contact Jules at enjoyingtoday@hotmail. com or call 336-419-7579
Our first practice will be on Monday, July 31st @ 6:30 PM!

Theological Study to Liberia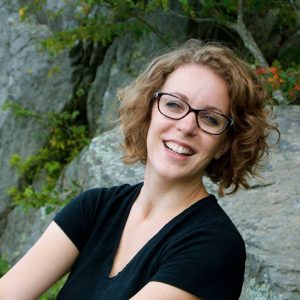 Help Lauren's Angels travel to Libera by donating to her travel:
Join Lauren's Angels:
Our Intern, Lauren Bennett is going to Liberia as a part of her MDiv at Wesley Theological Seminary. This immersion trip will be led by Rev. Dr. Asa Lee. Founded in 1820 by American emancipated slaves, students will learn about Liberia's deep and intertwined history with the US and the American Protestant church; from support in the 19th Century from benevolent Christian missionary societies to contemporary support in the face of Civil War, poverty, and Ebola. The pivotal role of the church in areas of economic development, healthcare and education will be of central interest on this immersion and Liberia's resilience and perseverance will be instructive and formative to participants in this immersion. When Lauren returns she will host an event to share of her time abroad.
You can help her raise the $3,600 needed for the trip by becoming one of her angels. Angels will receive special updates and readings before and during her immersion. Anyone can become an angel at any level $1 to $1,000!
Thank you for your support through prayer and finances!

Join our Worship and Arts Ministry!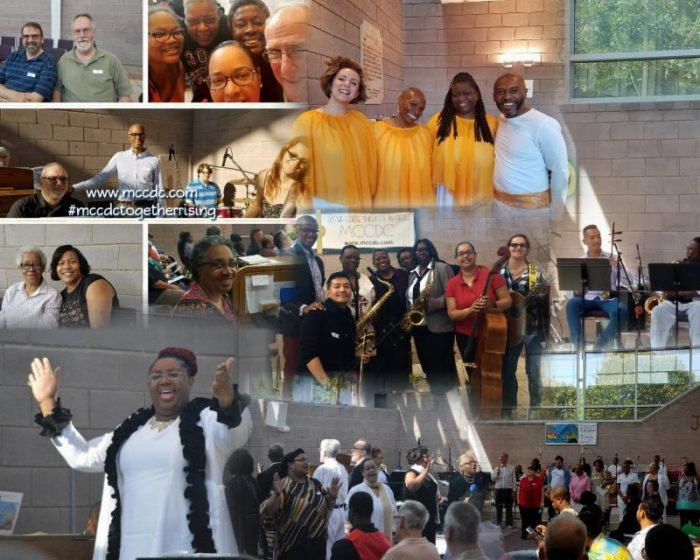 Ministry
Meeting Time
Contact
E-mail
Choir

Thursdays

7:00 PM

Diedre Mouton Gray

msdeedeemusic@gmail.com
Dance
Every other Tuesday
5:00 – 6:45 PM
Cathy Batson
cathybatson1@verizon.net
Drama
Mondays
6:30 PM
Jules Christian
enjoyingtoday@hotmail.com
Eclectic Praise
Sundays
12:30 PM
Johanna Hardy
brassrat93@gmail.com

Strategic Planning Team Meeting, October 14th, 09:00 AM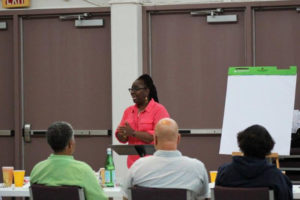 Recently MCCDC redeveloped our mission and aspirations statement. We are now poised to continue that work to map out the specific path to achieve what God has for us next as a congregation. If you are interested in contributing to this team, please contact Rev. Dwayne at revdwayne@mccdc.com or Rev. Cathy at revcathy@mccdc.com or 202-638-7373.

TUESDAY BIBLE STUDY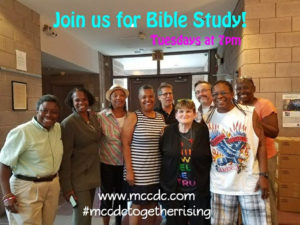 Please join the Tuesday Night Bible Study from 7-8 PM in the Welcome Hall. A time of community, fun learning and sharing. For more information please contact Dale Madyun-Baskerville at churchoffice@mccdc.com or 202-638-7373.

MCCDC LIVE STREAMING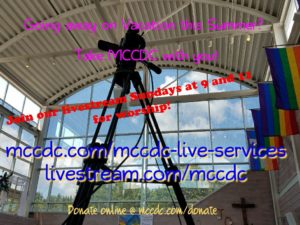 MCCDC is live! We have an opportunity to use of our AV system to reach outside our walls to many people who may not be able to join us in person. To make this happen we must have a subscription service that will provide us the ability to stream our services, concerts and special events, and expand opportunities for participation in our bible studies and other activities remotely. The testing done so far with streaming has generated a lot of excitement, particularly by those who have been unable to visit our church.
You can be a part of making this happen in a number of ways: (1) pray for our reach beyond the walls of our church (2) join others in donating to cover the one-time annual cost of the service and associated AV training for our volunteers; and (3) consider joining the AV ministry.
You can contact the church office with questions at 202-638-7373 or churchoffice@mccdc.com.

MCCDC Alcohol Use Policy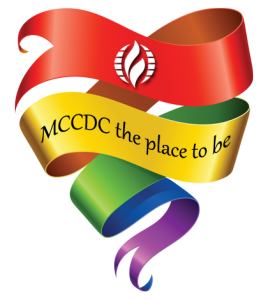 The Board is considering a motion to allow space use renters to have alcohol on the premises of MCCDC. The policy is being discussed because the church has lost building rental income for weddings, concerts, etc, because we do not allow alcohol to be served in the building. One possible option discussed was for the policy to allow use of alcohol (beer and wine) at events when the space is rented, but not be allowed at church/MCCDC-sponsored events or activities.
Elements of the policy include:
The only alcohol that may be served is beer and wine, no distilled spirits or liquor.
Alcohol may only be served with food and done so in accordance with all applicable District of Columbia laws.
Renters must show proof that a temporary DC Liquor license has been obtained.
Renters will also be responsible for security and a security deposit.
We want to hear from you. Please send your comments or questions to Board@mccdc.com by October 7th.

ELECTRONIC GIVING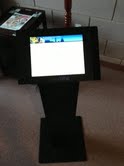 With EasyTithe, supporting the church is as simple as clicking a mouse or whipping out your smart phone.
Our new online system allows you to make a financial donation to the church with your credit card or direct debit from your banking account.
You'll be asked to set up your MCCDC EasyTithe Account. You can set it up to make a one-time/anytime donation or make a recurring donation.
You also can give by text 202-999-3841. Please contact the church office with questions at 202-638-7373 or churchoffice@mccdc.com.