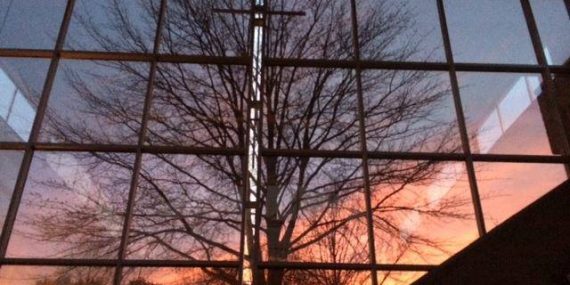 We will address the physical and financial needs associated with MCCDC's mission and presence in the community.
~MCCDC Aspirations, 2018-2022
As we continue our spotlight on our aspirations, we turn our attention to our generous home. MCCDC, the building and a parking lot at the corner of 5th and Ridge, is much more than a physical structure. MCCDC is you. Our church community that exists today is the result of the hope and hard work of those in our church's history who had God inspired dreams and aspirations of their own. Many can still remember stories of the colorful rainbow cornerstones of leaders and members in the history of this giving church.
It is not uncommon for someone to call or come to the door requesting assistance because they "heard from someone" that we are a church that can help. And while that has been less so in recent times, we still strive to fulfill our call as a generous community.
Our scripture for Sunday is Psalm 127: 1-2 (Click Here To Read) and Mark 9:20-27 (Click Here to Read). They remind us that unless the Lord builds the house, the work is futile. In the Mark passage, a parent comes to Jesus on behalf of their child who is being battered and bruised and bullied by forces outside of the child's control. Many of us face such forces on a regular basis and we can cry out to God for help, just as this parent did, "I believe Lord, help my unbelief." We can also turn to our beloved community of faith for strength, for love, for compassion, for understanding and for "home."
We acknowledge and thank those who have gone before us and we have the opportunity to take up the baton of faith and the banner of courage as we move forward in building our very generous home here at MCCDC and beyond these walls. It is you, the people of the MCCDC community, and not the building, that makes MCCDC what we are, and what we can be when our aspirations come into being.
As the late great singer Luther Vandross reminds us in his song A House Is Not a Home:
A room is a still a room, even when there's nothin' there but gloom
But a room is not a house and a house is not a home
When the two of us are far apart
And one of us has a broken heart
Now and then I call your name
And suddenly your face appears
But it's just a crazy game
When it ends, it ends in tears
Pretty little darling, have a heart, don't let one mistake keep us apart
I'm not meant to live alone, turn this house into a home
When I climb the stairs and turn the key
Oh, please be there, sayin' that you're still in love with me, yeah

(Click to listen to the song)
We're looking forward to worshiping with you on Sunday at 9 and 11 in person or by live stream.
Peace,
Rev. Cathy

"Aspiration"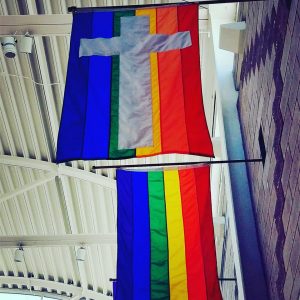 We will address the physical and financial needs associated with MCCDC's mission and presence in the community; and work with our Board of Directors and Trustees to use our resources efficiently and effectively.
We will work with our Stewardship/Generosity Team to encourage the spiritual practice of sharing our time, talents, and treasure; and enhance our technology infrastructure and capabilities to share our faith with as many people as possible.
We will act to:
A. Develop a Capital Equipment and Property Replacement Plan
B. Protect, sustain, and grow our financial reserves to support ongoing needs, including facilities maintenance and equipment replacement
C. Invest in MCCDC's technology infrastructure and A/V capabilities
The Holy Spirit will inspire many different voices to help MCCDC build upon our strengths. We ask for your prayerful discernment of how you personally will be part of shaping our way forward as a church.

"UP COMING EVENTS"
September is Suicide Awareness and Prevention Month.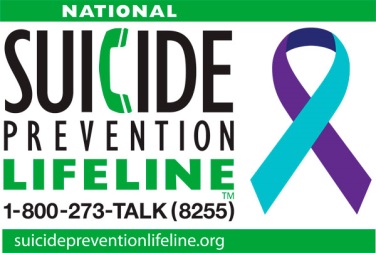 September is Suicide Awareness and Prevention Month. The drama team will be performing on Sunday, September 16th. If you have a loved one who has died by suicide and you would like their name listed and remembered, please send to Jules at enjoyingtoday@hotmail.com or 336-419-7579.

Atlantic City Resort Hotel and Casino Bus Trip, 22 Sept 2018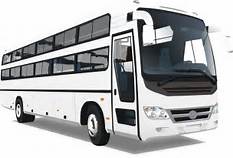 This event is sponsored by the Older Adults Ministry, but anyone is warmly invited to join!
Departs MCCDC promptly at 7 AM and returns at 11 PM.
The cost is $50 and must be paid in advance.
The deadline for sign up is Sept 16th For more information please contact Ace Barbari at 703-303-2934.

MCCDC SPIRITUAL RENEWAL,BECOMING A SPIRITUAL FORCE"
Sunday, September 23
Rev. Cedric Harmon at 9 AM and 11 AM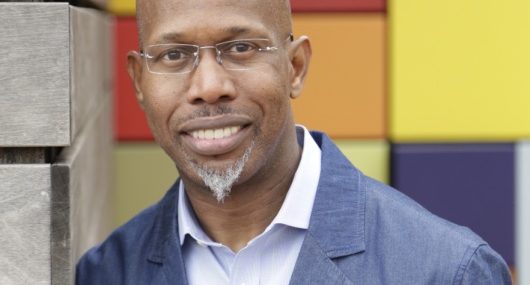 Saturday, September 29
A Service of Prayer, Power & Praise coordinated by the MCCDC Pastoral Care Ministers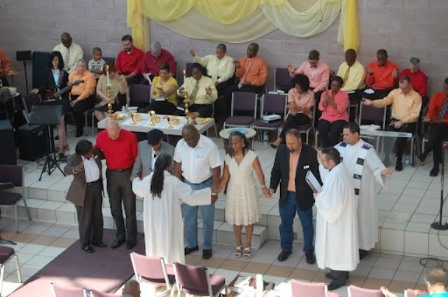 Sunday, September 30
Minister Lauren Bennett at 9 AM and 11 AM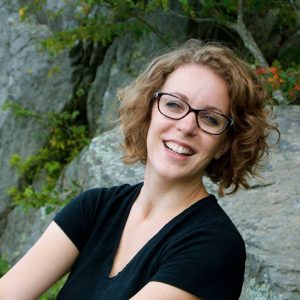 "CHURCH NEWS"
Come Join MCCDC Team Walk To End HIV, October 27, 2018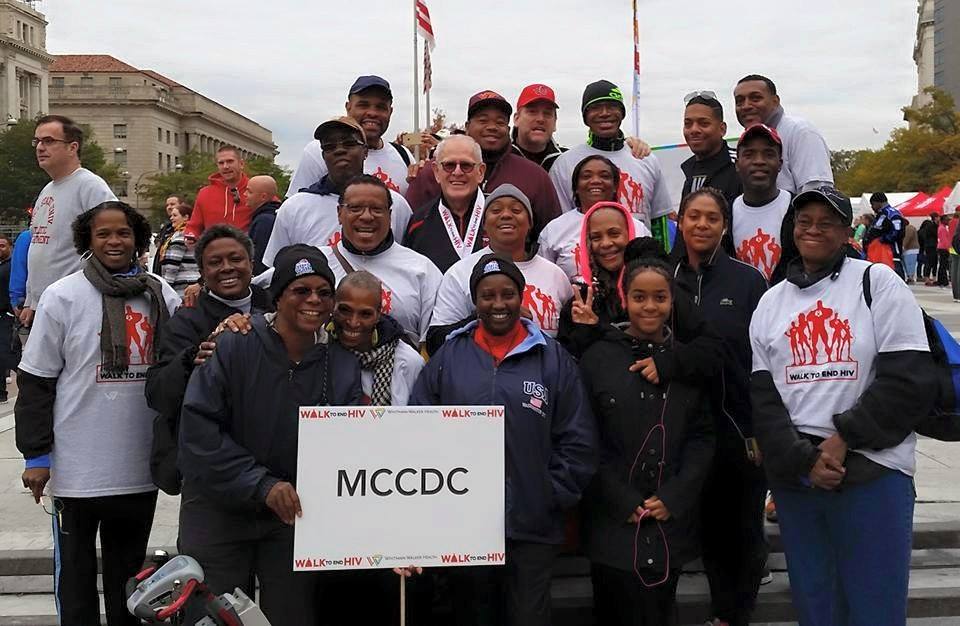 CHECK-IN BEGINS: 7:30 AM
5K BEGINS: 9:15 AM
WALK BEGINS: 9:20 AM
Registration:
General Walk Registration: $25.00
Student / Senior (60+) Walk Registration: $15.00
General Timed Run Registration: $35.00
Sleep Walker Registration: $40.00
For more information email Dale Madyun-Baskerville at baskerd6109@gmail.com or Rev Cathy Alexander at revcathy@mccdc.com or call or 202-638

Update on MCCDC's Strategic Plan
The MCC Statement of Faith affirms that "Metropolitan Community Churches is one chapter in the story of the Church, the Body of Christ… We are people on a journey… We are part of an ongoing conversation on matters of belief and faith, shaped by scripture and the historic creeds, building on those who have come before us. Our chapter begins when God says to us: 'Come, taste, and see.'"
Through his parables, Jesus teaches that we are stewards of our life and talents. In this time and place, each of us receives different gifts of the Spirit to be used for the greater good. In 1 Corinthians 12: 4-7, St. Paul reminds us:
"Now there are varieties of gifts, but the same Spirit; and there are varieties of services, but the same Lord; and there are varieties of activities, but it is the same God who activates all of them in everyone. To each is given the manifestation of the Spirit for the common good."
Today, MCCDC must be about discovering our renewed aspirations – engaging our community in "our songs of imagining" who we can become, why we exist as a church, and what difference we can make in our challenging and often disheartening world.
We believe that the Holy Spirit will inspire many different voices to help MCCDC build upon our strengths. As we work to complete the MCCDC Strategic Plan over these next weeks, we ask for your prayerful discernment of how you personally can be part of shaping our way forward as a church.

MCC General Conference Registration is open. REGISTER NOW by clicking onthe link below.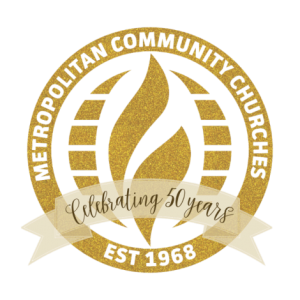 Please click here to check out this amazing conference and celebration.

Join Us on YouTube and subscribe to the MCCDC YouTube Channel!
Stay current on our video postings .
Click here to see more MCCDC Videos
Inspiration Videos, Metropolitan Community Church of Washington DC

"Ministry Spotlight"
The Soundboard Ministry Needs YOU!!!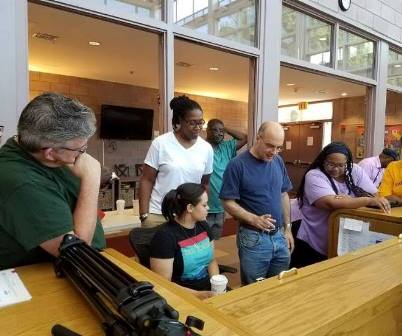 Soundboard volunteers are needed for 9am and 11am services. No experience needed. You will be trained on a state of the art soundboard, setting mics up for service and learning the technical side of handling the sound board. We would like to have you train at the 9am service and continue training at the 11am service but if your prefer to train only at one service you can.
Please contact me Michael Cunningham at mjcunningham2013@gmail.com or stop by to talk with any soundboard volunteer.

The Hospitality Ministry Needs Your Help!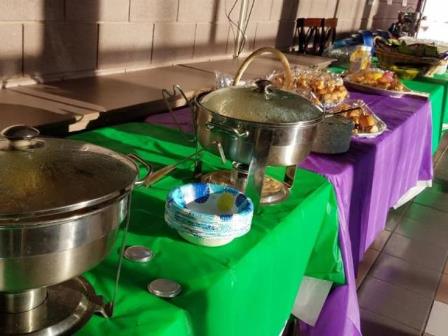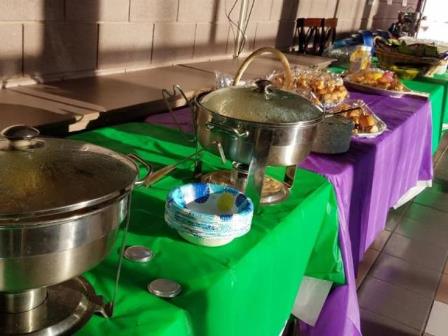 If you have hospitality items that you would be willing to bring in and support Sunday hospitality, please contact Sonia Grant in the church office at
churchoffice@mccdc.com or 202-638-7373.. Items for consideration are:
Coffee
Paper Coffee Cups (No Styrofoam)
Cookies
Fruit
Cakes
Yogurt
Sugar
Coffee Creamer
Granola Bars
Veggie Trays
Kool Aide
Fruit Juice
Bottle Water

MCCDC Bible Study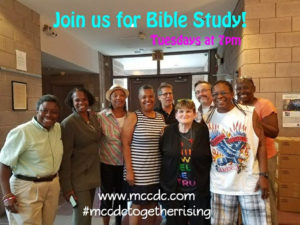 A time of community, fun, learning, and sharing!
Tuesdays, from 7:00 – 8:00 PM in the Welcome Hall
For more information please contact Dale Madyun-Baskerville at the churchoffice@mccdc.com or call (202) 638-737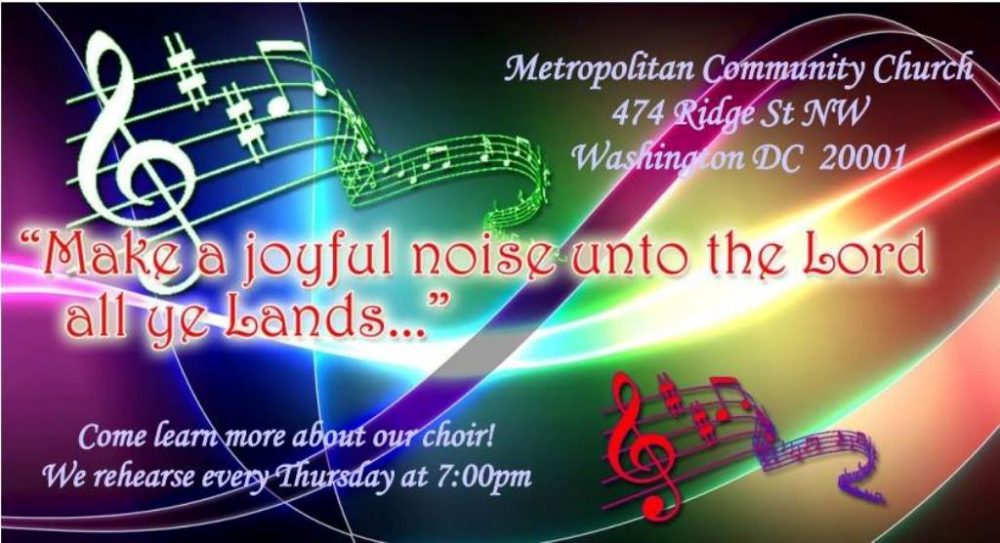 "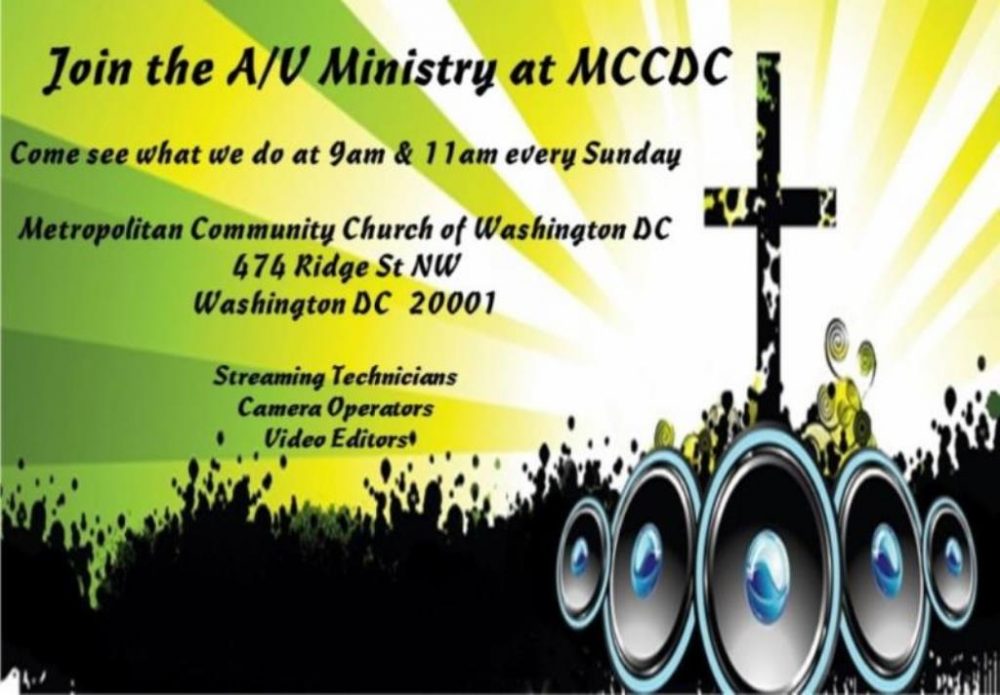 Prayers for Healing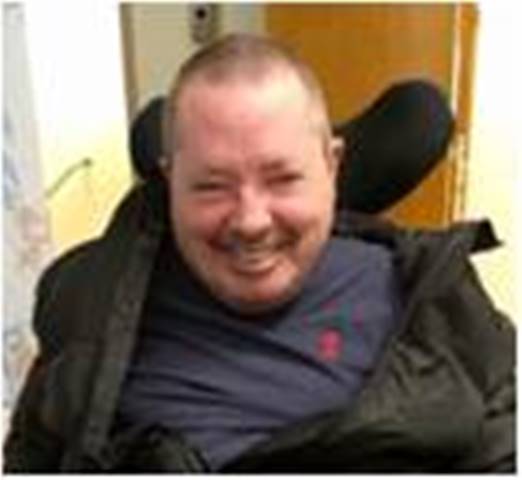 Keith Richardson is in a nursing home near the church. Please continue to hold him in your prayers

Join our Worship and Arts Ministry!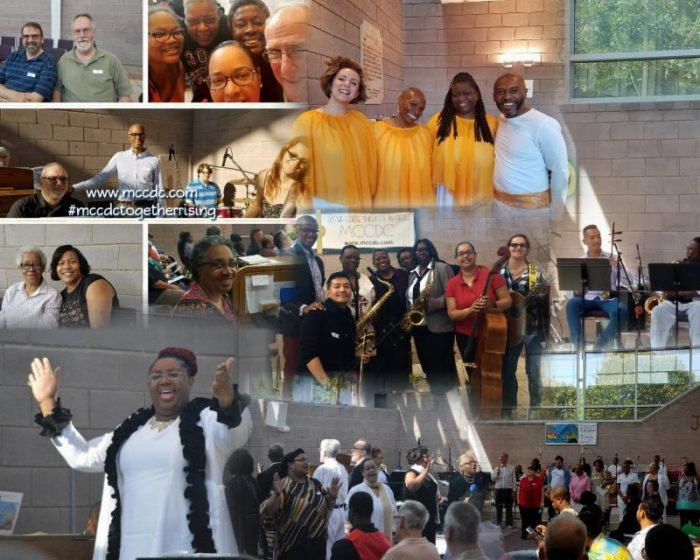 Ministry
Meeting Time
Contact
E-mail
9 AM Choir

Sunday

8:15 AM

Daniel Scearce
danscearce@aol.com
11 AM Choir

Thursdays

7:00 PM

Diedre Mouton Gray
msdeedeemusic@gmail.com
Drama
Mondays
6:30 PM
Jules Christian
enjoyingtoday@hotmail.com
Eclectic Praise
Sundays
12:30 PM
Johanna Hardy
brassrat93@gmail.com