"Our world is far from perfect. Yet God is creating a new world. God does not create alone. We are the bearers of God in the world; the responsibility for the well-being of that world rests with us. We cannot throw our hands up in despair. We must not turn our well-being over to soulless corporations, greedy financiers, self-serving politicians, or anyone who shirks the task of helping God to create a new earth in which all can thrive. God calls for the full creative involvement of every one of us in the new order God intends."
~ Nancy Mairs, adapted
Has the prophet Isaiah lost all sense of reality? In Isaiah 65:17 the prophet presents the voice of God announcing, "For I am about to create new heavens and a new earth; the former things shall not be remembered or come to mind." The statement stands in stark contrast to the reality of that time. The ancient Israelites lived in deep poverty. One indicator of that poverty was infant mortality and childhood disease. Only about 1 in 4 live births made it to adulthood. Yet the prophet says, "No more shall there be an infant that lives but a few days. (Isaiah 65: 20)
This Sunday I will look at the intersection of prophetic promise and troubling reality. Admittedly, it is difficult to see a vision of a new earth beyond devastation like we still see in Puerto Rico. Yet we must not give in to the temptation to throw up our hands and settle for a constricted future. Rather, we must open up our hands in compassion to serve and build.
Anne Lamott, in her book "Stitches: A Handbook on Meaning, Hope and Repair" writes that in the face of devastation we need to do what's in front of us and keep doing it. That may mean continuing to show up to protest unjust polices or to say no to bullying in its various manifestations. Or it could be shoveling snow for an older adult neighbor who lives on a fixed income and cannot hire help–and is not physically able to do the work.
Anne Lamott says "Every time we choose the good action or response, the decent, the valuable, it builds, incrementally, to renewal, resurrection, the place of newness, freedom, justice. The equation is: life, death, resurrection, hope."
See you Sunday at 9 AM and 11 AM as we extend the Season of Thanksgiving into our worship. I also hope to see you Saturday between 10 AM and 1 PM as we decorate our Sanctuary and Welcome Hall for Advent and Christmas (lunch will be provided!). And, bring a dish/beverage and join me for Thanksgiving Dinner Church at 6 PM this coming Sunday evening.
Faithfully, Rev Elder Dwayne Johnson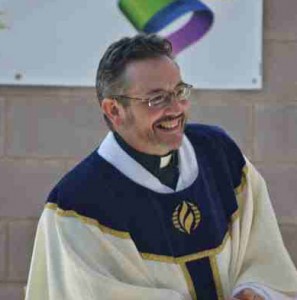 "UP COMING EVENTS"
MCCDC Worship Arts Appreciation Dinner, December 01, 7 PM

All are welcome to come join us in recognizing worship arts members for their hard work. Dinner will be provide. This is a no cost event. RSVP to Sonia Grant at (202) 638-7373, or email churchoffice@mccdc.com with number of people who will be in your party by Monday November 27th.


Come Join Us! December 02, 5 PM MCCDC Worship Arts Ministry Christmas Event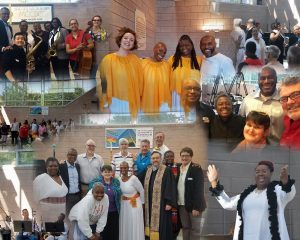 Come and let your heart be ABlaze with Christmas Praise! We look forward to seeing you! This is a free event. Contact Sonia Grant at (202) 638-7373, or email churchoffice@mccdc.com with any questions.

Join your MCCDC family in Decking the Halls.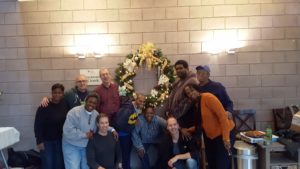 We will decorate the sanctuary and welcome hall on Saturday Nov 25th from 10 until 3. Lunch will be provided. Please plan on joining in on the fun. For more information please contact Rev Cathy at revcathy@mccdc.com or 202.638.7373.

MCCDC Thanksgiving Potluck, November 26, 2017, 6 PM

If you have questions, please contact Lauren Bennett at laurenbennett@mccchurch.net.

CHURCH NEWS
Children's Christmas Toy Drive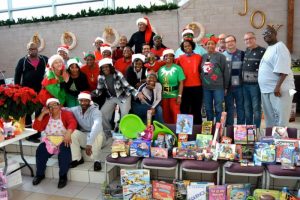 HO, HO, HO! It is that time of year and MCCDC is again serving our community by providing toys, books and clothing to children in the DC area. Drop off will be between now and December 10th. The requested ages are 4-15. There will be a sorting and wrapping party on Sunday Dec 10th at 1230. Please invite your friends and family to make a donation of joy in kind or in cash. MCCDC will deliver the toys on Monday Dec 11th. Please contact Rev Cathy with questions or if you would like to sign up to be an elf. 202-638-7373 or revcathy@mccdc.com

CONGREGATIONAL MEETING,Sunday, December 17 at 12:30 pm.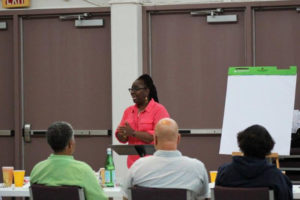 The Board of Directors is thankful for all who attended our Annual Forum on November 5 and Congregational Meeting on November 19. At the Congregational Meeting on November 19th the congregation elected Jim Garner, Linda Hornsby and Bobbi Strang to the Board of Directors. Reports were also received by vote. The congregation voted to table the proposed sale of the adjacent lot and 2018 Budget.
At the December 17th meeting the Board is proposing to the congregation to approve a short term continuation of the budget at 2017 levels through February 11, when another Congregational Meeting will be held. During this time, the Board will continue to communicate with the congregation on the proposed sale of the adjacent M Street lot and the proposed 2018 budget. Please stay posted for upcoming opportunities to share your concerns, praises, ideas and ways to involve more of our beloved community in the work and ministries of MCCDC. If you have questions, please email Board@mccdc.com

Join Us on YouTube and subscribe to the MCCDC YouTube Channel!
MCCDC: Together Rising: Who We Are — May 2017
Stay current on our video postings and help us in our goal of more than 100 subscribers to qualify for a custom MCCDC link that will help us reach more people."

MCCDC SHARE Angel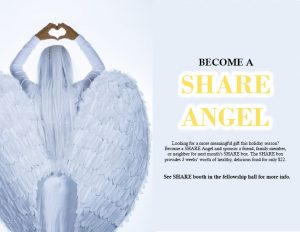 Looking for a more meaningful gift this holiday season? Become a SHARE Angel and sponsor a friend, family member, or neighbor for next month's SHARE box. The SHARE box provides 3 weeks' worth of healthy, delicious food and will be far more appreciated than another cat sweater.
See SHARE booth in the fellowship hall for more information or contact Sonia Grant at 202-638-7373 or email churchoffice@mccdc.com

Join MCCDC AV ministry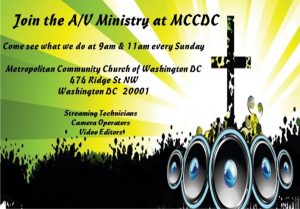 If you have questions, please contact Johanna Hardy at nerd4mit@aol.com

MCCDC Intercessory Prayer Team (IPT)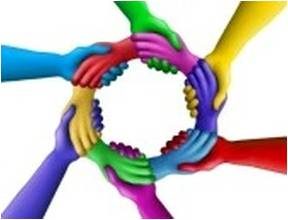 Are you a Prayer Warrior? Do you desire to connect and support others through prayer practices? Do you want to make a difference in our church, city, nation and world? Come join the Intercessory Prayer Team! The IPT will meet on the 2nd and 4th Wednesday of each month at 7:00 PM to have a Spirit-led time of prayer. We will also host a quarterly prayer event. For more information please contact Rev. Jules Christian at enjoyingtoday@hotmail.com or 336-419-7579.

Theological Study to Liberia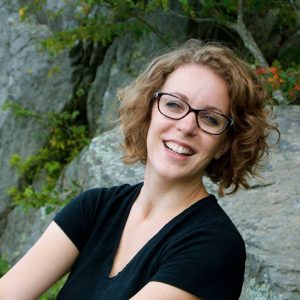 Help Lauren's Angels travel to Libera by donating to her travel:
Join Lauren's Angels:
Our Intern, Lauren Bennett is going to Liberia as a part of her MDiv at Wesley Theological Seminary. This immersion trip will be led by Rev. Dr. Asa Lee. Founded in 1820 by American emancipated slaves, students will learn about Liberia's deep and intertwined history with the US and the American Protestant church; from support in the 19th Century from benevolent Christian missionary societies to contemporary support in the face of Civil War, poverty, and Ebola. The pivotal role of the church in areas of economic development, healthcare and education will be of central interest on this immersion and Liberia's resilience and perseverance will be instructive and formative to participants in this immersion. When Lauren returns she will host an event to share of her time abroad.
You can help her raise the $3,600 needed for the trip by becoming one of her angels. Angels will receive special updates and readings before and during her immersion. Anyone can become an angel at any level $1 to $1,000!
Thank you for your support through prayer and finances!

Join our Worship and Arts Ministry!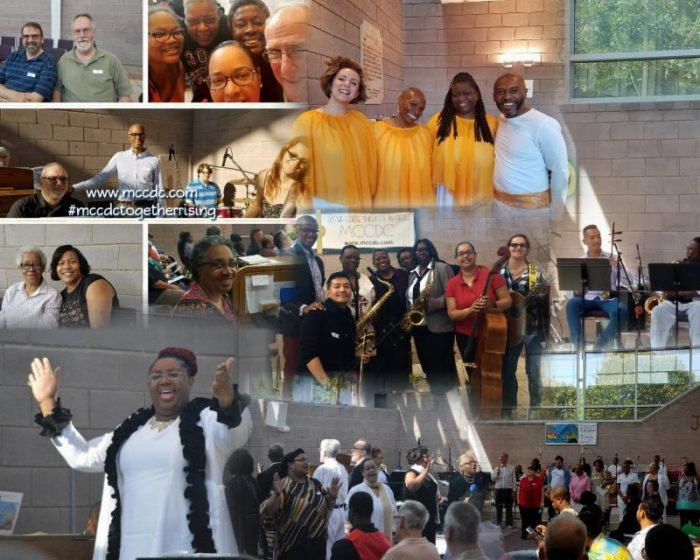 Ministry
Meeting Time
Contact
E-mail
9 AM Choir

Sunday

8:15 AM

Daniel Scearce

danscearce@aol.com
11 AM Choir

Thursdays

7:00 PM

Diedre Mouton Gray

msdeedeemusic@gmail.com
Dance
Every other Tuesday
5:00 – 6:45 PM
Cathy Batson
cathybatson1@verizon.net
Drama
Mondays
6:30 PM
Jules Christian
enjoyingtoday@hotmail.com
Eclectic Praise
Sundays
12:30 PM
Johanna Hardy
brassrat93@gmail.com

TUESDAY BIBLE STUDY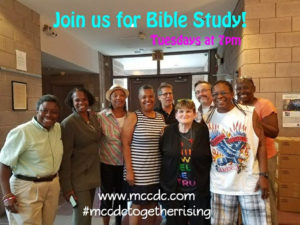 Please join the Tuesday Night Bible Study from 7-8 PM in the Welcome Hall. A time of community, fun learning and sharing. For more information please contact Dale Madyun-Baskerville at churchoffice@mccdc.com or 202-638-7373.

MCCDC LIVE STREAMING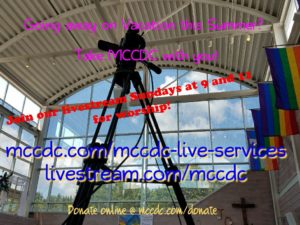 MCCDC is live! We have an opportunity to use of our AV system to reach outside our walls to many people who may not be able to join us in person. To make this happen we must have a subscription service that will provide us the ability to stream our services, concerts and special events, and expand opportunities for participation in our bible studies and other activities remotely. The testing done so far with streaming has generated a lot of excitement, particularly by those who have been unable to visit our church.
You can be a part of making this happen in a number of ways: (1) pray for our reach beyond the walls of our church (2) join others in donating to cover the one-time annual cost of the service and associated AV training for our volunteers; and (3) consider joining the AV ministry.
You can contact the church office with questions at 202-638-7373 or churchoffice@mccdc.com.

ELECTRONIC GIVING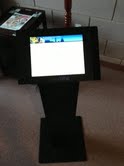 With EasyTithe, supporting the church is as simple as clicking a mouse or whipping out your smart phone.
Our new online system allows you to make a financial donation to the church with your credit card or direct debit from your banking account.
You'll be asked to set up your MCCDC EasyTithe Account. You can set it up to make a one-time/anytime donation or make a recurring donation.
You also can give by text 202-999-3841. Please contact the church office with questions at 202-638-7373 or churchoffice@mccdc.com.