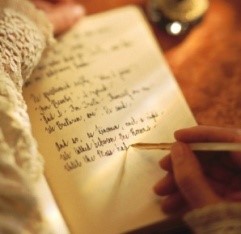 "Your word is a lamp to my feet, and a light to my path." ~Psalm 119:105
I recall a time when I was struggling for the right word. As a counselor for a summer youth camp I was given charge of over a dozen 8-10 year olds. They were a rambunctious test of patience and stamina. Several were from troubled homes and had serious behavior issues. I found myself resenting the person who had recruited me into this "ministry opportunity" and resenting myself for saying yes. The rustic cabin, thin sleeping bag, and plywood bunk did not enhance my mood or my increasing need for good rest.
About mid-way through the week, physically and spiritually exhausted, I had a brief break, and took a walk in the woods. Asking God for help, the quiet voice inside spoke: "Turn to the Psalms." What I needed came through: "I will praise my God who counsels me; even at night my heart instructs me" (Psalm 16:7). That Word turned around the week. This counselor needed counsel, and by grace the counsel came. From that point on, with that scripture as an anchor, I sought wisdom for each situation, and several lives were changed that week, including my own. Sunday, I'll share more of the story, including a story of spiritual breakthrough for one of the participants in the camp.
The right word at the right time returns one to focus, enlivens fatigued energy, and restores hope. Good words have the power to begin the rebuilding of troubled relationships. A word of wisdom untangles confusion. Certain words become a call to integrity. Clearly chosen words steady purpose.
This Sunday, our worship at 9 AM and 11 AM will offer a positive opportunity for all present: an invitation for each to receive a Word as offered by the Holy Spirit. This Word will provide personalized guidance or strength for the moment, or even for days and weeks ahead.
Wisdom calls to us: "Look, I'll pour out my spirit on you. I'll reveal my words to you" (Proverbs 1: 23). This Sunday, we'll open ourselves to the promise and power of the Word. We'll get out of our heads and move beyond analyzing the words of scripture, to a place of being present, and opening our hearts.
Together, as we open ourselves to Spirit and scripture,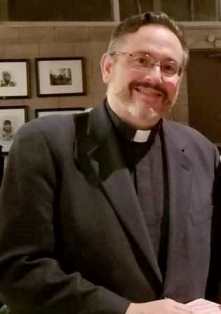 By Faith, Rev. Elder Dwayne

"UP COMING EVENTS"
UPDATE!!! Writing Workshop, March 23rd will now be held on May 4th at 10 am
The writing workshop originally scheduled for March 23rd will now be held on May 4th from 10 am to 2 pm. Rev. Robin received has chosen the theme for the workshop to be "Forgiveness."
In 12-Step programs, participants are urged to make "searching and fearless inventory" of themselves, and it is stressed that that includes not only all the stuff you have done wrong, but also all the good stuff about you, too.
For me, forgiveness is like that in a way: there are others I need to forgive and I also need to forgive myself. If you have questions, please contact Rev. Dr. Robin Gorsline at (240) 565-3441 or RevRobin@mccdc.com or RevDrRobin@comcast.net. Or call the church office at 202-638-7373.

Lenten Prayer for the Easter Season! Noon Each Day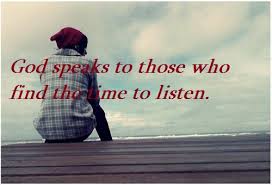 Meeting in the small conference room or call in conference Number: 1-857-232-0476, Pass-code#976702

Security Awareness Training, March 23, 10am to 12 pm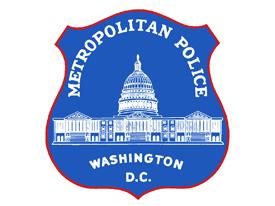 The Metropolitan Police Department will be conducting security awareness training to assist everyone in being more alert before, during, and after worship service?
This training will cover how to create a safer house of worship. Topics include:
Safety Team and Building Security
Responses to Active Violence
Crime Reporting
Emergency Preparedness
This training is OPEN to ALL!!!!
For questions or more information contact please contact Dale Madyun-Baskerville or Rev. Cathy Alexander at revcathy@mccdc.com or 202-638-737

Remembering Darius Smith, Memorial Service, 06 April 3:30 pm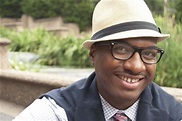 Location: MCCDC, 474 Ridge Street NW, Washington, DC

The MCCDC Drama Ministry Presents: The Maker of Zoe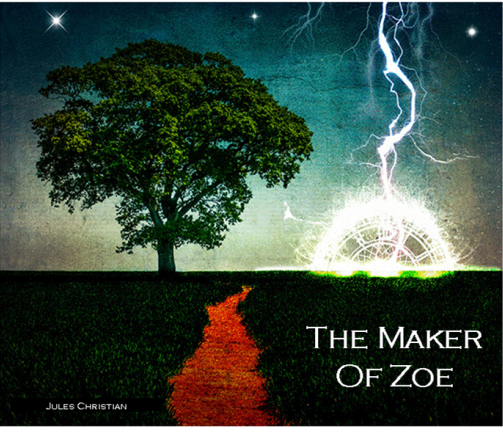 In the heart of Washington DC, Avery, an outwardly confident and whimsical toy designer, finds true meaning and purpose, after a supernatural encounter with an angelic messenger. Avery is transported to the Land of Zoe and embarks on a journey filled with mystery and wonder. This moving and suspenseful tale will delight and intrigue audiences, as it unfolds the truth of The Maker's Love for all and looks at the common misconceptions of Scripture concerning homosexuality.
You will be moved by this inspirational and entertaining performance, enjoy a delicious Italian Dinner served right to your table, and help support God's message of love for all people

"CHURCH NEWS"
I can only Image! Holy Week Schedule 2019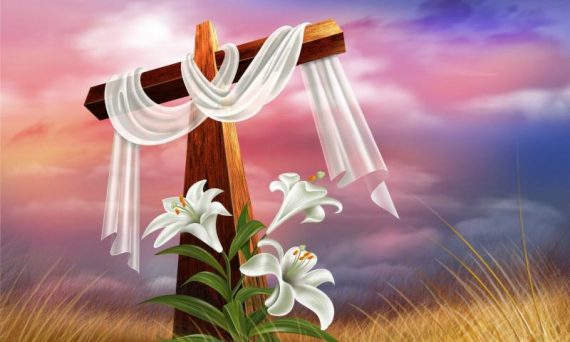 Thursday April 18 7 PM Holy Thursday
Friday April 19 7 PM Good Friday Service
Sunday April 21st 9 & 11 AM Resurrection Sunday Service
Christ is Risen Indeed!

EASTER HONOR AND REMEMBRANCE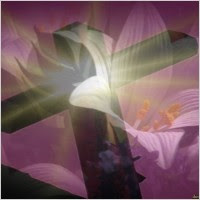 We invite you to remember someone you love with a Remembrance. The names of those remembered will be included in our Sunday bulletin. Please attach a check payable to MCCDC to the form and place it in the communication box (next to the front door) or mail it to the church (474 Ridge St, NW Washington DC 20001). Please be sure to print the names clearly and legibly. You can also give through the kiosk or at mcccdc.com/donate. The deadline for being included in the bulletin is Tuesday April 16th

Eastern Network Gathering April 6 from 8:30 to 4:00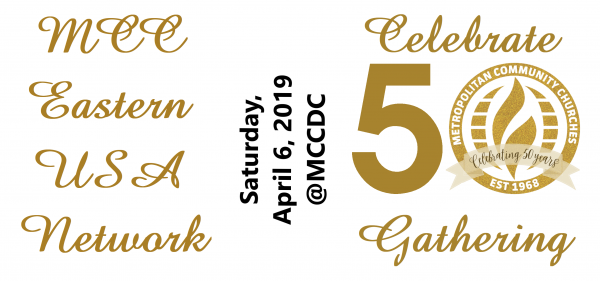 Come out and join other churches from Delaware, Maryland, Virginia and New Jersey to discuss a way forward for the MCC denomination, review the July General Conference and the vote for a new Moderator and Governing Board. Please contact Rev Cathy for more information or to assist MCCDC as host for this regional event. Rev Cathy may be reached at revcathy@mccdc.com or 202-638-7373.

Maker of Zoe Volunteer Meeting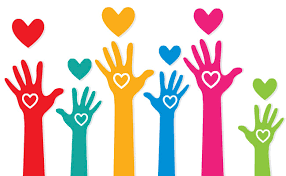 If you would like to volunteer as your admission to the play,
Please come to the volunteer meeting on
Sunday, April 14th, after the 11:00 service in the chapel.
You can contact Jules or Ceclia Hayden-Smith email: enjoyingtoday@hotmail.com or call 202.638.7373 for more information.

MCC General Conference Registration is open. REGISTER NOW by clicking onthe link below.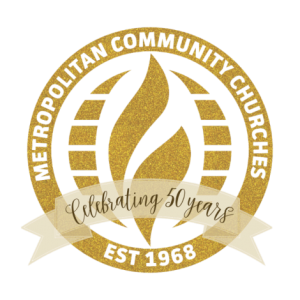 Please click here to check out this amazing conference and celebration.

Join Us on YouTube and subscribe to the MCCDC YouTube Channel!

Stay current on our video postings .
Click here to see more MCCDC Videos
Inspiration Videos, Metropolitan Community Church of Washington DC

"Ministry Spotlight"
Bible in 90 Days: In person/call in/livestream meets Thursday nights at 7 pm Call In Number is: 641-715-0632, Conference Code 190766 .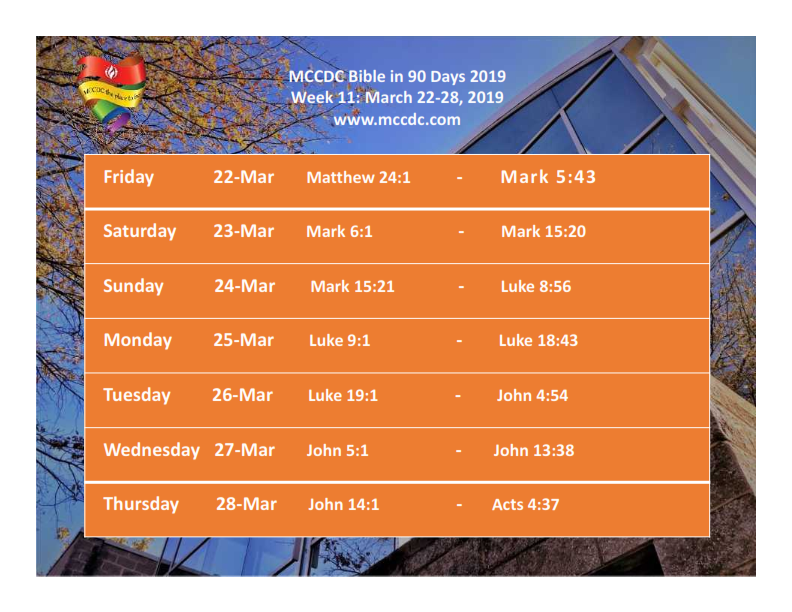 The Soundboard Ministry Needs YOU!!!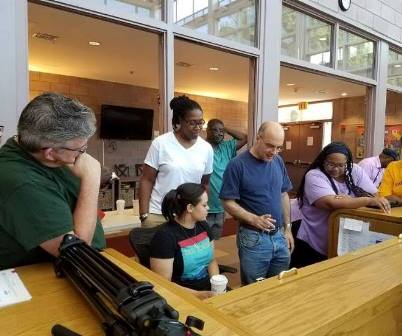 Soundboard volunteers are needed for 9am and 11am services. No experience needed. You will be trained on a state of the art soundboard, setting mics up for service and learning the technical side of handling the sound board. We would like to have you train at the 9am service and continue training at the 11am service but if your prefer to train only at one service you can.
Please contact me Michael Cunningham at mjcunningham2013@gmail.com or stop by to talk with any soundboard volunteer.

The Hospitality Ministry Needs Your Help!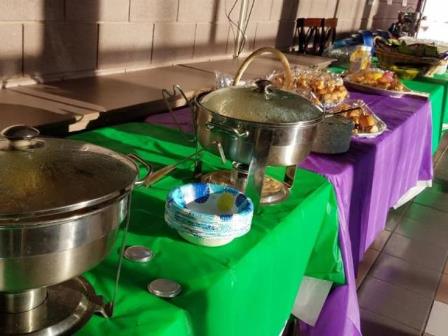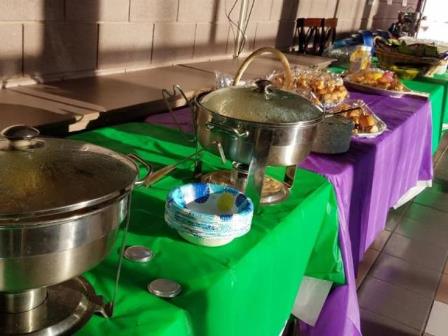 If you have hospitality items that you would be willing to bring in and support Sunday hospitality, please contact the church office at
churchoffice@mccdc.com or 202-638-7373.. Items for consideration are:
Items that are needed:
Keri Cups
Fresh Fruit
Granola Bars
Box of Coffee Straws
Bagels

MCCDC Bible Study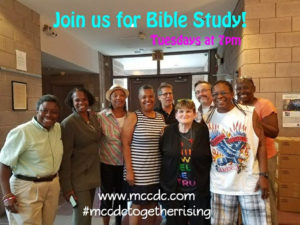 A time of community, fun, learning, and sharing!
Tuesdays, from 7:00 – 8:00 PM in the Welcome Hall
For more information please contact Dale Madyun-Baskerville at the churchoffice@mccdc.com or call (202) 638-737.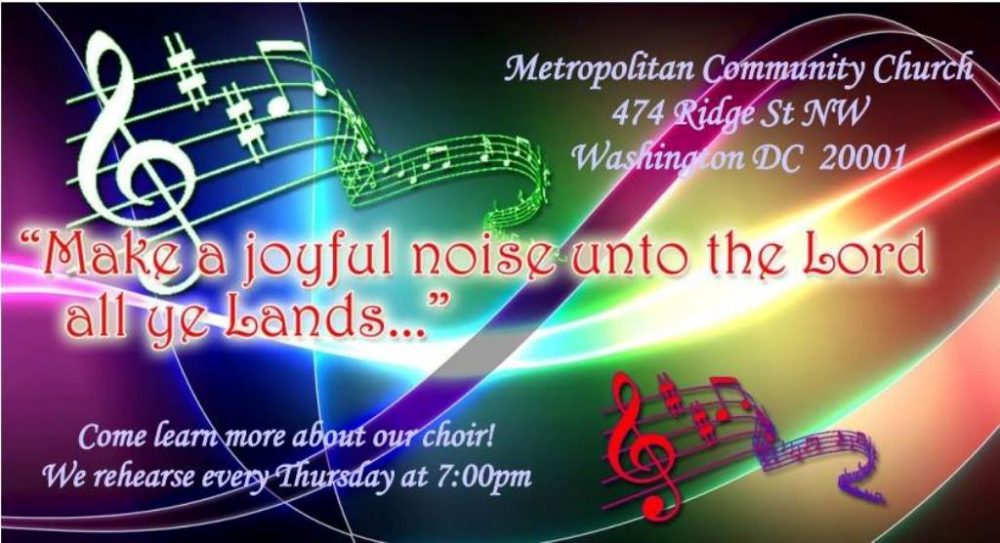 "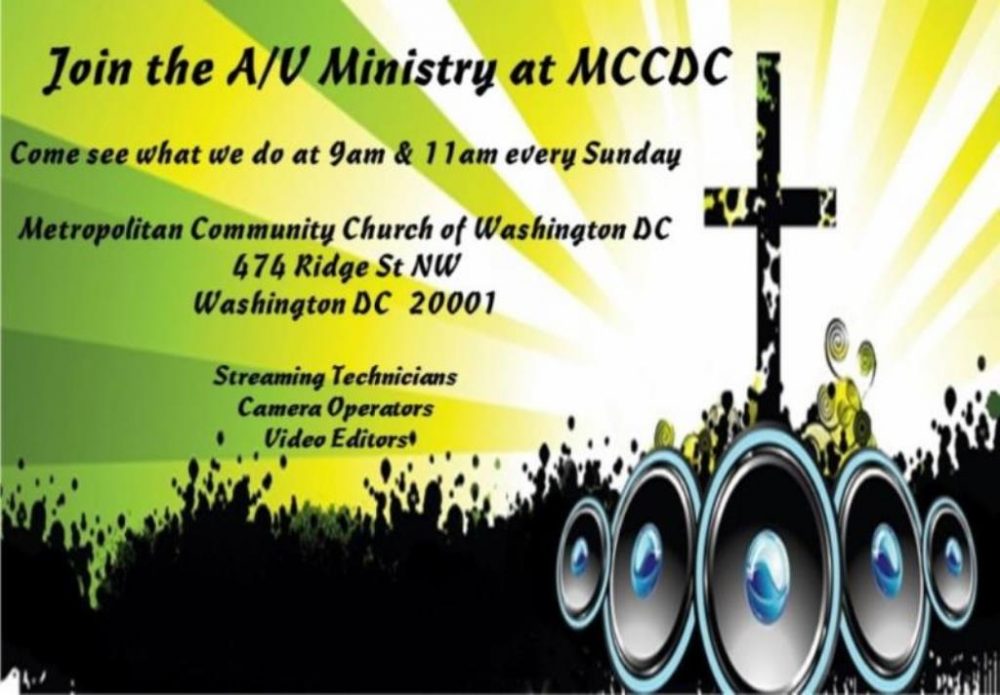 Prayer Corner
Please continue to hold in your prayers Keith Richardson and Fannie Woody who are in Nursing Homes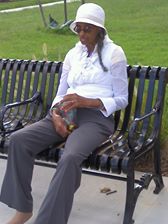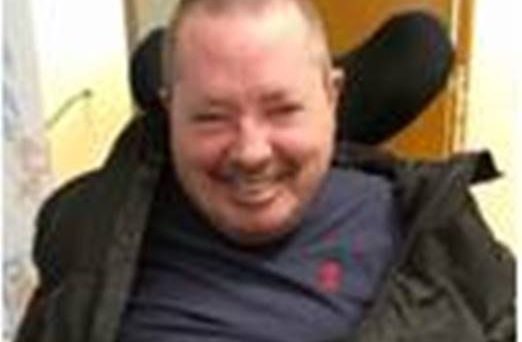 Join our Worship and Arts Ministry!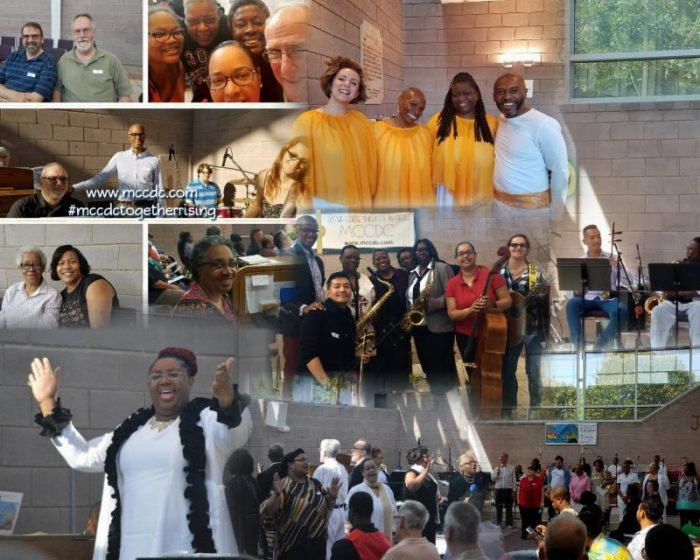 Ministry
Meeting Time
Contact
E-mail
9 AM Choir

Sunday

8:15 AM

Daniel Scearce

danscearce@aol.com
11 AM Choir

Thursdays

7:00 PM

Diedre Mouton Gray

msdeedeemusic@gmail.com
Dance
Every other Tuesday
5:00 – 6:45 PM
Cathy Batson
cathybatson1@verizon.net
Drama
Mondays
6:30 PM
Jules Christian
enjoyingtoday@hotmail.com
Eclectic Praise
Sundays
12:30 PM
Johanna Hardy
brassrat93@gmail.com