"Be wise as serpents, and harmless as doves."
~Matthew 10:16
Now more than ever MCCDC is called to be a place that develops spiritual leaders. The fear inducing and divisive political climate in the United States is having global and personal impact. Hate crimes are increasing at a mind-boggling and heart-alarming rate. People are responding with anger, depression, numbness, grief and a range of other reactions. Some admit to losing hope. I believe the best answer to our political problems is to re-double our commitment to faith and Spirit. Now is the time for political activism and spiritual activism to go hand and hand.
This week, as we near Rev. Dr. Martin Luther King Jr. Day, I'm wondering what he might say about our current situation. Based on his writings and legacy, I believe he would call us to a combination of compassionate anger, intentional prayer, unconditional love, and relentless hope in our work to bring about Beloved Community. One sermon he might preach is one of the inspirations for the message I'm preparing for this Sunday. King entitled his sermon "A Tough Mind and A Tender Heart" using Matthew 10:16 as his text: "Be wise as serpents, and harmless as doves."
King writes, "Jesus reminds us that the good life combines the toughness of the serpent and the tenderness of the dove. To have serpentlike qualities devoid of dovelike qualities is to be passionless, mean, and selfish. To have dovelike qualities without serpentlike qualities is to be sentimental, anemic, and aimless. We must combine strongly marked antitheses."
In Matthew 10 Jesus is giving his disciples tools for spiritual leadership, to guide them on their unpredictable and difficult journey. I believe the spiritual tools that Jesus offered his disciples and that are at the heart of the teachings of Dr. King, will help us rise up with spiritual strength and not become victims of what's happening around us.
I look forward to seeing you on Sunday at 9 AM and 11 AM as we sing praises to God, pray as a Beloved Community, and honor the legacy of Rev. Dr. Martin Luther King Jr.
By Faith, Rev. Elder Dwayne Johnson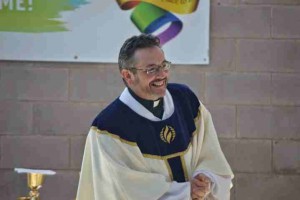 UPCOMING EVENTS JANUARY 2017
BIBLE IN 90 DAYS UPDATE JANUARY 11TH, 7 PM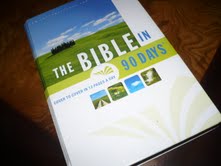 In January 2017, we will embark on our journey as a church community on reading the entire Bible in 90 days. Have you wanted to read the entire Bible – cover-to-cover?
Click here to see upcoming schedule: 2017-bible-in-90-days-schedule
Please go to this blog page for more instructions and to follow along: Click here to enter the blog
The call in number for our community meeting times will be (641) 715-0632, Access Code: 190766, yet we encourage you to attend in person if you can.
You can order your Bible directly at: Click here to order book or the Bible may be found on Amazon. The cost for a soft-cover copy is $15.
If you have questions, would like to participate, or wish to order a book, please contact Rev Cathy at revcathy@mccdc.com or 202-638-7373. Please call or email to let us know if you plan to participate. All are welcome.

TUESDAY BIBLE STUDY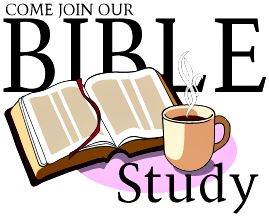 Please join the Tuesday Night Bible Study from 7-8 PM in the Welcome Hall. A time of community, fun learning and sharing. For more information please contact Dale Madyun-Baskerville at churchoffice@mccdc.com or 202-638-7373.

NEW FOR 2017, January 29th at 6:30 PM at MCCDC

Ignite is a new monthly Sunday Night Worship. The mission of this new service is to create a worship space that celebrates the diverse tapestry of God's creation,seeking to explore innovative ways to interact with the Divine who lives in us all. Mark your calendar now and stay posted for more information!

The Beauty of Darkness
Writing Workshop
with Rev. Dr. Robin Gorsline
Writer-Theologian in Residence
Saturday, February 4, 10 am-2 pm
Soup provided
Questions/Reservation: RevRobin@MCCDC.com

Easter Spring Bazaar
Save this date!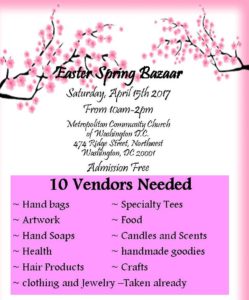 For More Information contact C.C. Petee at 240-305-9922 or Fenicia Ballard at 540-841 1633

CHURCH NEWS
MCCDC Older Adult Ministry,Free Computer Classes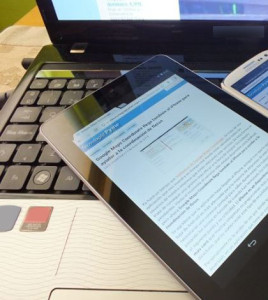 First class scheduled: Web Browser Basics: 01/29/2017 12:30 pm : 2:30 pm, Computer Lab, Lower level
Course Description: Web Browser Basics: This class will provide an overview of types of web browser, and how to use most popular web browser

MCCDC LIVE STREAMING
MCCDC is going live! We have an opportunity to use of our AV system to reach outside our walls to many people who may not be able to join us in person. To make this happen we must have a subscription service that will provide us the ability to stream our services, concerts and special events, and expand opportunities for participation in our bible studies and other activities remotely. The testing done so far with streaming has generated a lot of excitement, particularly by those who have been unable to visit our church.
You can be a part of making this happen in a number of ways: (1) pray for our reach beyond the walls of our church (2) join others in donating to cover the one-time annual cost of the service and associated AV training for our volunteers; and (3) consider joining the AV ministry.
You can contact the church office with questions at 202-638-7373 or churchoffice@mccdc.com.

ELECTRONIC GIVING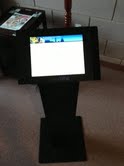 With EasyTithe, supporting the church is as simple as clicking a mouse or whipping out your smart phone.
Our new online system allows you to make a financial donation to the church with your credit card or direct debit from your banking account.
You'll be asked to set up your MCCDC EasyTithe Account. You can set it up to make a one-time/anytime donation or make a recurring donation.
You also can give by text 202-999-3841. Please contact the church office with questions at 202-638-7373 or churchoffice@mccdc.com.

YOGA CLASSES

To nourish your physical body in addition to your spiritual body. Yoga is held on Mondays from 7-8 PM. Hope to see you then. If you have questions or desire additional information please contact Rev. Cathy at revcathy@mccdc.com or 202-638-7373.
~ Namaste ("The Spirit in me honors the Spirit in you")

ADULT SUNDAY SCHOOL SCHEDULE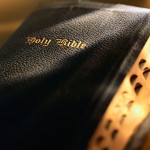 Adult Sunday School is held from 10:15 to 10:50. Please bring your coffee or tea to the upstairs conference room for the brief yet powerful time together. For more information contact Rose Herring at churchoffice@mccdc.com or 202-638-7373.

Parking Lot Update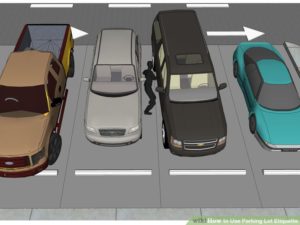 Since the new condo building is complete, MCCDC congregants and guests can now return to using the 4 parking spots that surround that building. Please contact the church office if you have questions at churchoffice@mccdc.com or 202-638-7373