THIS SUNDAY: THE CHURCH THAT HEALS
Have you ever had, do you now have, someone in your life you do not want to die? I hope so. I hope you love someone enough to want them to live and live well. What do you do? Or perhaps they are not dying but really, really sick, and you want healing for them. What do you do?
If you are like the Roman army leader in this week's reading from Luke 7, you ask Jesus to heal your beloved (in his case, the beloved is a slave, "a favorite attendant" as The Inclusive Bible names him, while some commentators, including this writer, think they were lovers).
Do you believe Jesus can heal, not only the people he encountered along the dusty roads and in villages in ancient Palestine, but also people here and now? Do you believe Jesus calls us, you and me, to be healers? Can we heal others? Can we be healed by others?
The Roman soldier believed. And his beloved was restored to "perfect health." But there are questions.
How did the healing happen? Why did the soldier feel so unworthy he asked Jesus to heal from afar? Did the healing include freedom for the beloved, or was he restored to health so he could resume his slave duties?
And there is a bigger question for us as a congregation. Can we be healers together? Can we be the church that heals? What would that look like? Are we already doing that, at least in part? What could we do better?
As usual, there are more questions than we can answer in one Sunday morning message. But I invite you to join me and many others Sunday at 9AM or 11AM, to participate in unpacking a few key elements which can help us be the healers God needs and wants us to be.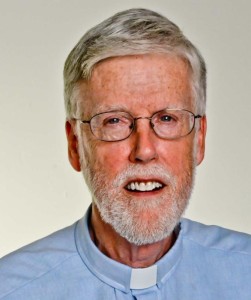 By Faith, Rev.Dr. Robin Gorsline
Writer-Theologian in Residence


THIS WEEK MAY / JUNE 2016
45th Anniversary Video
Thank you for all who supported the 45th anniversary gala and worship services. Here is the video that was shown during the program. Be blessed.
CLICK HERE TO SEE 45TH ANNIVERSARY VIDEO
TAKE PRIDE:The 33rd Annual Capital Pride Interfaith Service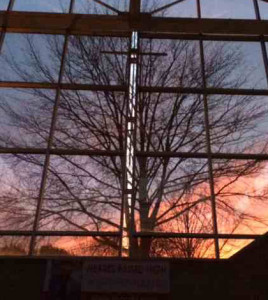 Celebrating the Magic of Faith and Pride
7:30 p.m. to 9 p.m.
Tuesday, June 7, 2016
Covenant Baptist United Church of Christ
3845 S. Capitol St. S.W.
Washington, D.C. 20032
Info: www.dccenterfaith.org info@dccenterfaith.org
This year's theme is "Celebrating the Magic of Faith and Pride!" Our theme is designed to complement Capital Pride's 2016 theme "Make Magic Happen."
Call for Singers! 2016 Capital Pride Interfaith Community Choir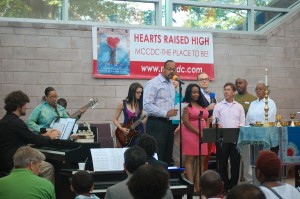 The committee for the Interfaith service invites you and your choir members to be a part of this annual celebration faith. This year we will continue the tradition of great music, great connections, and great faith …
and to do this we need commitment from singers for TWO of THREE rehearsals. This will not be a large time commitment. Adults, Youth & Teens welcome; any level of ability – or just want to sing YOU are welcome.
Rehearsals Day/Date Time Location
We ask you to meet only two of THREE times before Tuesday's service.
Wednesday, June 1 7:00pm – 8:30pm Covenant Baptist, UCC 3845 S Capitol St SW, Washington, DC 20032
Saturday, June 4 11:00am – 2pm MCC DC 474 Ridge Street NW, Washington, DC 20001
Sunday, June 5 3:00pm – 5:00 TBD (revised notice will be given when location is confirmed)
Final Rehearsal and Service
Rehearsal Tuesday, June 9th, 5:30 – 7:00 pm with the Interfaith Service to follow at 7:30pm-9pm
Covenant Baptist, UCC 3845 S Capitol St SW, Washington, DC 20032
RSVP or JUST COME on out to any of the above listed rehearsals to PARTICIPATE Contact Rev. Darryl LC Moch to RSVP nubianphoenix1@gmail.com (SUBJECT: 2016 Pride Interfaith Choir) or call (678) 592-8949
MUSIC: Music/lyrics for the service will be provided at rehearsals; we will post music lists and sound files (as available) before the first rehearsal via email

MCC stands with HIPS and other churches and organizations in support of equality and an end to discrimination.
HIPS Statement on Giant Bathroom Attack of Trans Woman (1)May192016

June 4th 6pm Latino Pride Service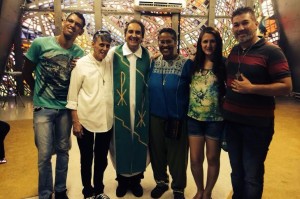 La Fe 2016 in celebration of the 10th Anniversary of the DC Latino Pride and the 45 Anniversary of MCC (Congratulations!) La Fe 2016 will be held on Saturday, June 4 at 6pm at the MCCDC. This will be a great program with wonderful speakers, food and refreshments will be served. All are welcome.
UNID@s SPANISH SPEAKING MINISTRY WORSHIP sCHEDULE FOR Jume 4, 2016 CANCELLED!!!!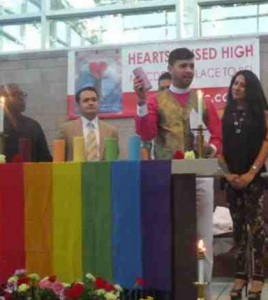 The May 29th UNID@S service is cancelled and all are encouraged to attend the June 4th La Fe service at MCCDC. All are welcome.
YOGA CLASSES CANCELLED FOR MAY 31, 2016 ONLY!!!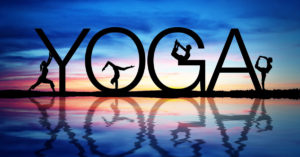 YOGA Classes for May 31st will not be held due to Memorial Day weekend. Classes will resume on June 6th.


Electronic Giving
You may give online at mccdc.com/donate or give by text 202-999-3841. Please contact the church office with questions. 202-638-7373 or churchoffice@mccdc.com.

ADULT SUNDAY SCHOOL SCHEDULE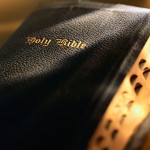 Adult Sunday School is held from 10:15 to 10:50. Please bring your coffee or tea to the upstairs conference room for the brief yet powerful time together. For more information contact Rose Herring at churchoffice@mccdc.com or 202-638-7373.
TUESDAY BIBLE STUDY
Please join the Tuesday Night Bible Study from 7-8pm in the Welcome Hall.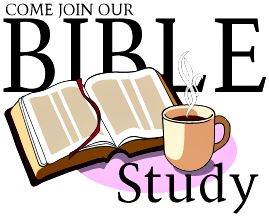 A time of community, fun learning and sharing. For more information please contact Dale Madyun-Baskerville at churchoffice@mccdc.com or 202-638-7373.

CHURCH NEWS
OAM POTLUCK TO TAKE PLACE June 5, 2016, 12:30PM
The Older Adults Ministry (OAMs) of MCCDC will be hosting a Potluck/Ministry meeting on Sunday, June 5, 2016, 12:30pm in the Lower Level Conference room. We will be discussing upcoming OAM Activities for the remainder of the year.
The Older Adults Ministry (OAM) is dedicated to providing social, educational and health activities through fellowship of Older Adults age 50 and above.
The ministry meets the first Sunday of the month after the 11:00 am service.
OLDER ADULTS POOL PARTY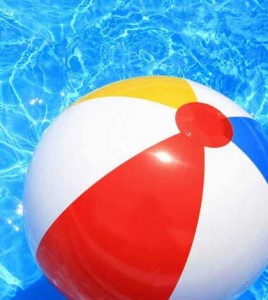 Saturday, July 9, 2016
4:00 P.M.
Cost: $10.00
The home of Darryl Walker
8312 20th Avenue, Adelphi, MD 20783
You and your friends are cordially invited to the MCCDC Older Adults Pool Party. It is a social affair with home cooked food, great oldies music, dancing, swimming, and just lounging around poolside. The cost is $10 to cover a complete meal, soft drinks, wine, water, plates, plastic ware, cups, napkins, and pool supplies. Unused monies will be considered a fund raiser for the Older Adults Ministry. A sign up sheet and tickets will be available on the first Sunday at the May, June and July OAM gatherings following the 11:00 services.
*** SWIM SUIT CONTEST: Swim wear is optional, but a $25 gift certificate will be awarded to the person with the best swim wear outfit. Mama Cee won last year!
*** DRIVING DIRECTIONS: From downtown Washington, take North Capitol Street to Riggs Road (Plymouth Congregational Church on the corner). Turn right onto Riggs and continue approximately 4 miles. After crossing University Boulevard, continue one more mile to 20th Avenue/Cool Spring Road Guye's Limousine will be on your right). Turn left onto 20th Avenue and 8312 is the 7th house on the left.
From the Beltway, exit New Hampshire Avenue (Exit 28B). Go south to Mezzerott Road which is the 4th traffic light. Turn left onto Mezzerott and go to the next light. Turn right onto Riggs Road and proceed ½ mile (Guye's Limousine will be on your left). Turn right onto 20th Avenue and 8312 is the 7th house on the left.
*** PUBLIC TRANSPORTATION: Take the Green or Yellow Metro line to the Ft. Totten Metro Station. Transfer to the Calverton (R2) bus. This bus leaves on the hour each hour. It is about a ½ hour ride to Cool Spring Road (bus stops at Guye's Limousine). Cross Riggs Road and proceed down 20th Avenue. It is the 7th house on the left. The last bus going back to Ft. Totten is at 9:10 pm.
*** TO RSVP and for MORE INFORMATION: Please email Darryl at darryl_1945@yahoo.com or call 202-297-6884. BLESSINGS AND PEACE!

Congregational Forum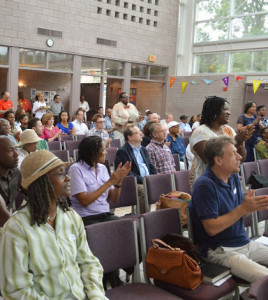 The next congregational forum is scheduled for June 17th. The following will be included in the discussion:
– 2016 MCC General Conference and Lay Delegates
– MCCDC documents and statements that guide our future direction
Values
Vision
Mission
A congregational meeting will be held on July 19th.
TRANSFORMATIONAL SPIRITUAL DEVELOPMENT COURSE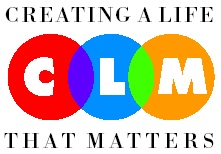 Steve Jones and Rev Cathy Alexander will facilitate this 18 week discipleship course.
ABOUT THE COURSE:
Creating a Life that Matters (CLM) is a three-course curriculum which explores ways to rediscover relationship with the Sacred, with my Self, and with my Passion. These three courses correspond to the spiritual experiences of being changed, gifted and called.
Graduates of CLM will have been challenged to broaden their understanding of all that is Sacred; integrate their self-awareness into being authentic, aware leaders; and live their passion intentionally through the life and work of the church. CLM integrates art, scripture, music, film, journaling, and diverse spiritual resources to augment our exploration of the Christian path.
If you are interested in becoming a part of this amazing event or receiving more information, please contact Rev Cathy at revcathy@mccdc.com or 202-638-7373.
THE FREEDOM OF FORGIVENESS; PRACTICAL AND SPIRITUAL TOOLS
"Forgiveness is giving up all hope for a better past, and choosing peace in the present."
– Are you ready to let go of blaming, truly forgive yourself and others, and free yourself to move on with your life and have healthier relationships?
– Do you want to learn practical and spiritual tools to communicate compassionately and directly, and learn about conflict transformation?
In a safe circle of trust, learn the true meaning of forgiveness, and how to overcome your resistance to it. Using spiritual and psychological practices such as loving kindness and mindfulness meditations, compassion practices, centering prayer, and non-violent communication, transform conflict into peace. Group sharing, re-framing our stories, journaling, and letting go rituals will also be included. People of all, as well as no spiritual paths are welcome.
Workshops for the LGBTQ/Allies Communities in June and July 2016
and are facilitated by Elizabeth McCain, MA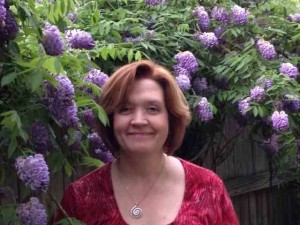 When: Wednesdays, June 8, 15, & 22, 7:00-8:30pm
Saturday, July 30, 2016 10:00am-4:00pm (Bring a bag lunch)
Where: Metropolitan Community Church, 474 Ridge Street, NW, Washington, DC
Cost: $45 for the June workshops, or $20 for each.
Rev. Elizabeth McCain is an interfaith minister, energy therapist, forgiveness coach, spiritual mentor, positive psychology practitioner, and storyteller in private practice, in Takoma Park, Md. Whether ministering, coaching, mentoring, or performing, Elizabeth believes that sharing and re-framing our stories touches hearts and changes the world. Her specialty areas are loss, forgiveness, deepening relationships, spiritual care, and healing from religious wounding for the LGBTQ/Allies communities. www.elizabethmccain.com.
MCCDC Computer Training
The computer training theme this year is Using Social Media!! The classes will be focused on the basic use of these very popular tools. We hope you will be able to join us in the Computer Lab on the lower level at MCCDC.
~ 6/19 Using Droid Smart Phones & Tablets
~ 7/17 Home Computer Security Basic
~ 8/21 Using Droid Smart Phones & Tablets


MCC DENOMINATIONAL GENERAL CONFERENCE CORNER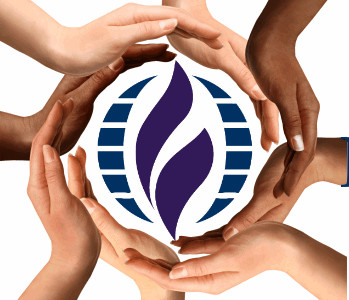 The denominational Moderator's Nominating Committee has announced the slate of candidates for MCC's next moderator. General Conference's Clergy House and Lay house will vote on our next moderator. The conference will be held July 4-8, 2016. Click Here to Read a message from the Moderator of the nominating committee and to see bios and statements from the 4 candidates:
Rev. Elder Diane Fisher
Rev. Elder Darlene Garner
Rev. Elder Héctor Gutiérrez
Rev. Dr. Irene Laudeman
Click here to see Candidates Videos
MCC Statement of Faith
A revision to MCC's statement of Faith will also be voted on at this year's general conference. The denomination's Commission on the Statement of Faith has published the next installment of theological conversations contained in the statement. Please take a moment to read it. Please click here to read
The current draft of the Statement of Faith is also posted for your review and consideration and comment. Click Here to Read
MCC Governing Board Nominating Committee
MCC will elect 5 members to the Governing Board at the July conference, 3 clergy and 2 laity. The Board is responsible for the governance of the denomination between triannual general conferences. If you are interested in running for the board please read information from the nominating committee and contact the chair of the committee, MCCDC Vice Moderator Mark Kornmann at mark@mccdc.com.Click Here to Read
If you have questions about General Conference please contact your MCCDC lay delegates or Rev Cathy at revcathy@mccdc.com or 202-638-7373.