Pastor Dwayne was elected as the Senior Pastor with 98% of the vote at our November 2009 Congregational Meeting. He began his pastorate on January 1, 2010. Rev. Johnson has a passion for outreach, justice and equality that is grounded in spiritual development. In 2006 he participated in a peace mission to Israel with a group of Jewish, Muslim and Christian educators and clergy. In January 2009 he became a member of the Academy for Spiritual Formation, studying with Grace Imathiu, Margaret Guenther, Glenn Hinson and other leaders in the Spiritual Formation movement. Rev Johnson became an Elder in the Spring of 2015.
Dwayne's history toward Pastoral Ministry in MCC began in the late 1980s when he served as a Volunteer Pastoral Assistant under Rev. Larry Uhrig, who was Senior Pastor at MCCDC at the time. He transferred his clergy credentials from the Church of the Nazarene to MCC and subsequently began his first MCC Pastorate in Richmond, Virginia in 1992. From 1996 through 2009, Rev. Johnson was Senior Pastor of Resurrection MCC in Houston, Texas. During his service, the congregation grew from approximately 300 to over 600 members, moved to a 10-acre campus, and recovered from massive hurricane damage to the church facility.
Born in Lubbock, Texas, he has also lived in California, Kansas, Missouri, and Washington State. He is a graduate of Mid-America Nazarene University in Olathe, Kansas, majoring in Communications, Psychology and English and earned his M.Div. from Nazarene Theological Seminary in Kansas City, Missouri.
Click here to email Rev. Dwayne Johnson

Welcome from Rev Cathy Alexander, Associate Pastor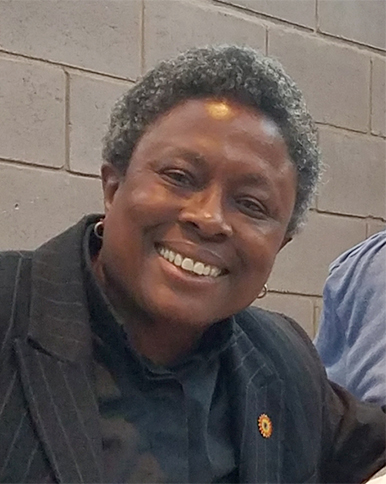 Rev. Cathy began in October 2012 and as Minister of Congregational Connections she is responsible for development and coordination of spiritual and affinity based programming to assist people in connecting and engaging in the life of the MCCDC. She is also responsible for coordinating volunteer engagement programs and would enjoy speaking with you about your spiritual giftedness and your passions for ministry. In the Fall of 2015, became Associate Pastor.
Cathy has a passion for serving God and God's people through music, a variety of spiritual practices, and through process and systems approaches. She brings a wealth of ministerial and secular experience to MCCDC, and has served in various capacities throughout MCC. Holding various positions at local churches, she has also served at the denominational and ecumenical level in key areas including the MCC Governing Board Nominating Committee and the MCC Judiciary Committee, the 2011 PAD Conference Planning Team, and the Network Team for the Mid-Atlantic Network. In addition, she also served as the seminarian liaison on the Board of Directors of the Association of Welcoming and Affirming Baptist.
She was born and raised in Williamsburg VA and is a retired military officer and a graduate of the United States Naval Academy, and of Wesley Theological Seminary where she earned her Masters of Divinity degree.
Click Here to email Rev Cathy Alexander


Church Administrator
VACANT – If you would like to apply,

Facilities Coordinator
VACANT – If you would like to apply,

Volunteer Clergy
No Volunteer Clergy at this time
The church office is open Monday through Thursday, 9am to 5pm.