"Today, love and equality win! The Supreme Court concluded that all loving couples deserve the right to marry! Finally, the U.S. Constitution applies to every family. More children in America can now go to school proudly and know their families are protected by the highest court of the land."
~ Rev. Dr. Nancy Wilson, Moderator of the Metropolitan Community Churches
Since 1968 MCC has worked hard for today's outcome. Finally, the Supreme Court decided in favor of marriage equality. The Supreme Court echoes the decision that MCC made from the very beginning.
Today, of all days, MCCDC is the place to be. Tonight from 6:30-8:00 PM you are invited to mark this historic day by joining together to bear witness through song, scripture, testimony and prayer.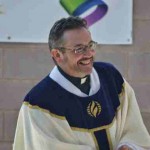 Tonight as we celebrate we will also commit to work for justice on additional fronts. One of tonight's speakers is Rev. Elder Darlene Garner, MCC Director of Emerging Ministries with responsibility for diversity and inclusion. She states: "While marriage equality is a significant stride toward justice, injustice remains for too many people. We have learned the painful lesson that unless we stand up for each other, some people will never experience justice. Black lives matter, Trans lives matter, Immigrant lives matter-and the list goes on! We are not finished with our work for justice until all lives matter."
History has been made! Where will you be tonight? I invite you to bear witness to history at MCCDC tonight.
Stronger Together,
Rev. Dwayne