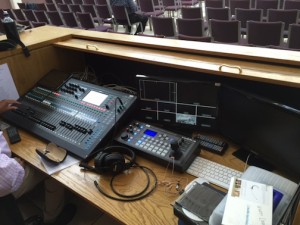 Greetings!
Well, the AV equipment has been installed and the AV Team had their first training this past week.
We had our first Sunday services with the new sound system. We will be moving forward in the next couple of months to implement our Sunday Services video program.
As of TODAY, we have raised $87,767.00 from over 148 folks. We have $7,733.00 left to raise. The final bill will be due soon and we would like to pay this project in full. We would like to make this week our final week of fundraising.
We would like to ask you to do the following:
1. Be in prayer with all of us that this is the week that we make our dream a reality and how you can play a part in the AV Project.
2. Go to www.mccdc.com/donate and give a final gift to the AV project.
2. Call a friend from church and ask them to support the AV Project with a final gift.
3. Send us a quote about why you have supported your AV Project. We will use these quotes in the MCCDC eblast this week. Click here to submit your quote.
Sincerely,
MCCDC Board of Directors
MCCDC Trustees
MCCDC Staff
Keith Wilson and Michael Peart