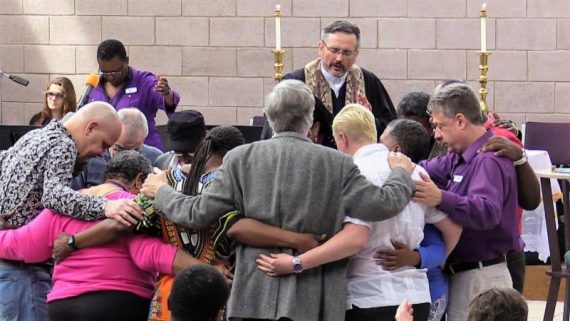 "God's people live out of the past and into the future, a future that has been promised but is yet to be fully realized. We always need to offer thanks and praise to God, to acknowledge gifts graciously given, and to hope in God's continuing and surprising provision for the future."
~M. Pasquarello
Our worship this Sunday at 9AM and 11AM is inspired by a shero of the Hebrew Scriptures: Hannah, the mother of Samuel. Hannah pours out her heart to God, bringing her cares to God's mercy.
Hannah prays: "Look with compassion on me. Don't forsake me. Remember me" (1 Samuel 1:11). Her need is real. Her prayer is real. Her relationship with God is real. She doesn't "churchify" her prayers. Hannah is honest to God.
"When Hannah seeks out God's presence in this state of anguish, her prayer signals that she is aware of a divine concern for those who are of questionable cultural worth. She does not just come to God with formal petition…She comes in loneliness, isolation, and despair. She lays bare all the emotion and all the pain…Her 'prayer of groaning' makes her an icon not simply of the mother of a son who is prophetic and powerful, but of a human being who knows herself to be known and loved by God" (Marcia Mount Shoop).
On the other side of her prayers, Hannah's greatest hopes are fulfilled. Her strength is renewed. Her cries turn to praise: "My heart delights in God. Holy One, I rejoice in your deliverance!" (1 Samuel 2: 1).
At MCCDC we are invited to bring our true selves, including both our pain and our praise. Moving Spirit will dance our Scriptures to life with a powerful interpretation of the soul stirring song, "There's a Leak in this Old Building." To prepare, I invite you to read the Scriptures in advance: I Samuel 1:4-20, 1 Samuel 2:1-10, and Psalm 136:1-9.
See you Sunday as we gather in thanksgiving and hope, proclaiming as community that "God's mercy endures forever!" (Psalm 136).

"UP COMING EVENTS"
"Congregational Meeting"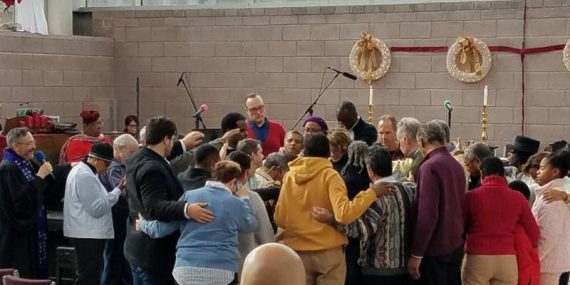 Please mark your calendars for the congregational meeting on Nov 18th at 12:30 pm.

Upcoming Events: Active Threat Response Training & CRIAC Relief Public Meetings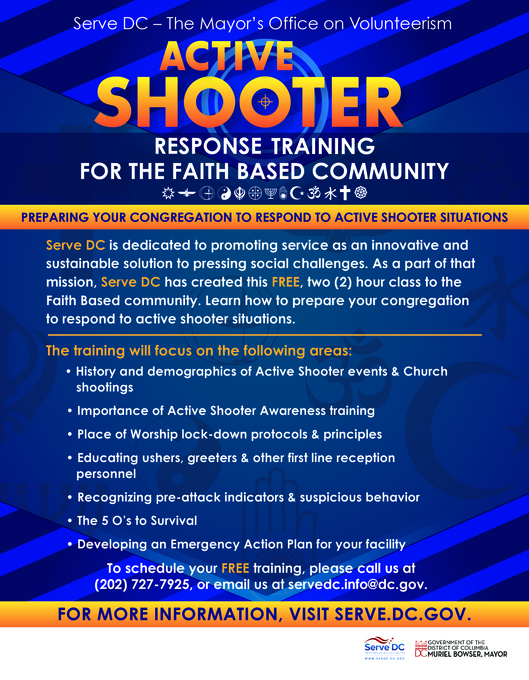 Serve DC, The Mayor's Office on Volunteerism, will offer three Active Shooter Response Training opportunities, specifically designed for the faith community, that will help prepare congregations to respond to active shooter situations.
Saturday, November 17, 2018
10:00 a.m. – 12:00 p.m.
The Temple of Praise
700 Southern Avenue S.E.
Saturday, December 1, 2018
9:00 a.m. – 11:00 a.m.
Asbury United Methodist Church
926 11th Street N.W.
If you or representatives from your house of worship are interested in attending one of the above sessions, please RSVP to religious.affairs@dc.gov.
Click Here for More Information

It's A Personality Party! Friday, November 16th @ 7:00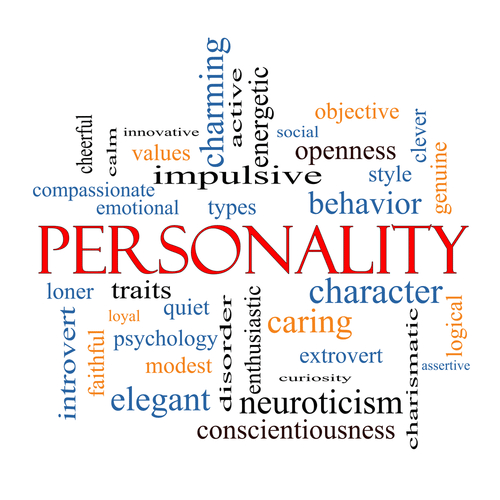 Do you want to better understand yourself, your partner, or your co-workers? Come to the information session on personality types. Tessin and Jules will facilitate a discussion on the strengths and challenges of our personalities.
The workshop is free. Dinner will be available for $5.00 or bring your own. All are welcome to attend.
For more information, please contact Jules @ enjoyingtoday@hotmail.com or 336-419-7579.

"CHURCH NEWS"
Transgender Day of Remembrance, Date: Tuesday, 20 November, Time: 6:00 pm – 8:30 pm

Location: Metropolitan Community Church of Washington, DC (MCCDC), 474 Ridge St. NW, Washington, DC

Please join us for the Washington DC observance of the Transgender Day of Remembrance. Nationally, this is the 18th annual observance of the Transgender Day of Remembrance, which commemorates those who have been killed due to anti-transgender hatred. The 1998 murder of Rita Hester, a Boston transgender woman, sparked the Remembering Our Dead web project and a San Francisco candlelight vigil in 1999. Rita Hester's murder, like most anti-transgender murder cases, has yet to be solved.

Thanksgiving Day Service at 7 pm on Nov 21st

Thanksgiving Day service at 7 pm on Nov 21st. Featured speaker will be Rev. Jason Carson Wilson.
For more information please contact Rev Cathy at revcathy@mccdc.com or 202-638-7373.
MCCDC Welcomes Rev. Jason Carson Wilson
Rev. Jason is our newest ministry intern and will serve as the Minister of Liberation Formation at MCCDC. Wilson previously served as Justice & Peace Policy Fellow at United Church of Christ, Justice & Witness Ministries' Capitol Hill office. That time allowed him to do policy advocacy in D.C. as well as the United Nations, where he spoke alongside MCCNY's Rev. Pat Bumgardner. He is seeking dual credentialing in the MCC. Wilson founded Bayard Rustin Liberation Initiative in April 2018. He attended Chicago


Come Join MCCDC Team Walk To End HIV, December 01, 2018
CHECK-IN BEGINS: 7:30 AM
5K BEGINS: 9:15 AM
WALK BEGINS: 9:20 AM
MCCDC TEAM WILL MEET AT 8:15 AM NEAR REGISTRATION TENT. LOOK FOR MCCDC SIGN.
Registration:
General Walk Registration: $25.00
Student / Senior (60+) Walk Registration: $15.00
General Timed Run Registration: $35.00
Sleep Walker Registration: $40.00
For more information email Dale Madyun-Baskerville at baskerd6109@gmail.com or Rev Cathy Alexander at revcathy@mccdc.com or call or 202-638

Decorating The Sanctuary for Advent/Christmas on Dec 1, 9 AM to 2 PM and Dec 6th, 5 PM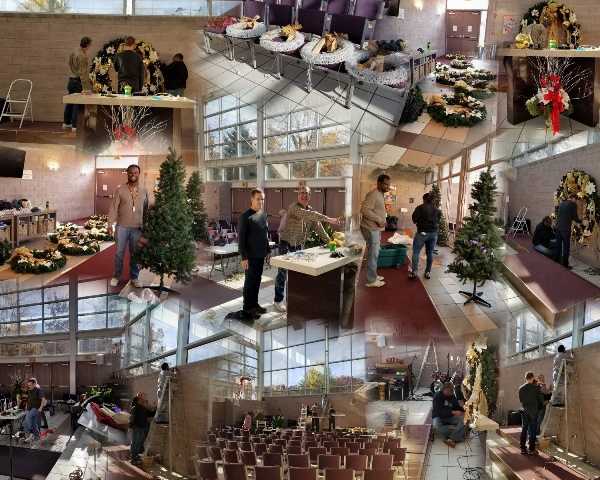 Calling all helpers:
We will again be decorating the sanctuary for Advent/Christmas on Dec 1, 9 am to 2 pm and Dec 6th, 5 pm. If you are interested in assisting please contact Rev. Cathy at 202-638-7373 or revcathy@mccdc.com.
Also we are cleaning out closets downstairs. If you are interested in helping please contact Rev. Cathy

Christmas Toy Drive, Donations will be received from nowthrough Sunday December 10th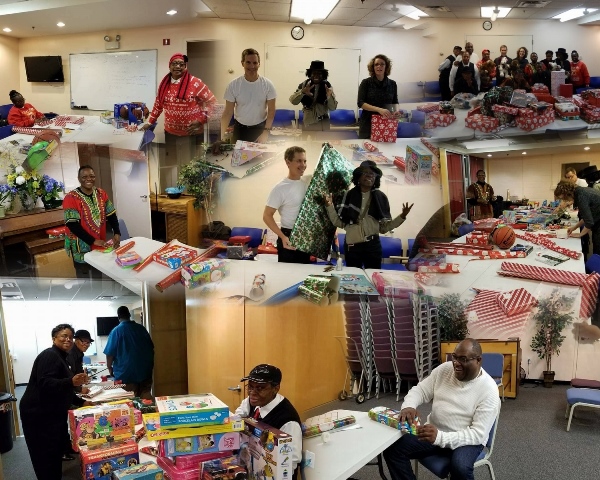 The children's toy drive is under way. This year MCCDC is partnering with the East River Family Strengthening Collaborative to bring toys to children in Ward 7.
Click here to read more about the work of the Collaborative
All are welcome participate however you can. For more information please contact Rev Cathy at revcathy@mccdc.com or 202-638-7373.

CALLING ALL CREATIVE PEOPLE…YES THIS IS YOU!!for MCCDC's 2018 Advent Daily Devotionals
During November and early December, we are seeking participants to create the content for MCCDC's 2018 Advent Daily Devotionals. These Daily Devotionals will be simultaneously published on MCCDC's Facebook page and distributed by special eblast. Our theme this year is "Calm and Bright," celebrating the two hundredth anniversary of the beloved Christmas hymn, Silent Night. The first day of Advent is December 2 and it concludes December 23, so we seek 22 devotionals, one for each day. Please contact Rev Dr. Robin Gorsline, MCCDC's Writer-Theologian in Residence, at RevDrRobin@comcast.net 1 if you would like to participate, have ideas on how to broaden participation, or thoughts on how best to articulate the theme through words, music, or video. We hope a variety of forms will help these meditations touch many, if not all, of us, at this special time.

The Workshop facilitated by Rev. Dr. Robin Hawley Gorsline, "Writing as a Spiritual Calling" 8 December, 1 pm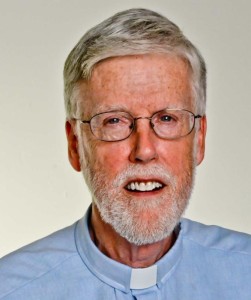 This workshop was rescheduled to Saturday, December 8, 1-4 pm. For questions or to register, please contact Rev. Robin at RevDrRobin@comcast.net
In this interactive workshop we will explore how the words we write convey spiritual truths more deeply than appears from just seeing the words as words. In other words, writing is a spiritual practice, a spiritual calling-when we let ourselves be guided by divinely-inspired impulses and prompts to convey profound and beautiful truths.
We will use prayer and meditation, short writing exercises and conversation to help us deepen our spiritual writing journey.
Feel free to bring lunch-there will be some simple snacks available for mid-afternoon energy boost.

Share Food Network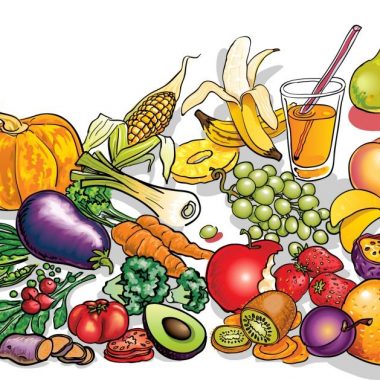 During this holiday season we have an increase in the amount of SHARE food baskets that are being distributed. If you have the time and heart to give please sign up for 2-3 hours to assist with holiday food pick up at the warehouse and delivery to the church.
Please call Sonia Grant at the church office 202-638-7373 or email Churchoffice@mccdc.com to give or volunteer your time for others.

MCCDC was chosen for innovative program through Wesley Theological Seminary to support young adult outreach and congregational development.
We now join with the other program participants for a two-year process of research, collaboration, and experimentation. An initial 10-month listening and learning process will enable MCCDC to consider the skills and interests of young adults in our neighborhood, understand our own congregational identity and gifts, and brainstorm ways to collaborate. We will then apply for a $20,000 grant to experiment with and track new innovations with young adults.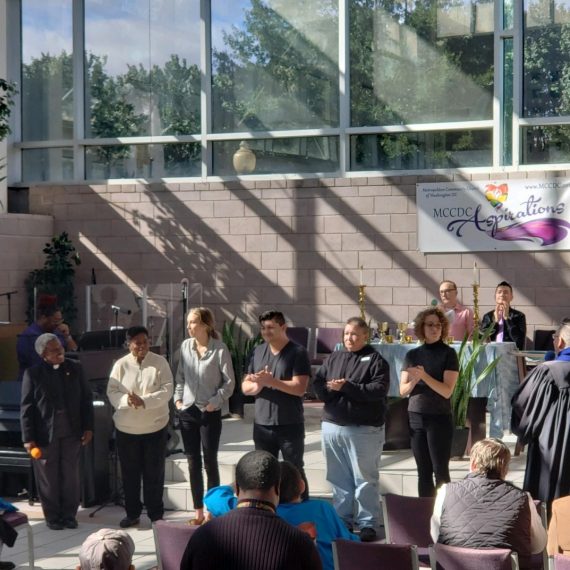 Team members Lauren Bennett, Rev Cathy Alexander, Elodie Huttner, Juan Garcia, Annie Kyle (Wesley), Robin Anderson.

MCCDC's Strategic Planning Next Phase
Thank you for those that participated in the Next Phase Workshop Gathering. Watch this space for additional information on how you can share your thoughts and ideas.For more information contact Rev Dwayne at revdwayne@mccdc.com.

MCC General Conference Registration is open. REGISTER NOW by clicking onthe link below.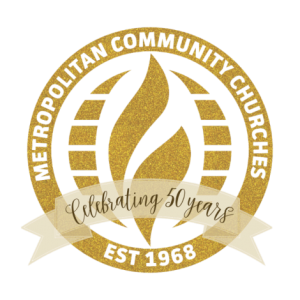 Please click here to check out this amazing conference and celebration.

Join Us on YouTube and subscribe to the MCCDC YouTube Channel!

Stay current on our video postings .
Click here to see more MCCDC Videos
Inspiration Videos, Metropolitan Community Church of Washington DC

"Ministry Spotlight"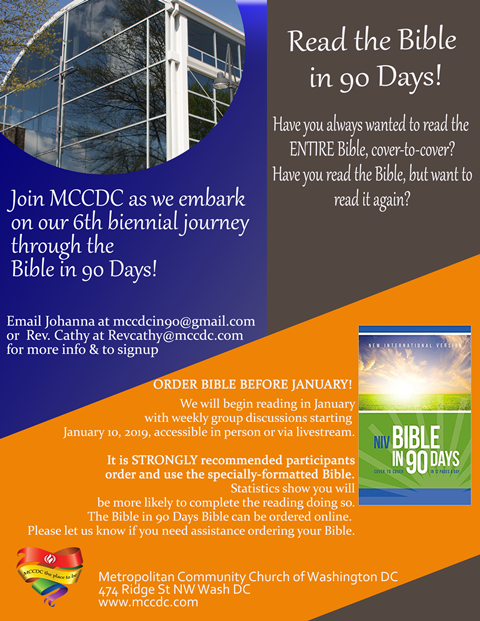 The Soundboard Ministry Needs YOU!!!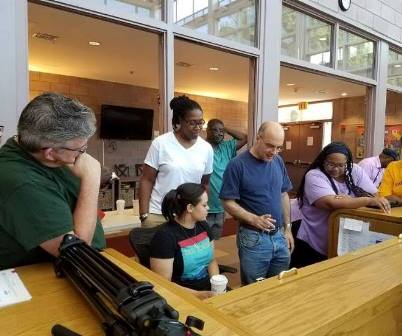 Soundboard volunteers are needed for 9am and 11am services. No experience needed. You will be trained on a state of the art soundboard, setting mics up for service and learning the technical side of handling the sound board. We would like to have you train at the 9am service and continue training at the 11am service but if your prefer to train only at one service you can.
Please contact me Michael Cunningham at mjcunningham2013@gmail.com or stop by to talk with any soundboard volunteer.

The Hospitality Ministry Needs Your Help!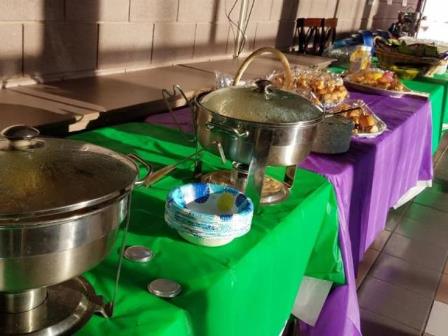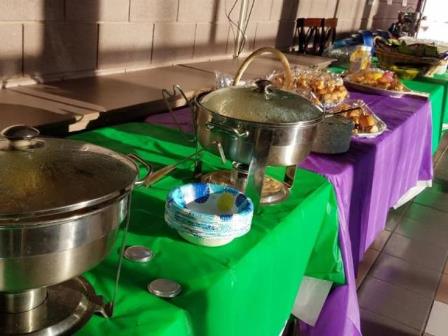 If you have hospitality items that you would be willing to bring in and support Sunday hospitality, please contact Sonia Grant in the church office at
churchoffice@mccdc.com or 202-638-7373.. Items for consideration are:
Coffee
Paper Coffee Cups (No Styrofoam)
Cookies
Fruit
Cakes
Yogurt
Sugar
Coffee Creamer
Granola Bars
Veggie Trays
Kool Aide
Fruit Juice
Bottle Water

MCCDC Bible Study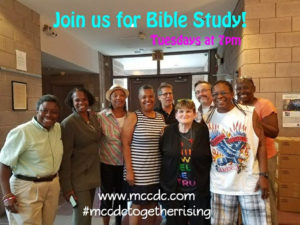 A time of community, fun, learning, and sharing!
Tuesdays, from 7:00 – 8:00 PM in the Welcome Hall
For more information please contact Dale Madyun-Baskerville at the churchoffice@mccdc.com or call (202) 638-737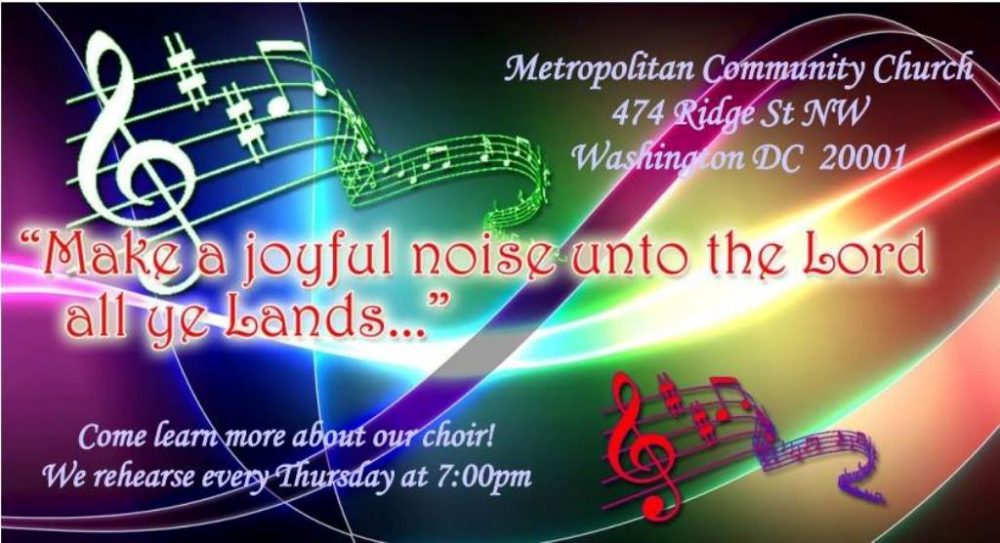 "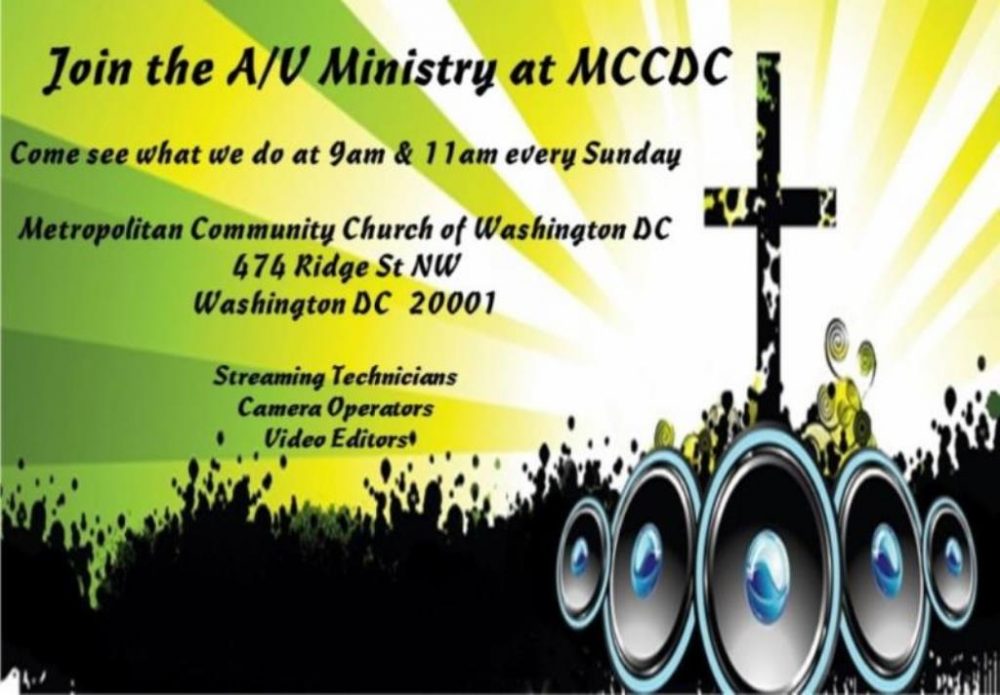 Prayers!
Please continue to hold in your prayers Keith Richardson and Fannie Woody who are in Nursing Homes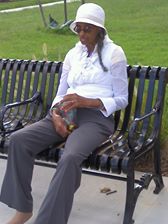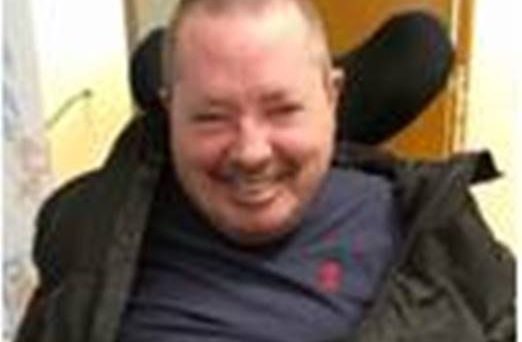 Join our Worship and Arts Ministry!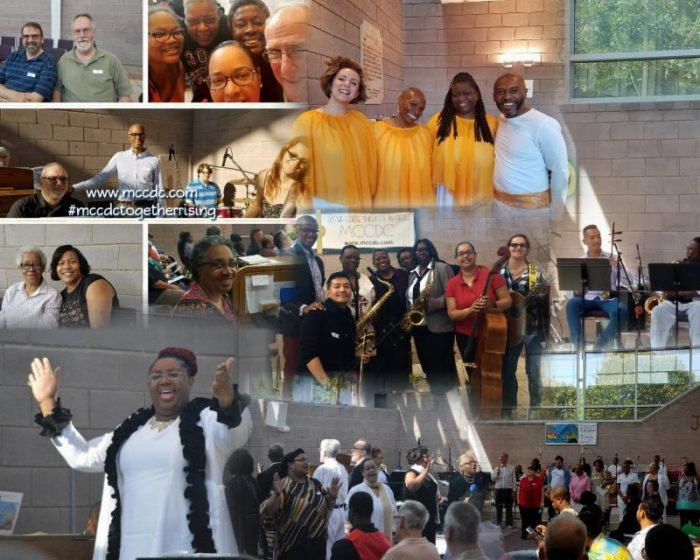 Ministry
Meeting Time
Contact
E-mail
9 AM Choir

Sunday

8:15 AM

Daniel Scearce

danscearce@aol.com
11 AM Choir

Thursdays

7:00 PM

Diedre Mouton Gray

msdeedeemusic@gmail.com
Dance
Every other Tuesday
5:00 – 6:45 PM
Cathy Batson
cathybatson1@verizon.net
Drama
Mondays
6:30 PM
Jules Christian
enjoyingtoday@hotmail.com
Eclectic Praise
Sundays
12:30 PM
Johanna Hardy
brassrat93@gmail.com