HAPPY JULY 4
FROM
YOUR MCCDC BOARD OF DIRECTORS, TRUSTEES, AND STAFF
472 UPDATE
The Board of Directors met Tuesday night and approve financing of $250,000 for completion of 472 Ridge. The loan will be through Eagle Bank. The Board is in the process of interviewing and receiving bids to finish the work at 472. For more information, please read the minutes from the meeting posted on the bulletin board in the Welcome Hall or talk to one of the Board members or a Trustee.
JOIN US SUNDAY!
9AM & 11AM
TRUE INDEPENDENCE
"Lord, we pray that the ropes that bind our nation together, though frayed, will never break; that the greatest of our natural resources-the love of our people-will abound, flowing even beyond our shores; that our flinty determination will cause sparks of innovation to fly but never set wildfires of anger that we are not big enough to extinguish. And most of all, that you will be with us, as you have always been. Amen."
~ Joshua Dubois, Former White House Director of Faith-Base and Neighborhood Partnerships
I believe that Independence Day is more than fireworks and cookouts. It is a time to pray for our nation and our world. It is a time to pray locally and globally for generous hearts to overcome nationalism and fear. It is a time to pray for God to bless America—-but not just America: God holds the whole world in loving hands, and only God can make our world whole.
It is time to pray for true independence on one hand, and holy interdependence on the other hand. True independence is a place in the heart. It is beyond borders and metal detectors, eternally safe. True interdependence is to pop the bubble of self-protection and isolation.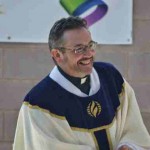 I pray our nation would repent from greed, consumerism, celebrity worship, violence and the insidious "isms" that devalue gifts and create walls between peoples. Carl Jung describes "isms" as "the viruses of our day, and responsible for greater disasters than any mediaeval plague. . ."
I pray our nation would transform into a force for global compassion rather than dominance, joining in a circle of connected humanity.
How did Jesus live with true independence? I will offer thoughts on this question for you to consider in the message this Sunday at 9:00 AM and 11:00 AM. I invite you to prepare by prayerfully reflecting on Mark 6:1-13. This Sunday will include a time for us to offer gratitude to those in our congregation who work as civil servants. See you Sunday!
Stronger Together,
Rev. Dwayne
OLDER ADULTS POOL PARTY
2nd Annual Older Adults Pool Party
Saturday, July 11, 2015 from 4:00 to 9:00
Complete Buffet, Good Music, Dancing, and Swimwear Contest
On the first Sunday, $10 tickets and RSVPs at the Welcome Station after the 9:00 and 11:00 services, and at the Older Adult Brunch.
Great social opportunity for your family and friends to meet your MCCDC family.
MINISTRY CONNECTIONS
Opportunities to serve in ministry are plentiful. If you have a heart to serve and to be a part of something larger than yourself, please consider this your personal invitation to join in ministry. Where needed most:
Children's Ministry – The Children's Ministry provides a fun and safe space for children to learn about spiritual values, while valuing each child's unique talents and abilities.
Hospitality – God's hospitality extends welcome to the entire community, the Hospitality Ministry provides arms and feet to that welcome. The ministry is responsible for coordinating food and welcome during the social time.
Information Station – These faithful folks coordinate the sharing of information about ministry activities, events and directions. They extend the hospitality of welcome to everyone who has questions or require assistance.
Adult Sunday School – This is a brief yet powerful time to connect with scripture and each other. Participants meet on Sundays from 10:15 – 10:45. All are welcome.
AV Ministry – This Ministry is responsible for the sights and sounds in worship and other services in the sanctuary. If you feel called to investigate learning and participating in providing audio and video support, please pray about connecting.
If you are interested in any of these service ministries, please contact Rev Cathy at revcathy@mccdc.com or 202-638-7373.
ADULT SUNDAY SCHOOL CONTINUES
Let Us School You (And you can teach us a few things, too)
Adult Sunday School has restarted. It is held Sunday mornings between the two services from 10:15 'till 10:45, in the lower-level conference room.
First lesson is "Bible Basics, an Overview"
Bring your coffee and cookies. Sessions are short but pack a lot of punch.
It's a great way to spend a half-hour – learn something new and fellowship, too.
All are welcome and wanted.
NEXT MEMBERSHIP CLASS TO TAKE PLACE JULY 19TH
If you have questions about MCCDC and what membership is about, class will be held on July 19th from 12:30 to 2:30 in the lower level conference room. All are welcome to attend. A light lunch will be served. PLEASE register so that we may have enough food and materials. Contact Rev Cathy at revcathy@mccdc.com or 202-638-7373.
CONSIDER ELECTRONIC GIVING FOR SUMMER MONTHS
Thank you for your generosity. As the summer approaches, please consider Auto Tithe and electronic giving. Contact the church office for more information at churchoffice@mccdc.com or 202-638-7373. For more information on how to discover your talent and spiritual gifts please contact Rev Cathy at revcathy@mccdc.com.
CALENDAR  Highlights
SUNDAY,
JULY 5
9AM /11AM
WORSHIP SERVICE
"TRUE INDEPENDENCE"
REV. ELDER J. DWAYNE JOHNSON
SUNDAY, JULY 5
OLDER ADULTS POTLUCK
12:30PM
LOWER LEVEL
TUESDAY,
JULY 7
BIBLE STUDY
7PM
SUNDAY,
JULY 19
NEW MEMBERSHIP CLASS
12:30PM
LOWER LEVEL