FINAL WEEK
THE WALK IS SATURDAY!!
JOIN OUR MCCDC TEAM!
WE HAVE 23 WALKERS AND RAISED OVER $7,320.00
All we need is YOU!!!
The Walk to End HIV will take place
Saturday, October 24.
To rejoice in our Anniversary,
our goal is to have 45 walkers and to raise $10,000.
Bob Whitman is our team captain.
Go to our page to join the team and help us reach our goal. http://bit.ly/1OUKFJ2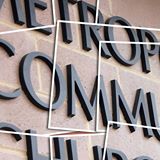 BOARD OF DIRECTORS UPDATE
The Board of Directors will meet Monday, October 26 at 6:30pm to finish preparations for the Congregational Forum and Meeting.
The Congregational Forum will take place on November 8 at 12:30pm. At the meeting, you will hear about the accomplishments in 2015, goals for 2016, candidates for the Board, and the 2016 Budget.
The Congregational Meeting will take place on November 22 where we will approve the 2016 Budget and vote on candidates for the Board of Directors.
JOIN US SUNDAY! 9AM & 11AM
BY FAITH: STEWARDS OF HEALING
"God asks us to share our hearts as living bread."
~ Flora Slosson Wuellner
My vision for MCCDC is that we will grow as a place of healing. Indeed, many of our constituents have found God's healing here. Every Sunday cancer survivors, recovering addicts, and others, who have experienced healing, gather at MCCDC with gratitude for the gift of healing.
The way to healing is never a direct line. Sometimes there are obstacles. That is true for Bartimaeus in our scripture this Sunday from Mark 10:46-51. Ironically, the obstacle he faces is the church crowd, the followers of Jesus. In Mark 10:47 Bartimaeus shouts out to Jesus, "Have mercy on me!" The next line, describing the response of the church folks, is sad: "Many rebuked him, sternly ordering him to be quiet" (v48a). In other words, they told him to shut up. Rather than being stewards of his healing, they attempted to silence his need for healing. I pray with all my heart that MCCDC will never be like that.
Praise God Bartimaeus refused to be silenced! Rather, "he cried out even more loudly, 'Heir of David, have mercy on me!'" (v48b). Jesus hears his cry, stands still, and says, "Call him here" (v49). At that point, in a powerful spiritual shift, the crowd moves from being a barrier to healing to becoming a participant in healing. That's who I want to see MCCDC become—more and more and more!

I pray that MCCDC will increasingly become stewards of healing. We can help people see their illness or suffering as part of something greater than the immediacy of pain. Author Mark Nepo, diagnosed with cancer almost 30 years ago, writes, "Having cancer scoured my lens of perception, landing me in a deeper sense of living. Being reduced to what matters by suffering and love is how we meet God in the daily world."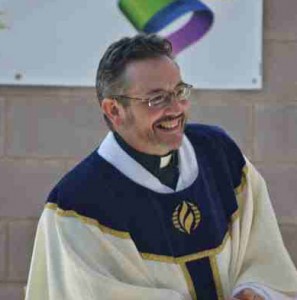 This Sunday, we'll explore how MCCDC can grow as a place of healing, and how each of us is healed to be healers of our church, families, workplaces and beyond. May our hearts be open, as the living bread of healing. See you Sunday!
By Faith,
Rev. Elder Dwayne
MINISTRY CONNECTIONS
Opportunities to serve in ministry are plentiful. If you have a heart to serve and to be a part of something larger than yourself, please consider this your personal invitation to join in ministry. Where needed most:
Facebook Page- Do you love to Facebook? Our MCCDC Facebook team could use your support. We are expanding and needs your skills.
MCCDC Choir – Consider joining the choir for the Christmas concert which will be held on Dec 4th and 5th. Please see our 11 am Music Director Tyrone Stanley for more information. Our 9 am choir has room for you. Please see our 9 am Music Director Daniel Scearce for more information.
Website Content – Many go to MCCDC's website to learn more information, hear sermons, see pictures of our community even before stepping foot into our sanctuary. We are in great need of a volunteer to assist in this communications ministry.
Children's Ministry – The Children's Ministry provides a fun and safe space for children to learn about spiritual values, while valuing each child's unique talents and abilities.
Hospitality – God's hospitality extends welcome to the entire community, the Hospitality Ministry provides arms and feet to that welcome. The ministry is responsible for coordinating food and welcome during the social time.
Information Station – These faithful folks coordinate the sharing of information about ministry activities, events and directions. They extend the hospitality of welcome to everyone who has questions or require assistance.
AV Ministry – This Ministry is responsible for the sights and sounds in worship and other services in the sanctuary. If you feel called to investigate learning and participating in providing audio and video support, please pray about connecting.
If you are interested in any of these service ministries, please contact Rev Cathy at revcathy@mccdc.com or 202-638-7373.

Team MCCDC has formed and all we need is YOU!!! The walk to end HIV will be held on Saturday Oct 24th.
To rejoice in our Anniversary, our goal is to have 45 walkers to raise $10,000. Bob Whitman is our team captain. Go to our page to join the team. http://bit.ly/1OUKFJ2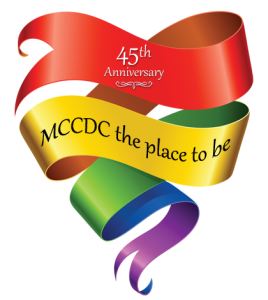 CELEBRATING MCC ANNIVERSARY
MCCDC will contribute to the celebration of MCC's Anniversary.
We will offer honors and remembrances and the funds raised will support MCC Emerging Ministries. Please see a message below from MCC Moderator Rev. Elder. Dr. Nancy Wilson.
WORKING TOGETHER WE WILL SUCCEED!!
Dear Friend,
As we reflect on nearly 50 years of MCC Ministry, I invite you to reflect on how we all participate in building God's vision for the world. Your generosity allows MCC to impact and transform the lives of those in our communities and beyond.
We are thankful for everything you do for the church, and simply put, without your kindness and generosity we could not be part of the work God has given us to do. It is that time when I ask once again for your prayers and consideration of our Anniversary Sunday. These funds help support the programs and ministries of our church.
We have set a lofty goal of $250,000 to go towards Emerging Ministries and other vital MCC programs. The Anniversary Sunday campaign is one integral component of reaching this goal over the course of the upcoming year. I know that by working hand in hand, we can and will succeed!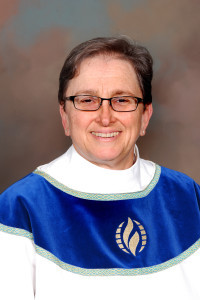 As you consider your response, let us pray:
Direct us Lord in all our actions,
and strengthen us with your continual help
that in all our works begun,
continued and ended in Your love,
we may glorify You,
and finally by Your grace live fully,
through Jesus the Christ. Amen.
Grace and Peace,
Rev. Dr. Nancy Wilson
Global Moderator, Metropolitan Community Churches
THE BOARD NEEDS YOU!!
The Nominations Committee is looking for motivated and qualified candidates to run for the Board of Directors this year. Two positions will be open due to term expirations in 2015.
What we are looking for are people with the spiritual gifts of leadership, discernment, and compassion. We are also looking for people with experience in strategic planning, financial management/fundraising, policy development, program oversight, or legal matters.
If you feel called and have been an MCCDC member in good standing for the past six months, you are eligible to run.
Please submit a brief bio and a letter of interest to Committee Chair Bob Whitman at bwhit1022@aol.com or the church office at churchoffice@mccdc.com by Sunday, October 25th.
JOIN US FOR THANKSGIVING EVE SERVICES AT 7PM
This holiday season we will celebrate our Service of Thanksgiving on Wednesdayevening November 25th at 7pm. Please plan on joining the celebration at MCCDC.
ADULT SUNDAY SCHOOL CONTINUES
Let Us School You (And you can teach us a few things, too) Adult Sunday School has restarted. It is held Sunday mornings between the two services from 10:15-10:45am, in the lower-level conference room.
Our topic of discussion is an overview to Bible basics.
Bring your coffee and cookies. Sessions are short but pack a lot of punch.
It's a great way to spend a half-hour – learn something new and fellowship, too.
All are welcome and wanted.
COMPLETE YOUR  PLEDGE CARD
We have launched the MCCDC "45 Years: We've Come This Far By Faith" Campaign. Please make sure you return your pledge card to the church office or you can put it in the offering plate on Sunday.
As we celebrate the 45th anniversary, let's come together and help shape the future of MCCDC!!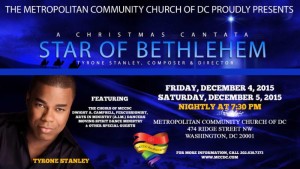 CHRISTMAS CONCERT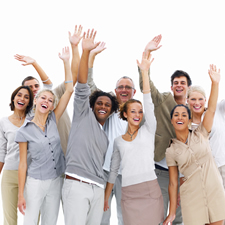 MCCDC TO PARTICIPATE  IN WESLEY CONFERENCE
Fall Wesley Seminary Reach New Disciples Conference
Saturday, November 14, 9:30 a.m.-1 p.m.
Washington, DC
Strong and growing congregations typically have a very high percentage of people who are actively involved in learning, serving, and leading. Yet most churches have a large contingent of less-active members. Research suggests these people long for spiritual growth, but many church activities fail to connect with their needs, interests, and life patterns. At the Increasing Active Engagement Conference you will explore best practices for getting and keeping people involved and engaged. Increasing Active Engagement is ecumenical and designed for both laity and clergy.
Presentations and Workshops:
Changing Patterns of Congregational Engagement
Connecting People to their Purpose
The Art of Asking
Connecting People through Affinity or Support Groups
Developing a Year-round Plan for Increasing Engagement
Keeping People Involved
Missional Outreach as a Way to Build Engagement
Ways to Increase Frequency of Worship Attendance
If you are interested in attending, please contact Rev Cathy at revcathy@mccdc.com or 202-638-7373.
CONGREGATIONAL FORUM AND MEETING SET FOR NOV. 8TH AND 22
The Congregational Forum will take place on November 8th at 12:30 and the Congregational Meeting will take place on November 22nd at 12:30.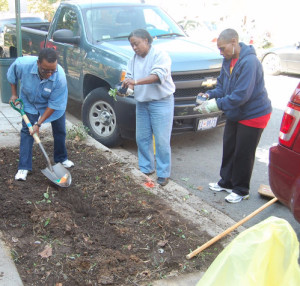 LANDSCAPING DAY of SERVICE
SAT., OCT. 31, 9am-1pm
Join other MCC'ers to beautiful our church's property and nearby streets for the Fall. We'll rake and collect debris, trim bushes, pull weeds, plant flowers and make our church and neighborhood prettier for the Fall.
We'll have fun while we work … and it is a great way to connect with other MCCers! If you can, please bring your landscaping tools (rakes, brooms, gloves, clippers, etc.).
We'll have some light breakfast foods to fuel us. Please RSVP to Greg Snyder, gcsnyder01@aol.com, 202-427-6313.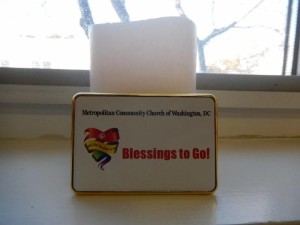 BLESSINGS TO GO
The Stewardship Team has started a new program called "Blessings To Go." The program offers blessings to folks as they leave the Sanctuary each Sunday. Look for those wearing the Blessings To Go nametag.
The Stewardship team has formed and there is room for you. Our focus and purpose are to facilitate conversations and awareness of using your time, talent and treasure. Read about the team's charter and purpose here https://goo.gl/IQc2y7.
If you would like to join the team or more information, please contact revcathy@mccdc.com or 202-638-7373
CALENDAR  Highlights
SATURDAY,
OCTOBER 24
WALK TO END HIV
FREEDOM PLAZA
SUNDAY,
OCTOBER 25
9AM /11AM
WORSHIP SERVICE
"BY FAITH: STEWARDS OF HEALING"
REV. ELDER J. DWAYNE JOHNSON
MONDAY,
OCTOBER 26
MCCDC BOARD OF DIRECTORS
6:30PM
TUESDAY,
OCTOBER 27
BIBLE STUDY: YOUR WORSHIP
7PM
WEDNESDAY,
OCTOBER 28
45TH ANNIVERSARY TEAM
6PM
WEDNESDAY,
OCTOBER 28
STEWARDSHIP MEETING
7:15PM
SUNDAY,
NOVEMBER 8
CONGREGATIONAL FORUM
12:30PM
SANCTUARY
SUNDAY,
NOVEMBER 22
CONGREGATIONAL MEETING
ELECTION OF OFFICERS
12:30PM
SANCTUARY
FRIDAY,
DECEMBER 4
CHRISTMAS CONCERT
7:30PM
SATURDAY,
DECEMBER 5
CHRISTMAS CONCERT
7:30PM