ONE MORE WEEK FOR BACKPACK 4KIDS!
WE HAVE SUPPORTED OVER 200 KIDS SO FAR. LET'S REACH OUR GOAL OF 300 KIDS!
www.mccdc.com/donate
TODAY: Watch the 4pm newscast on NBC4
for Rev. Dwayne and Rev. Cathy!
They will be talking about MCCDC's involvement in the program!
Construction is underway at 472 and we are progressing toward a Fall completion date. Look for updates in the coming weeks!

JOIN US SUNDAY! 9AM & 11AM
BY FAITH: MOVE IT!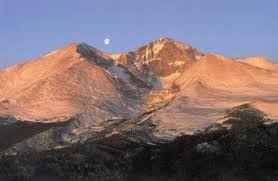 "If you wish to move mountains tomorrow, you must start by lifting stones today."
~African Proverb
Jesus had a thing with mountains. He prayed on them. He worshipped on them. He climbed them. He used them as venue for public teaching and a refuge for personal renewal. In our scriptures this Sunday Jesus talks about moving them.
In Matthew 17: 20 Jesus says, "The truth is, if you have even as much faith as the tiny mustard seed, you can be able to say to this mountain, 'Move from here to there,' and it will move. Nothing will be impossible for you."
In Mark 11:22-23 Jesus says, "Put your trust in God. The truth is, if any of you say to this mountain, 'Get up and throw yourself into the sea,' and you don't doubt in your heart, but believe that what you say will happen, it will happen."
In the message this Sunday, we will explore the spiritual terrain of mountains. John Mogabgab writes that in pointing to mountains, "Jesus could have chosen no more compelling image to evoke the compass of God's power or the unimaginable new horizons available through prayerful trust in that gracious dominion."
As MCCDC celebrates 45 years, we are grateful for the mountain moving faith of our founders. Looking ahead, there are new mountains on the horizon. Through faith, we will look at every challenge and in confidence say "move it!" as we claim the promise of the future God holds.
God is with us on our journey of faith. Along the way, let us recall this blessing from the Celtic Christian tradition:
  May God shield you on every steep,
    May Christ keep you in every path,
    May Spirit bathe you in every pass.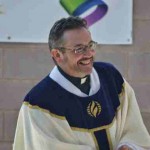 I look forward to seeing you at 9AM and 11AM this Sunday as we look to the mountains for both challenge and inspiration.
By Faith,
Rev. Elder Dwayne
CONSIDER ELECTRONIC GIVING FOR SUMMER MONTHS
Thank you for your generosity. As the summer approaches, please consider Auto Tithe and electronic giving. Contact the church office for more information at churchoffice@mccdc.com or 202-638-7373. For more information on how to discover your talent and spiritual gifts please contact Rev Cathy at revcathy@mccdc.com.
TUESDAY NIGHT BIBLE STUDY
All are welcome to join us for Tuesday Night Bible Study:
Date Topic
Aug 25 Dealing with Doubts
MINISTRY CONNECTIONS
Opportunities to serve in ministry are plentiful. If you have a heart to serve and to be a part of something larger than yourself, please consider this your personal invitation to join in ministry. Where needed most:
Website Content – Many go to MCCDC's website to learn more information, hear sermons, see pictures of our community even before stepping foot into our sanctuary. We are in great need of a volunteer to assist in this communications ministry.
Children's Ministry – The Children's Ministry provides a fun and safe space for children to learn about spiritual values, while valuing each child's unique talents and abilities.
Hospitality – God's hospitality extends welcome to the entire community, the Hospitality Ministry provides arms and feet to that welcome. The ministry is responsible for coordinating food and welcome during the social time.
Information Station – These faithful folks coordinate the sharing of information about ministry activities, events and directions. They extend the hospitality of welcome to everyone who has questions or require assistance.
Adult Sunday School – This is a brief yet powerful time to connect with scripture and each other. Participants meet on Sundays from 10:15 – 10:45. All are welcome.
AV Ministry – This Ministry is responsible for the sights and sounds in worship and other services in the sanctuary. If you feel called to investigate learning and participating in providing audio and video support, please pray about connecting.
If you are interested in any of these service ministries, please contact Rev Cathy at revcathy@mccdc.com or 202-638-7373.

CONGREGATIONAL FORUM TO TAKE PLACE SATURDAY, SEPTEMBER 12
Saturday, September 12 will be an important day in the life of MCCDC. I invite you to be a part of it. Rev. Elder Don Eastman will be with us for a Church Planning Forum to help answer the question, "What are we called to do as a congregation?" We will meet from 9:00 AM to 3:30 PM. Breakfast and lunch will be provided. So we can plan, please sign-up now by contacting Rev Cathy at revcathy@MCCDC.com or 202-638-7373.

In Loving Memory  :  Jean Castle IV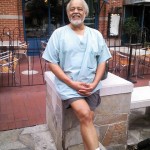 A Memorial service
will take place
Saturday, August 29th
11 am
Metropolitan Community Church
of Washington, DC

ADULT SUNDAY SCHOOL CONTINUES
Let Us School You (And you can teach us a few things, too)
Adult Sunday School has restarted. It is held Sunday mornings between the two services from 10:15 'till 10:45, in the lower-level conference room.
Our topic of discussion is an overview to Bible basics.
Bring your coffee and cookies. Sessions are short but pack a lot of punch.
It's a great way to spend a half-hour – learn something new and fellowship, too.
All are welcome and wanted.
In partnership with the community outreach program at NBC4 Washington, we are collecting backpacks and supplies (and credit card or check donations that would allow us to purchase those items). It only takes $20 to equip one student with a backpack and supplies for the school year. Why not adopt one kid, maybe two–how about 5!! Our goal is to provide OVER 300 kids with backpacks and supplies for the coming year. We are also encouraging our neighbors to help with the backpack program by donating supplies! We will be collecting supplies and donations over the next three weeks! You can also reach out to folks at your work or send this eblast to family and friends!! Help MCCDC help kids in our community!!
Here's how you can help:
Donate a new backpack stuffed with school supplies
Donate school supplies
Donate securely online at www.mccdc.com, and select the "Donate" tab near the top, and choose "Backpacks 4Kids" in the dropdown menu. You can also click here.
If you would like to donate a backpack, the school supplies needed per backpack include:
New backpack
Two packs of loose leaf notebook paper
Two dozen #2 pencils
Two packages of cap erasers
Three spiral composition books
One yellow highlighter
Eight plain folders with pockets and brads or loose leaf binder with dividers
One package of 24 crayons and/or one package of colored pencils
Small pencil or supply box or zippered supply pouch
Two composition books
Paper glue
Box of Kleenex
2 packs of copy – white paper
12-inch ruler
We have big blue tubs in the Welcome Hall. Drop-off your donations during the week and before or after the Sunday Services. If you need more information, please contact Mark Kornmann at mark@mccdc.com.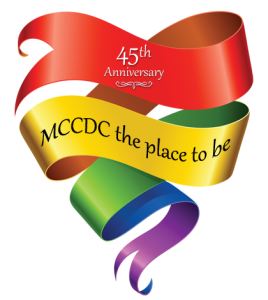 JOIN THE 45TH ANNIVERSARY CELEBRATION TEAM
The MCCDC 45th Anniversary Celebration Team is forming. If you would like to be a member of this historic team for this historic event, please contact Rev Cathy for more information. revcathy@mccdc.com or 202-638-7373.

YOUNG ADULT MINISTRY BACK-TO-SCHOOL MIXER
Join the Young Adults Ministry for our Back to School Mixer on Saturday, August 29 from 6-9PM here at MCC! There will be refreshments, music and lots of fun! We are asking for a $5 donation per person.
If you are unable to attend or would like to donate supplies or services, we are in need of the following items:
Snacks
Drinks
DJ/ Music
Paper goods (plates, napkins, cups, etc.)
If you have any questions, please contact Monika at mlaw617@gmail.com
COMPLETE YOUR
"45 YEARS: WE'VE COME THIS FAR BY FAITH" PLEDGE CARD
We have launched the MCCDC "45 Years: We've Come This Far By Faith" Campaign. Please make sure you return your pledge card to the church office or you can put it in the offering plate on Sunday.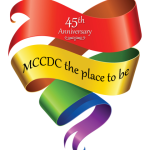 As we celebrate the 45th anniversary, let's come together and help shape the future of MCCDC!!
MCCDC
eBLAST
AUGUST 20, 2015
MCCDC
474 RIDGE STREET NW
WASHINGTON, DC 20001
www.mccdc.com
EBLAST
mark@mccdc.com
MCCDC
churchoffice@mccdc.com
202-638-7373
Rev. J. Dwayne Johnson
Revdwayne@mccdc.com
Rev. Cathy Alexander
Revcathy@mccdc.com
MCCDC WEBSITE
www.mccdc.com
MCCDC ONLINE GIVING
www.mccdc.com/donate
MCCDC TEXT GIVING
202-999-3841
MCCDC CONTACT INFORMATION:
MAIN NUMBER
202-638-7373
CHURCH WIFI
Mccdc@474
EXTENSIONS:
800-Church Office
801-Senior Pastor, Rev. Dwayne
802-Minister of Connections, Rev. Cathy
804-Bookkeeper, Lance
CALENDAR
highlights
TODAY!
AUGUST 20
NBC4 NEWS PROGRAM
REV. DWAYNE AND REV. CATHY
4PM NEWSCAST
SUNDAY,
AUGUST 23
9AM /11AM
WORSHIP SERVICE
"BY FAITH: MOVE IT!"
REV. ELDER J. DWAYNE JOHNSON
TUESDAY,
AUGUST 25
BIBLE STUDY-FREEDOM
7PM
SATURDAY,
AUGUST 29
JEAN CASTLE MEMORIAL SERVICE
11AM
SANCTUARY
SATURDAY,
AUGUST 29
YOUNG ADULTS MIXER
6-9PM
SANCTUARY