JOIN US SUNDAY! – 9AM & 11AM
BY FAITH: ASK FOR IT
"The more you seek for God, the nearer God will be to you; every step that you take toward God will bring you peace and consolation."
~ Francois Fenelon
A woman asks Jesus to heal her daughter. Jesus says no. She had even fallen to her feet, so desperate was her request of Jesus. Nowhere else in the gospels does Jesus refuse a direct request for healing. In the message for this Sunday from Mark 7:24-30, we'll look at this probing, provocative scripture. It raises so many questions:
Why did Jesus refuse her request?
How did she respond to his refusal?
What if we seek to move towards God, and it seems God is moving further away?
What does it mean to argue with God?
Can we change God's mind?
Does an initial "no" lead to an ultimate "yes", for her and for us?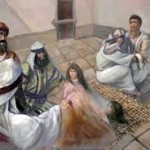 Today, as I continue to reflect on this scripture, the questions keep coming. This Sunday, you may or may not agree with what I have to say, yet I invite you to raise your own questions in engaging with this vibrant scripture.
With this being Labor Day Weekend, it is the perfect Sunday to check out the 9AM service and have the rest of the day for travel or activities. Or, if you have friends visiting, plan to invite them to worship at MCCDC at 9AM and/or 11AM. Ministers of Music Daniel Scearce at 9AM and Tyrone Stanley at 11AM have planned inspiring music that will leave you with a song in your heart all through the day. Rev. Cathy Alexander will pray us into the very presence of Grace.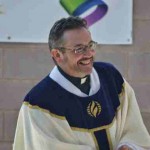 See you Sunday!
By Faith,
Rev. Elder Dwayne
TUESDAY NIGHT BIBLE STUDY
Fall Theme: A Life That's Real
Sept 8 Your Spiritual Diet
Sept 15 Your Worship
Sept 29 Reaching out to others
MINISTRY CONNECTIONS
Opportunities to serve in ministry are plentiful. If you have a heart to serve and to be a part of something larger than yourself, please consider this your personal invitation to join in ministry. Where needed most:
Website Content – Many go to MCCDC's website to learn more information, hear sermons, see pictures of our community even before stepping foot into our sanctuary. We are in great need of a volunteer to assist in this communications ministry.
Children's Ministry – The Children's Ministry provides a fun and safe space for children to learn about spiritual values, while valuing each child's unique talents and abilities.
Hospitality – God's hospitality extends welcome to the entire community, the Hospitality Ministry provides arms and feet to that welcome. The ministry is responsible for coordinating food and welcome during the social time.
Information Station – These faithful folks coordinate the sharing of information about ministry activities, events and directions. They extend the hospitality of welcome to everyone who has questions or require assistance.
Adult Sunday School – This is a brief yet powerful time to connect with scripture and each other. Participants meet on Sundays from 10:15 – 10:45. All are welcome.
AV Ministry – This Ministry is responsible for the sights and sounds in worship and other services in the sanctuary. If you feel called to investigate learning and participating in providing audio and video support, please pray about connecting.
If you are interested in any of these service ministries, please contact Rev Cathy at revcathy@mccdc.com or 202-638-7373.
CONGREGATIONAL FORUM TO TAKE PLACE SATURDAY, SEPTEMBER 12
Saturday, September 12 will be an important day in the life of MCCDC. I invite you to be a part of it. Rev. Elder Don Eastman will be with us for a Church Planning Forum to help answer the question, "What are we called to do as a congregation?" We will meet from 9:00 AM to 3:30 PM. Breakfast and lunch will be provided. So we can plan, please sign-up now by contacting Rev Dwayne at revdwayne@MCCDC.com or 202-638-7373.
HEARTSONG RELATIONSHIPS RETREAT
Sometimes relationships with God, self and others can range from joyful to challenging, especially if you are not currently in a relationship. This workshop offers an opportunity to build tools and spiritual practices to be in a mutually fulfilling, healing, healthy and loving relationship.
When our hearts are joyful the entire soul rejoices. Ephesians 4:2-3 states "Be completely humble and gentle; be patient, bearing with one another in love. Make every effort to keep the unity of the Spirit through the bond of peace."
The retreat will be led by Dr. Veronica Franklin on Sept 26. Please be on the lookout for additional information.
ADULT SUNDAY SCHOOL CONTINUES
Let Us School You (And you can teach us a few things, too)
Adult Sunday School has restarted. It is held Sunday mornings between the two services from 10:15 'till 10:45, in the lower-level conference room.
Our topic of discussion is an overview to Bible basics.
Bring your coffee and cookies. Sessions are short but pack a lot of punch.
It's a great way to spend a half-hour – learn something new and fellowship, too.
All are welcome and wanted.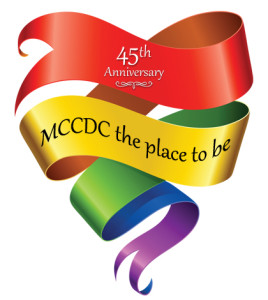 JOIN THE 45TH ANNIVERSARY CELEBRATION TEAM – CALLING ALL PARTY PLANNERS – WE NEED YOU
The MCCDC 45th Anniversary Celebration Team is forming. If you would like to be a member of this historic team for this historic event, please contact Rev Cathy for more information. revcathy@mccdc.com or 202-638-7373.
MCCDC TO BE A SPONSOR AT THE MAUTNER PROJECT 25TH ANNIVERSARY GALA
MCCDC will once again be a sponsor at the Mautner Project 25th Anniversary Gala, Friday, September 25, 8PM at Union Market. The sponsorship cost $2500 and to help offset that cost, the church has 10 tickets for the event. The tickets cost $250.00. If you would like to purchase a ticket, please go to www.mccdc.com/donate, send a check to MCCDC to 474 Ridge Street NW, Washington, DC 20001 or contact the church office at 202-638-7373.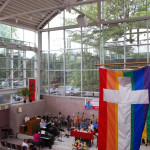 COMPLETE YOUR "45 YEARS: WE'VE COME THIS FAR BY FAITH" PLEDGE CARD
We have launched the MCCDC "45 Years: We've Come This Far By Faith" Campaign. Please make sure you return your pledge card to the church office or you can put it in the offering plate on Sunday. As we celebrate the 45th anniversary, let's come together and help shape the future of MCCDC!!
CHRISTMAS CONCERT DATES ANNOUNCED SAVE THE DATES!
The 2015 Worship Arts Ministry Christmas concerts will be held on Friday, Dec 4th and Saturday, Dec 5th. You will not want to miss this will be an evening to remember."